Career
One-on-One with Planned Parenthood's Cecile Richards
The organization's president on politics, those congressional hearings & the myriad of services that PP provides.
Last week, the Senate unveiled its newest draft of the GOP health care bill, which, if passed, would bar organizations involved in family planning, reproductive health, or providing abortions from receiving federal funding for one year. That would mean that groups like Planned Parenthood, which have previously been reimbursed through government-funded health programs, would be unable to provide services to patients with Medicaid health insurance, among others.
To show our support, we thought we'd highlight the incredible work being done there and the efforts led by the organization's president, Cecile Richards. Planned Parenthood doesn't just provide abortions—though they do offer that service. They help ensure millions of Americans have access to basic health care, including cancer screenings and physicals to both men and women. We stand emphatically against the revised health care bill, which, aside from defunding Planned Parenthood, could leave tens of millions without affordable healthcare. Want to help? Click here to donate to Planned Parenthood.
Cecile Richards loves Mexican food. And we're pretty sure there's no one we'd rather share chalupas (her favorite) with than the Planned Parenthood Action Fund President. Or who deserves them more. With a margarita.
But let's back up a little—even if you don't keep up with the ins and outs of reproductive rights, if Richards' name rings familiar, it's because she's recently been making headlines after being grilled (via a particularly meandering line of questioning, while being spoken over and constantly interrupted) for hours at a Congressional hearing defending the organization. And while the access to safe abortions and subsidized birth control PP provides is what all too often draws the ire (and occasionally actual violence) of conservatives, at the end of the day, the organization ultimately serves to provide healthcare services for women (and men, and everyone in between). Plain and simple.
This point was really driven home for us when Richards framed it like this: "Largely as a result of access to birth control, women are now nearly half the workforce in America. And more than half of college students. And as a result of better sex education and more access to birth control, we are now at a 40-year low for teen pregnancy in America. This access to all kinds of birth control is going to revolutionize opportunities for young people." In other words? It's something we don't think about and frankly take for granted, having come of age post-Roe v. Wade. But ultimately, when you hear it that way, it means that without the work of PP (which Richards has to fight virtually every day to continue to provide)...well, you get the rest.
Welcoming us into her New York offices between trips to and from Washington and PP's various health centers across the country, Richards divulged everything from her biggest career accomplishments to date, to advice for aspiring politicians and activists, and what you'll find on her iPad (!).
---
ON GETTING HER START IN POLITICS:
"I was born into it. Growing up in Texas, my mother and father were involved in the civil rights movement, and eventually my mom was elected governor of Texas. Other families went bowling, we did politics!
"I started out after college, working with women earning minimum wage in hotels, garment factories, and nursing homes. They were organizing to get better wages and working conditions, and they were the hardest-working people I've ever known. They are the same women who often count on Planned Parenthood for health care, and so in many ways, my life has come full circle. It's such an honor to work with an organization that has literally changed the lives of so many women, men and families in our 99-year history."
ON KEEPING IT ALL IN THE FAMILY:
"I've been really fortunate to work on issues of social justice my entire life, and feel like that's what my parents raised me to do. It's great to see my three kids now carrying on the tradition for their generation."
WHAT PLANNED PARENTHOOD IS REALLY ALL ABOUT (& WHAT'S AT STAKE, TOO):
"Planned Parenthood is a place that anyone, no matter their background, their income, their sexuality, their gender identity, or their immigration status, can get high-quality, confidential and compassionate health care including lifesaving cancer screenings, birth control, and STD testing and treatment, and we are also proud to provide safe and legal abortion services. Planned Parenthood provides these services to 2.7 million patients every year. These are the services that people would not get if Congress blocked patients from coming to Planned Parenthood."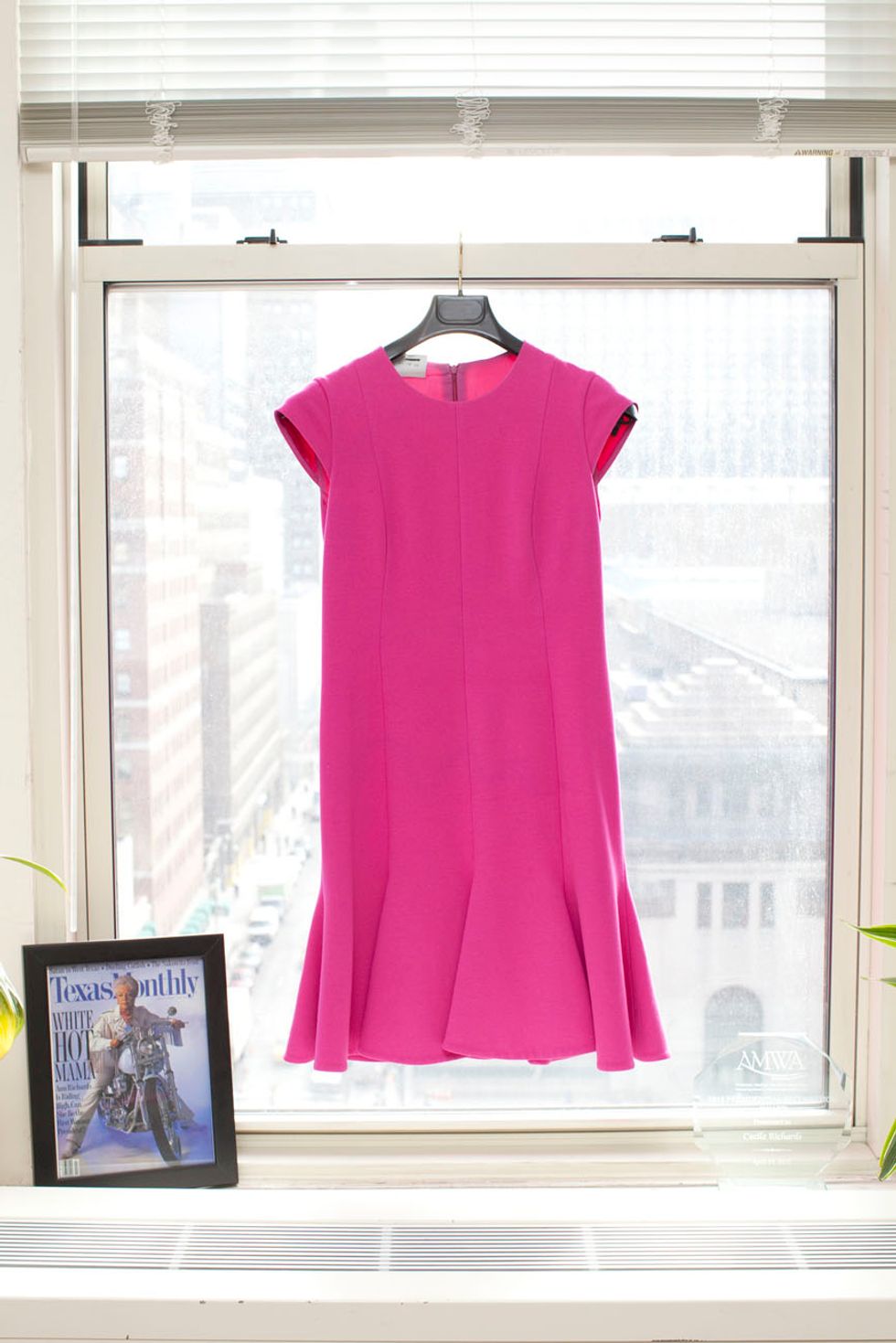 ON WHAT THOSE CONGRESSIONAL HEARINGS HAVE REALLY BEEN LIKE:
"It's really become a five-ring circus—and counting. To break it down, the most extreme opponents of women's health in Congress have pushed 18 separate votes to restrict women's health in just the past several months, and they are leading four separate committees in investigating Planned Parenthood and have also created a special panel for the sole purpose of focusing on Planned Parenthood. It's become very obvious that this is all part of a political agenda to make abortion illegal in this country. Despite the clear political agenda behind these investigations, we continue to cooperate fully with all of them.
"The congressional obsession with defunding Planned Parenthood is costing our country and putting health care for millions at risk. These politicians were elected to govern, but instead they continue to be obsessed with cutting off women's ability to receive services like lifesaving breast cancer screenings, STI tests and treatment, and birth control. Thirteen nationwide polls have shown that a sizable majority of the public supports Planned Parenthood, so clearly this is not what Americans want their elected officials to focus on. We focused on providing high-quality care to its patients who don't come in to our health centers for political reasons but for their health. We will continue to fight against these senseless political attacks and provide care no matter what.
"These hearings really aren't about me or my role. I'm representing our staff, our supporters, our patients, and women across the country whose voices have not been heard by Congress. I have the privilege and the honor of being that voice, and I take great pride in that. This is really about a group of people trying to take us back to a place where women didn't have any rights—this is actually about past and future, where we've come from [and] where we're going."
ON WHAT AN AVERAGE WORKDAY LOOKS LIKE (& ENDING IT ALL WITH MEXICAN FOOD):
"So I travel constantly, so the first thing I do in the morning is figure out where I am! We have health centers all across America, and spending time with our staff and clinicians is high up on my agenda. I also spend many days in Washington, D.C., meeting with folks on Capitol Hill or with our great team.
"It seems like as we approach our 100-year anniversary, many of our local Planned Parenthood affiliates are having celebrations, so any given evening I will be at one of their events. This week, I'll be in Massachusetts and Connecticut. If I get to be home, I love to have dinner with my husband, Kirk. I love to cook, and my latest passion is making pasta or getting back to my Texas or Louisiana roots with some chalupas or barbecue shrimp. We both like to read, and so a perfect evening is dinner and then curling up with a great book."
ON HER BIGGEST WINS AT PLANNED PARENTHOOD:
"I would say one of our biggest successes was expanding access to birth control to millions more women, by requiring insurance to cover it without a co-pay, thanks to [the] Affordable Care Act. The ACA's birth control benefit saved women $1.4 billion, $483 million in the first year on birth control pills alone, and is already available to more than 55 million women nationwide. Largely as a result of access to birth control, women are now nearly half the workforce in America, and more than half of college students, and as a result of better sex education and more access to birth control, we are now at a 40-year low for teen pregnancy in America. This access to all kinds of birth control is going to revolutionize opportunities for young people.
 
"I'm also enormously proud of the work we've done to engage a whole new generation of young, diverse leaders in this movement for reproductive health care."
ON THE BIGGEST CAREER LESSONS SHE'S HAD TO LEARN (& BEING STOPPED IN THE STREET):
"1 in 5 women in America have been to us for health care, and they are lifelong supporters. Most people remember when they went to Planned Parenthood, and they are grateful—they stop me on the street and in the subway all the time, just to say thanks. And people from all walks of life have been to us for health care, from young people in college who come to us for confidential and non-judgmental care, to women who say Planned Parenthood saved their life by providing breast or cervical cancer screenings when they were uninsured. The lesson I've learned is just how powerful our relationship with our patients is, because we are there for them, no matter what."
ON THE BIGGEST CHALLENGES SHE FACES ON THE DAY-TO-DAY:
"One of the challenges has to be the number of politicians who are intent on rolling back access to reproductive health care—including birth control. We are now at a 40-year low for teen pregnancy in the U.S. because more young people are getting access to good health care information and family planning. Just think what we could do if we could spend 100% of our time on providing high-quality, affordable health care. But in too many states, including my home state of Texas, a handful of politicians are eroding women's ability to access health care. It's heartbreaking."
ON HER DAILY READS:
"Definitely the New York Times, every day. And Sundays, the crossword puzzle and the wedding section are a must. The Texas Tribune and Texas Observer keep me up on what's happening back home, and my friend Anna Quindlen always sends me great articles. I'm also a huge fan of Lena Dunham's Lenny Letter.
"When I'm on a plane, there's nothing like National Geographic Traveler and AFAR for fantasy travel ideas. And since me and the kids like to cook, we are always checking out Cook's Illustrated, where you can learn to cook absolutely anything."
ON HER WORKPLACE ESSENTIALS:
"A printout of my schedule for the day, coffee, a check-in call with my daughter, and a good shade of lipstick."
ON THE PERKS OF THE JOB:
"By far the biggest is the impact we have on people's lives. The most inspiring moments are when I get to meet patients who got birth control because of Planned Parenthood, or whose cancer was caught early by our clinicians. And when folks stop me on the street to say thank-you for Planned Parenthood. 
"Every day I am inspired by the enthusiasm and drive I see from our young supporters across the country. These passionate, committed young people are ensuring that this country is moving forward when it comes to affordable health care, access to birth control, comprehensive sex ed, safe and legal abortion, and a number of issues that impact young people's health and lives. The present and future of this movement is in good hands, and I feel incredibly hopeful."
ON HOW SHE STAYS AHEAD OF THE CURVE:
"Technology! At Planned Parenthood, we really believe that online health services are the future of health care, and as such, [we] are focusing our efforts on how to expand access via mobile phones and the web. 
"We know that there's a vast unmet need for reproductive health care in the U.S., which contributes to higher rates of unintended pregnancies and STDs in the U.S. than in other similar countries. Planned Parenthood is determined to fill that gap by bringing high-quality health care and information to people wherever they are. Regardless of the limitations—be it lack of time, too great a distance to travel, or difficulty in getting an appointment with your provider.
"Right now, if you live in Alaska, Minnesota, or Washington State, you can talk to a Planned Parenthood provider online via video to get birth control—and in those states as well as California, you can get an STD test kit and treatment in the mail. We also can provide medication abortion via telemedicine in certain states, expanding access to women in remote and rural communities."
ON HOW TWITTER & INSTAGRAM HAVE CHANGED EVERYTHING:
"Young people are very politically engaged and passionate. They are also all online, so it's no surprise that they are using social media as a platform to lift up their voices.  
"We've seen firsthand just how much social media can be an effective tool for advocacy. Just look at our #PinkOut day at the end of September. We saw hundreds of thousands of supporters fighting back against the unprecedented attacks against Planned Parenthood and reproductive health care on social media. All day, #PinkOut trended in the top 3 nationally and in the top 7 globally. There were over 90K tweets for #StandwithPP and over 60k tweets for #PinkOut. 
"That's one powerful voice. Young people are tired of politicians trying to tell them what to do or how to live their lives, and I for one am thankful that we now have a vehicle to ensure all of those voices are heard."
ON THE BEST CAREER ADVICE SHE'S EVER RECEIVED:
"The answer to life is yes. Remember that this is the only life you get, do it now. That's from Ann Richards.  She took risks every day, did things women had never done before, like get elected governor of Texas. She is a constant inspiration to me and to the thousands of folks who were touched by her in some way."
ON THE ADVICE SHE'D PASS ALONG TO ANYONE WANTING TO WORK IN POLITICS & ADVOCACY (&, UM, ENDING EFFING APARTHEID):
"Start now! It's never too early and never too late. You need to have passion for the cause and be in it for the long haul. Movements, culture change, political change—all of these things take a long time. There are no fast fixes, so you need to take the attitude that no job, and no win, is too small. I remember my first 'campaign' was to help divest Brown University of stock in South Africa, where the democracy movement was attempting to end Apartheid. It took years, but eventually Nelson Mandela became the first freely elected President of South Africa, and it was especially meaningful to be at the Brown commencement 30 years later when he was awarded an honorary degree. It took time, but it was worth it!
"There is nothing like a job that allows you to help change the course of a person's life, and that's what activism and advocacy can do. It's the most rewarding work there is, and I hope more young people will consider it as a career."