Ukrainian Designers on Fashion, War, and How to Support Them Now
"I just want people to understand that our life was absolutely peaceful and normal, just like theirs."
Fashion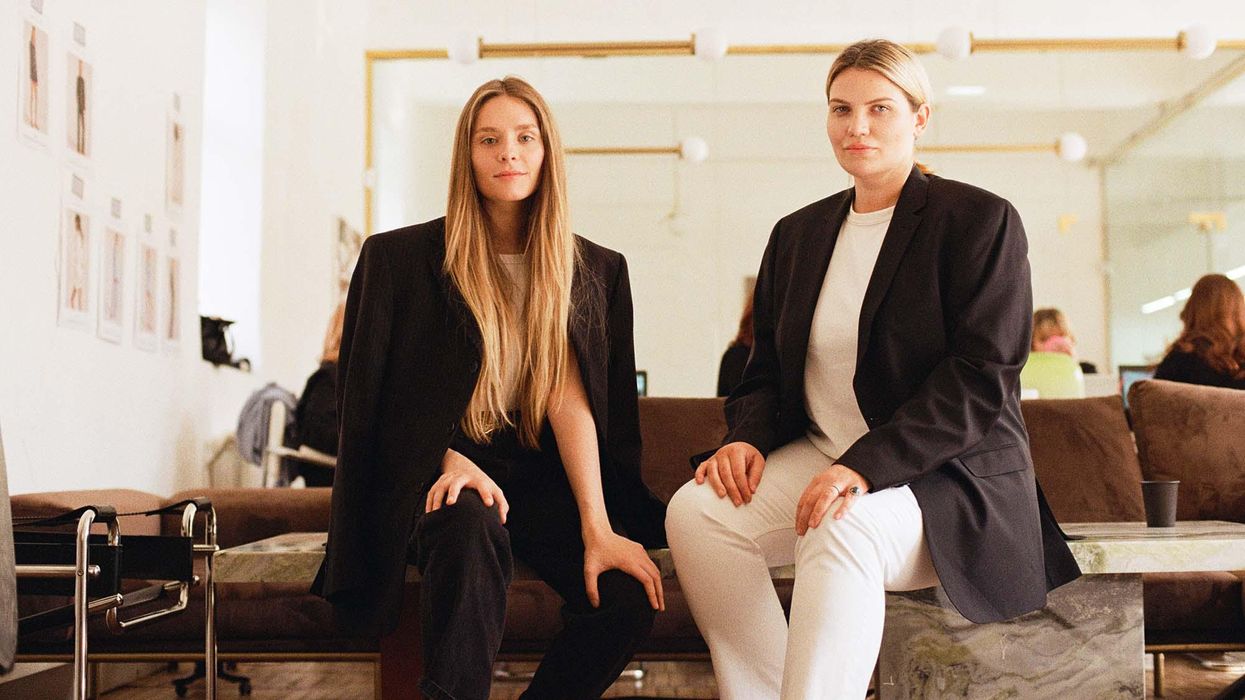 When Olha Norba, creative director of Norba Clothing, thinks about her home country of Ukraine, she thinks of her parents' house: an oasis surrounded by forests and rivers. A place of power where she connects to her roots and feels most creative. "I don't know if I'll ever see it again," she says. Norba and her sister Helen, co-founders of the Kyiv-based activewear brand, are currently stranded in Milan after arriving on February 23—the day before Russia invaded Ukraine—to attend the White Milano trade show. Now they find themselves unable to return home.
The Norba sisters are among the many members of Ukraine's creative community who found themselves forced to carry on with their work while watching their home be destroyed. Designer Anna October, founder of her eponymous label, awoke to her home city of Kyiv being bombed and spent a week on the road to reach Bucharest, Romania, before traveling to Paris to show her latest collection. Lilia Litkovskaya, founder and creative director of Litkovskaya, was planning to show her collection in Paris before she fled Kyiv with her 2-year-old daughter. At the Tranoï trade show in Paris, rather than present her own line, she and her team provided a platform for other Ukrainian artists and designers with an exhibition that amplified their work.
Amid the chaos and uncertainty, Lilia Litkovskaya, Olha Norba, and Anna October, along with Kate Zubarieva and Asya Varetsa of the Ukraine-based brand Sleeper, share their perspectives on the war in Ukraine, how their home inspires their creativity, and the ways we can support them.
Where are you and how are you feeling? What are you doing to take care of yourself right now?
"At the moment, I am in Paris, and I feel like any Ukrainian anywhere in the world: in unity with my compatriots and my country. Speaking of self-care, the most important thing I did was take my 2-year-old away [from Ukraine]. This is the most important thing in times of war, to know that your loved ones are safe.
"I came here during Paris Fashion Week because all eyes are always on the capital of fashion, opinion leaders, stars, and journalists gather here—I wanted their focus to be directed to Ukraine. To do this, my team and I created a performative exhibition of works by Ukrainian designers and artists at the international trade fair Tranoï. It was about 50 QR codes that led to pages with the work of Ukrainian talents, and a 30-meter Ukrainian flag hung above all this. My goal was to make a rally performance dedicated to Ukrainian designers and artists part of the official schedule of Paris Fashion Week, and Pascal Morand himself visited our installation and agreed to add it to the schedule."
Do you consider your heritage and home a source of inspiration?
"Without a doubt. We have the Artisanal line, fabrics that are woven according to old traditions on authentic Ukrainian looms by using vintage fabrics or fabric leftovers from previous collections. I am impressed by the Ukrainian folk culture and the energy that lives in this land. Artisanal sings of the centuries-old traditions of the Ukrainian people and their irrepressible craving for creativity."
You founded Schooll of Art x Craft in Kyiv to provide practical knowledge to emerging designers. What inspired this decision?
"Two years ago, during the pandemic, I realized that I had so many contacts and information [about design] that it was time to share. This is how the Schooll of Art x Craft project was born. Before the war, it was already a full-fledged lecture hall and places for workshops, a large production facility where school students could develop their collections and learn crafts with the help of equipped workshops."
What do you want non-Ukrainians to understand about the war?
"Most importantly, I want them to understand that this is not only a war of Ukrainians—this is a war of the whole world. There is a transformation of values and new approaches to the worldview and the universe as a whole. The mission to implement these changes, to fight against cruelty is entrusted to Ukraine. It is our state who holds back the chaos that could engulf the whole world. Therefore, I call on everyone to help Ukraine fulfill its mission."
How can we support you, your brand, and the Ukrainian people in general?
"To support us is to demand that your government close the sky, so that the rocket shelling and bombardments are over. You can support the brand on its website. There are official verified links where you can support our army. Send love and warmth of your hearts to our side. We are grateful for every attempt to help, for believing in us."
How are you feeling in this moment? What are you doing to take care of yourself?
"I try to stay optimistic and positive—for my own sake and for my family and employees who depend on me. I have about 20 seconds of peace when I wake up before I realize where I am and what is going on. I've never experienced such fear and anger, so I try very hard not to succumb to these feelings and to focus on love, compassion, and beauty in my life.
"I find physical activities and body practices enormously helpful for keeping my mental health. I try to walk and stretch as much as possible and to pursue my multiple-steps beauty routine—ridiculous as it might sound, it really helps to deal with stress and anxiety. Also, body-mind connection is at the core of our brand's philosophy, so now I can yet again experience how powerful it can be by myself."
Do you consider your Ukrainian heritage and home a source of inspiration?
"For sure. I was born and raised in central Ukraine as three generations of my family before. I've always considered my parents' house, surrounded by forests and a river, as my personal place of power, where I connect to my roots and where I feel most creative. I don't know if I'll ever see it again. My parents also had to leave their home and their senior parents and are trying to get to Europe now. Art is another source of inspiration for me. I have a small collection of Ukrainian artists at my Kyiv apartment, including two works of Maria Priymachenko, which are so rare since 25 of her paintings were destroyed during the Russian air attack. Now, I can only pray they will remain safe till the end of this war."
What do you want non-Ukrainians to understand about the war? How can we support you, your brand, and the Ukrainian people in general?
"I just want people to understand that our life was absolutely peaceful and normal, just like theirs. All the wars and conflicts seemed far away and not really our problem. We lived for fashion and beauty and travel and cared more about Rihanna's latest outfit than about world politics. And then everything changed overnight. We lost everything we worked for for years. So now when you look at Ukraine and think that it's not your business—please imagine that your life can be shattered just like that. No one is really protected from it.
"The best way to support Ukraine (and our brand for that matter) is to speak up and share as much information about it as possible—it is a real informational war, and it's very important that people know what is really happening in our country."
Your journey to Paris, both in the last few weeks and over the last few years, took a lot of perseverance. How do you feel about being in Paris and the decision to present your collection?

"To be honest, it's very surreal now, but I understand that this is the right decision to be here and work to sustain the business. Paris was the start of everything for me when I launched the brand, and now it's a place where I am finding so much support for my team and colleagues. I am truly grateful for all the people and industry here."

Your latest collection was inspired by a magical night in Paris. How does this translate to the garments?

"My new collection is called "One Night in Paris." Passing through the Place Vendôme one night last September, I came across a group of people dancing and found myself doing the tango with a stranger at midnight—just one of those random, fairy-tale experiences that seem to happen in Paris and stay with you forever.
"The main source of inspiration is women's versatility, and my work is built around the ideas of sensual femininity and the excitement and joy of being a woman in every piece. Created for women who are dressing for their own gaze, my clothes flatter female bodies and are the epitome of delicate sexuality."

Do you consider your Ukrainian heritage and home a source of inspiration?

"Of course. I am a channel between Ukrainian culture and people who are wearing my clothes. Maybe the references from my culture are not so obvious, but surely the color vision and the femininity that is the core of the collection—this comes from my motherland. It's my recourse of power and my starting point."

How can the fashion world at large support you and other Ukrainian creatives?

"As a member of the Ukrainian fashion community, I'd like to thank all the industry members for raising awareness of the war in Ukraine and their endless support. The best thing that the fashion community can do for our creatives is look at us as partners, and don't be afraid to collaborate with the members of the Ukrainian fashion industry. Throughout the last eight years, we managed to prove that we deserve to be put on the international fashion scene, and right now, it's the best time to build tighter connections for a collective benefit."

What do you want non-Ukrainians to understand about the war right now?

"You know, I see a lot of posts from non-Ukrainians over the internet spreading a message that Ukrainians and Russians are brother nations and I, as well as other Ukrainians, ask all these people to stop this false narrative. Throughout its history, Ukraine has suffered from Russian aggression, and our culture and our people have been fiercely destroyed firstly by the Russian empire, then by the Soviets. Our countries are not brother nations. They never were and will never be. We chose our own way in 1991, and we will fight for our independence and freedom till the end for our ancestors' and future generations' sake."

How are you feeling? What are you doing to take care of yourself right now?
Asya Varetsa: "The shock has passed, and we feel focused right now. It doesn't mean that we're not horrified with the news we read. But it's important for us to be maximum resourceful. This is the only way we can defeat our enemy and build a better future for our team and our life's work that we adore."
Kate Zubarieva: "We are extremely focused on our brand Sleeper, on supporting Ukraine. We're helping the Armed Forces of Ukraine, we're navigating refugees. Most of our male staff were recruited to the army and territorial defensive forces. The whole Sleeper team is involved in volunteering, but still we keep doing our jobs. That is our reality today. That's how we take care of ourselves and our country." [Editor's note: Zubarieva is currently residing in Turkey and Varetsa lives in Denmark with her husband and son.]
Do you consider your heritage and home a source of inspiration?
Kate: "Certainly it is. Take a look at traditional Ukrainian houses, national costumes. Beauty is inseparable from it. Ukrainian songs, our nature: Carpathian Mountains, our Crimea, our Kyiv city, Poltava…everything that is surrounding us during our lives. These are our power places, our inspiration. The iconic Sleeper items are made of linen, a traditional Ukrainian fabric. Our ancestors made their costumes out of linen. Beauty is a cell of Ukrainian women's soul. There's a widespread photo of the Ukrainian army where women are standing with flowers in their hair. That's what we are."
Asya: "Our home office in Kyiv is a beautiful chic place that we restored from an abandoned old building. It is a place where we were creating our photoshoots, celebrating birthdays; our team gathered there for parties and key events. This is our home, it's waiting for us and all of us—we're hoping to come back there soon."
What do you want non-Ukrainians to understand about the war?
Kate: "We think everything about the war is completely clear. … Each human understands that it's a huge pain. The whole world saw Russia invade Ukraine, how they attacked the maternity hospital in Mariupol city. We dread a potential terrorist act on a Chernobyl nuclear power station. According to international sources, the Russian army wants to destroy the Ukrainian people. But it's not going to happen. As the Second World War showed us, it's impossible."
Asya: "We would like everyone to know that we are strong. We urge people all over the world to support Ukraine in a fight with the hugest evil since Hitler's times. We appreciate your support. We are grateful to Poland, Great Britain, France, Germany—all EU countries, United States, Japan, Australia for their contribution in future peace. This disgusting and unfair war must be stopped. Also, we want to thank all Russian people who don't keep silent, who resist, who go out to rally, to those who remain humans in spite of the evil that surrounds them."
What is the best way to support you, your brand, and the Ukrainian people in general?
Asya: "The whole civilized world should gather. Society has to show the governments that we make decisions, not on the assumption of fear, but based on solidarity with Ukrainian men and women, children, and aged people."
Kate: "It's important to understand that Ukraine is a Rubicon. Our people fight not only for our sovereignty but also for values we got from public movements that have evolved since the Second World War. Ukraine stands for the whole world. Speak aloud, sign the petitions, go to rallies, try to affect the European Parliament, and please donate."