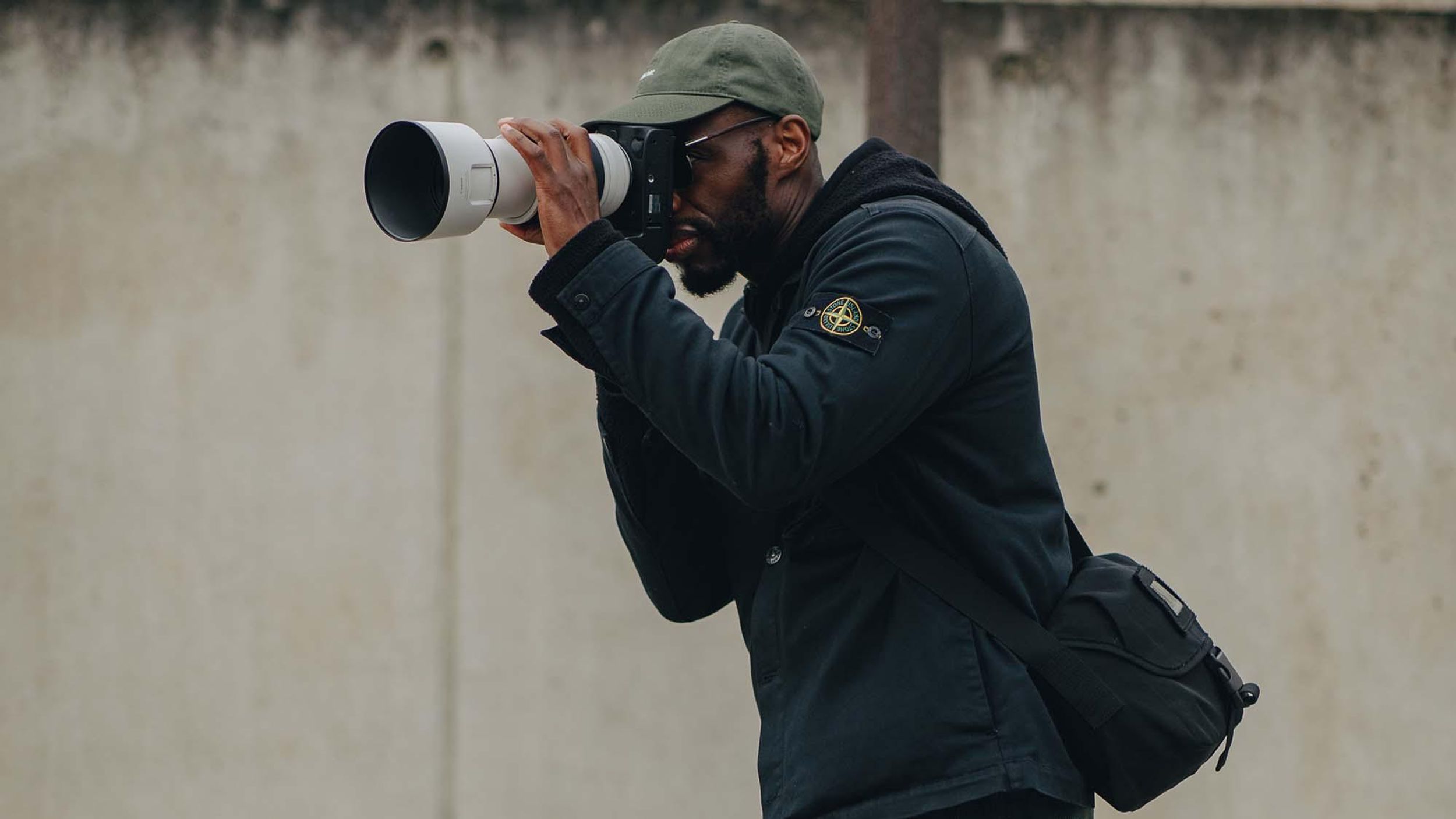 Fashion Week
Darrel Hunter, better known as @modehunter, spends his fashion weeks outside the shows. While the industry set files into their sardine-like seating arrangements, careening for a glance at models clad in designers' new collections, Hunter is more concerned with what the guests themselves are wearing. But in order to best capture them, a significant amount of planning is required. Beginning six to eight weeks ahead of fashion month, Hunter starts plotting his approach on an extensive spreadsheet, planning locations, timing, and transportation. When he's not scheduled down to the minute, he finds time to break for good friends and great snacks. Below, Hunter walks us through his experience at Paris Fashion Week this fall '22 season.
What does your job title entail?
"During fashion month, I attend many fashion weeks. There's various things that I do but the main one is street style. I have to capture the style of show attendees, people in the city, just the various styles that represent what people wear on the street. I'm capturing that for various publications, brands, or e-commerce sites—basically, whoever requires street style—and also shooting backstage at various shows, so the preparation, the first looks before the shows, etc. There's also other projects that I do during fashion week whether it's working with various brands on product activations or with different products. So it's quite varied during fashion week, which helps to keep it exciting. But I would say the majority of my work comes from backstage and street style during fashion week."
How do you approach fashion week? What role does it play in your career?
"Planning for fashion week can be quite similar for each one. Once the dates are out, you start to make your bookings for your accommodation—flights, trains, and everything. Also, reaching out to various clients, speaking to clients that you've worked with before, getting an idea of what your schedule is going to look like for the coming season. I always have to make sure that I create a spreadsheet with the various places I'm going to be, the travel dates, which jobs I have, and how I'm going to approach them because if not, especially when you're coming down to the end of fashion week, you'll just get lost or tied up in things. It helps to have everything documented so I know where I need to be, when I need to be there, what I need to submit, and how to proceed."
When do you start to prepare?
"I begin to prepare for fashion week literally the minute the dates are finalized. The major ones are in February or September, but then men's fashion weeks are in June and January. You also have couture and then in between you have Copenhagen and all of those. So for me, with each fashion week, I normally start to prepare six to eight weeks out because it just creeps up on you. If you wait until the last minute, it can be quite stressful, so my preparations start quite early."
Walk us through your thought process when attending a show. What is going through your head?
"With regards to working a show, I would first look at the calendar to see which shows I want to capture images outside of. Also, I look at timing. Sometimes if shows are quite close together, you may only be able to do entrances at one show and then have to leave and do exits at another, depending on locations. If I have to do a backstage, then you know you have to get there early and then you'll be able to do exits on that show. And of course, you have favorite shows where you know the style is going to be great or you know certain people that will attend. Sometimes you'll capture the entrances and then you know that the backstage is another area and there's going to be certain models who have great style that you want to capture, as well. So it's about choosing where to be and strategically understanding where to go to capture the best shots."
Is there anything like a typical day for you during fashion week? If so, what's it like?
"There's definitely not a typical day, well not for me anyway. Even outside of fashion, I don't have such a thing as a typical day, which I like. I like spontaneity. I like that things can change. I like waking up in the morning and seeing an email that says, 'Hey, you're going to be traveling here.' For me, fashion week can vary. There are some days that I can wake up early, workout, read, get breakfast, and just go to shows. Then there's others where you literally wake up, jump in the shower, run out the door, and don't get to eat until the evening. It's very different from day to day, but I think the one constant is that you're going to be busy, which I enjoy."
What are your essentials to get you through the chaotic period?
"Aside from lots of prayer, I think making sure that I travel with tons of vitamins and supplements—Sea Moss, vitamin C, vitamin D, all of that. Trying to eat as healthy as possible. Then friends, colleagues that I'm traveling with, and family members when they're in the city that I'm in or even back home—that encouragement and that support, messages and phone calls, that gets me through the chaotic period when you're running some days on like two to three hours of sleep and can't find time to eat. And some face masks. Not surgical ones but the sheet masks. When you're running very low on sleep, a good skin-care routine is definitely important and lots of water."