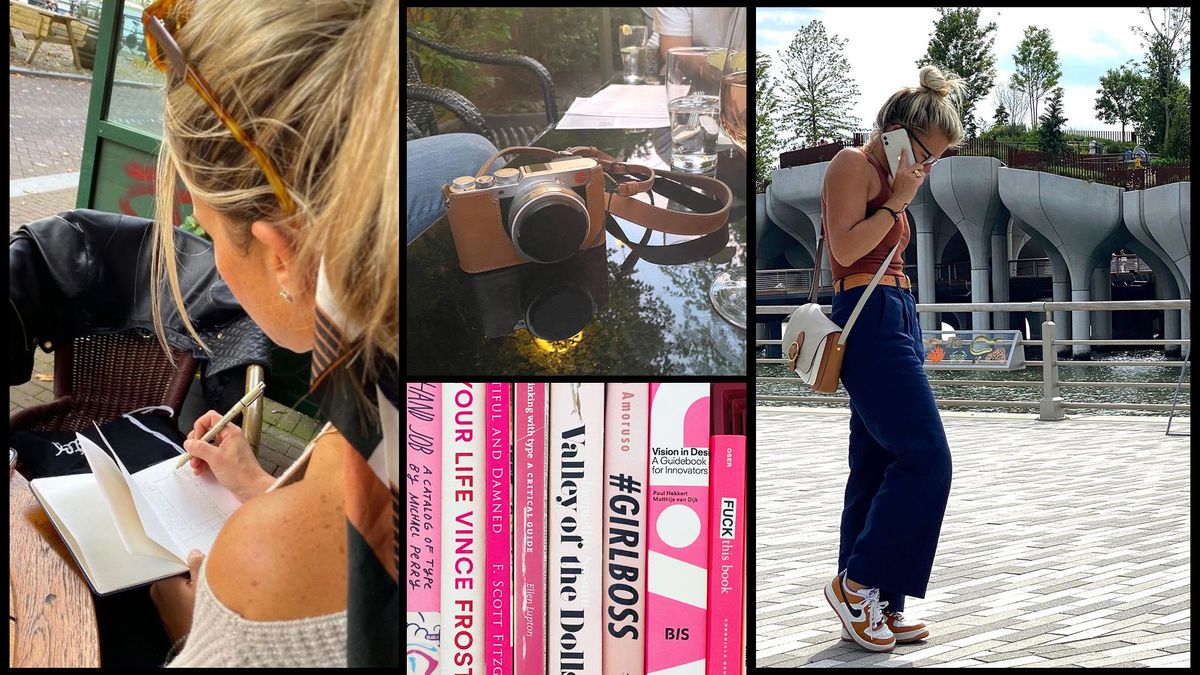 Deskside
Meet Kelsey Hanson, the Eye Behind the Next Big Thing in Wellness Travel
Her busy-savvy background and creative eye for branding is a recipe for Treat's not-so-startup success. In collaboration with Treat.
Graphics:
Ashley Combs
You probably haven't heard of Treat quite yet, but the travel, health, and wellness brand is on its way to an airport near you—starting with JFK this fall, and later Phoenix, before it sweeps the entire country and abroad.
You may have heard of XpresSpa, an airport destination where you can grab a quickie preflight manicure or massage. The publicly traded parent company, XpresSpa Group, turned their locations into Xpress Check, a multi-state operator of COVID testing in airports during the pandemic. While most travel companies struggled in 2020, XpresSpa Group quickly pivoted to thrive while also concepting a new business idea to fill a missing hole in the market, appealing to the Away-luggage rolling, Goop-aspiring, Beats-wearing, in-air self-care, modern female traveler. Enter: Treat.
Treat is a full-fledged health and wellness destination that brings a retail-space-meets-wellness-center concept to airports where travelers can pick up a KANJO acupressure set for their carry-on, a LARQ self-cleaning water bottle, or Hilma immune-support herbal supplements, to name a few. The large retail space will also have doctors administering IV-drips, COVID tests, writing prescriptions, and consulting with patients for any ailments. There will be a yoga/meditation room where travelers can come stretch in peace or take a class instead of waiting for hours at their gate. Think of it as your favorite city wellness center in the comfort of your own airport, making travel less stressful and far more enjoyable, whether it's for business or pleasure.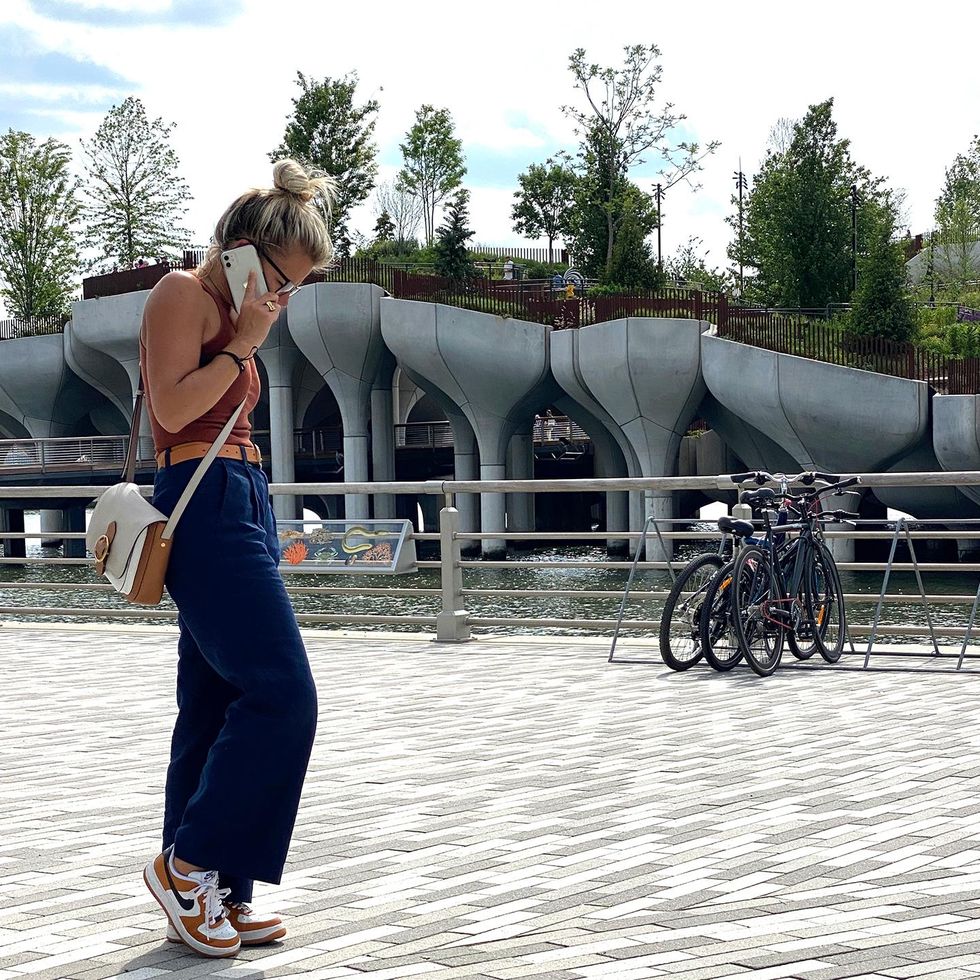 Treat's online presence encompasses an e-commerce shop for curated travel goods you can most likely find at L.A.'s Erewhon or spotted on Instagram from your favorite wellness influencer's feed. The site also provides a science-backed editorial full of travel wellness advice like how to achieve good gut health while traveling and self-care practices for busy people.
Treat will have different tiers to its membership: There will be a guest version and a member version, where you'll have access to the newsletter, stores, and articles, along with an à-la-carte offering, and a premium subscription in the future, where you'll have access to unlimited chat care with a virtual doctor 24/7 while traveling through the Treat app. It's a forward-thinking brand with a unique identity, fully equipped with both medical professionals and holistic wellness practices for the modern-day health-focused individual.
We caught up with Kelsey Hanson, the SVP of marketing and communications and the creative director behind it all, to learn what she's been cooking up over the last six months to quite literally become the next big thing in health, wellness and travel. Say goodbye to unhealthy airport habits and hello to a new world of wellness long overdue. Treat is the new standard of travel, and Coveteur is taking a closer look at what it takes to stand out as a relevant travel brand in a post-pandemic world.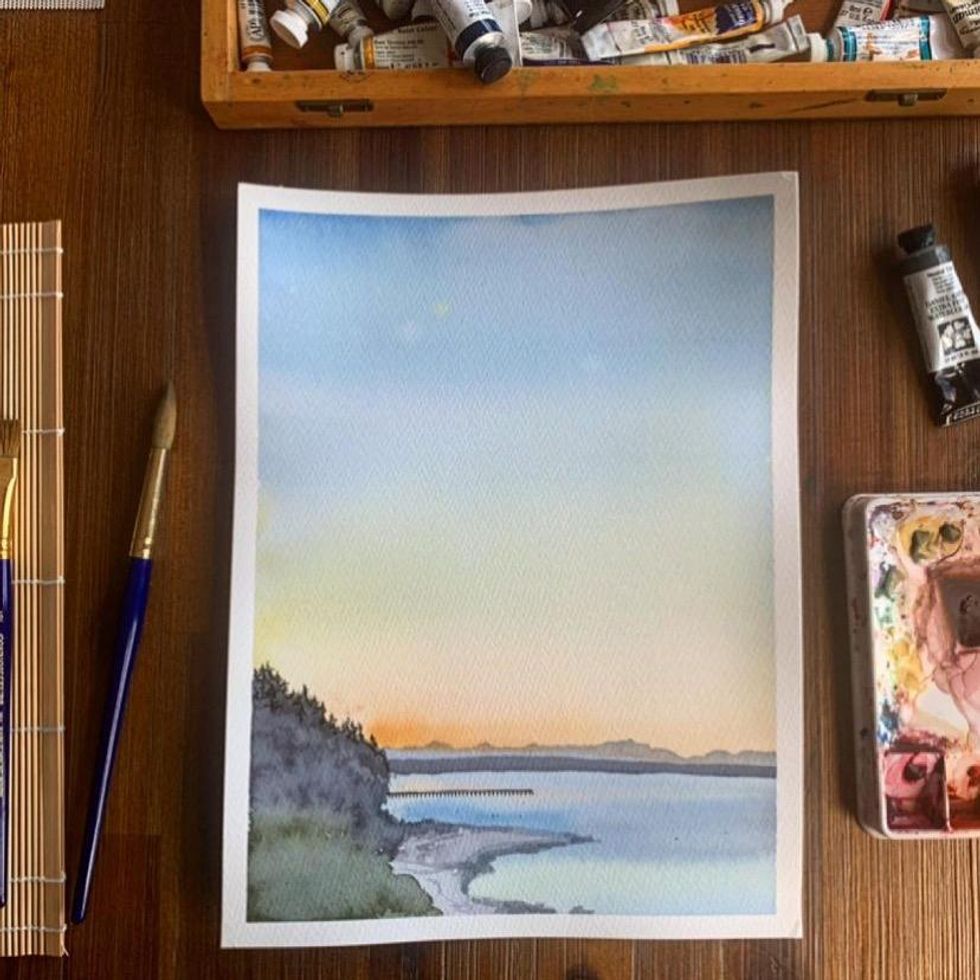 "I also painted the watercolor on page 2; that's a huge stress-relieving hobby of mine."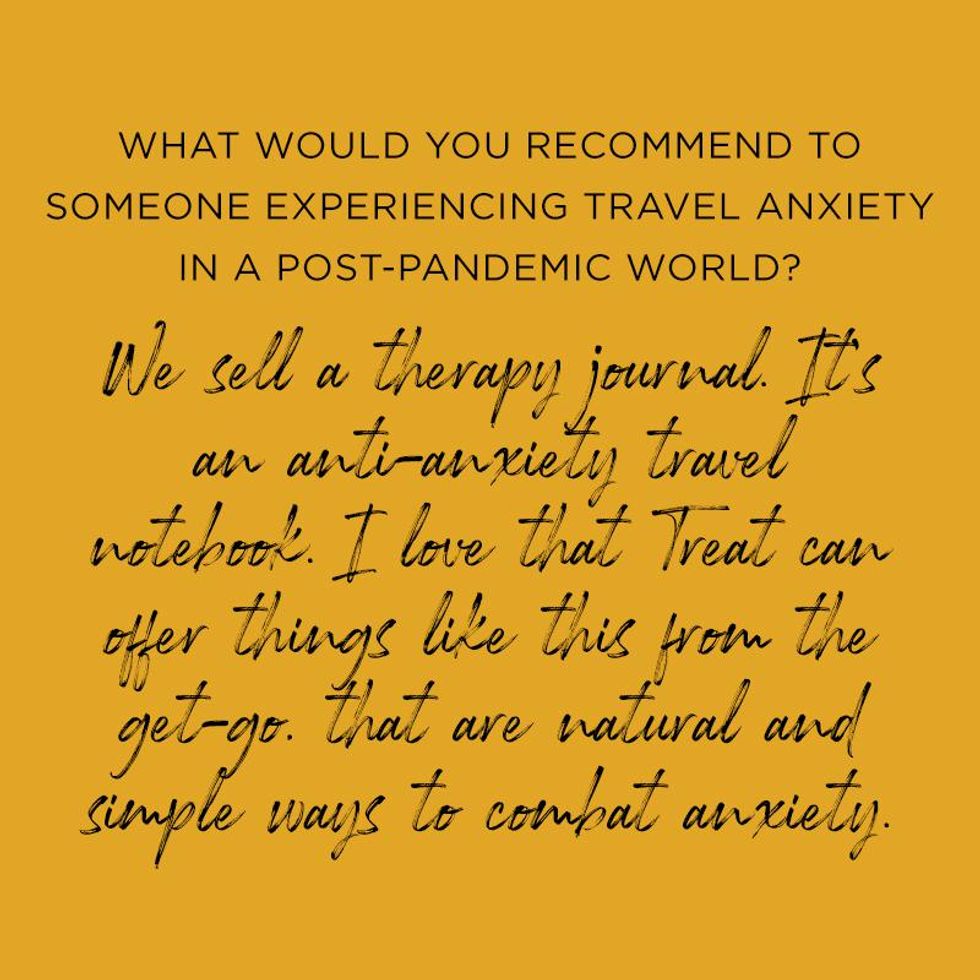 How did your background prepare you for such a pivotal role in a thriving company like XpresSpa Group?
"I have a creative background, not the traditional marketing background. I am from the Seattle area and grew up in the design world here. Prior to this, my longest stint was in-house at Starbucks' global creative studio, which gave me a lot of authentic brand experience. I've also had my own company, freelanced at ad agencies, and most recently was the creative director at a large cannabis company HQ'd in Seattle. I designed retail experiences for recreational cannabis in the Canadian market. It was super fun, but it bottomed out during COVID.
"When XpresSpa did their first pivot to COVID testing, they soon realized the funding, experience, and airport real estate to focus on the next big travel idea. They brought me on to consult, and then hired me full-time to focus on concept development of this new idea (now Treat)."
What was your goal as creative director before officially taking the role as SVP of marketing and communications?
"We are approaching this new concept and brand from an authentic creative standpoint. It's not a purely data-driven game plan—I've very carefully hired a team of writers and designers that are helping us produce original content at Treat, from our Instagram to our website and retail concept. This approach makes it a very consistent and bespoke brand experience.
"Building trust and consistency are the foundation for a powerful lifestyle brand. If you're just somebody that's grabbing stuff you see on the internet, that everybody uses, and you're flashing it back out on Instagram, that's just not authentic. The way we are doing it is probably more old-school and expensive, but it brings a sense of authenticity and control. And that really makes me excited about the future of our brand. It's a good foundation from a creator standpoint. We are trying to align our three pillars of travel, health and wellness and deliver them in a sophisticated and beautiful way, while keeping it legitimate with medical credibility."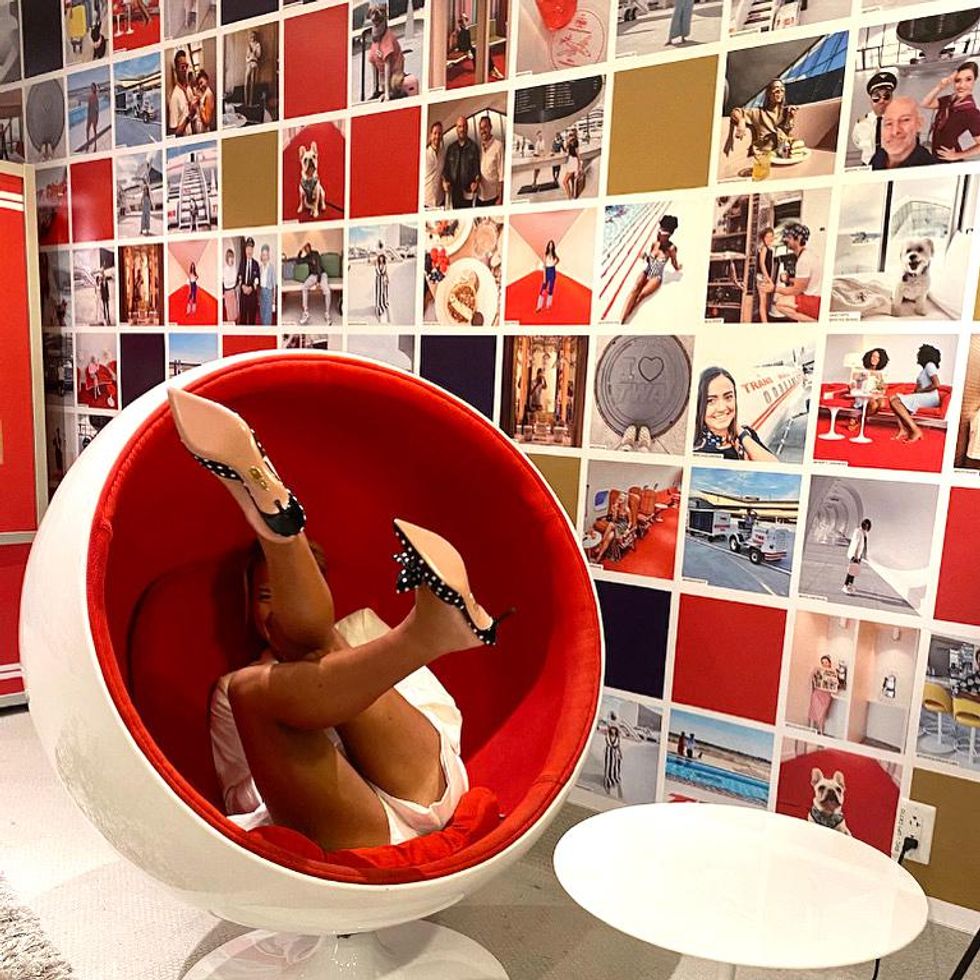 What is your process like in curating brands that fit Treat's retail concept?
"When you enter the lobby of our experience of one of our retail spaces, you'll have check-in pods that let you check into whatever treatment you're interested in (whether you're seeing a doctor, hanging out in the studio, taking a shower, etc.). You'll find five little zones of retail staged according to this new merchandising theory we are working on. Everything is split into categories like move, nourish, support, and protect. Protect, for example, has blue-light-blocking glasses and Noshinku hand sanitizer. We're also bringing Vacation Inc. sunscreen, which is this amazing clean sunscreen that has branding like an '80's magazine ad—I'm obsessed with this brand. And we have an amazing woman-owned brand out of Brooklyn called NTRL by Sabs that makes incredible shampoo and conditioner bars so you don't have to travel with liquids.
"We are being super specific about who we bring in. At the beginning I was selecting products I had been reading about that were new, sustainable, on-brand, and that I tried. My design director had amazing product ideas. We did work with a consultant that was a former buyer at Goop. She pressure-tested the original assortment and was surprised at how on-point it was. I was very proud of that."
It sounds like your lifestyle naturally aligns with the pillars of Treat. You're so hip to the latest and greatest consumer wellness brands. Aside from products, what is your daily wellness practice that helps you stay focused and motivated?
"I wake up every morning at 5:00 AM, drink a glass of warm water with lemon, make my kiddos breakfast, and hit a four- or five-mile run before I start my workday. I drink a LOT of black coffee between then and dinner.
"I have five different pairs of blue-light glasses (Gabriel & Simone are the best, which we will carry at Treat), plus Ilia blue-light spray every day, which helps my circadian rhythm stay strong since I practically always go to bed with a laptop.
"I believe in fresh air, green juice, diving into cold saltwater, vitamin D the original way, spur-of-the-moment dance parties, and evening baths as the ultimate forms of weekday wellness.
"I live on Puget Sound, across from Seattle. All summer I have a bikini under my work clothes and hit the paddle board at high tide, sometimes on my lunch break."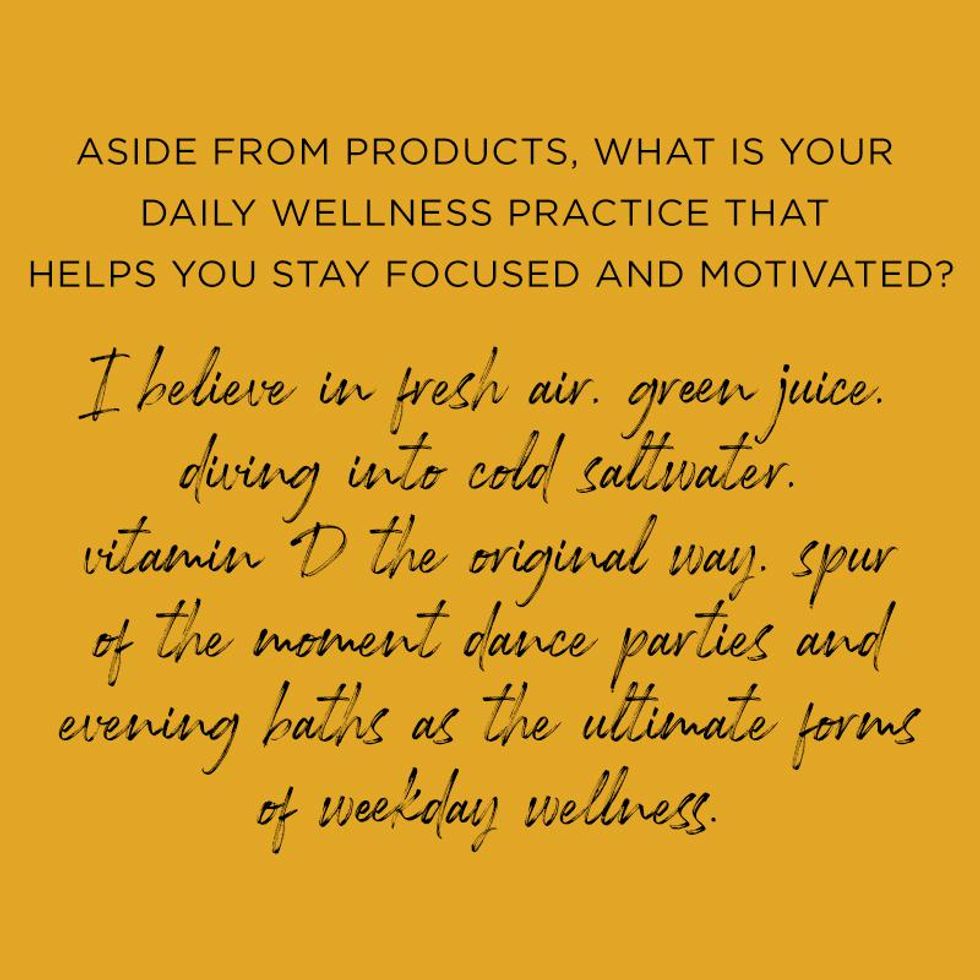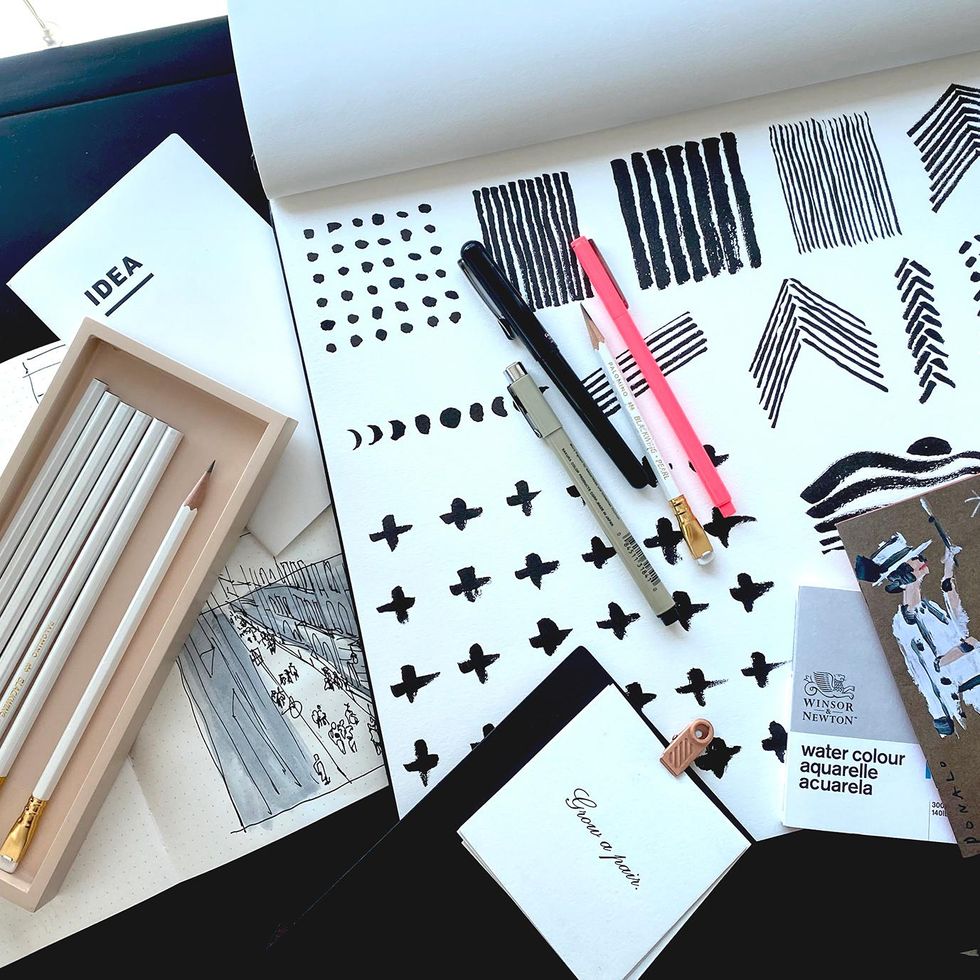 And aside from wellness practices, how does travel fit into your life?
"In terms of this being my job, it's a total 360 fit. I've always been into travel. It's evolved obviously, since I've had kids. But when I was younger I would do long backpacking trips like Thailand, Belize, or Guatemala. I did get to Hawaii earlier this summer with my kids. It's more resort-based, much different than the backpacking. But I do make time for my own travel as well. Later this year I'm going to Istanbul and am looking forward to a traditional Hamam bath.
"And I do try to maintain my wellness routine while I travel—whether it's drinking lemon water or staying on top of my running—but I'm also a believer of everything in moderation and not being too hard on yourself. It's very hard when you travel, which is one of the reasons why I think Treat can be impactful. There's not an easy way to grab supplements if you get to the airport and forgot."
Do you have any travel memories where you wish Treat existed?
"Oh my god, I have the best one. It's one of those things that only happens when you're in your twenties. I spent six weeks in Thailand when I was 24 or 25. I'm 41 now, so this was pre-cell phone. I was on a very small island having a daytime beach party with friends that came ashore off a cruise ship. After the cruise ship left and sailed off into the sunset, my boyfriend at the time and I were there alone and there was a long dock. The tide had gone out and I couldn't tell how deep the water went because it was this deep turquoise color. I wanted to jump off the dock and he was like, 'You're crazy. It's too shallow.' I was like, 'Don't tell me I'm crazy,' so I jumped.
"I shattered my left heel. I needed way more than Treat's chat care, but that would've been a start. There was no doctor, so we had to pay crazy cash to some guy to take us on a speed boat to the mainland where I got into a Thai hospital and they put me in a cast. I would have loved to have access to a doctor because at the hospital no one spoke English, and they wanted to give me shots of painkillers. I didn't let them inject me with anything, but if I had been able to text with a doctor to see what the actual medicine was, I probably would have been more comfortable."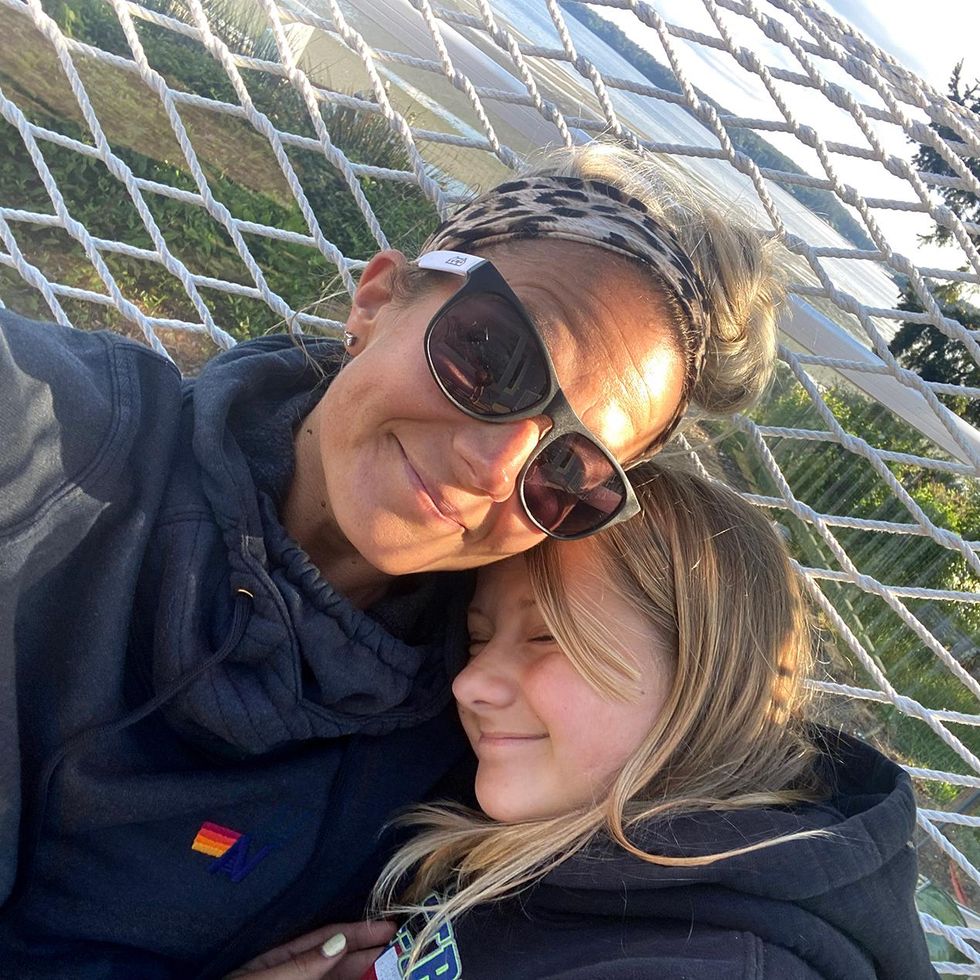 What would you recommend to someone experiencing travel anxiety in a post-pandemic world?
"We are all learning now that there are health-and-wellness ways to deal with anxiety. For example, we sell a therapy journal. It's an anti-anxiety travel notebook. And my 12-year-old daughter has anxiety, so I bought this for her. It takes you through exercises helping you journal to relax. I love that Treat can offer things like this from the get-go that are natural and simple ways to combat anxiety.
"In our next phase, Treat will offer mindfulness sessions, so that's another great tool to practice getting to the root of your anxiety. You can ask yourself: What are you anxious about? Do you need a mask? Do you need anything from the 'protect' category? Or do you actually need to see a doctor for a Xanex prescription? It starts here with wellness, but we have that medical arm for when you need it. That's why Treat will be valuable in the future."
What does revenge travel mean to you?
"Revenge travel is taking revenge on the time you lost in 2020. It's partly wanting your time back, but it's also just like, YOLO…look how fast the world can change! What if this happens again? It's truly revenge on time."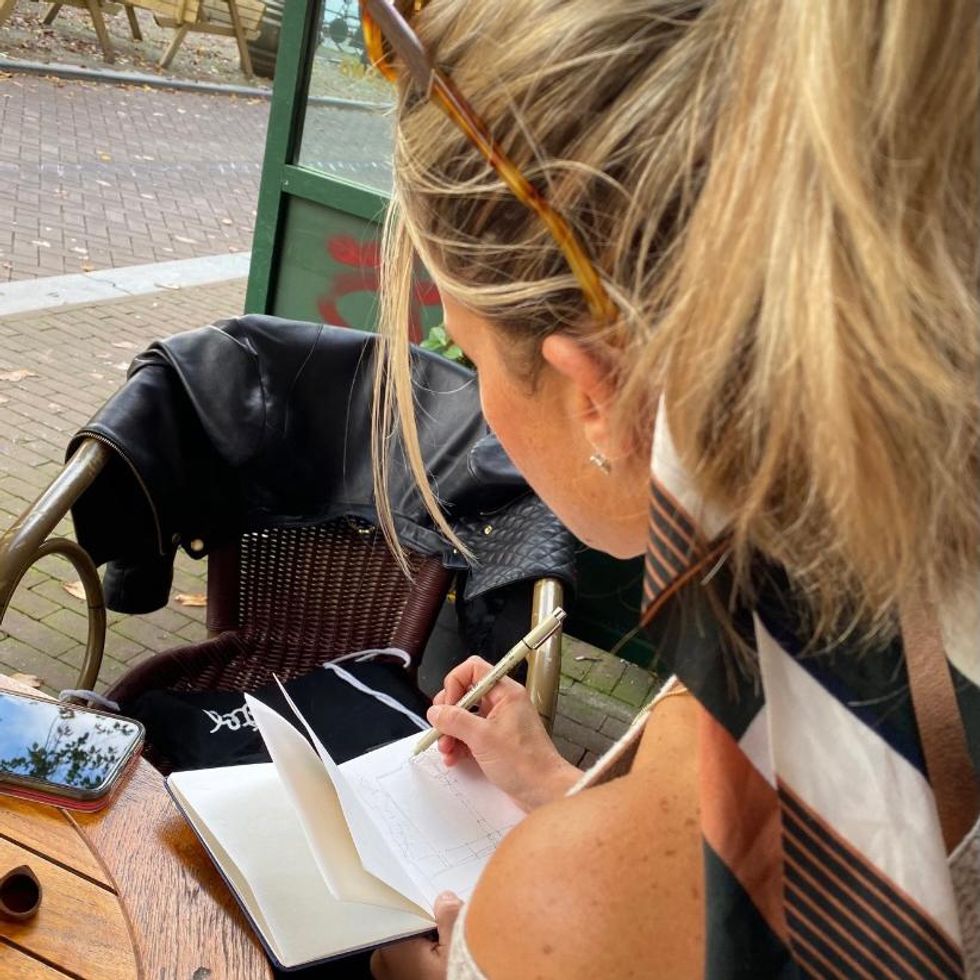 What words of wisdom would you offer to inspire a life well traveled?
"Don't be shy. Go get your big, crazy life, but do it safely and responsibly with the tools you can find to have your wellness lifestyle. You really do only live once. Pack your sunscreen and wear a mask, but go get those experiences."
On the landing page of the Treat website, there is a quote from John Steinbeck: "People don't take trips, trips take people." What does this quote mean to you?
"If you live in Kansas, don't go to Mexico and try to live like you're in Kansas. Go to Mexico and soak it all up. Let it take you to the place. Eat the food, wake up when they wake up, and check out all the local spots. When you get home, you'll feel a little different because you learned a new perspective.
"As Americans, we get used to a level of comfort and then we go somewhere wanting that level of comfort. There is something amazing about being in a place where you're uncomfortable because you see how others live. You let the trip take you. Then, when you get home, you have a new appreciation."
Traveling soon? Be sure to sign up for Treat before your next adventure.
Photos: Courtesy of Kelsey Hanson
Want more stories like this?
The 7 Best Under-the-Radar Greek Islands to Visit
Nana Agyemang's Wellness Escape to Sonoma
The Power of the Mouth-Body Connection