Sevyn Streeter Is "Guilty" of Style and Sonic Evolution
The "It Won't Stop" singer reminisces on her favorite 2000s trends.
Celebrity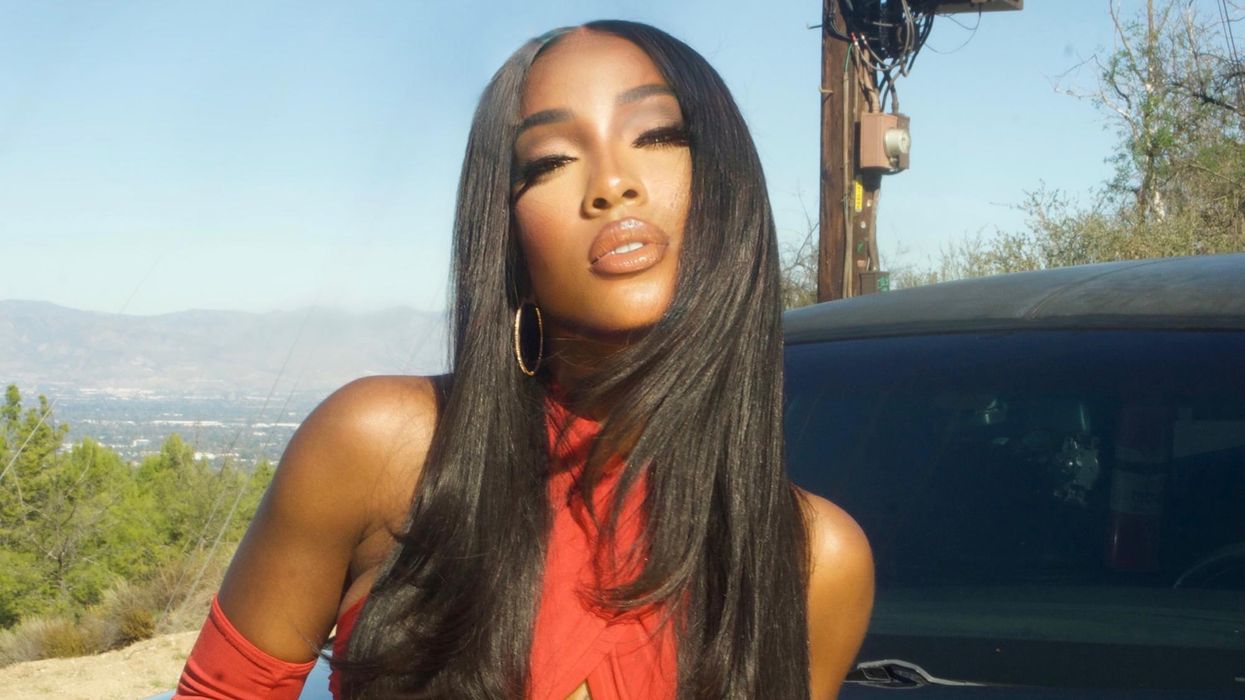 Renowned singer-songwriter Sevyn Streeter made an entrance in the fast lane of the music world in 2012 with her "I Like It" debut single and hasn't shown signs of slowing down since. Shortly after the release of her debut EP Call Me Crazy, But… , the artist born Amber Denise Streeter went on to achieve two Top 40 hit singles with "Next" and a Chris Brown—fused collaboration "It Won't Stop," which also went RIAA Certified Gold.
Not only does she have her talented vocals as a vital instrument, but Streeter has a sick pen game for days. To name a few, she's written hits for K. Michelle, Usher, Ariana Grande, Trey Songz, Alicia Keys, Fantasia, and Brandy. Does Tamar Braxton's hit single "All the Way Home" ring a bell or two?
Streeter is preparing for the release of her sophomore album Drunken Wordz x Sober Thoughtz, which is slated to release this summer, and her latest single, "Guilty," featuring Chris Brown and A$AP Ferg, is currently trending Top 30 on both mainstream R&B formats and has over eight million streams combined at Apple and Spotify. The Florida native's forthcoming album will have a star-studded lineup including Davido, Lucky Daye, and Jeremih.
Coveteur connected with the famed artist about her growth as an artist since we met her in the early 2000s, her style evolution throughout the years, and her thoughts on confidence in body positivity.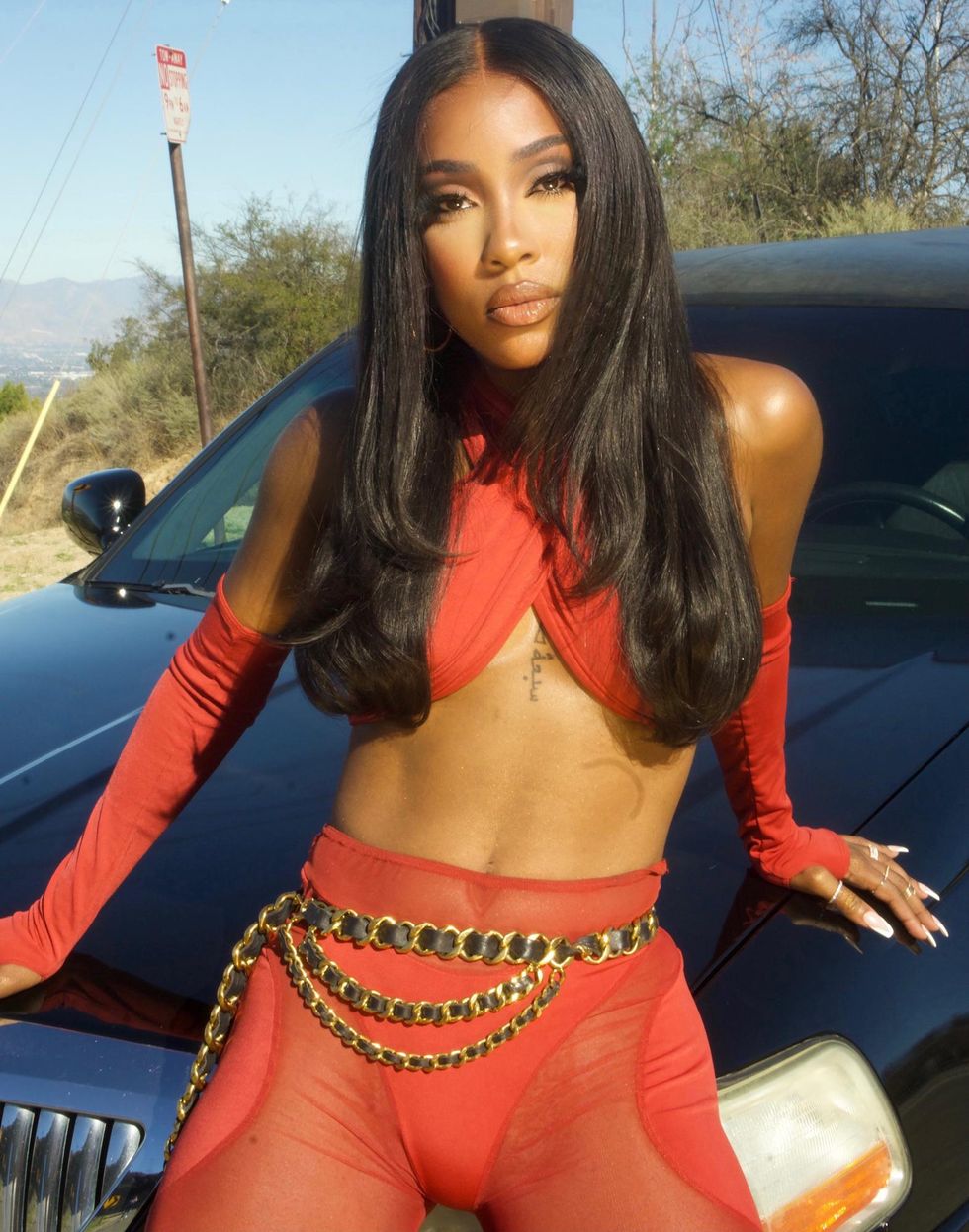 Photo: Brandon Almengo
On her mental health and making it a priority:
"My mental health is good because I've learned to do things like take time whenever I get it. It's something I had to be intentional about. It's easy to wake up, go straight to your phone, and start working, working, working. As we speak, I'm sitting in my tub with my lit jay drinking a whole shit ton of water, thinking about everything that I need to do today, writing things down, and will watch me a sermon. My mental health is good. I try to take as good care of her as I can.
"I've watched the people that I keep around me because that plays a huge part. There are a lot of days where you might struggle a little bit. You might not necessarily be able to get yourself out of your funks by yourself. I have really great friendships and relationships with certain people in my family, like my aunt is my pastor. I can call her at four o'clock in the morning if I need to. My mother is a minister. I call her around because obviously that's my mama. My friends are always sending me something to read or sending me some type of way. We check on each other a lot.
"I've always used writing for thinking purposes, but outside of that, when it's silent to write down everything that you think, it's really powerful. Get that stuff out of your head. It could be ideas or they can be fear. Sometimes if you write a fear down and you actually look at it on paper, it's not so scary. You find the little things, and I think I've found so many things during quarantine and post-quarantine that helped me with it."
On quarantine reflection:
"I don't mean this in a bad way. Even with my parents, as much as I love and need them, they understand what I said. I learned in quarantine that I really don't need nobody but me and god. You can want people in your life, and I've said this for a long time, but there's a difference between wants and needs. I'd rather be wanted and have people who genuinely want you around. In quarantine, you couldn't hop in your car and go to lunch with somebody to kill some time. You couldn't just surround yourself with a lot of noise to avoid the conversations that you needed to have with yourself. When it's just me and god, I'm OK. I'm more than OK, actually. It helps make room to add other things in my life that are valuable when I build on top of that foundation."
On using silence and solitude to help her grow:
"I think people like to have people around or get opinions from people because it takes a lot of the pressure off of you. It's less heavy lifting for you. I liked that when we were alone and we were by ourselves in the quarantine, I learned how to engineer myself a little bit better and how to really train myself in terms of working out. I couldn't go to the gym, you couldn't be around your trainers and you really were in this thing by yourself. I asked myself so many questions and learned, especially just from dating and talking to different men. Intellectual, at first, we couldn't be around each other, so I learned what vibes are like. Like, 'Oh, OK. He makes me laugh. OK. He makes me think a lot.'
"You learn that not all your girlfriends are in your corner, but you really learned who are your people and most of your tribe. At least I learned who was my tribe. I learned that even when it seems like there's a lot to be done, we're actually capable of doing it. It's one of those things that kicks in for us that we can't foresee it. When moments like that happen, you realize that 'I have enough to get to where I need to get to, and I can't let myself down.' I'm really proud of that."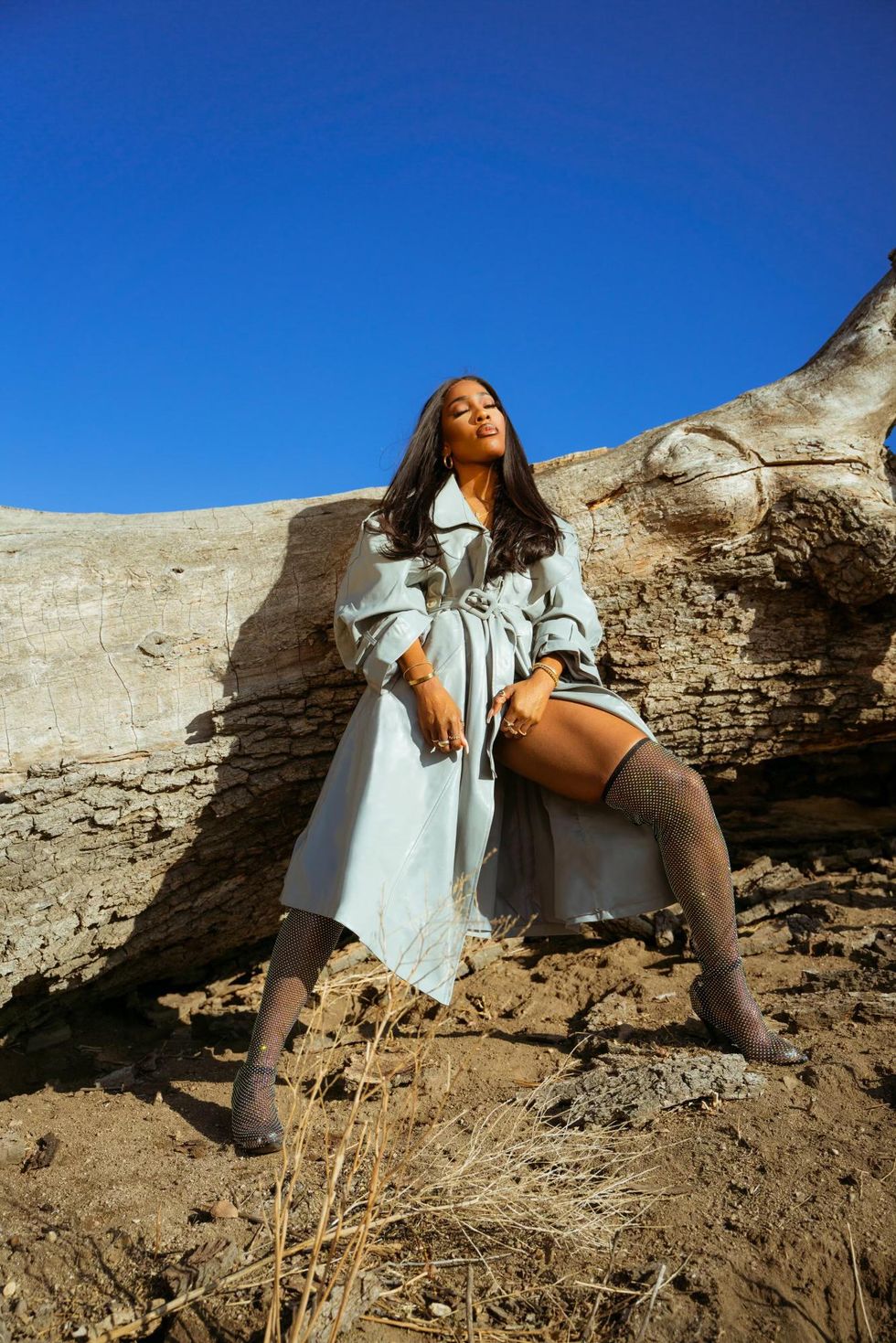 Photo: Owen Langer
On "Guilty" with Chris Brown and A$AP Ferg:
"'Guilty' is my baby. I've always loved the James Brown 'Payback' sample. There's a video of my granddaddy dancing to James Brown bars in the big 'Payback' at this house party across the street at my aunt's. That record always gave me the best memories and warm feelings. When I grew up and I heard Total and Biggie flip it and Puff flip it, I was like, 'Oh, this is the song my granddaddy was dancing to. I love this song and the vibe.' They made it feel so cool.
"When it came back around with 'Guilty,' a friend of mine named Spice sent me that record and a couple of different records. I was like, 'Oh shit, here it is again,' and it felt just as good as it felt the other times that I fell in love with it. It made me move the same way my granddaddy was moving. I couldn't wait to cut it and sing it with some of our new flares, but really try to be true to it 'cause James Brown was singing on here.
"The record feels like a gathering or like a party of some sort. It feels like it is you and some other people having a good-ass time. When I heard it, I automatically wanted some friends on it. Pocketwise and vocally, there's nobody better than Chris, especially for that record, who was going to sing it the way that he sang it. With Ferg, it took me back to when Total and B.I.G., Biggie and Puff did it. I wanted that feeling of New York hip-hop on this record."
On her sophomore album, Drunken Wordz x Sober Thoughtz:
"It's so funny. I think that people put a lot of unnecessary pressure on sophomore albums. I'm not going to hold you, but I'm having so much fun creating with my friends. I got a record with Bango, I got a record with Charlie Heat, got a record with KP. If anything, I want this product to be a testament of the absence of pressure in my life. I don't do that in that type of environment. I've had to be in that before, but just, I'm just really happy and I want the songs to reflect. When I say happy, I mean happy to the point to where I feel comfortable tapping into any side of my creativity.
"I want people to just listen to Drunken Wordz x Sober Thoughtz because I want them to find their own experiences within the songs. I never liked to tell people how they should feel about my project. No, you tell me what songs make you feel some type of way. Who's the first person you thought of when you heard that lyric? That'd be the type of stuff I get excited about. I'm excited for fans to just join me where I am now and for us to meet each other where we are now. My fans have grown a lot since my last project, and so have I."
On her pen game:
"Man, writing, for me, it's just, I think it's become a little or a lot, actually. It's become a lot less. It's always been fun to me. So when I say the word scary, I think when I was like younger, like my early twenties, writing was like, 'OK girl, you got to get this placement. And yeah, have fun doing it, but we got to get this placement.' And now it's from a place of, and it's always been in this place, but it's even more so from a place of like, let's just have as much fun doing what it is that you love to do, period. I just feel like you can't lose when you operate from that space, You really can't lose when you operate from that space."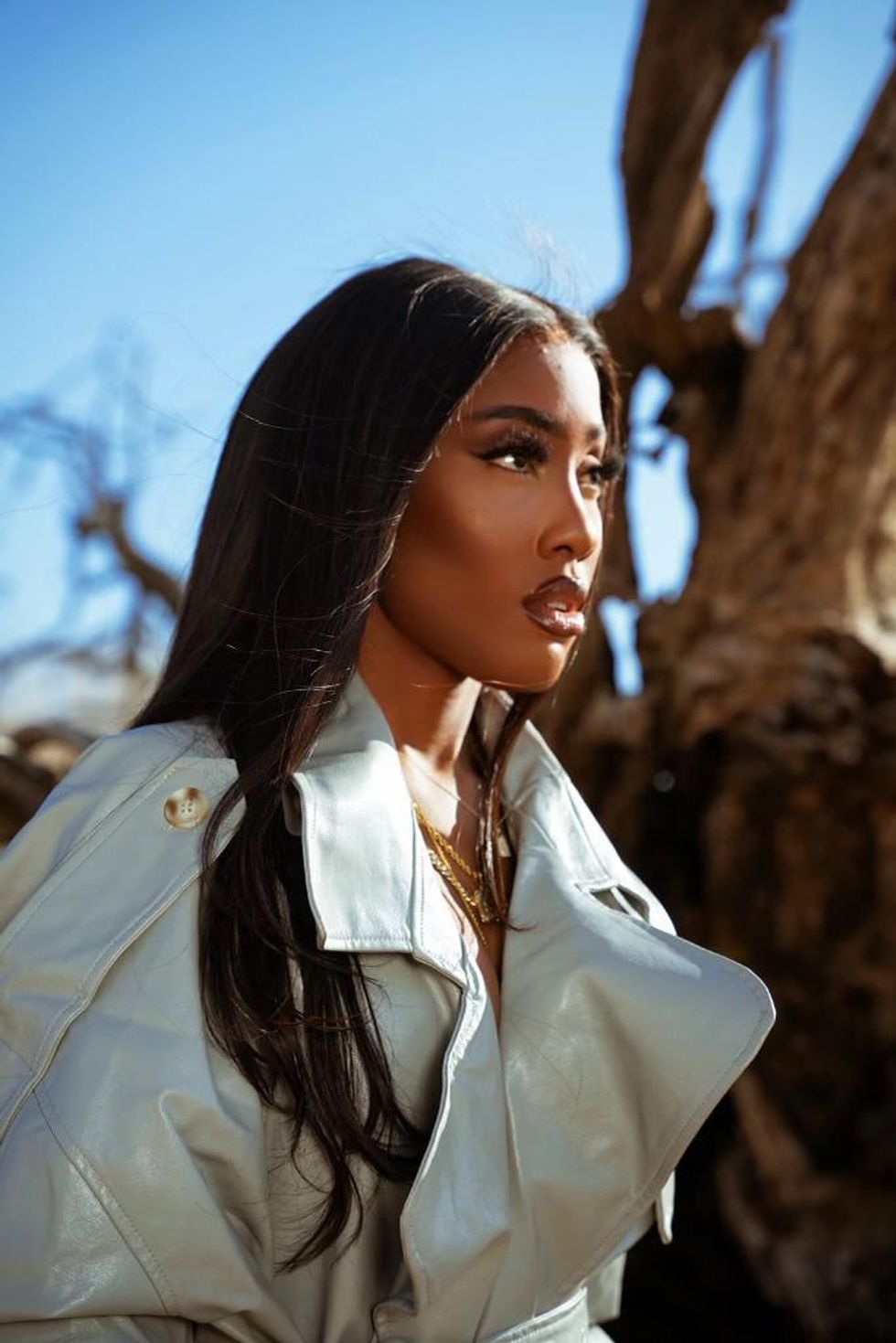 Photo: Owen Langer
On her beauty evolution:
"[My stylist] let me bump my head a couple times, which I love him for. It helped me really sharpen the way that I view the clothes that I wear and how they fall on me. I think from then to now, my style has become a bit cleaner, a little bit more defined, more me now, in a space where I want to combine everything that I love, growing up in fashion and watching music videos. I want to fuse that with where I am now. Today, I feel like I'm a little bit more simplistic, but the version of me that loves everything early 2000s, late '90s was my space."
On early 2000s trends:
"I used to have these big bell bottoms that were embroidered at the bottom, and they were my favorite fucking jeans. The embroidery was like army green and gold stitching, and they were really big at the bottom. They were low-rise and I had this matching top. I love that the other day I saw Rihanna, and they weren't quite bell bottoms, but they're pants that she wore that were embellished at the bottom with feathers and shit. I was like, 'Oh my god, this is so that era.' I love that that time is now again, it makes me happy because it was just so much fun. The clothes were fun. I'm going to want everything to come back at least so we can try it at least one time. Like we're going to remix it. Bring it all back."
On her personal style:
"I'm a little bit, well, I'm a lot country girl next door. I'm very much a country girl next door and very much so like, the bigger the hoop, the bigger the hole. Put me in something that's short, tight, and sexy. I'm your country girl next door until it's nighttime—then it's time to step out, and I just turn it on. I'm a little bit of both, but I'm a lot country.
"It is hard to describe yourself, but I know those things are definitely true. I like things that make me feel curvy. I like things that we all do as women. You like things that accentuate the things you want to accentuate and conceal the things you'd like to conceal. I like it all. I will say that I don't really like to wear a lot of clothes. I think that's the Florida in me because it's just so hot. It's like disrespectfully hot. Give us a tank top, some Daisy Dukes, and some flip-flops, and we good."
On loving your body and embracing confidence:
"It ain't nobody else's concern what you do with your life, your body, your spirit, your time, and your mind. It's yours, and you don't owe anyone any explanation. I'm going to be honest, once that clicked that I didn't owe anybody any explanation on how I would like to conduct myself, my body, and my time, it just opened up this whole other world for [me]. I love being a Black woman in my 30s. Today, these conversations help so much because you'll be like, 'Yeah, girl, get into yourself, learn yourself, love yourself. Like how fly you are and how dope you are,' and that's the only conversation me and my girlfriends have with each other.
"We spend time really untangling things that cause us to second-guess ourselves. We really don't have time for that. There's no need for it. Enjoy and actually take advantage of your alone time. Don't just sit there. Do something that you would personally like to do while also surrounding yourself with good girlfriends. It may take you a time to find those, but allow yourself that time because good girlfriends are there and they're national treasures to me."
Top photo: Brandon Almengo

Want more stories like this?
Naomi Osaka Beyond the Tennis Court: Style, Wellness Rituals, & More
It's Yvonne Orji for Me: The Best Friend We Didn't Know We Needed
The Tea on Taraji P. Henson: She Is Exactly Who You Think She Is