Why Is Everyone Obsessed With Tinned Fish?
The fancy snack has become a part of the current zeitgeist, and happens to look cool too.
Food
Photo: Stephanie Gonot; Stylist: Amy Taylor
Inevitably, most "trendy" food items have already been around for hundreds of years. It's Americans who are just now getting hip to them. Such is the case with tinned fish—a method of seafood preservation that entails catching the fish at its peak and canning it with oils and spices. This dish is deeply rooted in history and tradition and has wriggled its way onto menus in the U.S. and into a myriad of social media posts (often positioned beside a dollop of butter and glass of natural wine).

Unlike food fads like celery juice or bone broth, there's very little debate around the health benefits of these teeny tiny fish; they're packed with nutrients. You might even go as far as to say that tinned fish are without flaw or error, but we'll leave that up to you and your palate preferences.
One thing is for certain: tinned fish are part of the current zeitgeist. They've been declared " hot girl food " by fervent foodies, embraced by culinary leaders like Alison Roman and David Chang, highlighted on menus for buzzworthy restaurant and bar openings, and bragged about on Instagram by adventurous eaters (or at least those who wish to appear as such). If you're wondering what about tinned fish makes the concept just so brilliant, you'll need to back up a tad to the 18th century.
"Fish canning emerged in the late 1700s in France as a solution to providing nutritious, shelf-stable foods for French military (sexy, I know)," Fishwife co-founder Becca Millstein tells Coveteur. "The sterilization and preservation process was invented by Nicola Appert, now known as the 'father of canning' and the new product caught on quickly and spread throughout Europe." In the following century, Spain and Portugal emerged as leaders in the tinned fish category (which they referred to as "conservas"). What began as a utilitarian food source lauded for its lack of necessary refrigeration evolved into an artisanal, cultural delicacy.
Tinned fish is now a globally-celebrated tradition. "Rich tinned fish culture is by no means restricted to southern Europe," Millstein adds. "There's incredible tinned fish coming out of Japan, Latvia, China, Peru, Morocco, Korea—basically every country, but the U.S. has a sacred place for tinned fish in the national diet."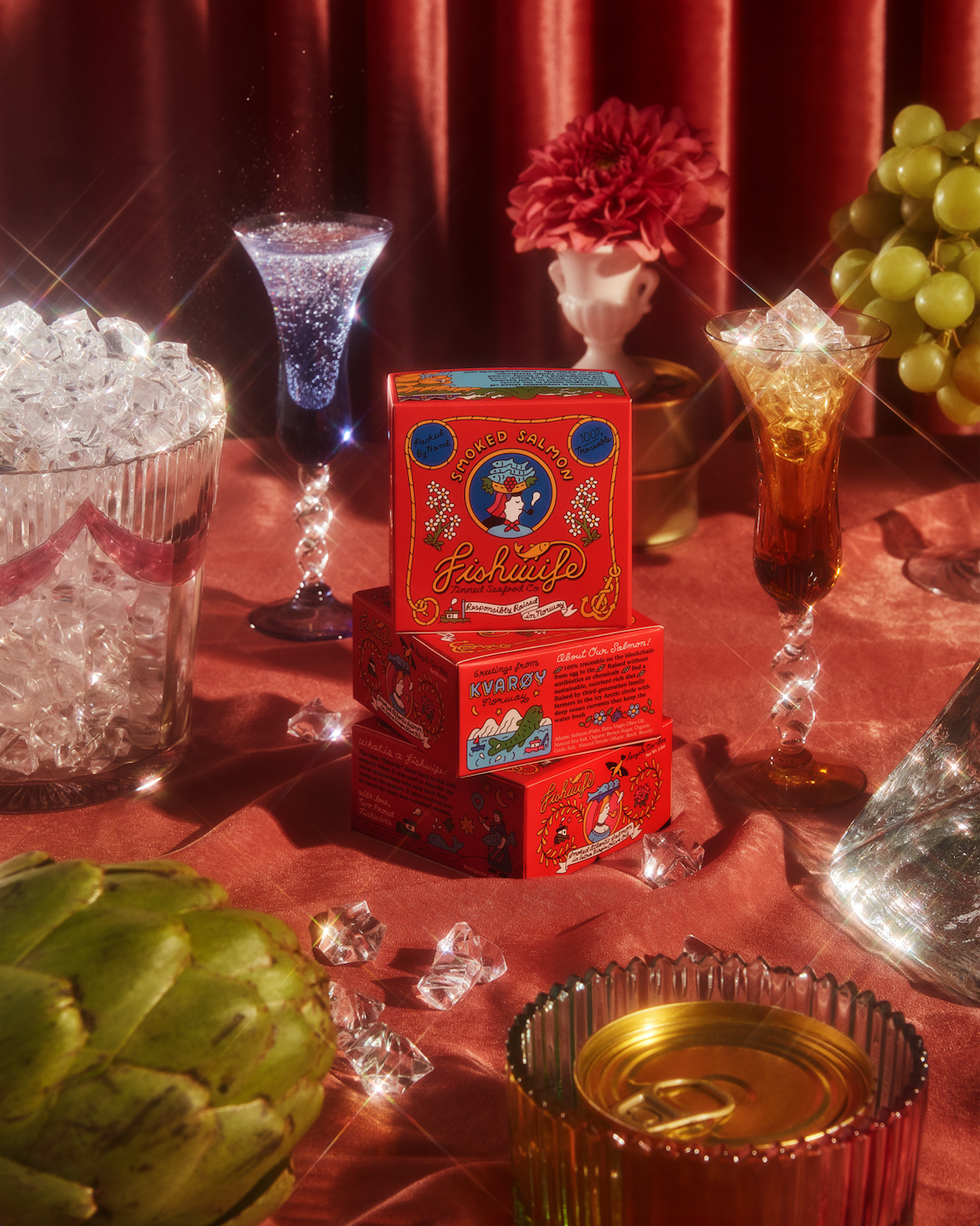 Tinned fish from Fishwife.
Photo: Stephanie Gonot; Stylist: Amy Taylor
Though it has historically been missing from traditional American cuisine, tinned fish has undoubtedly picked up momentum stateside. A large number of restaurants, bars, and seafood shops have cropped up in recent years that serve the preserved seafood. "It's been great to watch awareness and appreciation grow and to no longer feel like that 'weird tinned fish bar,'" Maiden Lane founder Gareth Maccubbin says. He's had European tinned seafood on the bar's menu since its debut in 2013. "When Maiden first opened, it was difficult to get people to wrap their heads around the concept," he says. "We would either find people who had spent time in Portugal or Spain or people who would lean in and whisper 'my dad likes sardines'—it was a weird insiders' club. Now, it's much more understood and on menus all over the country."

Nearby in the Lower East Side, recently-opened Le Dive is a French Tabac-inspired natural wine bar serving up—drumroll—tinned fish. "We wanted to add tinned fish to our menu as it is a beautiful representation of the space's food culture. The dishes we serve are small plates to share. They emulate the relaxed neighborhood feel of the tabacs in Paris," Le Dive Executive Chef Nicole Gajadhar tells Coveteur. She adds that it is precisely this style of laidback, effortless eating that is drawing people to tinned fish. "It's visually stunning when served on a table and delicious alongside crusty bread and accoutrements—all [are emblematic] of European culture," she explains. The traditional French packaging is also cause for intrigue, as the Ortiz fish are served in-can (rendered in saturated primary colors) at Le Dive. Fishwife, on the other hand, has reimagined the classic look with retro imagery that alludes to predecessors but with a modern wink—think simple, colorful illustrations of fish skewered by forks and, of course, the fish wives themselves.
Beyond their European elegance and beautiful packaging, tinned fish are also implicitly convenient. "While the cultural perception of tinned seafood as cheap, survival food has dominated in the U.S. over the past century, we began to see this tide turn as major thought leaders in the food space such as Anthony Bourdain, Alison Roman, and David Chang started advocating for the deliciousness, convenience, and utility starting in the late aughts," Millstein says. "The pandemic threw gasoline on the fire by forcing Americans to stay home, prepare their own meals in-house, and prioritize shelf-stable food to help in limiting their grocery store trips." It also presented an opportunity to be creative with pairings (e.g. natural wine) in simple, easy-to-prepare pleasures. "Tinned fish is the instinctive complement to this more European style of eating at home," she adds.
And if elegance, charm, convenience, and creativity aren't enough to sell you on tinned fish, there's wellness and sustainability to seal the deal. "Tinned fish offers a vast amount of nutritional value," Gajadhar says. "There are a number of protein benefits when enjoying plus vitamin B, Omega-3 fatty acids, and calcium." It's also relatively easy to find tinned fish that comes from sustainably-managed fisheries and aquaculture farms, so be on the lookout for those terms when shopping for your tinned fish.
Millstein reveals that there are several popular species you should partake in: tuna, sardines, anchovies, mussels, octopus, clams, oysters, trout, and salmon. When it comes to preparation, Gajadhar is a minimalist. "When the tins are opened, we add an additional aromatized slow roasted garlic oil and finish the dish with fresh herbs and cracked peppercorns. It's accompanied with a warm crusty baguette and an assortment of pickles," she shares. Most importantly, Maccubbin says to be ready to actually taste fish. "Don't cover it up with sauces. There are certainly more approachable items like mackerel filets or tuna, but the range is huge; build up to roes or squid ink," he says. "You can add them to salads or pasta or rice, but I think they're best with just some bread, good butter, and a little parsley salad."
Shop the Story:
Ortiz
Patagonia Provisions