Designers
Meet India's Most Legendary Jeweler
The Gem Palace's Samir Kasliwal on inspiration, how to buy fine jewelry, and what's next for the brand.
India's Gem Palace of Jaipur is a world-renowned jeweler celebrated for its extravagant gems and elaborate, Indian-inspired designs. The brand was established by the Kasliwal family in 1852 when they were appointed the official jewelers for India's royals in Rajasthan, a northern Indian region dubbed the Land of Kings.
The family boasts over nine generations of jewelers in their venture and has designed jewelry for the world's elite—varying from Jackie Kennedy and Princess Diana to Nicole Kidman. The Kasliwal family have also exhibited their most iconic pieces at acclaimed institutions like the Metropolitan Museum of Art and the Kremlin Museum in Moscow, including precious stones that belonged to India's royal families throughout the past 150 years.
Today, Samir Kasliwal is at the helm of the Gem Palace's India operations together with his cousins, and he's also a jewelry designer by trade, having studied gemology in both Italy and the U.S. We met with Samir to chat about inspiration, how to buy fine jewelry, and what's next for the extraordinary jewelers.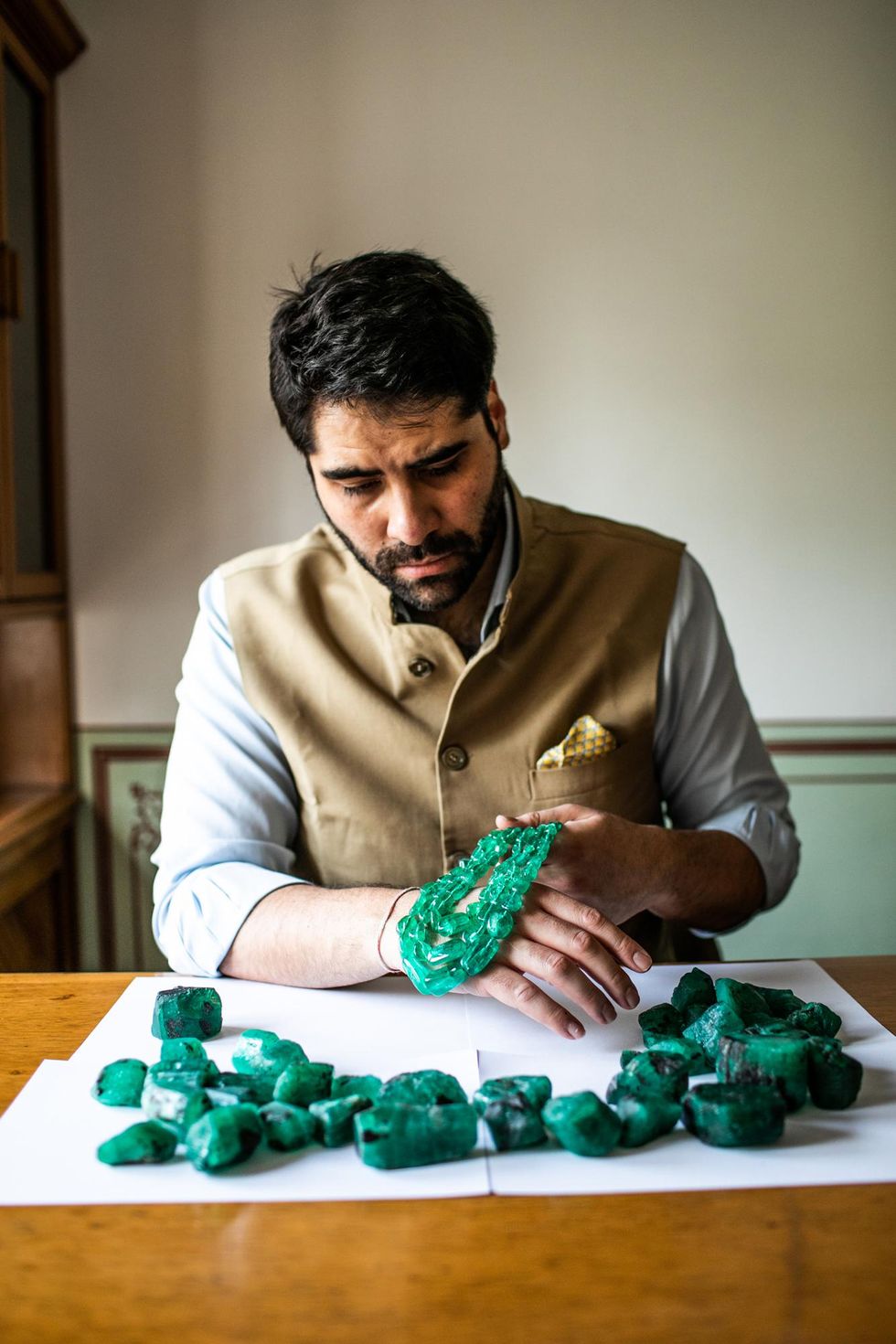 Where or how do you find inspiration for your collections?
"My cousins and I release two collections per year (one for the international market and one for the Indian market), and this requires us to continuously seek inspiration. As I live in Jaipur, Rajasthan's pink city, I'm incredibly inspired by the beautiful palaces found throughout the city, romantic architecture in the Rajasthan region, and the natural scenery. Many of our jewelry design concepts are shaped by the lotus flowers and animals found right beneath our noses in the region's natural ecosystem.
"Beyond Northern India, living in Italian cities like Venice and being trained by my father and uncle for so many years have had a tremendous creative influence on our collections."
What makes India's jewelry craftsmanship so unique?
"The stones are purchased in their original 'rough' state from all over the world to then be cut and polished in Jaipur, the flagship of precious stone production. India's traditional craftsmanship stems from techniques cultivated over 150 years ago; the jewels are entirely handmade and require intricate work performed by three to four specialized experts per piece.
"The jewelry design concepts are rooted in Indian motifs like peacocks, parrots, and lotus flowers, all imbued with vibrant colors."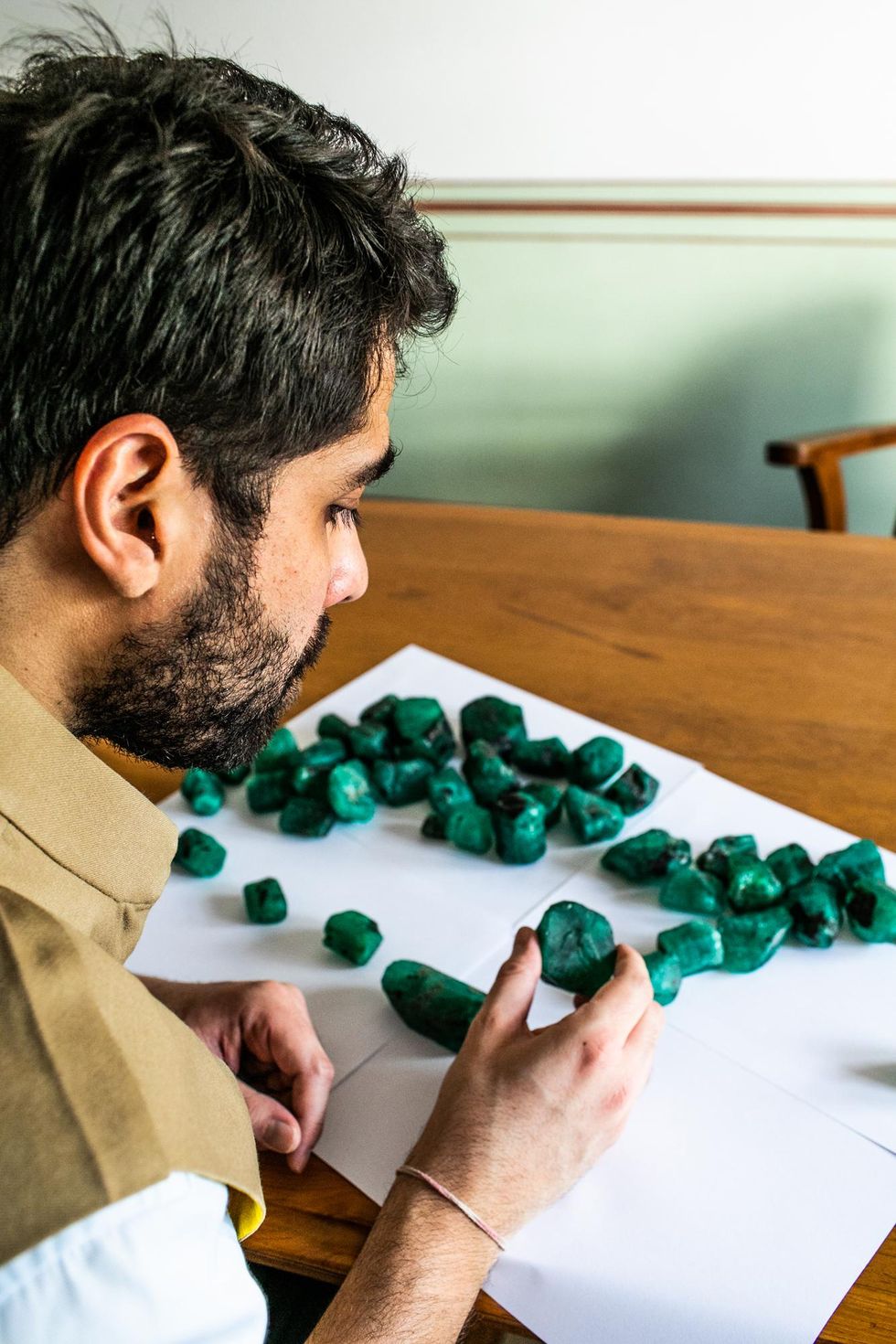 What are your most important tips for buying fine jewelry?
"There are four important parameters to look out for when purchasing expensive jewelry:
"Authenticity: The main concern when buying expensive jewelry is that the stones aren't genuine. To accurately assess this, ask to see the stones' certification and make sure that it comes from a reputable lab like the GIA.
"Clarity: How many impurities do the stones have (i.e., how clean is it from the inside)? If a stone looks 'too clean,' it may be synthetic. You definitely want to see some impurities, but not that many.
"Color: The color of the stone needs to be representative of the color that it's supposed to have. For example, an emerald needs to be green, not yellow or brown.
"Price: Do your homework beforehand to get a ballpark idea of what the piece of jewelry should cost approximately by visiting a few boutiques and comparing.
"Equally important: Buying fine jewelry is an intimate and personal experience, and so I recommend physically visiting the boutique to examine the piece and try it on. Of course, it's possible to buy jewelry from a reputable brand or online with a certificate."
What is your favorite type of jewelry?
"I personally think that earrings make the perfect piece; earrings are the easiest gift to give, as rings frequently have to be resized.
"Pairing and matching colored gemstones for luxury earrings is a very difficult task as you'll never find two colored stones that will look exactly the same. This is what makes the jewelry items all the more valuable. However, with diamonds, you can find two of the same exact stones."

What are you looking to achieve next?
"In the last 20 or so years, we've expanded the Gem Palace to various worldwide locations. Today our jewels can be found in most of the Taj Hotels and Oberois hotels in India, in New York City, and a few of the world's leading department stores. Since everything today is going digital, we must adapt, and so we're currently working on designing a new collection that caters to a younger clientele, which will be available online."
Photos: Courtesy of Samir Kasliwal
Want more stories like this?
An Ode to Zoë Kravitz's Effortlessly Cool Personal Style
A Lesson in Mixing Sleek Separates from Chef Melissa King
How Idalia Salsamendi Is Disrupting the Digital Marketing Industry