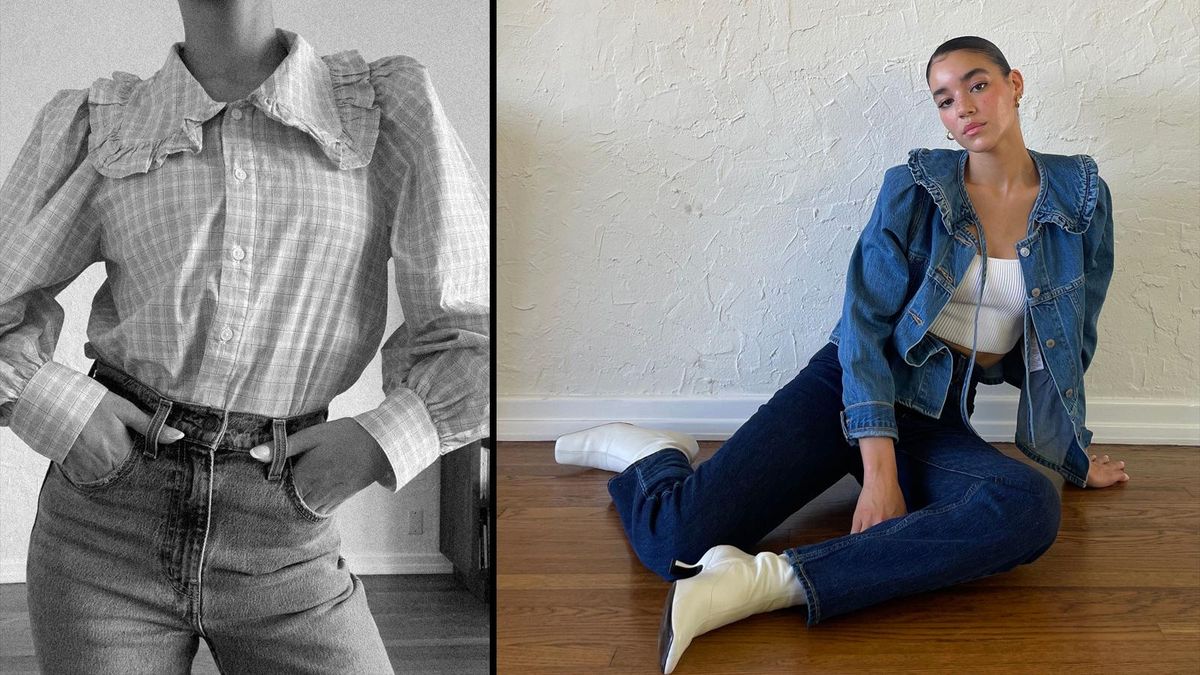 Fashion
How Model Tashi Rodriguez Masters the Comfy-Chic Uniform
It all starts with 70s High Rise denim. In collaboration with Levi's®.
Graphic:
Ashley Combs
Ask 100 people to explain their favorite jeans look, you'll receive just as many unique responses waxing poetically about how to wear a forever staple. L.A.-based Tashi Rodriguez is perhaps no different, but it's her refreshingly laid-back approach to styling that makes her advice even more appealing for fall '21.
Rodriguez, a model and content creator, has a mindful way of approaching everyday style that relies on easy combinations—she's big on two-pieces outfits—and incorporating trends, while only sticking to those that make sense within her existing closet. Denim is a mainstay, naturally, including pieces from Levi's®. Now, together with the iconic denim brand, we asked Rodriguez to demonstrate three ways she currently wears jeans to express her personal style POV. The resulting ensembles are modern with a nod to the past—the 70s High silhouette is a bit of a throwback—and eye-catching but never overcomplicated.
Ahead, take a closer look to learn more about how Rodriguez chooses the denim foundations of her wardrobe—plus a whole lot more on her favorite fit this season, the 70s High.

Jeans are such a personal purchase. What makes a pair absolutely perfect?
"My jeans have to have some stretch. I also prefer mid-rise or high-rise jeans. I love when my jeans have that nice worn-in look."
Do you have a perfected uniform you swear by or do you prefer to experiment each day?
"My perfect uniform would be a wide-legged pair of pants with a tank top. Then, I would usually layer with a blazer or cardigan. Finally, I would either wear my chunky boots or my favorite pair of sneakers. And, let's not forget my gold hoops. This outfit is my go-to because it looks effortless, yet put together."
Tell us about styling the Levi's® 70s High jeans. What makes them a great pair of fall jeans?
"The 70s High are a great pair of fall jeans because they are so versatile! You can keep them casual or dress them up. I like pairing them with my chunky boots or loafers."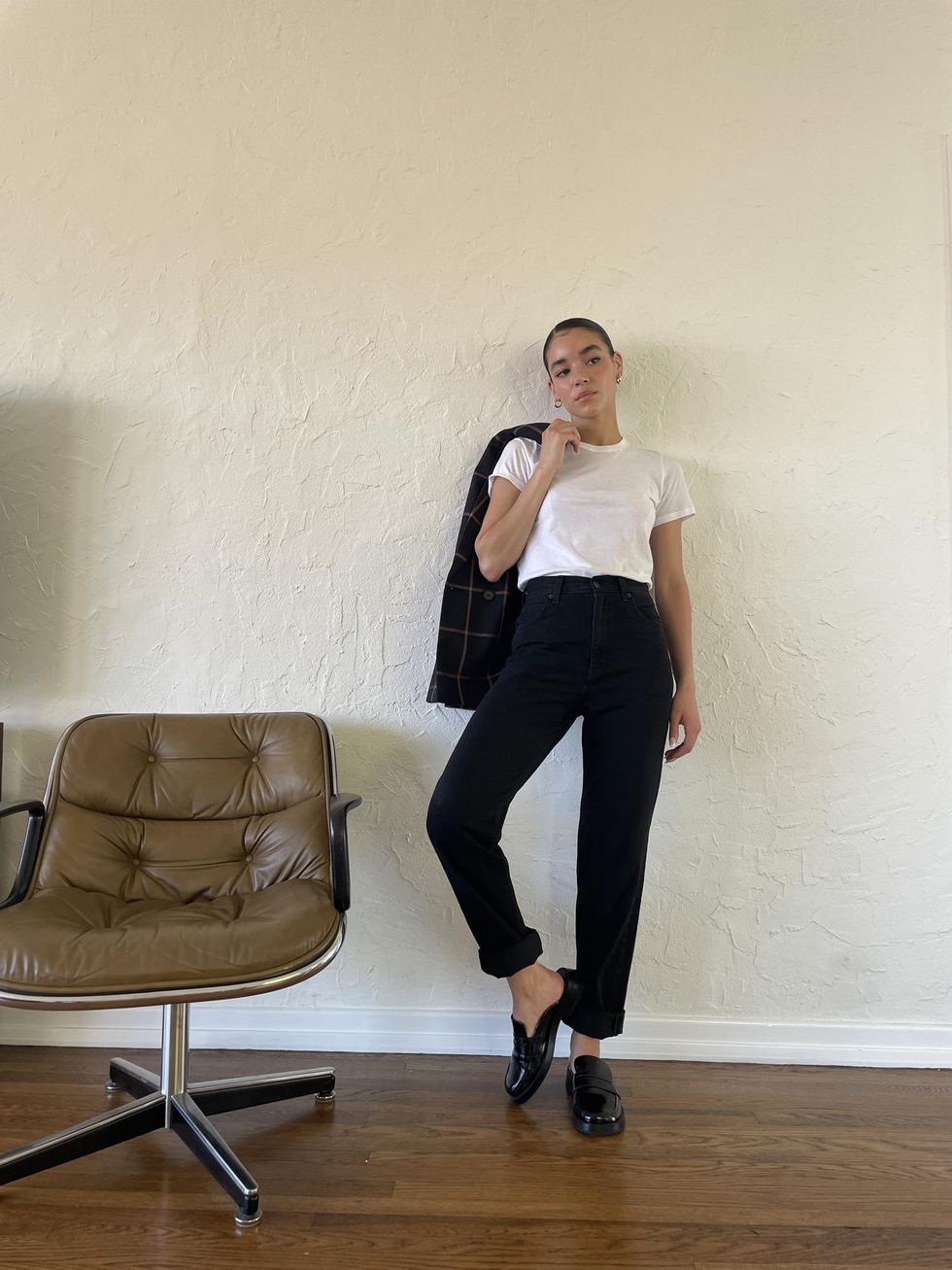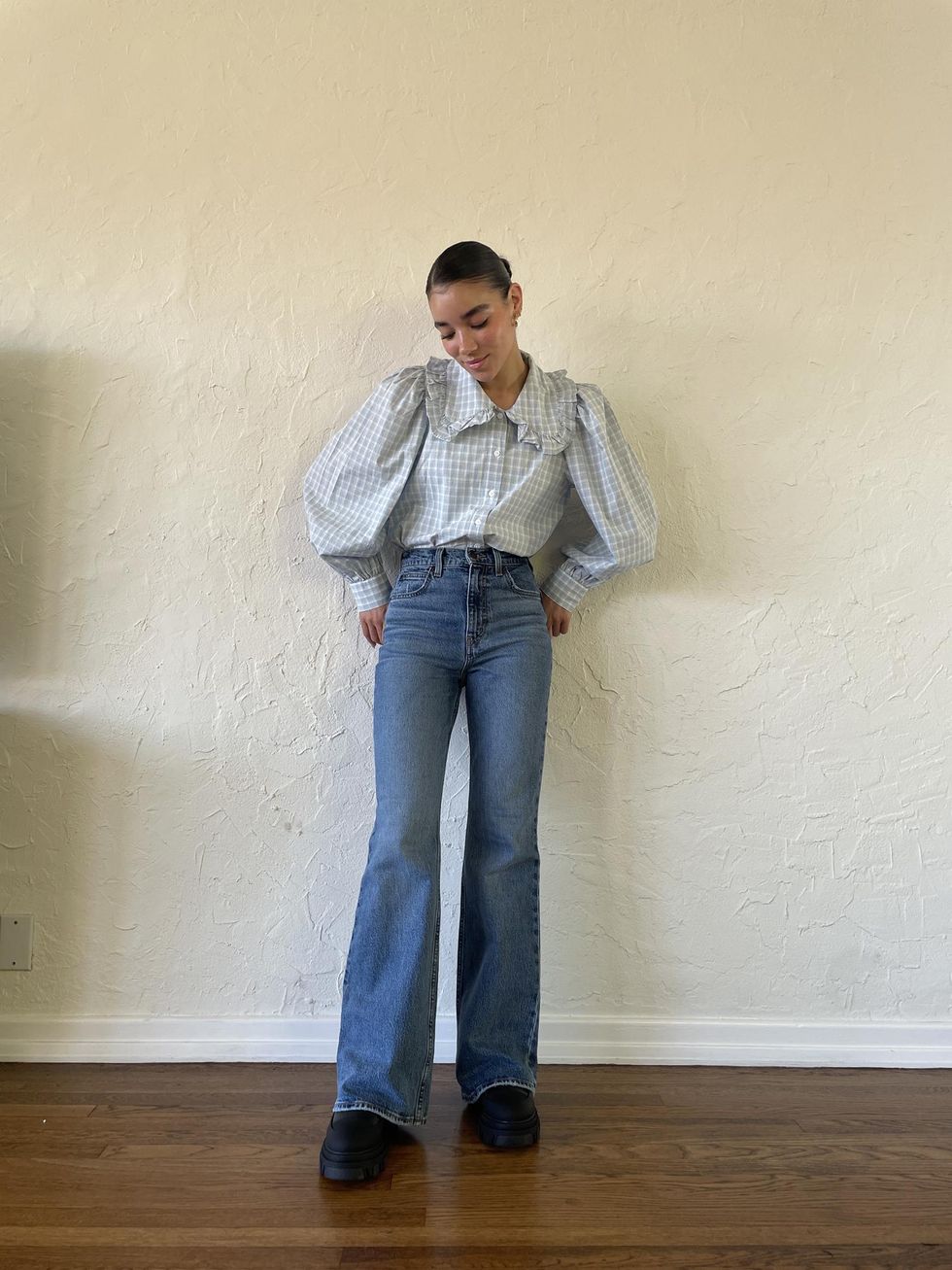 Abner Blazer
70s High Slim Straight
Emilie Button-Up
70s High Rise Flare
How did you decide to style the jeans, and why do all these pieces work so well together?
"I wanted all of the outfits to be as different as possible to show how versatile the Levi's® 70s High rise jeans really are—the fit is absolutely beyond!
"The blazer ensemble is a personal favorite of mine because it's so comfortable yet chic. The oversized collared shirt paired so nicely with the flared jeans and, by tucking it in, I was able to accentuate my waist. I also loved the blue-on-blue vibe. The denim-on-denim outfit was my way of dressing up the jeans. I was able to mix denim while still looking uniform."
Flares versus straight-leg: Where do you stand?
"There's definitely room for both in my closet. I love the comfortable high-rise fit across all the 70s High styles, but I prefer playing up the flares with a flirty, patterned shirt. For a classic straight-leg, that's when I'll go for a boxier top or lean into the denim-on-denim look."
When do you typically like to break out your new fall denim each year?
"Date night is a great moment to break out my new fall denim! The collared jacket adds flare to a simple outfit. I loved how the jeans hugged me in all the right places. I added a white boot, which I think brought the whole look together. This look was definitely inspired by the '70s."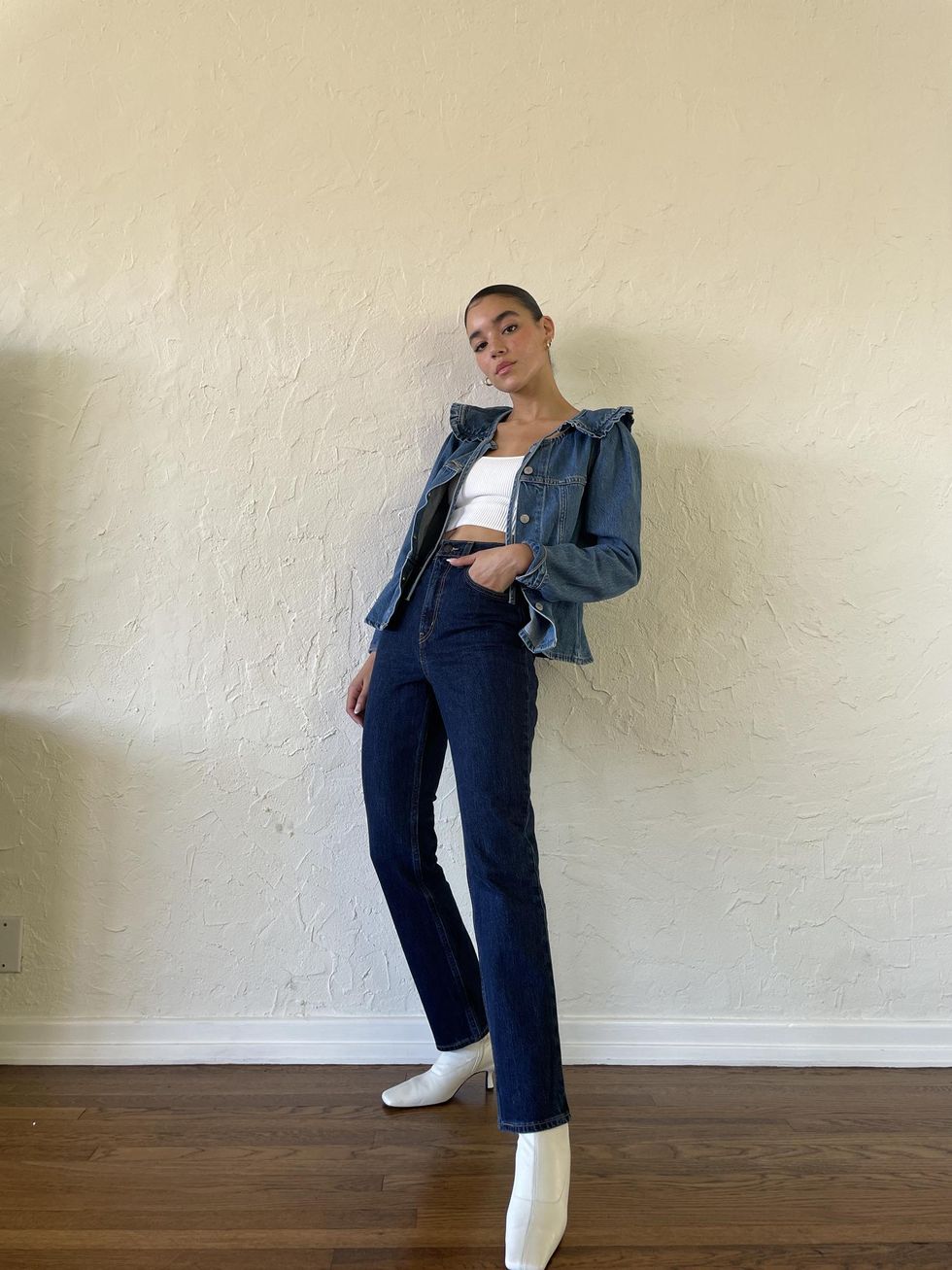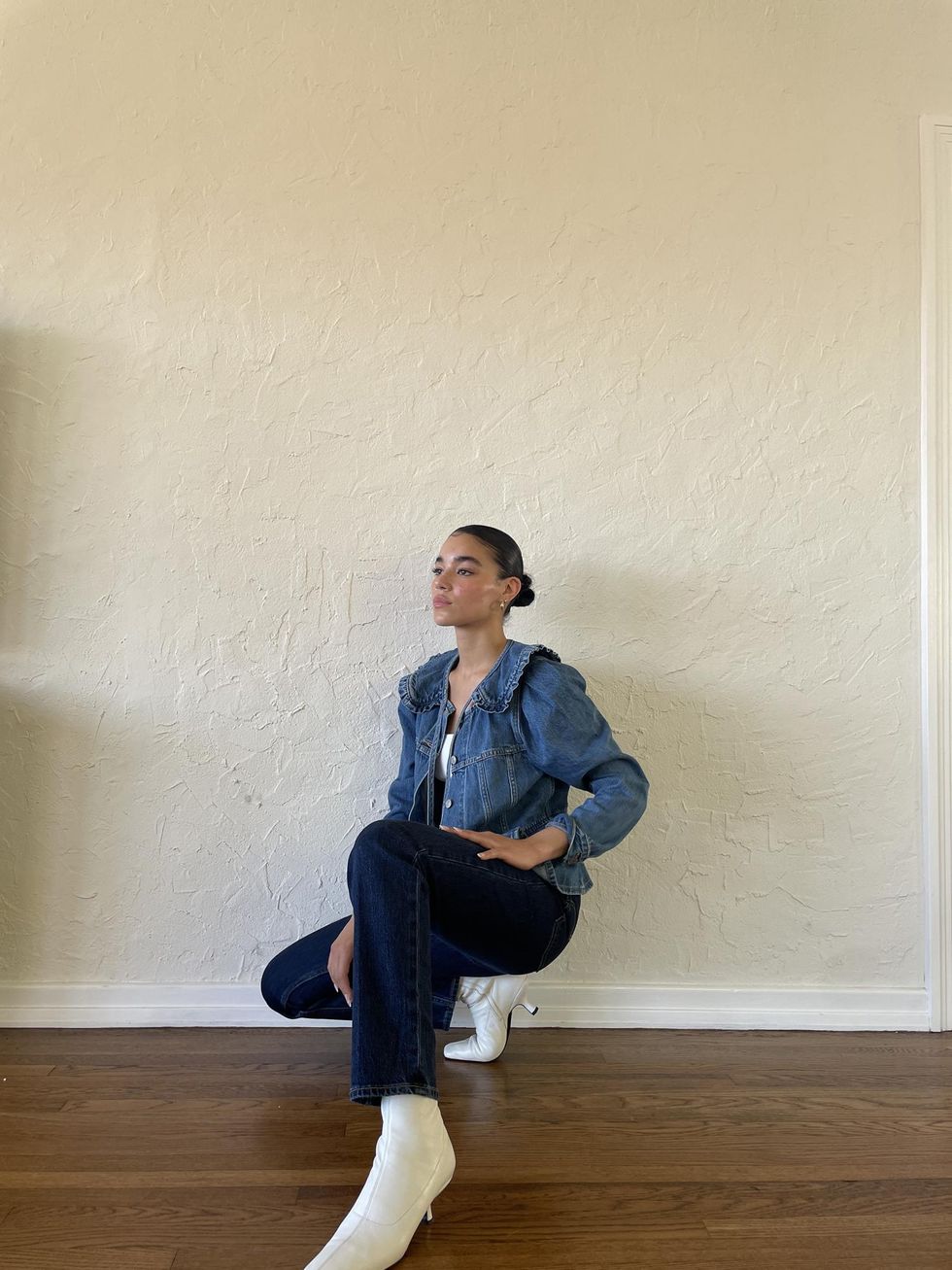 Prairie Trucker
70s High Rise Slim Straight
What's your all-time favorite way to style jeans? And what's something new you'll be trying this fall?
"I love a good Canadian tuxedo: denim on denim will always be my favorite way to style jeans. This fall, I want to find a few good pairs of vintage jeans and style them a million ways!"
Why is denim so essential to your wardrobe?
"It is timeless. Denim will never go out of style and can complete any outfit. You can create an infinite amount of outfits around one pair of jeans."
What priorities inform your sense of style right now?
"My style depends on how I feel when I get up in the morning. Most of the time, I aim for comfy-chic. Right now, I am very into two-piece outfits because it makes getting ready so much easier. I am all about efficiency. I also like keeping up with the trends, but only if they fit into my style."
And finally, what role does personal style play in your life?
"Personal style is so important to me because it is how I express myself and set myself apart. Sometimes putting an outfit together is a little bit like creating an art piece."
Head over to Levi's® to shop more fall looks.