The Wonderful World of Sir John
The artist is redefining Hollywood beauty—and beyond.
Cover Story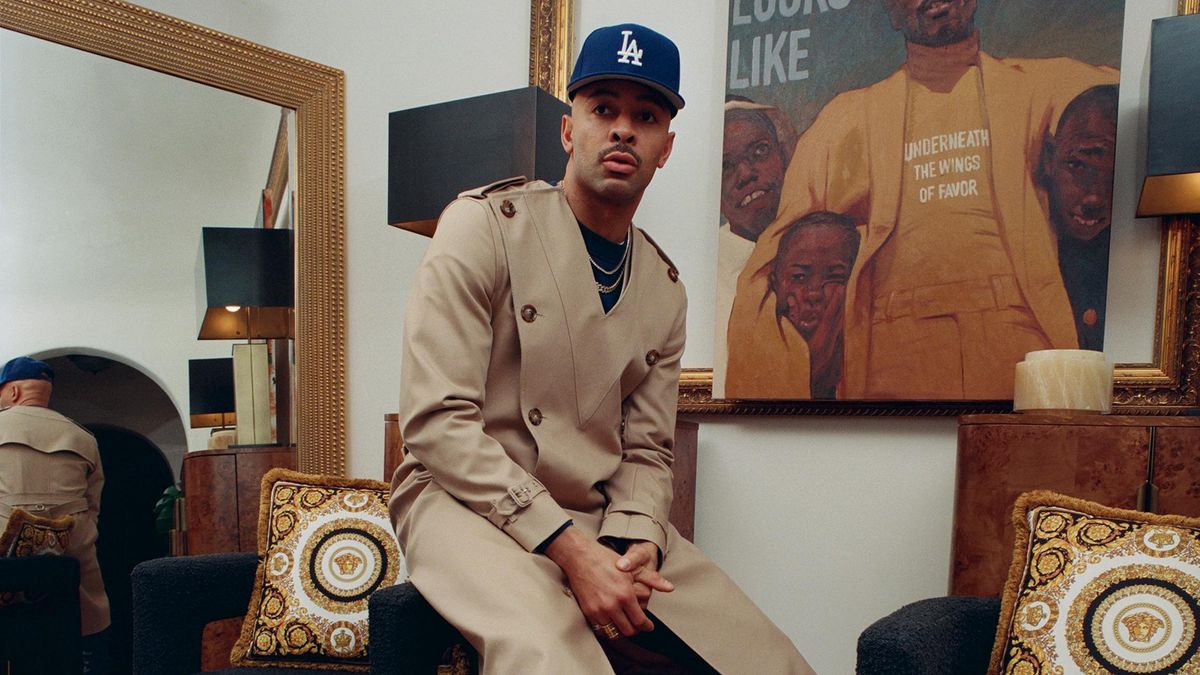 Travis Matthews
Photo Assistant:
Peter Noel
Sound:
Pamela Xing-Berman
Video and Editing:
Aaron Requeña, Future Of Creatives Group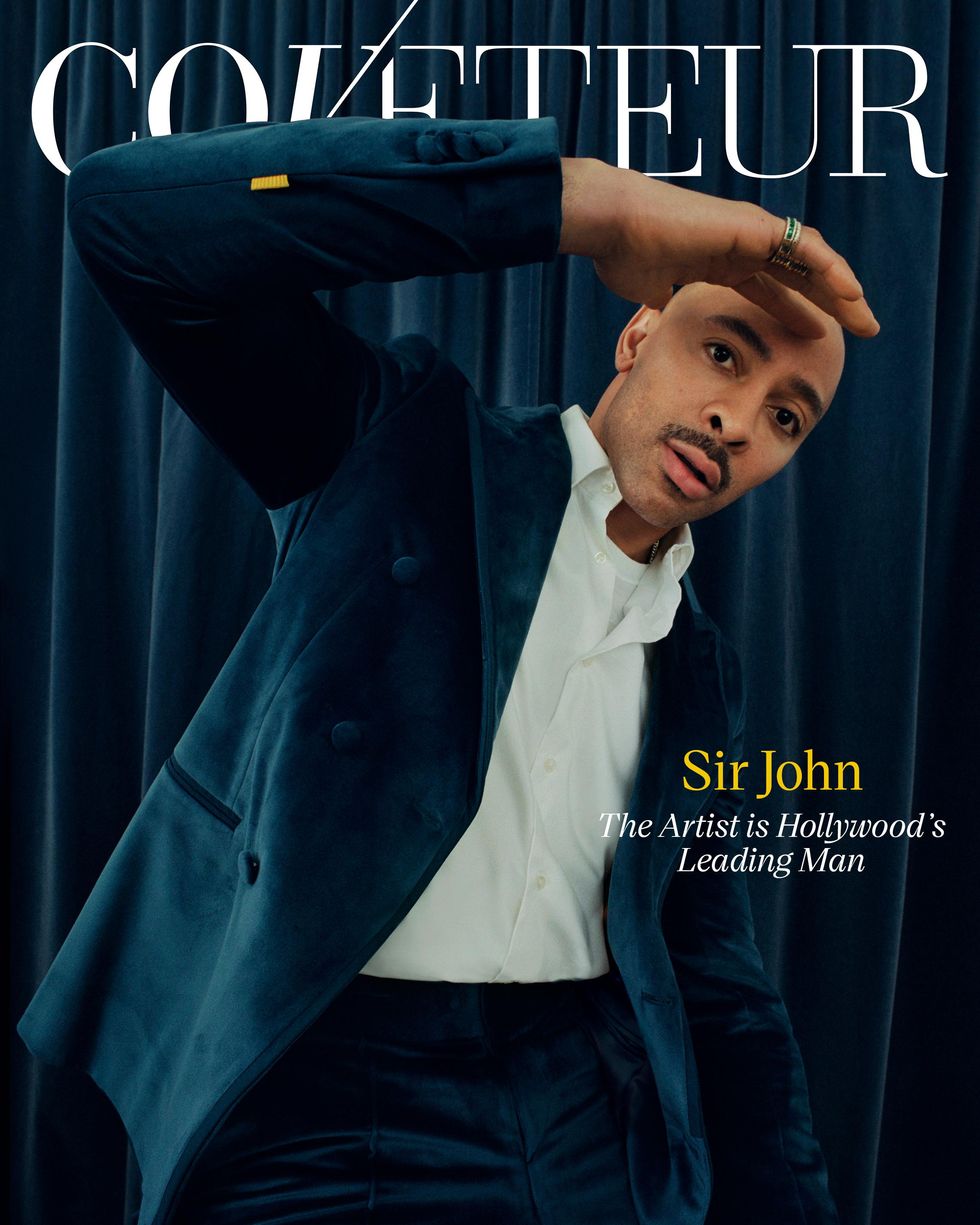 It's late afternoon in September 2018 and dermatologist Dendy Engelman, MD, and makeup artist Sir John are sitting inside the Hyatt Regency Paris Étoile. It's fashion week and Sir John is hosting a beauty masterclass, with Dr. Engelman, in front of an attentive crowd reeled in by his words. "There were attendees from all over the globe. People worshipped him like he was one of The Beatles," Dr. Engelman tells me. "There were literal tears shed when he called on people in the audience to answer their questions. One audience member got so emotional when handed the microphone to ask SJ a question that he couldn't compose himself. So, instead of moving forward with the program, SJ got off stage and went down to hug him."
Masterclasses often function like a church service: A devoted community gathers underneath one roof to partake in a ritual. The act of watching someone doing makeup can ground us physically and quiet one's incessant inner dialogue, just like a spiritual experience. The outcome is moot, though, if there isn't a charismatic leader to show the way. According to academic Richard Dyer, there's a difference between your everyday celebrity, a star, and a performer. "Stars matter because they act out aspects of life that matter to us, and performers get to be stars when what they act out matters to enough people." In a world where beauty is embedded into pop culture and the industry is valued at $511 billion, Sir John occupies both lanes.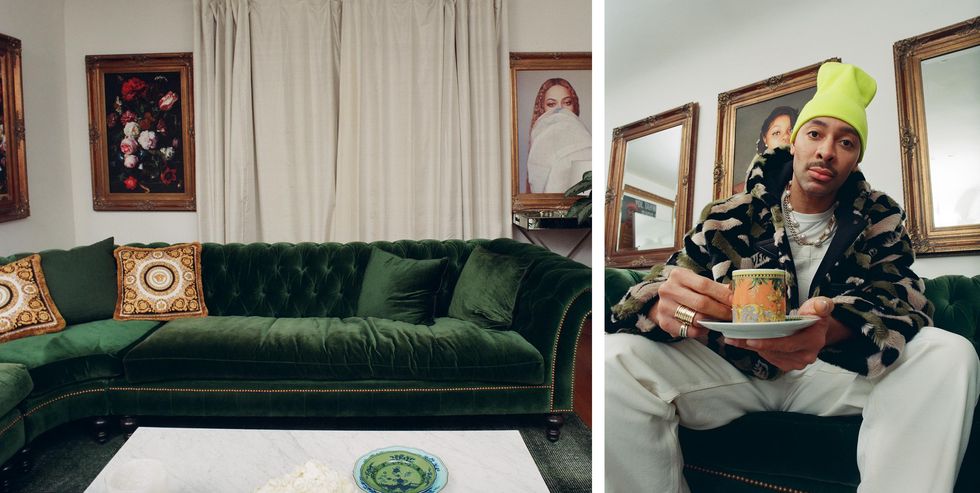 The celebrity makeup artist is a modern phenomenon. Movie studios used to control every aspect of a talent's image: what they wore, who did their makeup, and how their hair was styled. When the studio system collapsed in the '50s, stars were able to handpick their glam team. But it wasn't until the launch of Instagram in October 2010 that the behind-the-scenes world of beauty was thrust into the cell phone light. Celebrities were able to, literally, post their own stories, sharing images and videos of them getting Botox, eating Sweetgreen salads, and prepping for red carpet events. The teams behind the faces became more visible as well, letting you in on the products and techniques used to create a look. It was as if they were swapping secrets with their followers, creating a level of intimacy between the two parties.
The makeup artists today don't just paint faces. Sir John is L'Oréal Paris's first Black US Creative director. He appeared as a mentor on Lifetime's competition show American Beauty Star. He launched a special-edition Lion King makeup collection tied to the live-action remake. He's ahead of industry trends—remember when everyone on TikTok was buzzing about brushing your brows with glue and contouring with sunscreen? Sir John dropped those tips on an episode of the beauty podcast Fat Mascara six years ago. He's also the trusted makeup artist of the biggest pop star in the world.
Sir John operates at a faster speed than the rest of us, pushing creative boundaries while also holding a deep understanding of the business of beauty. "My mom always stressed that we should walk like we have somewhere to go. I don't mosey along unless I'm with my friends," he tells me over Zoom from his living room, a 15-foot velvet green couch resting on the walls behind him. "If you see me, I'm on my way, I'm walking fast, I have business to do."
In 2001, Sir John was an art history major at American Intercontinental University in Atlanta before he left during his sophomore year because he couldn't afford it anymore. With $400 to his name, he moved to New York City and crashed on a high school friend's couch. After doing makeup on a shoot where the artist canceled last minute—"I didn't know about foundations, eyeshadows, anything. I just knew color"—he worked behind the counter at MAC, then moved to visual merchandising where he worked at Henri Bendel's before making the switch to Gucci, where he worked from 7 PM to 7 AM. The remaining hours were spent getting the dancers at Riveria's Gentlemen's Club in Astoria stage-ready; it became a safe space for him.
His career's inciting incident happened on his lunch break. He ran into his old friend Yadim, a makeup artist he knew from Atlanta, who invited him to come do makeup at fashion shows in Bryant Park with artist Pat McGrath. Afterward, McGrath invited Sir John to assist her in Milan. "The night after I worked the show, I went back to the club to work, and I remember telling the girls, 'I got this cool opportunity to go to Europe, but I can't go because I've got bills." The next day, when Sir John returned to Riviera's, the dancers had pooled together $2200 for him to go to Milan, where he received his first passport stamp and met his first client, Naomi Campbell.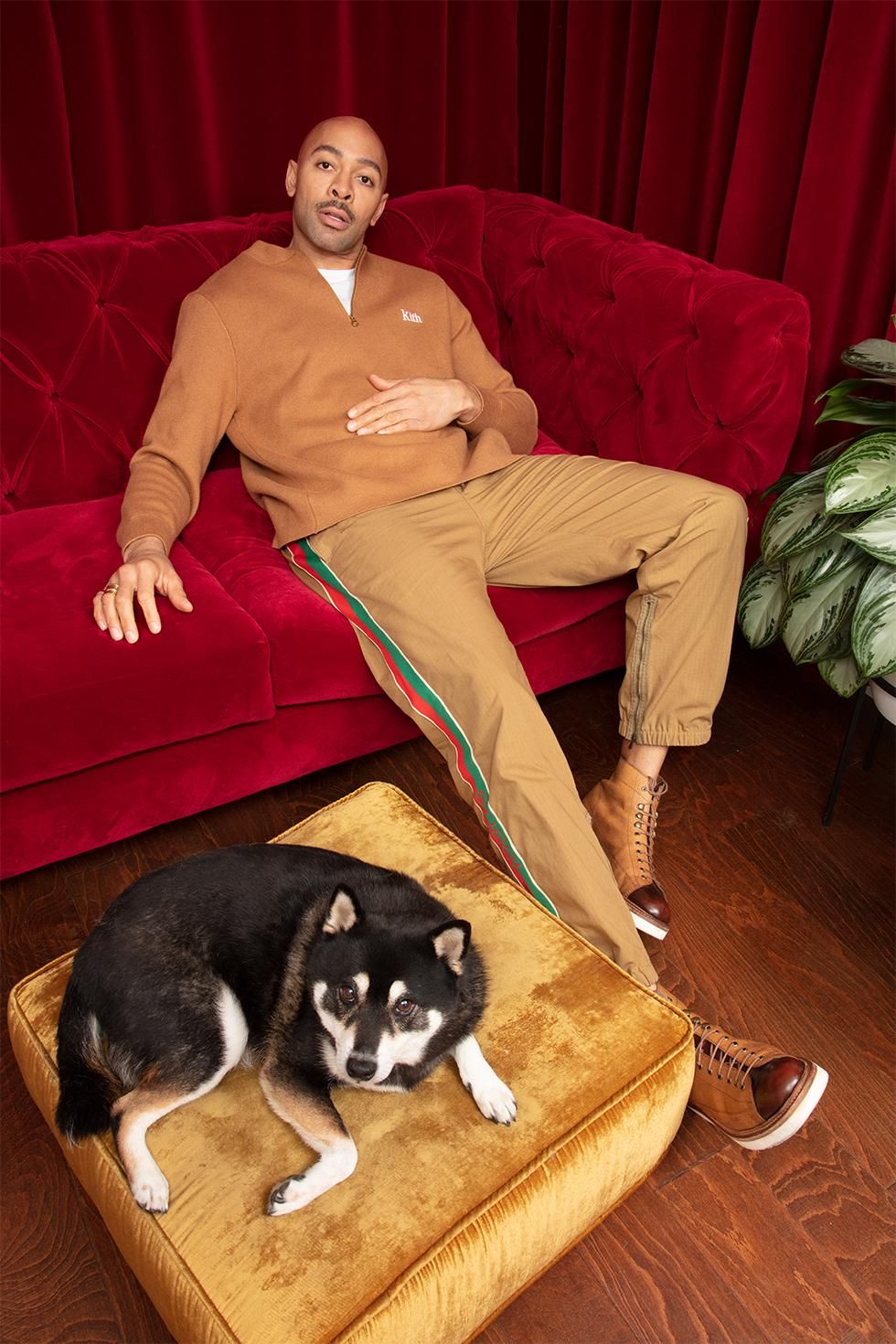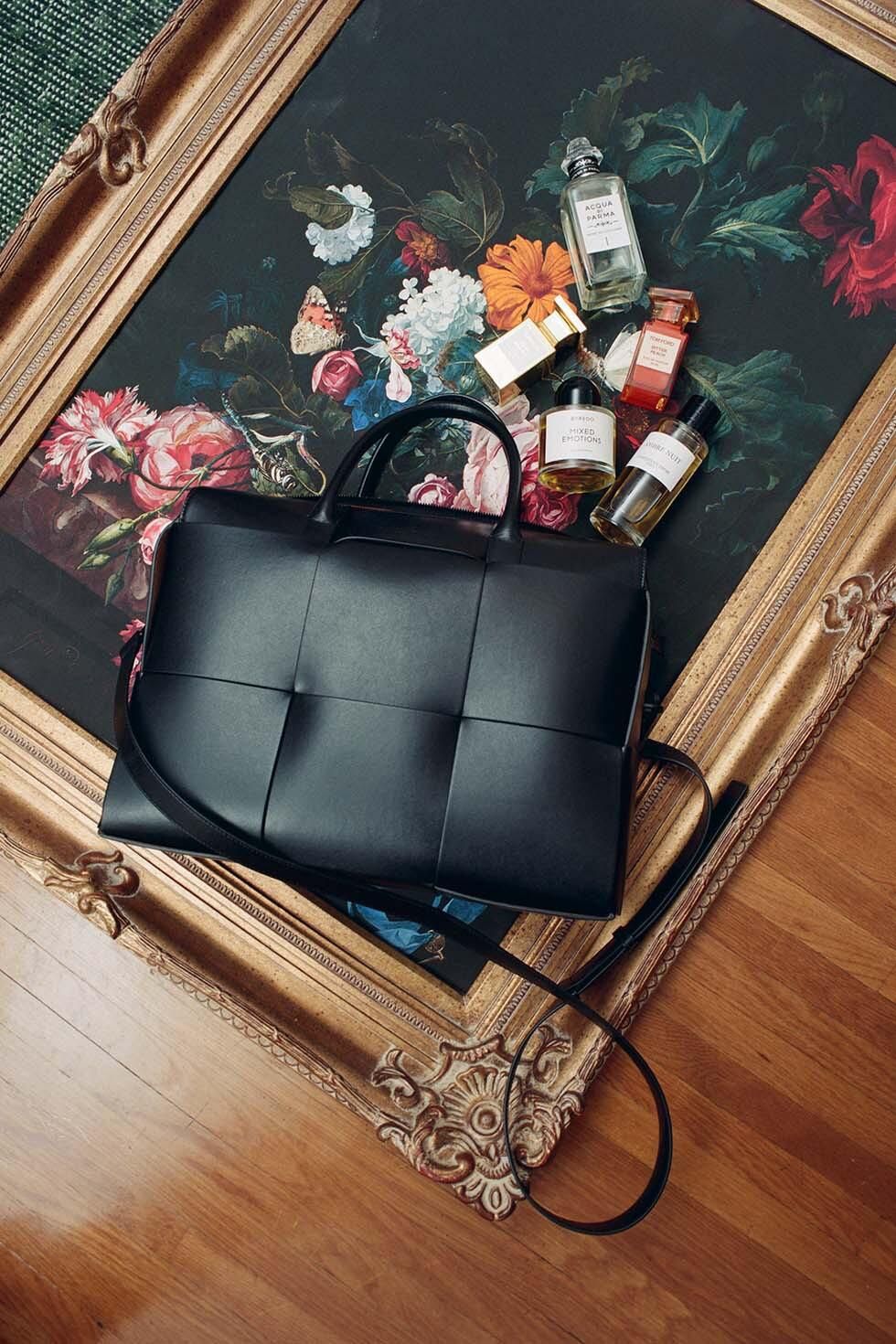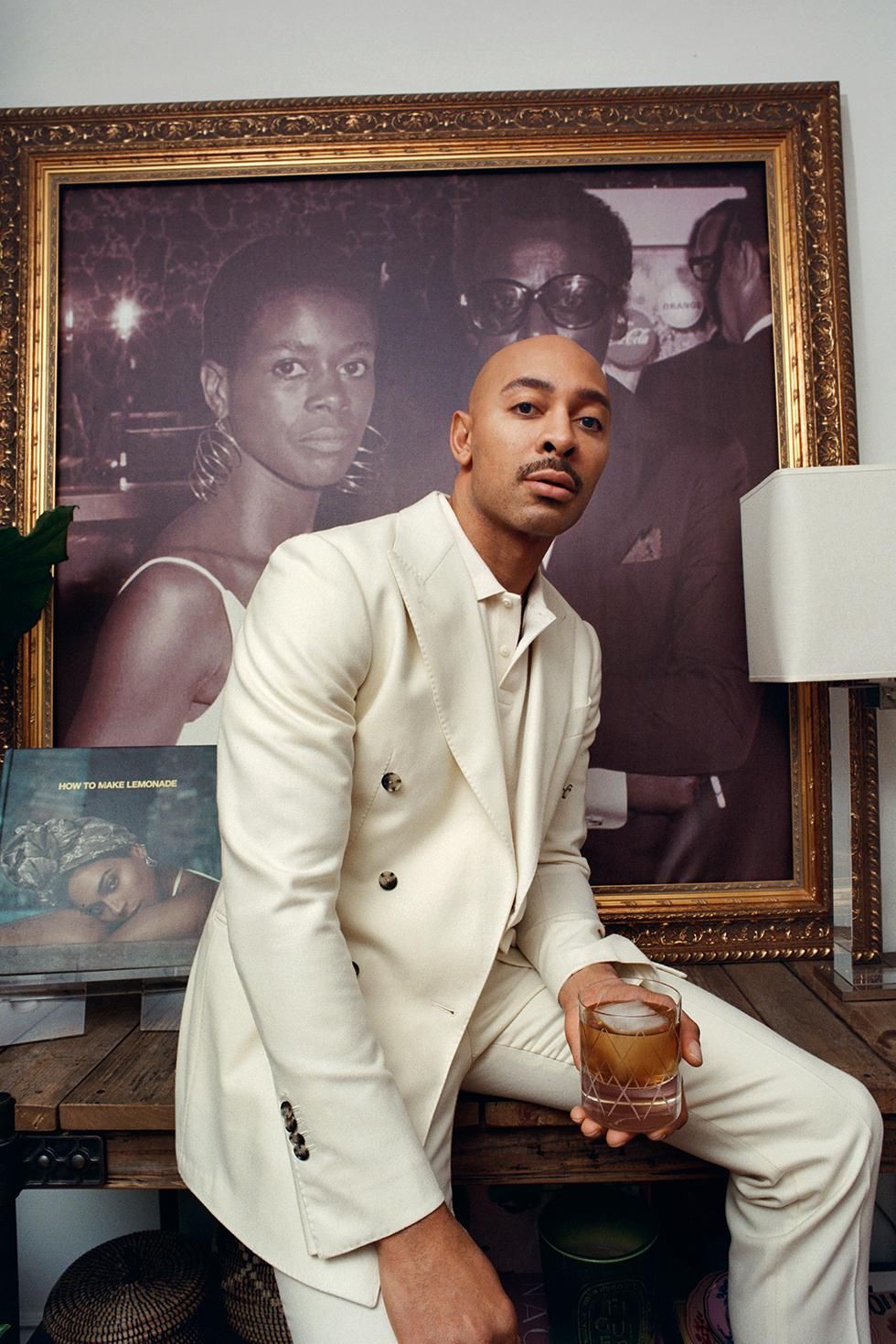 The kindness those women showed him still stays with him, and it's a sentiment he aims to pass along as he moves through this world. When Carly Cardellino, beauty content creator and former beauty director at Cosmopolitan, and her husband Giovanni Vaccaro had their first child, Delfina, in 2019, Sir John wanted to treat them. "He told us to choose a restaurant and he'd pick up the tab," she tells me over the phone. "He's such a warm soul, and I've been lucky to know him and call him a friend."
When Maya Allen, beauty director at InStyle, was an intern, Sir John was her first celebrity makeup artist interview. "I sat on the phone stunned by his incredible knowledge, which he shared so generously, and humbled to be in conversation with such an amazing artist I had long admired," she wrote over email. Soon after, when she landed a job as a beauty assistant, they met in person. "As an assistant, I stayed in the background and kept my head down doing the work, but he made sure to come back to the beauty closet where I sat to greet me. He made me feel so seen and valued. I will never forget that moment."
While movies like The Devil Wears Prada and documentaries like The September Issue have offered the public a glimpse at what goes on behind the scenes at a glossy fashion magazine, the beauty editorial world remains opaque for many. The industry is small, and editors, dermatologists, makeup artists, and hairstylists get to know each other through desk-side meetings, press trips, catered dinners, and styling sessions. In the beauty and entertainment industries, the overlap of a Venn diagram where one grouping is "extremely talented" and the other is "genuine and authentic" is small. Yet, Sir John sits comfortably at its intersection.
When Dr. Engelman first met Sir John, they spoke nonstop for two hours. "It was as though we've known each other in another lifetime, and we picked back up where we left before." Leah Wyar, president at People and Entertainment Weekly, met Sir John during fashion weeks and press events, but it wasn't until they both starred on season two of Lifetime's American Beauty Star that they connected on a deeper level. "This was a particularly difficult time in my life: massive company leadership changes were causing uncertainty, insecurity, sadness, and confidence-shaking," Wyar wrote in an email. "On top of that, I was having some personal challenges getting and staying pregnant. He knew what was going on and, even though he had put in an eight-hour day, would regularly invite me into his dressing room to listen and offer advice. There is a genuine kindness and brightness to his soul that can't be taught or fake. Anyone who has ever been in the room with him for a minute is a luckier person because of it."
Julee Wilson, beauty director at Cosmopolitan, considers Sir John to be family. "He's someone who not only gives himself selflessly to his craft, but he's also someone I can call when I'm feeling down or when I'm doubting myself," she says. "It's not easy being Black folk in the beauty industry, and the fact that we both can acknowledge that and help each other through difficult times or difficult moments is truly something that is priceless to me."
I should reveal some things: I, too, am a part of this beauty ecosystem. I've sat in Dr. Engelman's office chair on several occasions, I've worked for Cardellino, Wyar, and Wilson, and I consider Allen to be a close friend and mentor. And, like her, Sir John was my first makeup artist interview back when I was an assistant. After the story went live, he shared it on his Instagram, followed me, and then messaged me to tell me that the piece was beautifully written. That was about two years ago; I still have the screenshot of the DM on my phone today.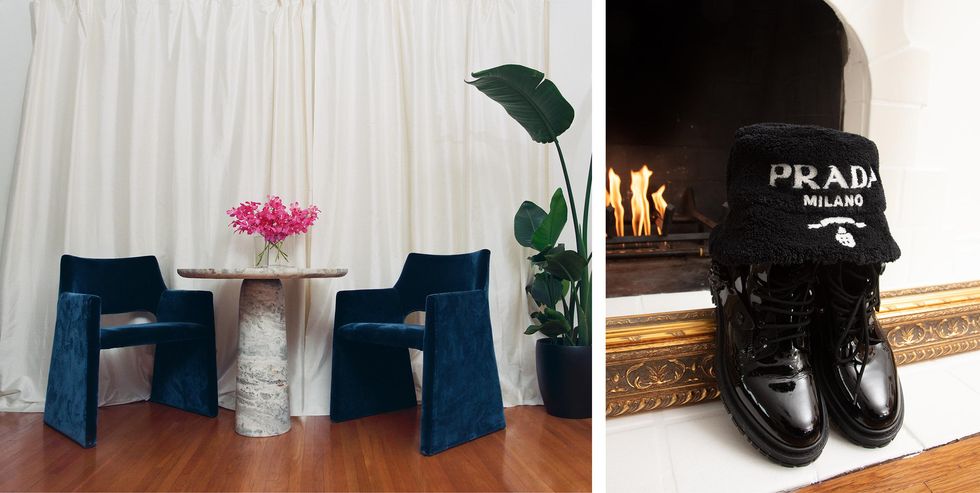 "He'll give anyone his cell phone number," Cardellino says—I can confirm this to be true. During our interview, Sir John added me to a shared photo album full of videos of him drizzling olive oil over beef short ribs and pouring a homemade cheese sauce over macaroni noodles while Ice Cube's "It Was a Good Day" plays in the background. Sir John's in between homes—he's on the hunt for a permanent one in the Valley—but he chose this temporary residence because of the kitchen. He loves to bring people together around food. "I'm a chef," he says, grinning. "Since I was tall enough to reach the stove. I'm better at food than I am with makeup." (This I cannot confirm since I've yet to be invited over for a meal.)
The rest of his home is high-gloss, full-octane glamour. It's a hybrid of Hollywood's golden era with a touch of Cinecittà allure; a refreshing departure from the Instagram minimalist homes full of white boucle chairs and '80s-inspired black granite coffee tables. There are low-lit sconces, gilded frames that line the walls, and lush velvet everywhere. Music from Billie Holiday and Ella Fitzgerald fill a room where a photo of Miles Davis and Cicely Tyson hangs on the wall. There are tea sets from Ginori 1735, an Italian company that's been around since the 18th century.
In one room, a 15-foot-long red velvet sofa sits alongside matching drapes that line the walls. It's reminiscent of Elvis's home, Graceland, where the musician had a bright blue upholstered couch in a room painted electric blue. There's a set of curved chairs in the room next door that evokes a sensation similar to one you'd feel looking at a Slim Aarons photograph. And, of course, how could one overlook the emerald velvet sofa, the centerpiece of the home? Sir John was watching an Elizabeth Taylor documentary and he was inspired by the color of the Bulgari emerald that Richard Burton gave her. He found a furniture company in North Carolina to make a couch of the same shade shortly after.
Because the celebrity makeup artist is no longer strictly behind the scenes, there's a performance aspect involved. "Can I share something with you that I don't think I've ever said?" Sir John asks me. "A lot of my peers, they come in and they're supposed to just do makeup. And they do that. But, I also have to come in and also create the energy in the room.
"I have to be honest—sometimes, it drains me. I feel like I can't just go and do my job because people will say, 'Oh, what's wrong with Sir John?' I do feel like that is from a space of being Black in America and having to make sure that not only am I performing better, but I need to make sure that your takeaway is better. I need to make sure that you don't think that I have an attitude because I may not emit as much happiness. You might think I'm angry or not a pleasure to be around. That's a little bit of what I've been assigned with, and it doesn't always make me happy that I'm in that space."
The home he's created in Los Angeles not only helps him recharge after a packed day, but it provides peace and solace. "I surround myself with comfortable things that continue to make me feel comfortable," he says about the items that fill his space. "They're pockets of happiness throughout the day. Little things that remind me to smile."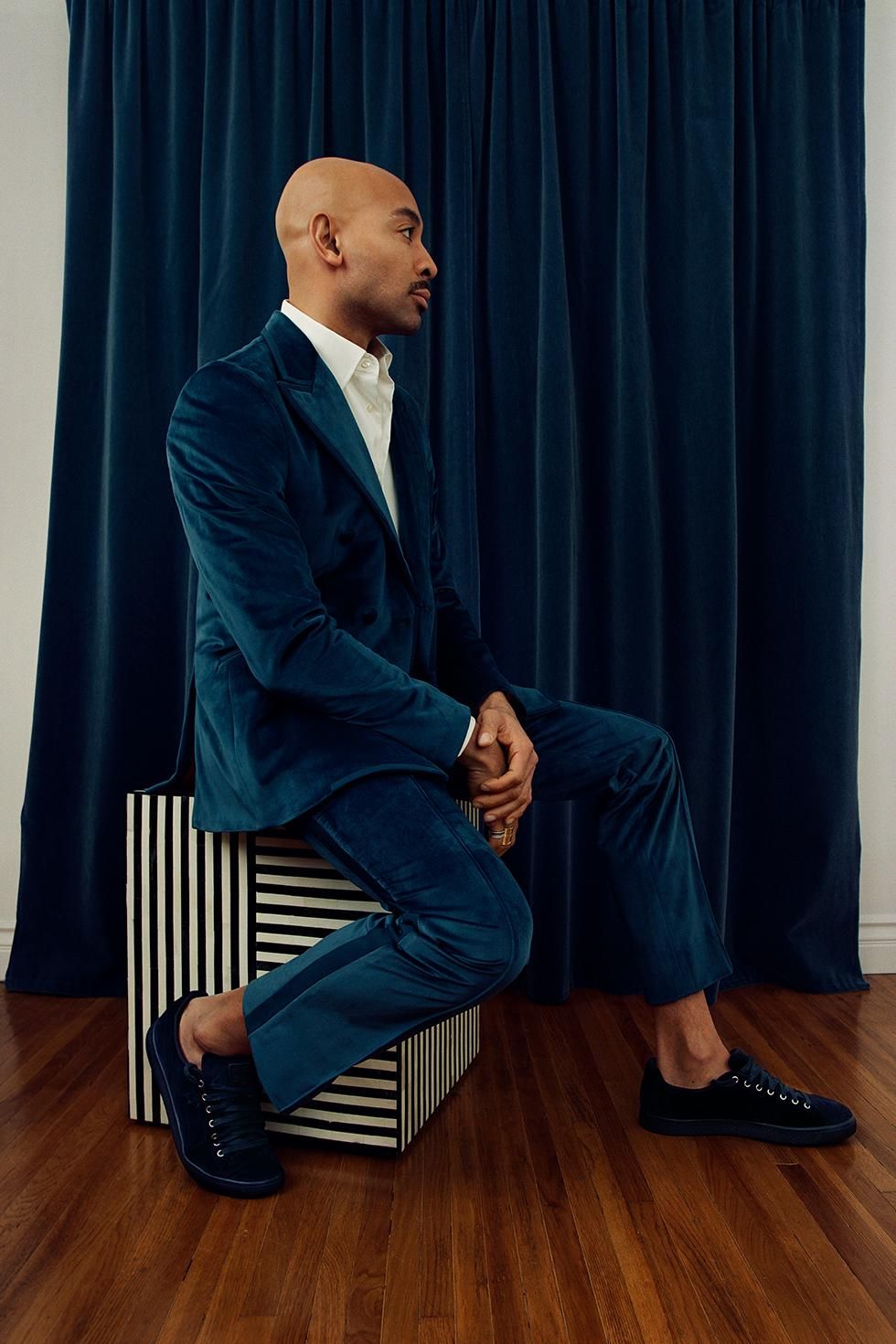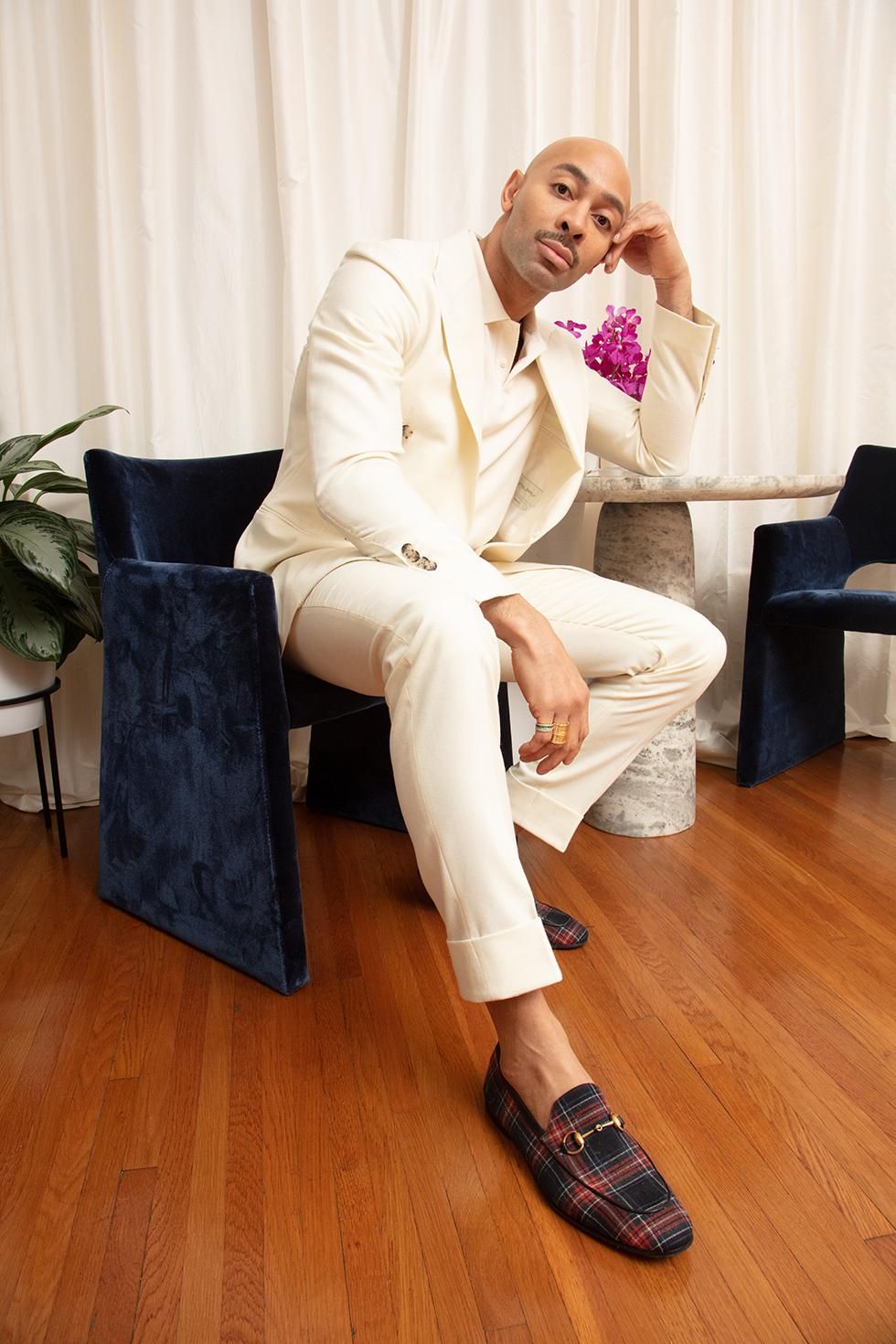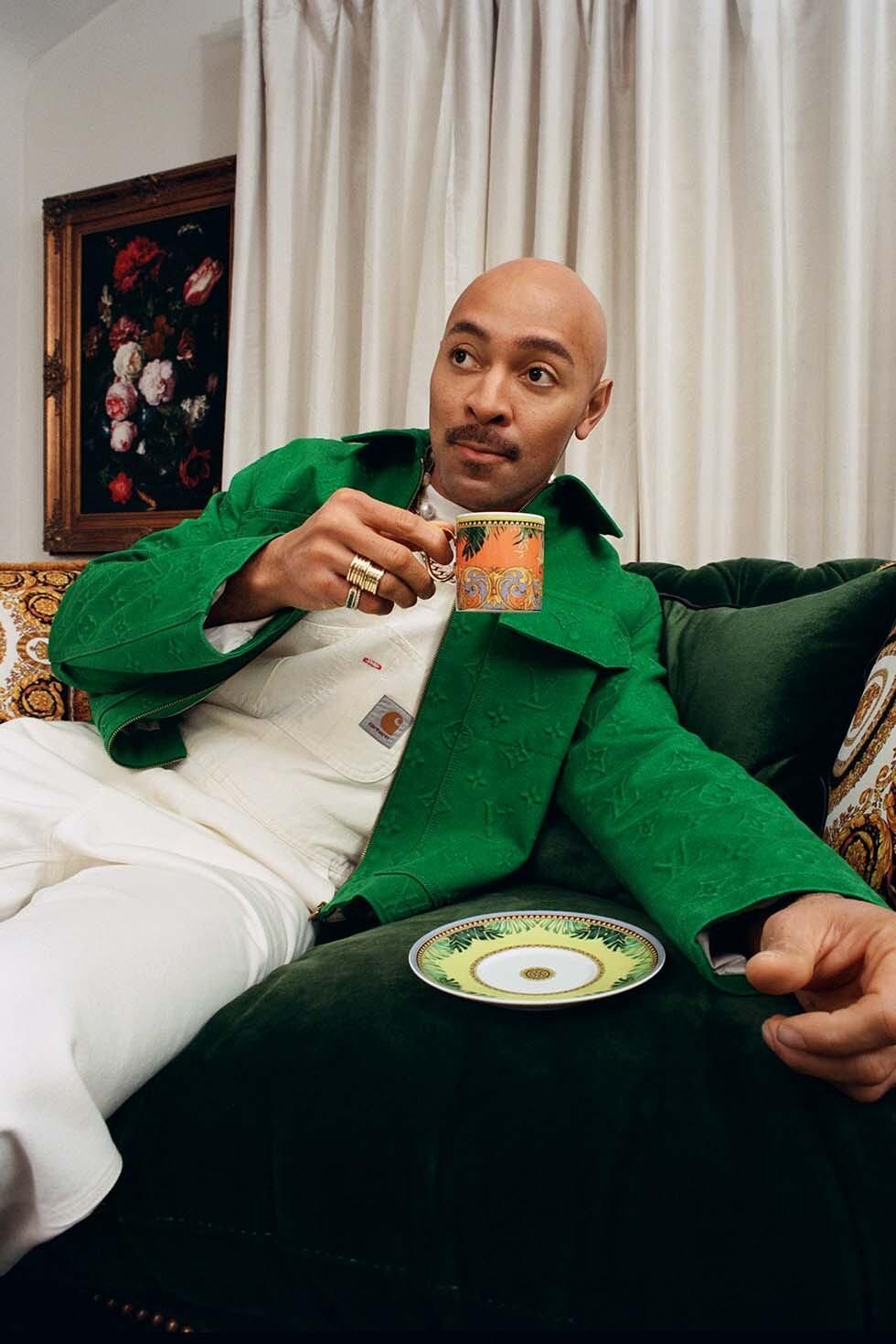 As a kid, Sir John lived in a neighborhood where he wasn't as tough as the other boys, causing strain between him and his father's family. "It was traumatic because I felt the disdain they had for me as a child because I wasn't like the neighborhood." There was also the weight of his name. "I would go to school and I would have white teachers who would say, 'I will not call you that.' I remember my mother took me out of my sixth grade class because Ms. Barry refused to call me that and she homeschooled me that year," he says.
"I'm still carrying that little boy around, but my mother helped bring me back up. She told me that I was an artist. She gave me paint supplies and enrolled me in art school. She saved all the murals and paintings that I made and put them up on the walls in my childhood bedroom. She really created a safe space for me."
The pops of color throughout his home move the needle emotionally for him. "When I look at a room that provokes me to feel something, even when I talk about beauty, it raises my vibration. It's not something that you always see, it's something that you feel." It's a sanctuary, somewhere he can create flower arrangements, read, paint, and rest.
Sir John also continues to carry the wide-eyed joy and enthusiasm of that small boy. Taylore Glynn, beauty and wellness editor at Allure, met Sir John on a private jet to New Orleans on a press trip: "When it was my turn to get my makeup done, I quickly learned how warm of a person he is," she wrote over text. "At one point during dinner later that night, he turned to me and said, 'Can you believe we're here? What are you going to tell your friends?' Even with his caliber of talent and experience, he carried no sense of jadedness. He just seemed happy to be along for the ride."