The Multi-Hyphenate Creative Whose Work & Style Is Driven by Intention
A day through SHAVONE's lens. In collaboration with Loewe.
24 Hours With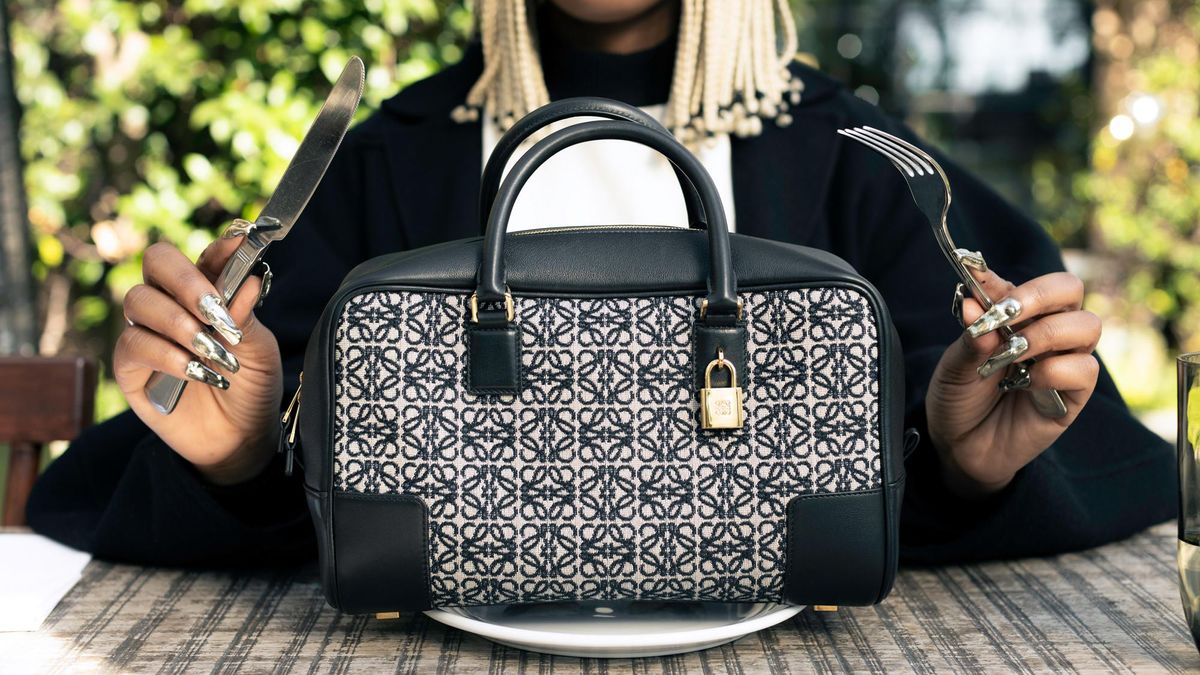 Cristine Jane
Aaron Requena
Graphics:
Ashley Combs
Makeup:
Laura Dudley
Producers:
SHAVONE, Benji Liu
The concept of uniform dressing is nothing novel. Some tech entrepreneurs reach for the same sneakers and t-shirt every morning. For fashion designers, it may be black, tailored separates on repeat, even when the clothing on their runways look quite different. But in the case of groundbreaking creative forces whose careers don't squarely fit one description, it's only natural we're seeing all-new ways to style oneself for a busy day on the go that requires all your productive energy. SHAVONE is a very unique example of this. Not only does the L.A.-based multi-hyphenate span the worlds of tech, fashion, and music, but also her personal style breaks away from traditional uniform dressing while prioritizing the elements of 9-to-5 (or maybe 7-to-9) practicality, functionality, and beauty.
SHAVONE (née Shavone Charles)'s full plate of work may stretch the limit of a business card, but here's what to know: Her full-time role is as the head of communications and creative partnerships at VSCO. She's a musician and model signed with Ford, and most recently, she founded Future of Creatives, a community and consultancy group aimed to amplify the voices and work of those in underrepresented communities. A day in her world requires focus and "ruthless prioritization," she shares, but expressing her personal style—"a form of visual voice"—remains a priority, too. For her, this means reaching for a Loewe trench as she heads out the door, a silhouette that's chic and timeless but whose full-volume sleeves offer a bold update on a classic. Or carrying the Amazona handbag from daytime meetings to nighttime networking. "Being able to extend to the long-strap carry option when I'm on the go or opting for a better range of hand movements with creative activities is a game-changer for me," SHAVONE says.
Together with Loewe, SHAVONE takes us deeper into a day in her world. Through her lens, she shares how she navigates work and personal style with intention, balance, and a constant eye for inspiration.

Loewe
Loewe
Loewe
What are some non-negotiables of your morning routine that get you ready, energized, and out the door?
"In the morning, I absolutely have to make time for a quiet and reflective state of mind. I wake up and have a ritual of a long shower, a long walk or exercise, and a daily to-do list run-through to ease into the day. If I don't have early morning meetings, I prefer to start my day with a mental and spiritual level-setting—a means to slow down before everything gets super packed and ramped up. I am also a very early riser so I am usually up before or by 5:45 a.m."
As a multi-hyphenate, what are some ways you keep motivation and balance through your many demands?
"Whew! Balance is an ongoing north star for me. I feel I've been in my best, most balanced, and productive state when I'm very present in how I am feeling in the moment, with a really specific scope on what I am prioritizing for that day or week. I've found the best kinds of balance come from me accomplishing tasks in short, intentional sprints—where I am able to set tasks for the week and tactically outline a step-by-step path to each of those goals.
"I am a really big-picture thinker, and I always think of everything on my to-do list at once—that challenges me to document and plan meticulously to make each day digestible and actually conquerable for me, with wiggle room for the unexpected! It's super easy to feel like you're drowning when you have so much to get done and/or when you're more of a big-picture thinker. Ruthless prioritization, self-care, and breaking my tasks down into sizable short sprints have all had a game-changing impact on my approach to balance and daily workflow."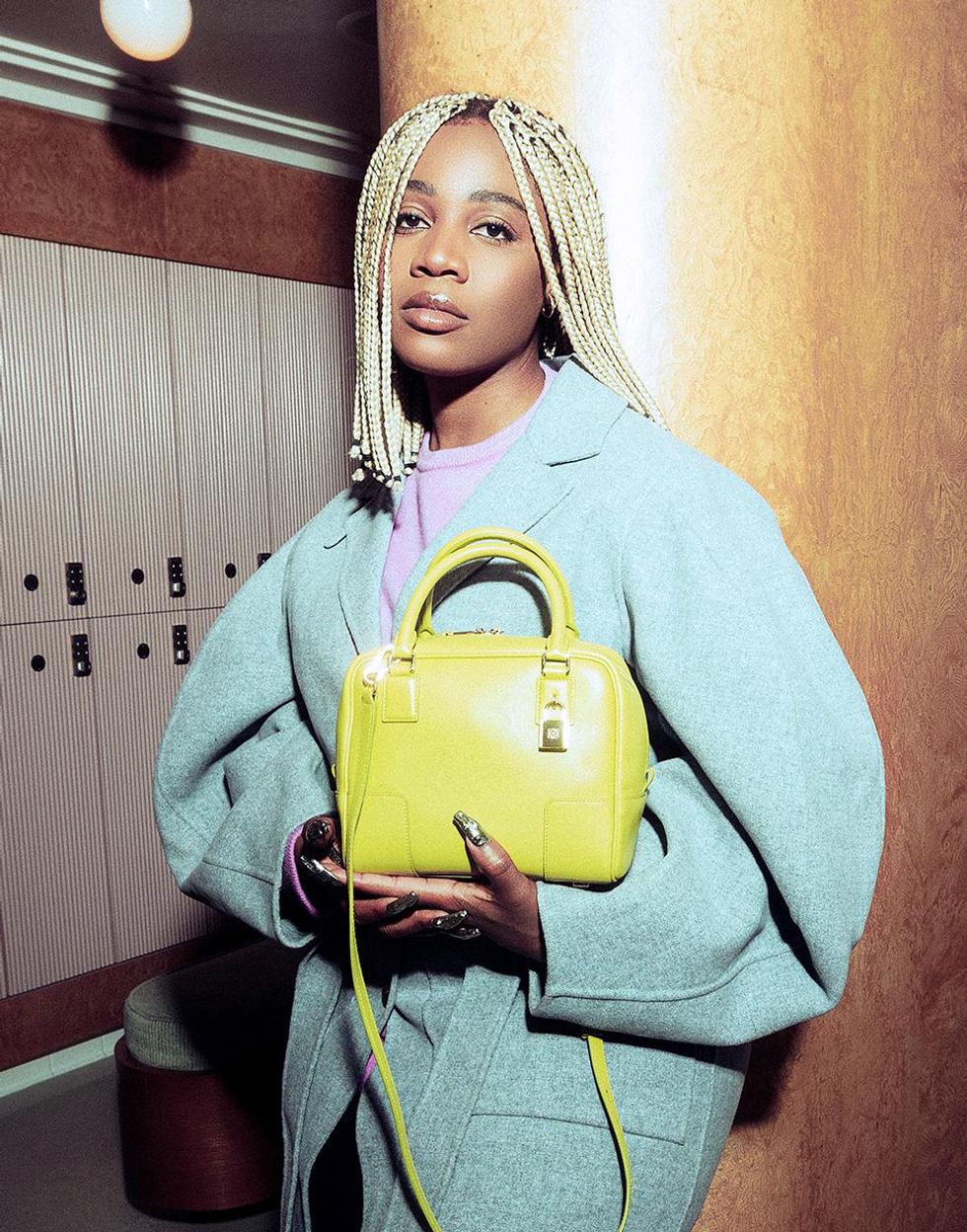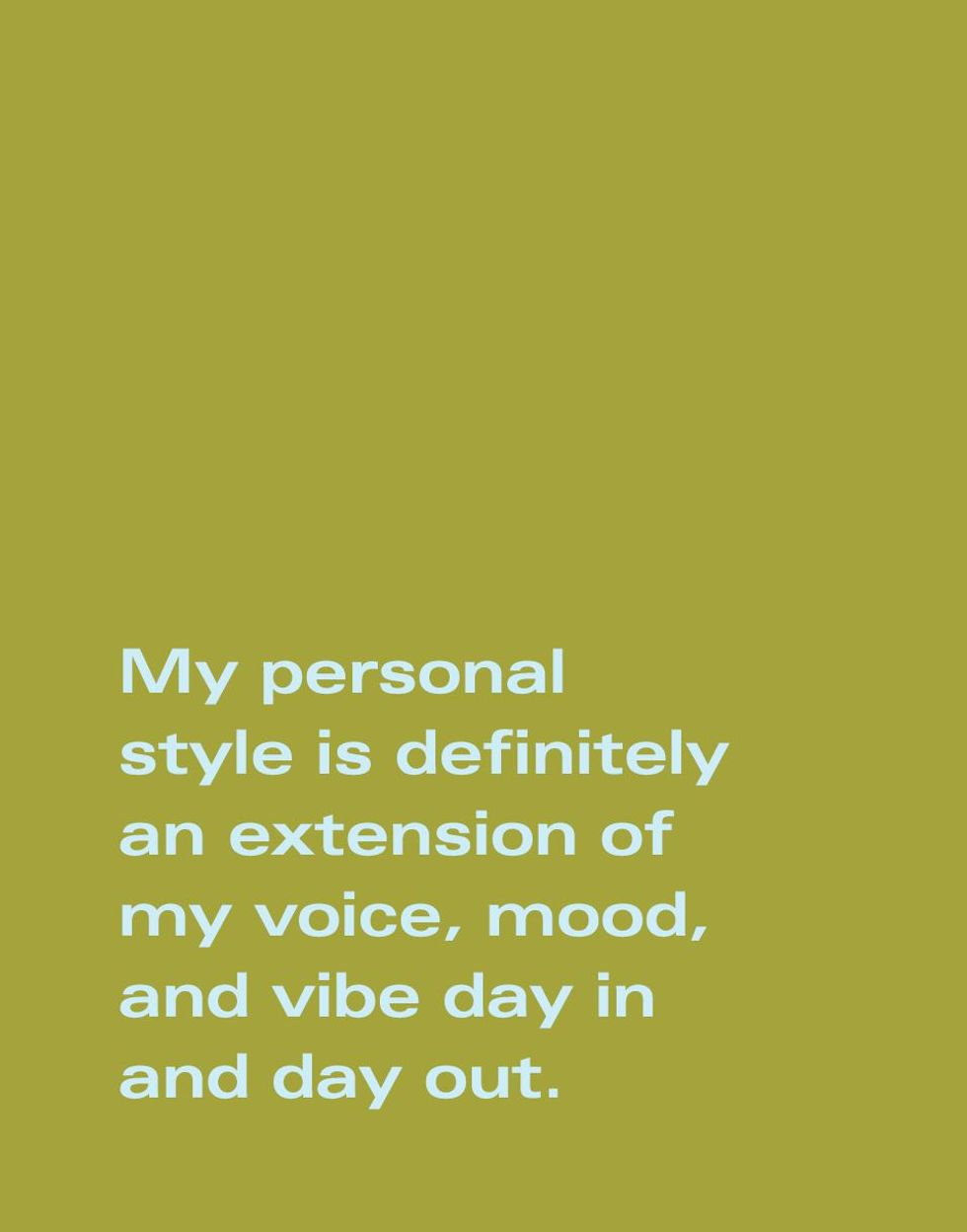 Can you hone in on one concise definition of your personal style or is it something that's ever-evolving?
"At the moment, my personal style is really all about structure, movement, and fluidity. I absolutely view fashion and personal style as my main forms of self-expression outside of my music and creating. My personal style is definitely an extension of my voice, mood, and vibe day in and day out. I see personal style as a form of visual voice. On a daily basis, I'm feeling different things and inspired by different ideas or life happenings. So each day I'm getting dressed or thinking about personal style, I'm in the process of pulling together a look that articulates different messages and/or moods. I lean a lot into statement pieces and individual pieces that can accent my style or mood for any given day or occasion—I am always in tune with what I'm wearing, in context to how I am feeling or the energy I'm feeling in that moment."
How does your sense of style reflect your life, in and outside of your professional endeavors? Are you more of a uniform dresser or do you prefer to switch things up?
"I definitely love to switch up the vibes, and I lean a lot into statement pieces as well as costume-oriented wear depending on the occasion. I love textures, patent leathers, and structured clothes that are interesting to the eye and comfortable. I always lead with comfort and functionality, mainly because I just never know what my day might bring (whether it's meetings, a shoot, or having to flow on into attending an event). With the world opening back up, I am absolutely still thinking with comfort and functionality in mind, down to my shoe selection."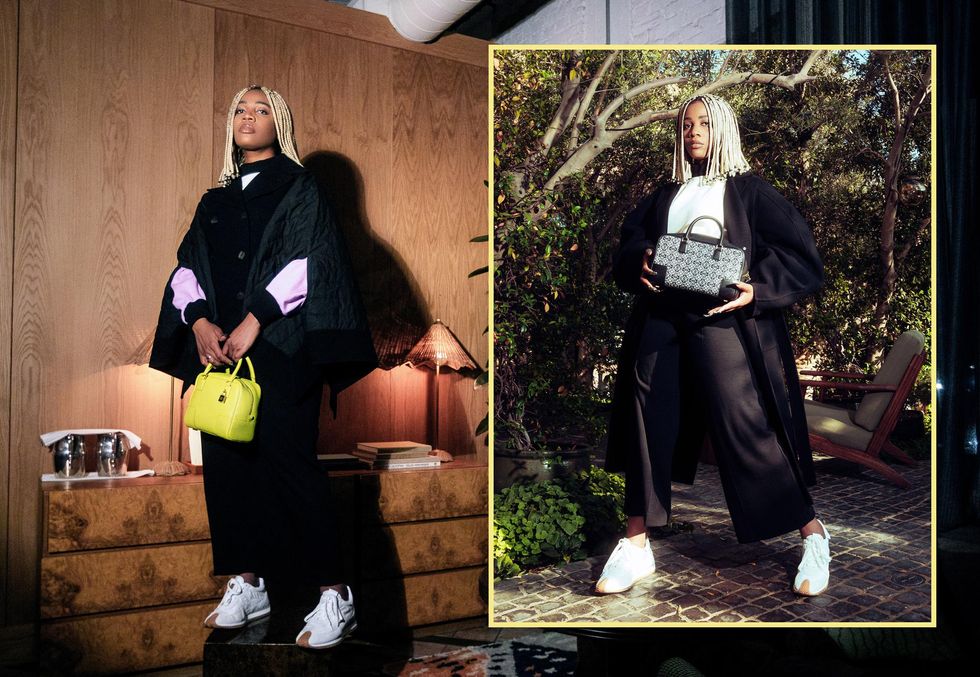 Let's talk about your looks here. Why do these pieces work so well together as well as for your own busy lifestyle?
"I really loved all of my Loewe looks. The clothes felt so great on my skin and were incredibly comfortable and functional yet tailored and structured. The trench coat statement sleeves are functional and spacious for a day of moving around, working and mingling, yet you also get a bold statement from the structure of the jacket(s). I love that the coats can be dressed up or dressed down for more of a casual streetwear vibe as well. Every coat I wore is an absolute must-have statement piece that I'd wear multiple times per week while on the go."
How do you want your clothing to make you feel as you navigate your day?
"In each of my Loewe pieces, I felt confident, free, functional, and polished. Feeling all four of these emotions with any outfit is actually super difficult to accomplish, mainly because too often outfits that look really great don't always feel really great on your body when you're wearing them. As a Black woman with curves, it's also important that my clothes feel functional and adaptable to my body type. The Loewe trousers really gave me that structure, comfort, and functionality together in one. And lastly the purses added some great elements to complete each look while also being functional, size-friendly, and serving their main purpose!"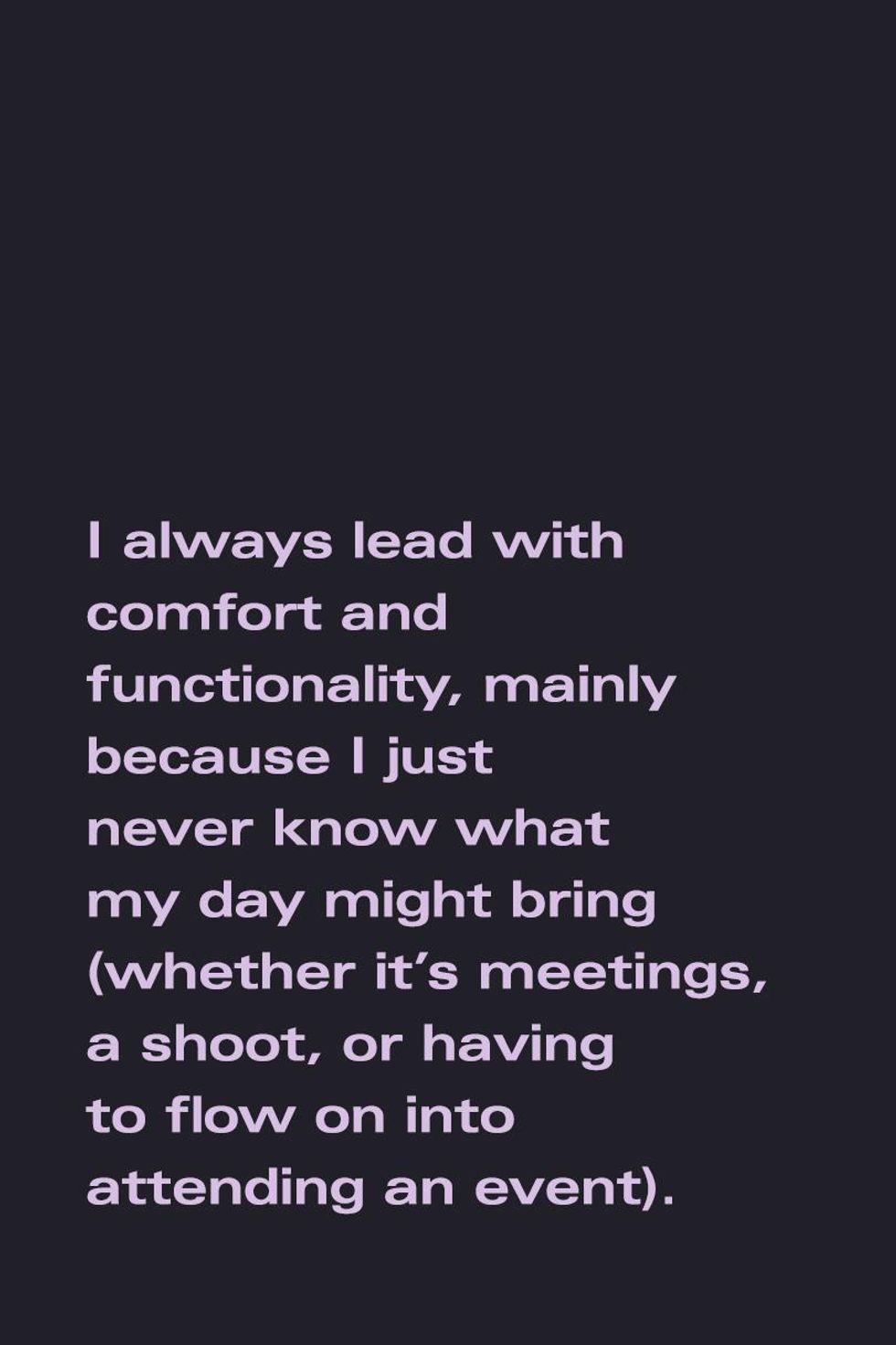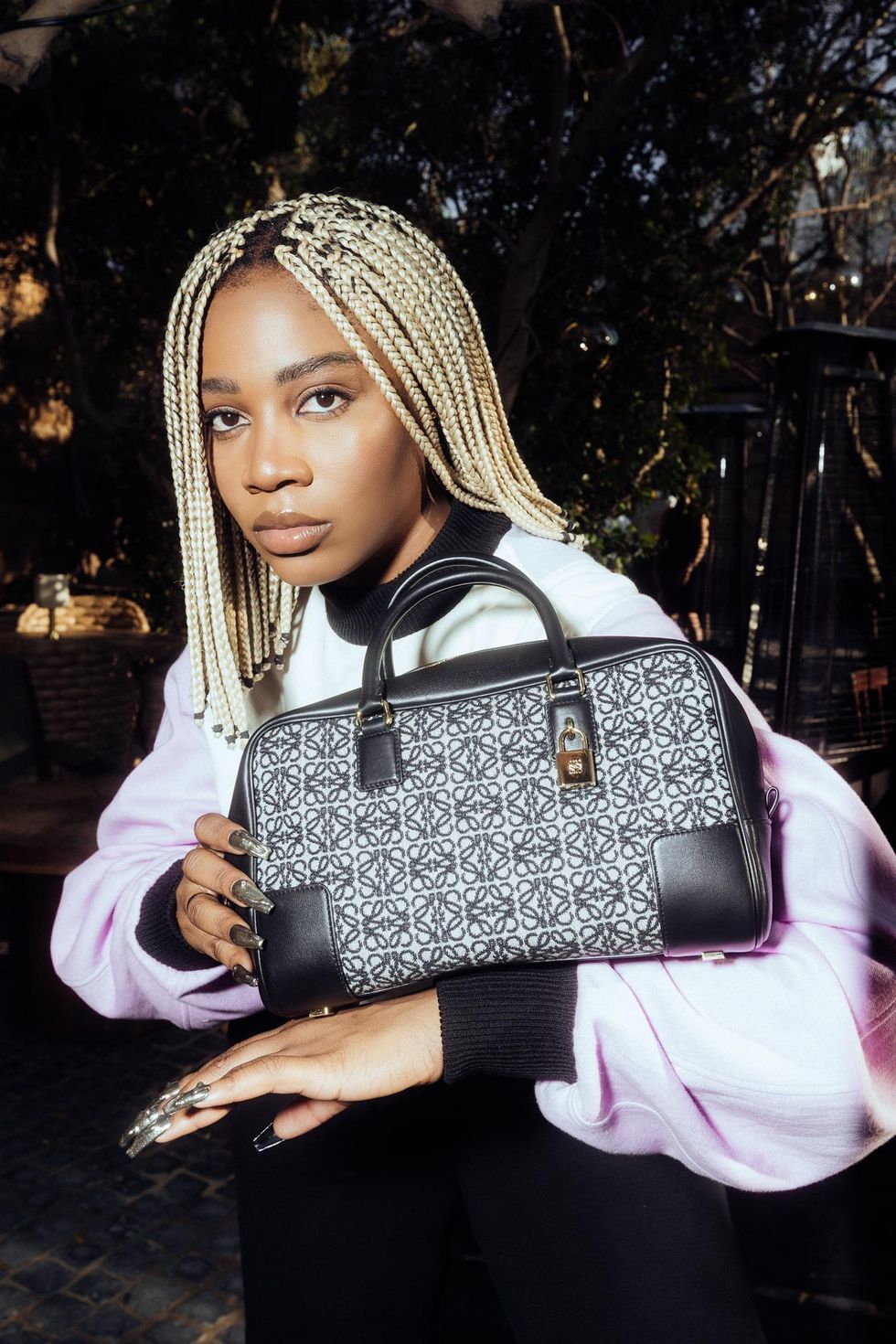 These outfits have a really chic mix of neutral tones with thoughtful touches of color throughout. What are your favorite ways to incorporate color into your wardrobe?
"I love using statement pieces and accessories like the lime-yellow Amazona bag to add pops of color and texture to muted outfits and monochromatic outfits. I'm a huge fan of color-blocking as well as monochromatic-inspired style statements. Loewe's multi-colored sweater is the epitome of having an exciting color-block moment to add to your outfit and accent a solid-colored trouser. Loewe's neutral shoe options are also wonderful functional additions that add a bit more edge and fun to a trench coat look."
What's typically the most rewarding part of your workday?
"Every day, the larger goal is to start the workday feeling intentional and focused. From there, a great end point to that day looks like accomplishing what you set out to do and prioritize. An ongoing aspiration of mine is to also end the day feeling hopeful and inspired for tomorrow, which is why I often wind down my days by looking at art or moodboarding. It's important to keep a feeling of passion and inspiration alive—that feeling is what keeps us present and emotionally energized to take on whatever tomorrow might bring or demand of us."
Finally, how do you relax and recharge your energy by the end of the day?
"By the end of the day, I am likely to be chatting with my mom on the phone and looking for food! I try to wind down with a walk outside or time outside for fresh air. I am also working to be more aware of screentime (with me working in tech and much of my creative life being tied to social and content creation), it's super important to rest the eyes. Checking in with friends while Netflix or music is on in the background is super therapeutic for me, too. Anything that involves stepping away from work and taking a deep breath!"

Loewe
Loewe
Loewe
Photographer assistant: Sammi C. Wong