The Tea on Taraji P. Henson: She Is Exactly Who You Think She Is
The actress on prioritizing her mental health, the beauty of being an HBCU graduate, and self-care and self-love going hand in hand.
Celebrity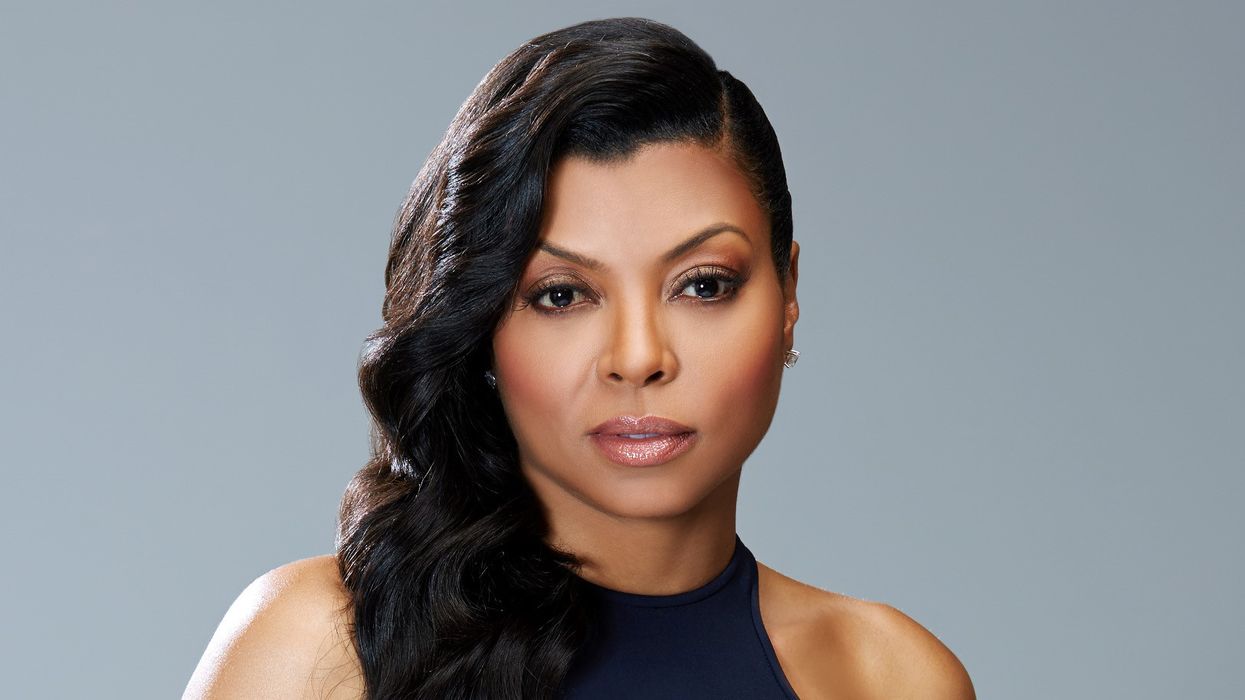 At 5:47 PM on the dot, my phone rang the Kimmunicator beep tone and "No Caller ID" came across the screen. Though my mother always raised me never to answer a call from a number with no identification, I knew who this was calling me.

"Hey, it's Taraji," she said. She sounded at peace. Not like Cookie Lyon, Shug, or Yvette. This was the Taraji P. Henson.

Before we jumped into our formal interview, I wanted to ask the Peace of Mind host how her own peace of mind was doing, considering the current social and political climate. I interviewed Henson the day after the Biden and Harris inauguration, but she acknowledged that her mental health was in good standing. "We have some hope. Things don't look so grim now, so I just take the good and keep pushing," she noted positively.

As the creator and co-host of Peace of Mind with Taraji alongside her longtime bestie Tracie Jade, Henson is no stranger to the topic of mental health. She's been open in previous interviews and even her social media about her journey, but I wanted the advocate to take me all the way back to when she first felt a deeply rooted connection to the importance of mental wellness in her personal life.

"When I started feeling like I couldn't feel that strong Black woman anymore. When I figured out that that was a trap for us and taking that title on. When I realized how unfair we were being to each other by trying to be inhuman," she admitted to me. Henson, who is also the founder of the Boris Lawrence Henson Foundation, shared her explanation of the underlying toxicity of phrases like "strong Black woman" and "Black girl magic" used against Black women, contrary to popular belief. She remembered when she first said it during her time at Howard University, a historically Black university crawling with Black excellence that gave her a "certain type of fire" when she began to learn about the true African-American history. "Going to an HBCU made me feel good about being a Black woman, a Black girl coming of age. It was a safe haven for me to live comfortably in my skin," Henson reminisced.

"As an artist, I was in a school where I could be Juliet. Shit, if I wanted to, I could play Othello or Henry VIII or III because I'm in a Black school and they're not gonna hold me to race. Studying theatre in an HBCU, they didn't care how light you were, dark you were, how pretty your skin or your hair was or nothing. Can you hit your mark and make that row all the way in the back of this house feel what you are saying?"

 
---
During her time at Howard University, Henson recalled it being a time all about Black pride and the strength of the Black community. As a fellow HBCU graduate myself, I was excited to speak with the Washington, DC, native about the rise of historically Black institutions. "When Bill Cosby did A Different World, the influx of Black children running to college to feel like that," she said referring to the fictional storylines and Denise, Freddie, Whitley, Dwayne, and Ron shot between the campuses of Spelman College and Clark Atlanta University. "He did a great thing with that show because there was a huge influx in enrollment at HBCUs, and it's coming around again. We're seeing it."

As she began to settle into herself and create more memories through life experiences, her perspective and personal definitions of strength as a Black woman in this world began to modify. "As I got older and became a single mother, this 'strong' thing was tiring mentally. It drains you. It's a lot. It's too much," she confided during our call. "I just hit a wall from trying to push through and cope in that dysfunctional way." After looking within herself, Henson knew it was time to find a healthier way to heal from stress, anxiety, and poor coping mechanisms, which led her to therapy and reprogramming her way of thinking, positively and negatively.

"It's OK to need help. It's OK to not know what to do next. All of that is OK. It's OK if you're tired and you don't want to do it today. 'I don't feel like adulting today. I'm tired,' you know?" she expressed to me passionately. She best described her moment of realization as dysfunctional and hoped that she was making sense, but I assured her that it made perfect sense. We continued to talk about stress and its direct relationship with physical health and well-being. "Most times, because we're too busy trying to be strong, we haven't even been able to identify when we're in crises because we're used to operating like that," Henson said, referring to our constant on-the-go mentality and being too distracted by the hustle to acknowledge what's going on with ourselves internally.

The Acrimony actress says the pandemic opened her eyes to the toxicity of the "strong" label on Black women, though she had already been slowly coming to that conclusion on her own. "I'm sure in the pandemic everyone let their guard down. You had no choice. Life forced us all to look within, and if you're not, those are the ones that are struggling right now because they're not taking this moment in time to see the blessing," she said. Though everyone around Henson seems to be rushing and hurrying to get back to "normalcy," Henson challenges them all with a question—what are you running from?

"Let me tell you something," Henson said excitedly, after my admission to her that I had forgotten to take care of myself. "I have learned to say no. If this pandemic didn't happen, I would've had five jobs right now. There would've been no summer. That vacation I had for my birthday, I wouldn't have done that. I can't even tell you all the shit I had lined up." Her list of forthcoming events included speaking engagements, acting, and more all over, which wouldn't have allowed Taraji to press pause on her life and take a well-deserved and needed rest.

Around last October, Henson publicly announced the end of her engagement to former NFL player Kelvin Hayden, but she assured me that it wasn't all sorrow, anger, and heartbreak in the end. "There were things in my relationship I couldn't see, you understand? I was too preoccupied," she admitted to me. "It's unfortunate that it didn't last, but thank god we came to that decision now rather than later. We're friends. We still like each other," she laughed.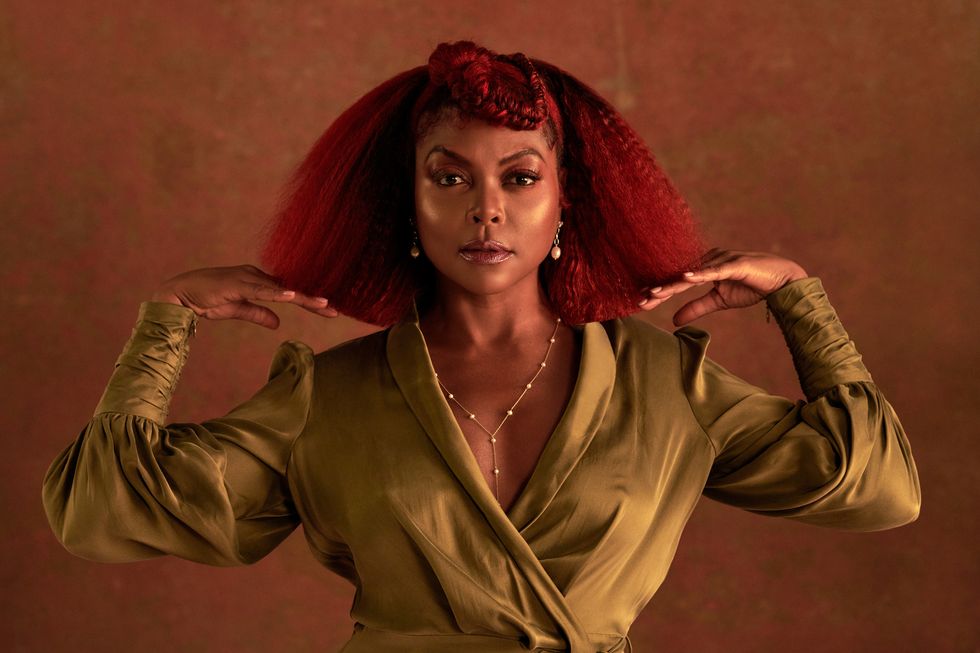 Photo: Courtesy of TPH by Taraji
While the pandemic has given us room to acknowledge our mental health status, I wanted to ask the
Hidden Figures
star about the relationship between mental health and self-care. Self-love and self-care have become a trending topic over the last year, especially for Black women. "Your first relationship is with yourself," Henson told me as she dispelled the mythical importance of fixing yourself up to find the love of your life. She believes that the notion of self-love and self-care is blossomed from putting yourself first and doing the necessary work within yourself that you'd like to be bestowed upon you. "Screw going to marriage counseling and couples' counseling. How about going to counseling for yourself first? Love yourself first and have an amazing relationship with yourself first."
So it's safe to say that Taraji P. Henson loves herself holistically and not in spite of her flaws, but because of them. Her definition of perfect is indefinable and she knows that striving for perfection is a key ingredient for a breakdown. "Perfection is the perfect lie. My therapist set me free when she said that," she shared with me as she continued to tell me that she doesn't deal with the term "perfect." While Henson's in a happy place and knows that she's perfect for herself, she still doesn't know the true definition of "perfect"—or if it even exists. "Who's the judge? Who do we go to and say, 'Is this perfect?' It's so objective," she said.
While some listen to podcasts, take long baths, or have a glass of merlot and a pedicure, Henson's self-care routine looks a little different. In her house, which she's been living in for six years and describes as "a courtyard," she built a salon during the pandemic, which gave her a lot of creative freedom and time to execute an array of new ideas in her living space. "I love this fucking house because it's literally like a resort," she told me excitedly.
Henson used her time during the pandemic to create her own branded TPH by Taraji Salon, which was a win for her. She always wanted to get into cosmetology, but when she missed her window of enrollment by a year because she was pursuing her acting career, she had to put her beauty school dreams on hold. While she attended Howard University for theater, she did nails and was even required to take a "Makeup for Theater" course for her major, where she learned how to highlight and contour, as well as technical hair routines. To this day, her curious mind sparks when her makeup artists do her makeup, and she's never too shy to ask about the products that are being put on her face.
"I just lose myself out here," she said inspirationally as she told me that she's teaching herself how to do nails and make her own wigs. "Because I'm a creative person, I couldn't create how I'm normally used to creating, which is on a set or on a stage, so I had to find other ways to allow myself to be creative, and it's in this salon and I love it. I'm in here right now."
Speaking of TPH, I couldn't let the conversation go by without praising her hair-care line. I am a fan of her
Hustle & Co co-wash
and
Ride or Die detangling leave-in conditioner
, which I use on my hair all the time. I told her about how washing my hair, experimenting with colors, and trying different cuts and styles are part of my self-care routine, and she approves of all the things. "You have to! That'll keep you sane because in this time, no one's going anywhere, and that'll make you depressed," she encouraged me. She told me that sometimes she'll even play dress-up in her own closet with clothes she hadn't even taken the tag off yet, or do a whole face beat and hair in her salon. "Sometimes just taking a shower makes you feel better," she said.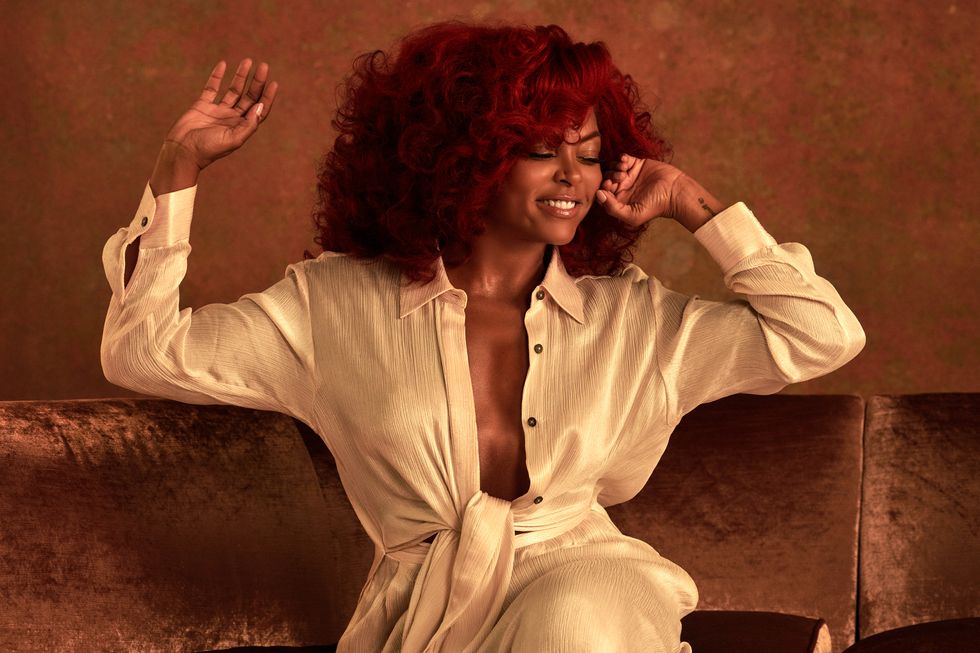 Photo: Courtesy of TPH by Taraji
"My hair-care line is all about self-care. I don't want people to treat wash day as a chore, but as a self-care day. That's why I have the
exfoliant scrub
for your scalp. There's steps to it, and you can take your time. I created a spa day for your scalp," she said about
TPH by Taraji
, which she describes as giving you a "spa-like sensation" from the scent alone.
"When I started wearing weaves, I had to ask, how do you keep your scalp healthy under this thing?" she related. Though she was never really a weaver, she had weaves on sets and different projects. "Black people, we have sensitive and very delicate hair. People think it's rough like Brillo, when it's actually not. We have to put our hair away to protect it. If you start doing too much to it, it'll break off. Knowing that, I knew I wanted to protect my hair when I started working."
Thus, TPH by Taraji was born. After going on a search for products that home in on scalp scare, Henson noticed that they didn't exist. "You know Black people—when we don't have, we make and we create. That's what I did," she told me about filling the void in her community for scalp care.
Henson isn't one to just slap her name on any products, campaign, or line of any kind unless she truly believes in the value of the product and is willing to use it herself. "I'm the girl who likes to share her secrets," she told me. Her products, which she refers to as her "babies," are a result of people always asking her about how she became ultimate healthy-hair goals. As our conversation went on, I told her about my hair-care journey at Spelman College with braids, weaves, and other protective styles. Once I admitted to her about my current state of self-love and admiration for my natural curls after shaving it completely bald a few months back, Henson preached to me about the beauty of Black women loving on their natural selves.
"It's so important because for so fucking long we were demonized for it. We were made to be ashamed of it for so long." She remembered a time when she first started in Hollywood and thought her natural kinks and coils were "nappy," which is a term that she completely disdains and doesn't want to be used in any fashion. She even acknowledged that her mother, who was raised in the South, didn't know much better about the hurtfulness of the word when she used it growing up. "That's a derogatory term for you to not like your hair and for you to feel less-than," she explained.
With big corporations and major brands being called out for their lack of diversity, inclusion, and equities in their previous campaigns, production, or in the boardroom, Henson is no dummy to the fact that certain brands haven't always been as "inclusive" as they seem to be on television. "I get it. Yes, I understand that you want to make the change and be better, but you're late and we're doing it. Thanks, but no thanks!" she exclaimed graciously. Though she does use her own products, the successful entrepreneur is never too proud to use another sister's products for hair care, makeup, and everything that she may need in between.
"Do you know this is a multimillion-dollar industry? There's enough room for everybody. Everybody can get some of this money," she explained as she discussed the importance of uplifting younger girls, forthcoming entrepreneurs, and using her celebrity platform to demonstrate tenacity and leadership in the industry.
"That's how Black people used to do it. That's why they bombed us in Tulsa, Oklahoma, because we were doing really well at it. That's why they maimed, mauled, and killed us in Rosewood, [Florida,] because that's what we do."
A brisk silence fell upon the phone call after she shared her thoughts. It was hard-hitting, this conversation that had taken a turn from the beauty industry to social justice. This was no longer an interview between the talent and a journalist. This was a candid talk between two Black women passionate about their community, how far it's come, and how far it has to go with the atrocity of society pitted against us for centuries, from police brutality to massacres to institutional racism.
"And still we rise," she said peacefully, though she segued into her distaste for the term "magic" when used to describe the glamorization of the Black community's accomplishments and accolades. "Don't give it that. It ain't magic. It's sheer tenacity and the will of god. It ain't magic. A lot of fight, grit, and a lot of people died. What's magical about that?"
She's right. There's nothing magical about having to continuously be put down, dehumanized, victimized, and chastised for the color of our skin—and the Rosewood massacre in 1923 and the 1921 Tulsa race massacre were just two examples.
"Every time they fucking destroy us, what do we do? We build ourselves back up. It took us longer this time, but we're coming back. There's no more games y'all can play with us now. The cat is out the bag and you can't put it back in there."
Top photo: Erik UmpheryWant more stories like this?
Dapper Dan: The Master Conductor of Black Culture's Sweet Style Symphony
Naomi Osaka Beyond the Tennis Court: Style, Wellness Rituals, & More
Keke Palmer Shows Us How to Be a Little More Glowy