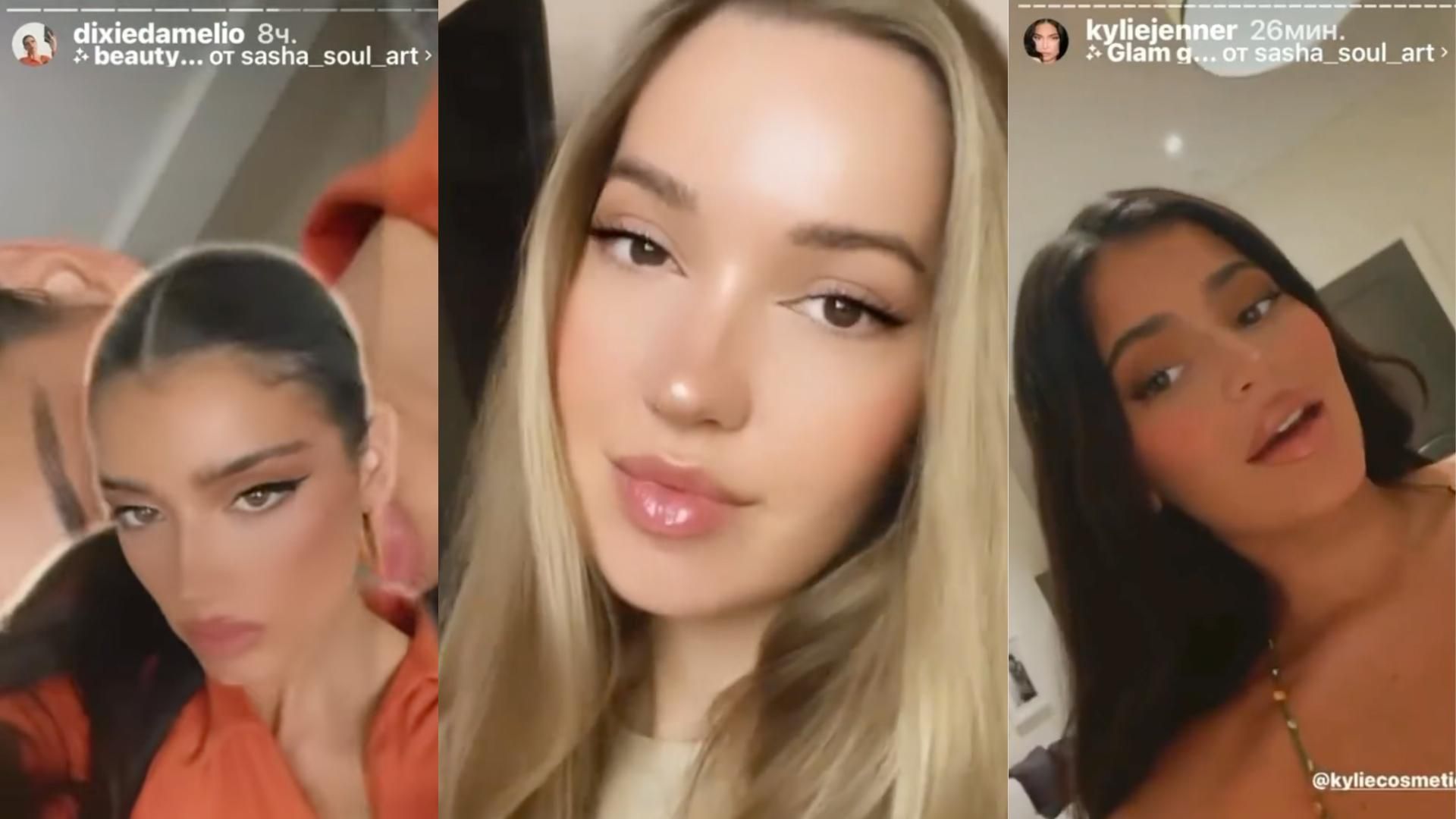 Beauty
The digital designer's unfiltered take on the social media phenomenon.
Graphic:
Sumiko Wilson
We've all had that moment: you turn on your front camera, select a filter, and assume the optimal selfie position. But every so often a filter will prompt you to think, "I look amazing, but I don't look like that." In these cases, the camera can effortlessly allow us to align with the ideal Instagram Face: a slender nose, a full pout, a clear, glowy complexion, and blurred-out nasolabial folds.
When I opt for a filter the most sobering moment comes when I get out of focus and the image reverts back to my unfiltered appearance; it's hard not to shudder at the sudden switch, as if I had momentarily morphed into a water nymph then turned back into a blobfish.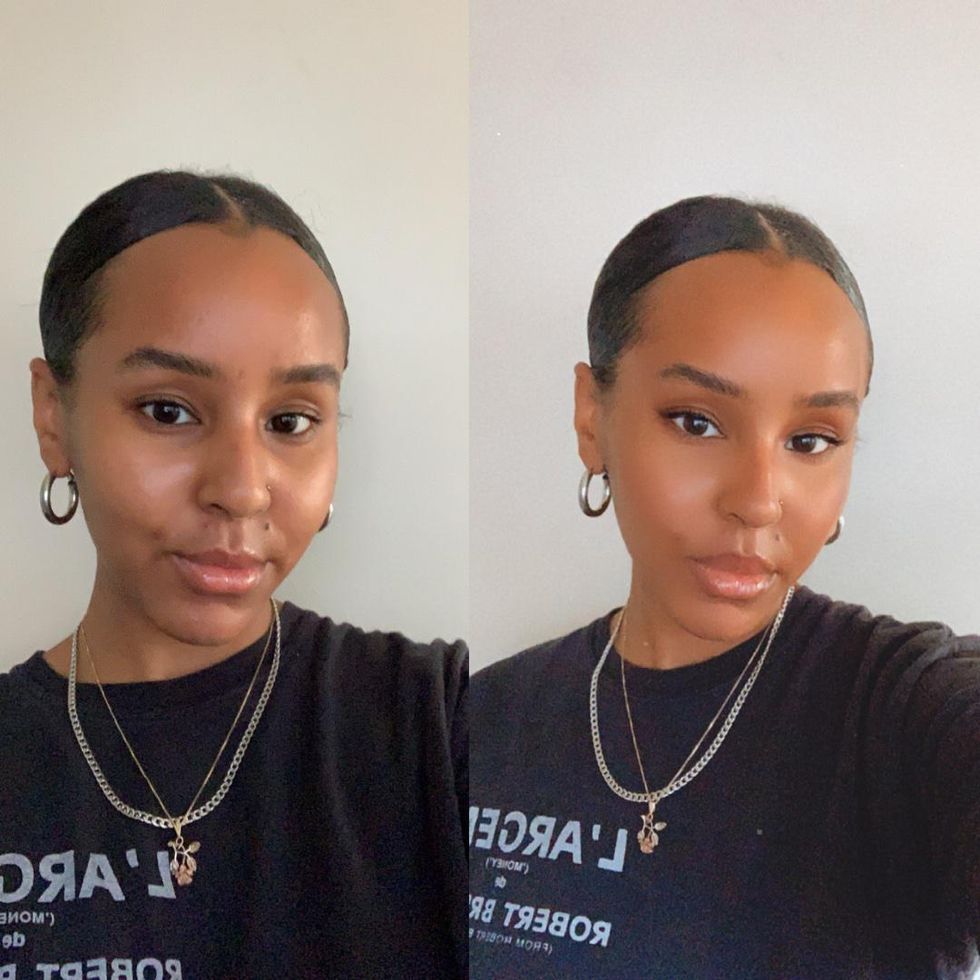 The writer pictured with no filter (L) and using the Shiny Foxy filter designed by Sasha Soul (R).
It's not a new concept (Photoshop, FaceTune and Perfect 365 have been longtime go-tos for celebrities and selfie enthusiasts alike) and it's nothing to scoff at. But now that the Instagram Face is available almost instantly, no post-production required, the way filters affect how we see ourselves should be interrogated: To whom, or what, are we trying to mold ourselves into? And when did we get conditioned to see things this way?
In a 2019 study with the Aesthetic Surgery Journal Open Forum, plastic surgeon Dr. Anthony Youn reported that it's not uncommon for patients to bring filtered selfies to their doctors to give a more precise image of how they want to look post-procedure. Though Snapchat isn't quite as popular these days, "Snapchat Dysmorphia" is definitely still a thing. Dr. Youn defined it as a term coined "to describe patients requesting plastic surgery in order to look like their filtered selfie." He found it concerning, given that "filtered selfies can present an unattainable appearance and blur the line between reality and fantasy for some patients." He then referenced a 2015 study that looked into the link between "filtering selfies and increased body dissatisfaction."
Towards the end of 2019, Instagram stepped in and banned filters directly mimicking the appearance of cosmetic surgery, but they were more so referencing filters like these, where users appear to be immediately pre- or post-op.
As far as filters go, Sasha Soul's digital creations are the gold standard; they do the work of several surgical procedures and hours spent in a makeup artist's chair in mere seconds. You're just as likely to see the @sasha_soul_art tag on the selfies of tenured supermodels like Irina Shayka and Alessandra Ambrosio and Instagram icons like Kylie Jenner and Addison Rae as you are on those of your coworkers or classmates. So even if you haven't actually used one, you've definitely seen them in action. Some smooth and blur to an intense degree, others allow you to sample celebrities' signature features, like Megan Fox's brunette hair and blue eyes.
Naturally, when we wanted to learn more about Sasha Soul, we reached out to the Russia-based mother-of-one via Instagram. When we sought her take on the impact of her filters, she was unapologetic, but rightfully so. She didn't create this concept or plant our desire to be filtered. Her design just narrowed our lenses to see our filter affinity in a brighter light (with a smoother finish, too). It's also worth noting that while the algorithmic ideal is beyond our control, social media gives us unprecedented autonomy in how we choose to present ourselves. Aesthetics aside, that alone can be deeply empowering: your image is in your hands and you have the authority to morph, enhance, and blur at your leisure.
Keep reading for more Sasha Soul's unfiltered take on the filter phenomenon.
What were your first interactions with filters?
"From the very beginning, I liked cute filters with animal faces. I filmed myself in other applications and posted on Instagram around 2017-2018. The first time I got into filters in 2019, I was immediately offered [the opportunity] to develop a custom filter. At the time, I was engaged in motion design and my customer asked me to figure out how to make a filter on Instagram for him."
After who/what do you model your filters after?
"I'm inspired by beautiful girls and the work of makeup artists. Sometimes I don't even know their names, I scroll through the Instagram and Pinterest feed until my eyes catch on to something that I like."
When you're creating a filter, how do you decide what the ideal look is?
"I only rely on my personal feelings, but this sense of taste helped me develop [a back-and-forth] collaboration with makeup artists and models. Many of them know exactly what they want, so over time, I began to understand how to make the majority of people like using it. I often arrange polls with subscribers asking them to tell what they want to see, what their needs and desires are."
What is it about the look of your filters that you think resonates with so many people?
"I think this is a very delicate work with color and textures. I try to make it look natural."
Your filters are so good at smoothing and enhancing features that it wouldn't be surprising that some would prefer to take photos with your filters instead of without. How do you feel about this?
"Before my filters, Photoshop and other applications for correcting photos already existed, filters only speed up the process of getting the finished result."
Have you ever received negative feedback on your filters? If so, what did it say?
"Yes, of course. But mostly they're body-positive activists, who scream for self-acceptance. Thank you for that opinion, but society has been focusing on women's flaws for so long. Yes, they are partly right, but still, let's leave everyone the right to choose. And it's very dishonest on their part to use makeup, but to urge others not to use filters. In my opinion, these are very similar tools with one goal."
Who were the first celebrities to gravitate towards your filters?
"It's hard for me to remember, but I save almost all the stories and always take screenshots of celebrities in my filters. For me, this is the greatest praise and recognition."
Do you use filters for fun or for function?
"I don't even know. I've merged so much with the filters that for me, it's like an avatar. This is work, entertainment, and a tool for self-development all at the same time."
Do you feel comfortable taking photos without your own filters?
"The more complex and clear the cameras in phones become, the harder it is for me to shoot without filters. Before phone cameras didn't show every dot on my face and everything was fine with me."
Do you have a philosophy behind each of your filters?
"My philosophy is this: With the filter, I should feel confident that people are looking at me, not at my skin imperfections or the dark circles under my eyes or a large nose, which expands the front camera of the phone. My filters give a feeling of comfort and confidence."