Photo: Noam Galai/Getty Images
Hair
A few drops of rosemary oil is like a spa day for your scalp.
As with skincare, some of the best-kept hair secrets are found in the kitchen. Exhibit A? Rosemary. Yes, there's a spot for the ultra-fragrant, Mediterranean herb in your haircare routine—not just in your dinner. As an oil, rosemary is known for its soothing properties, making it an ideal pick for itchy scalps or those looking to repair scalp damage. "It not only smooths down the cuticle, but it heals and calms the scalp from irritation and itchiness," veteran stylist and I.C.O.N. founder Chiara tells Coveteur. Oftentimes, this is an ingredient that you smell before you see it, which can be a drawback for some, but if you're anything like me, you like your haircare with a hearty dose of aromatherapy. Still on the fence? Below, find out why rosemary oil is the haircare ingredient that should be on your radar, as well as our favorite rosemary oil-rich products to shop now.
How Can Rosemary Oil Help My Hair?
The big draw for rosemary oil is that it's an anti-inflammatory ingredient. This means that it targets over-processed strands and sore scalps (we've all been there). It's also known as a natural way to grow longer, stronger hair. As Chiara notes, rosemary oil accomplishes this by stimulating blood circulation (that's the tingle you feel when you apply it) and promoting a healthy scalp.
Does Rosemary Oil Help All Hair Types?
Rosemary oil can benefit all hair types, but coarser strands might see the most noticeable benefits. "Dry and erratic textures where the cuticle is open, which is common with curly to coarse hair, can really benefit from this oil, as it smooths and soothes the cuticle," explains Chiara.
Can Rosemary Oil Be Applied Directly to the Scalp?
When working with essential oils, it's always best practice to test a very small amount for potential irritation or allergies. Once you're in the clear, Chiara recommends mixing a few drops into your shampoo, conditioner, or treatment mask. "If applying directly to the scalp add only a couple of drops, massage it in to reduce inflammation and nourish the scalp ,and use your hands to work in the remaining product from mid-shaft to the ends to seal the cuticle," says Chiara.
Shop Our Favorite Rosemary Oil-Infused Products: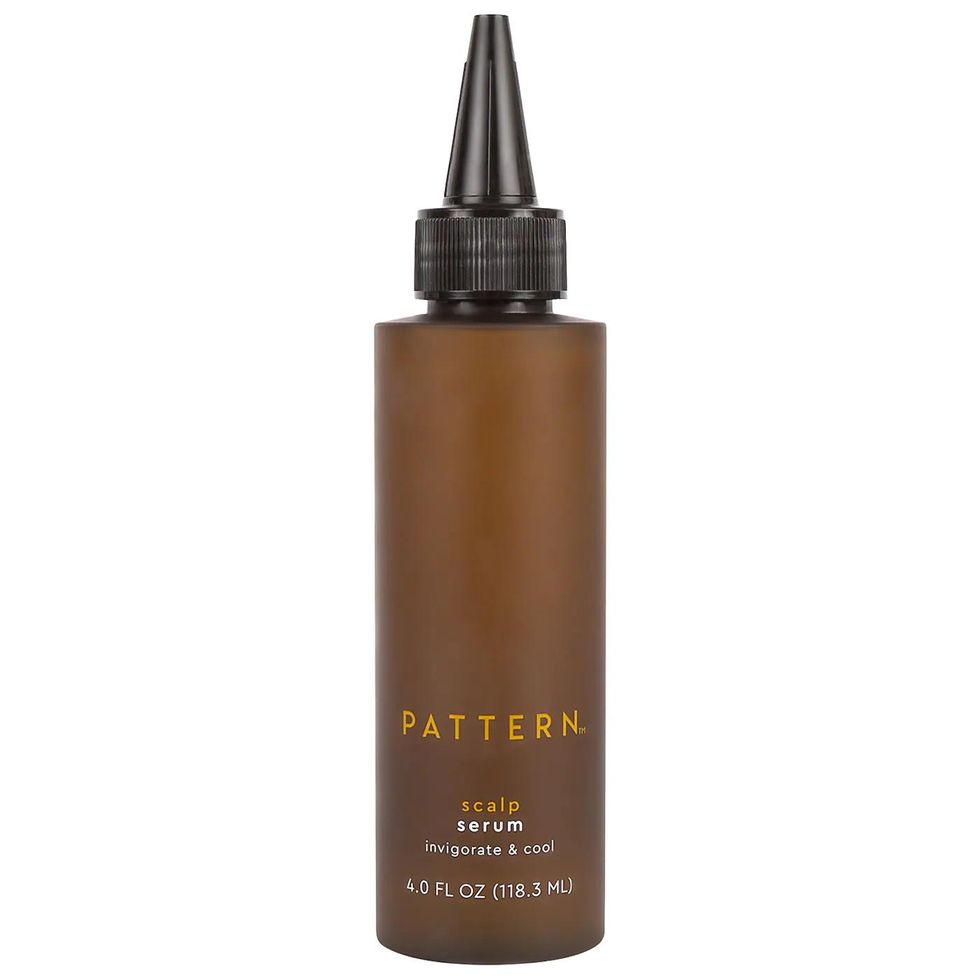 This serum is slightly tingly upon application, but it immediately leaves the scalp feeling soothed. Squeezing on a few drops on tight buns, braids, or ponytails will likely cause you to audibly say "ahhhh."
PATTERN by Tracee Ellis Ross
Rosemary oil, mint, and tea tree oil are a grade-A cooling tag team for stressed-out strands. This oil combines their soothing effects with biotin, castor oil, and jojoba to leave your hair feeling smoother, healthier, and shinier.
Mielle Organics
This pre-poo oil caught my eye when I saw someone on Instagram use it after taking down a ponytail that was literally rock hard from hairspray. Rosemary is so key for a pre-shampoo treatment because once your scalp is soothed, your products can penetrate your hair much easier.
JVN
In Chiara's own line, rosemary oil can be found in her "Detox" collection. "Our clients love the invigorating sensation it gives the scalp," she says.
I.C.O.N.
If you want to work pure rosemary oil into your routine, this one gets Chiara's stamp of approval.
UpNature