This Surprising Product Combo Might Be the Secret to Brighter, Smoother Skin
Ahead, tips from the experts on how to use it safely.
Skin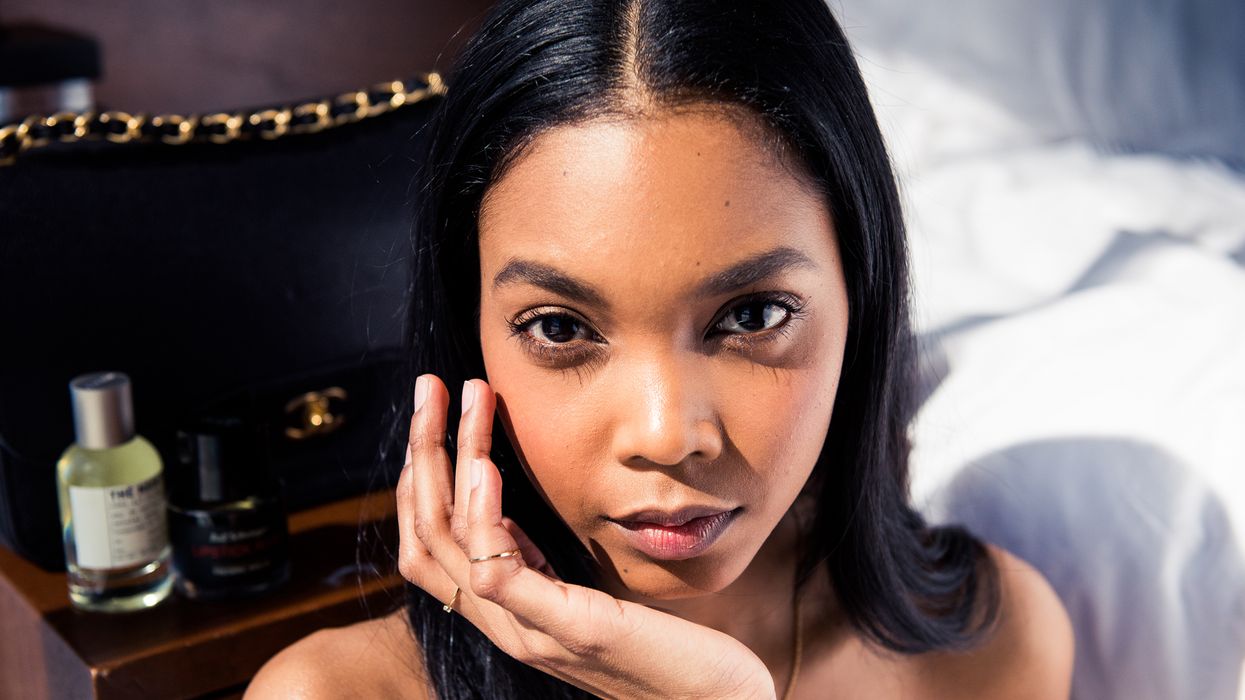 If you've
battled acne
,
fine lines
, or just general dullness, you may have already introduced a retinoid into your skin-care routine. And for good reason—it's a powerful vitamin A derivative that dermatologists typically prescribe to increase cell turnover. After a few weeks of a touch of dryness here and a bit of sensitivity there, you're left with the youthful radiance of your early twenties.
Still, some people are too sensitive to such a strong ingredient and turn instead to
bakuchiol
.  In the clean beauty world, it's referred to as a
natural form of retinol
. You may have already
tried bakuchiol
if you are in the market for the benefits of retinol without the risk of irritation or are pregnant or nursing.
So if these two ingredients are marketed as interchangeable with one another, why do some products contain both ingredients? Is this just another marketing ploy, or are there tangible benefits of combining them together? And is this even safe to put on my face?!
To save us from this sea of unanswered questions, we turned to two professionals:
Dr. Dendy Engelman
, board-certified dermatologist practicing at Shafer Clinic, and
Dr. Macrene Alexiades MD PhD FAAD
, double board-certified dermatologist and founder of Macrene Actives.
---
What's the Difference?

You must be thinking: If one ingredient is a natural form of the other, then there is no actual difference between the two, correct? Unfortunately, it's not that simple.

Retinoic acid is a derivative of vitamin A, the vitamin in our bodies that promotes collagen and elastin production in the skin. Dr. Engelman explains, "Retinoic acid has the ability to connect to almost any skin-cell receptor site and instruct it to behave like a healthy, younger skin cell." Through this process, retinoic acid sends nuclear signaling to the skin's deeper layers to amp up collagen and elastin production. "On top of that, it also functions like an antioxidant that can interrupt the free-radical damage process that causes wrinkling and other signs of aging," she says.

On the other hand, bakuchiol comes from the babchi plant and mimics vitamin E by healing and hydrating compromised skin—but that's not all. Dr. Alexiades tells Coveteur, "Bakuchiol contains terpenoids that have no structural similarity to retinol but have been reported to have similar effects on gene expression and [is] clinically comparable to retinol in its reduction of wrinkles and photoaging." Bakuchiol also has powerful antibacterial properties which help to eliminate acne-causing bacteria. Additionally, it regulates the mitochondria in the skin's cells, preventing oxidative stress. Through its antioxidant-like nature, bakuchiol protects the skin from free radicals that cause aging.


How They Work

Different ingredients use different pathways to penetrate our skin, which is why you are technically able to use things like benzoyl peroxide and salicylic acid together. Both ingredients target acne, but they attack it from different points: Benzoyl peroxide decreases inflammation in the skin around a breakout, minimizing it, whereas salicylic acid uses the process of exfoliation to dig acne-causing bacteria from a zit gently. Although the paths these ingredients take are different, their results are comparable.

Similarly, retinol and bakuchiol are extremely different in the way that they come to the same result. Whereas retinoic acid works as an exfoliator to speed up the cell renewal process and stimulate collagen and elastin production (leaving you with clearer, more youthful-looking skin), bakuchiol works to maintain the skin's lipid barrier (which keeps your skin moisturized) and heal inflammation. That means the appearance of fine lines is lessened and breakouts heal faster, which is exactly why bakuchiol can be a great alternative for retinol, but not a downright replacement, since the two ingredients don't do the same exact thing.

Using these two ingredients together is key for anyone looking to reap some serious anti-aging benefits. If you were only to use retinol, you might experience the effects of over-exfoliation, like inflammation, flakiness, and dryness, all of which can exacerbate fine lines and wrinkles. And if you were only to use bakuchiol—which, as Dr. Engelman points out, is not an exfoliator—then you wouldn't see the deep-line-diminishing cell turnover of a retinoid. Additionally, bakuchiol stabilizes retinol (which actually breaks down fairly quickly when exposed to light), so your formula remains effective for longer, while retinol provides a smooth, exfoliated canvas for deeper skin healing from the bakuchiol. Essentially, the two ingredients enhance each other, filling in the skin-care gaps where the other might have left off.

Both Dr. Alexiades and Dr. Engelman point out that although there are not many studies surrounding the exact effects of using these ingredients in tandem with one another, they can certainly see these ingredients working synergistically to bring forth a more youthful and clear complexion while simultaneously protecting the skin from free-radical damage.


Who Can Indulge, and When?
All right, so you want to use both retinol and bakuchiol together—before hitting
"
add to cart
"
on any products, make sure that your skin can handle this ingredient combination. Says Dr. Alexiades, "If you have oily or acne-prone skin, using both of these will be better tolerated and give you the perk of anti-aging effects. I would [advise] people with sensitive or dry skin to be careful, as it may be too much." Whether you add in as many healing components via bakuchiol as possible or not, retinol is retinol. If you have retinol sensitivities, you will want to avoid this ingredient combination.
Furthermore, avoid this ingredient combination for the time being if you are pregnant or nursing. Dr. Engelman states, "Vitamin A derivatives in high concentrations are a known teratogen, meaning it has been proven to cause birth defects and therefore must be avoided for anyone pregnant or nursing. Bakuchiol does not have any known side effects."
Got your retinol and bakuchiol handy? Great. We recommend the low-and-slow method when trying any new retinoid. That is, use products that contain both ingredients every few nights for about the first few weeks, and then, and only then, build the frequency to incorporate these products into your nightly routine. Additionally, if you are looking to use separate retinol and bakuchiol products together, begin by alternating these products in your nighttime routine. After about two weeks, you should be able to combine these two ingredients into your nightly routine.
Lastly, please make sure to use every precaution you would with this ingredient combination as you would with retinol–although bakuchiol does heal and protect the skin, retinol still increases sun sensitivity, so only use this product combination at night. And, as always, never forget to
wear your SPF.
This formula contains a two percent bakuchiol treatment that perfectly balances a mid-strength retinoid to diminish the appearance of dark spots and fine lines and wrinkles. Additionally, this product contains peptides, which further supports collagen and elastin production in skin that is feeling the effects of gravity. We love this formula because although it is lotion-like in its texture, it feels lightweight and soaks into the skin almost immediately.
This night oil is just what the doctor recommended for healing acne-prone skin. Retinol and bakuchiol work in tandem to bring forth glowing skin and protect it from environmental stressors. At the same time, holy basil reduces skin congestion and acts as a powerful antioxidant. Oily skinned folks, don't be alarmed by the fact that this product is an oil—it soaks into the skin rapidly and feels more like a dry oil than anything greasy.
This powerful night oil contains a two percent concentration of retinoid and bakuchiol, making it perfect for people who are battling acne as well as those looking to soften laugh lines. CoenzymeQ10 further supports the production of collagen, while supercharged omega-rich oils work to moisturize the skin. At just $38, this is a no-brainer nighttime addition for anyone looking to up their skin-care game.
This retinol product is one of the best on the market. It can help you achieve the kind of forehead smoothness that is synonymous with neurotoxins. This product contains bisabolol and Boswellia serrata extract, two ingredients that work to soothe the sometimes irritating effects of retinol.
Even though we might be spending less time outside, we're still surrounding ourselves in city pollution every time we step outside our doors. This product is amazing for clearing skin congestion caused by pollution, as it contains malachite, bakuchiol, and glycolic acid to gently exfoliate the skin and protect it from environmental stressors. This serum leaves skin glowing like no other, which is why we cannot recommend it enough.
This is a true retinol replacement from nature. With retinoic acid derived from rose hip, this product exfoliates the skin to a softer and more supple state. It contains a blend of olive and jojoba oils, which work to moisturize the skin without clogging it, and calendula and arnica, which work to decrease inflammation and heal the skin.
If oils and serums are not necessarily your thing, then try this bakuchiol-rich moisturizer instead. The Melt Moisturizer contains bakuchiol and ceramides, making it perfect for those with dry winter skin. Additionally, vitamin C ensures you will sport a complexion that is protected from free-radical damage while squalane works overtime to maintain your skin's lipid barrier.
If you are on the fence about determining whether you are sensitive to retinoids or not, consider this oil. It contains trans-retinoic acid ester, which is a gentler form of retinol than other retinoids on the market. Luckily, it also contains blue tansy and chamomile, two soothing ingredients that are sure to decrease redness and inflammation in the skin.
Clean beauty staple Biossance created a bakuchiol treatment that is great for all skin types. This product contains niacinamide, which is a stellar ingredient for reducing signs of post-inflammatory hyperpigmentation, and hyaluronic acid and squalane to reintroduce both hydration and moisture to the skin.