Photo: Courtesy of Sumiko Wilson
The Weekender
The Weekender: Why Prince Edward County is Toronto's go-to weekend retreat.
Welcome to
The Weekender
, Coveteur's travel series where seasoned globetrotters share their insider guides to top destinations across the world. Read on for the best spots to eat, stay, and enjoy.
For Torontonians, Muskoka has long been the go-to summer weekend getaway. From summer solstice to labor day, city dwellers make the two-hour trek up north to Ontario cottage country in droves. I've been to Muskoka once and it was one of the most idyllic experiences ever. A former boss of mine had a cottage on the water and she invited my coworkers and I up for a weekend of swimming, grilling, and drinking radler from sun up to sun down—it was a sliver of summer bliss.

But that sliver can be difficult to replicate if no one in your circle has a cottage of their own. Summer rentals in Muskoka are tough to snag and can get very, very pricey. Plus, for the cottage-averse crowd, it's not even worthwhile. Enter: Prince Edward County, an escape tucked away two hours east of Toronto with more wineries than my sister and I could count on both hands. It took us the length of a Drake album, a Burna Boy album, and an episode of Song Exploder to drive from downtown Toronto to PEC, which is basically the same length as a drive to Muskoka.
Since last summer, the Muskoka photo dumps that often flood my feed were replaced by snaps from beach days at the Sandbanks and winery tours—all in Prince Edward County. So last month, my sister and I took a quick trip to the County to see it for ourselves and it was every bit as charming as we expected it to be. Ahead, my recommendations of the best places to know and discover in Prince Edward County.
Where To Stay
The Drake Motor Inn + Devonshire Inn
Photos: Courtesy of Sumiko Wilson
The Drake's PEC property brings their brand of big city cool to the otherwise quaint county (if you aren't from Toronto, The Drake Hotel is a city staple with luxe rooms and great parties). The Drake has two sites within one block of each other: the dreamy, lakeside Devonshire Inn and the charming retro motel Motor Inn. We stayed at the latter and it was adorable. When I think motel, I think creaky beds and Alfred Hitchcock, but the Motor Inn is more of a nod to the homey feel of a motel and less of an on-the-nose replica. The Motor Inn was designed to mirror the old-school appeal of a roadside stay, but with more swagger and less scratchy sheets.
Each room at the Motor Inn has its own tiny terrace. It wasn't entirely private and the view was a brewery parking lot, but it was nice to be able to chill outside in our own dedicated space. Since the two inns are just a very quick stroll away from each other (our walk from the Devonshire to the Motor Inn clocked in at less than five minutes), you get the best of both worlds amenity-wise, from the Motor Inn's quaint communal living room to the Devonshire's stunning game room.
My sister and I stayed in a single room with a plush king-size bed and a roomy pull-out. I was particularly excited to douse myself with the Malin and Goetz skincare offerings in the bathroom and to step into the massive walk-in shower. Spending the night at the Motor Inn felt like checking into a chic, grown-up summer camp. The design was eclectic—the bed was draped with Brooklyn brand Cold Picnic's eccentric textiles—with a hint of scandi (they tapped Danish brand Woud to create shelving). And although my pups stayed home, visitors at the Motor Inn are encouraged to bring their dogs.
What To Do
Wine Tasting
Photo: Courtesy of Sumiko Wilson
In Prince Edward County, wine tasting is the thing to do. Driving into the County, we passed more wineries than my sister and I could each count on both hands. Am I a wine buff? Not at all (I still find it confusing that one could describe a beverage as dry) but this half-hour tasting at Casa-Dea Estates Winery helped me cosplay as a sommelier.
Take an Art Walk
Photos: Courtesy of Sumiko Wilson
This is a hotel that takes art very seriously—the side of the Motor Inn is painted with a technicolor mural by Antonyo Marest and every wall features photography from local artists. On the Devonshire property, there's an art walk that stretches from behind the game room to the lakeshore. Like the rest of the Inn's artwork, the art walk combines rotation and permanent installations from local artists, all in the Drake's signature vein of colorful and contemporary. The entire property is photogenic, but all of my favorite photos from our weekend jaunt were taken here.
Roast S'mores Before Bed
Photos: Courtesy of Sumiko Wilson
Wanting to lean into our summer camp sensibilities, after dinner we stopped by the front desk on the Devonshire's property to pick up s'mores kits. Then we headed back to the Motor Inn to lounge by the communal fire pit located just steps outside of our room. The fire pit was in a '70s-style sunken conversation pit underneath romantic string lights and was entirely electric—survival skills be damned.
Go For a Stroll on the Water
Photo: Courtesy of Sumiko Wilson
The day that we planned to visit the beach ended up being one of the rainiest in recent memory, so needless to say, we didn't make it to Prince Edward County's Sandbanks Provincial Park, which is said to be one of Ontario's best beaches. But my cloudy stroll along the shore made me feel like a pensive wealthy housewife on Big Little Lies. And what's best is that everything around you feels like it's pushing you towards the beach. You can rent paddle boards from the Devonshire and bring them to the beach yourself, but since I don't think I have the core strength to actually enjoy that activity, I was planning on renting a kayak a few minutes away.
Where To Eat & Drink
The Drake Devonshire Inn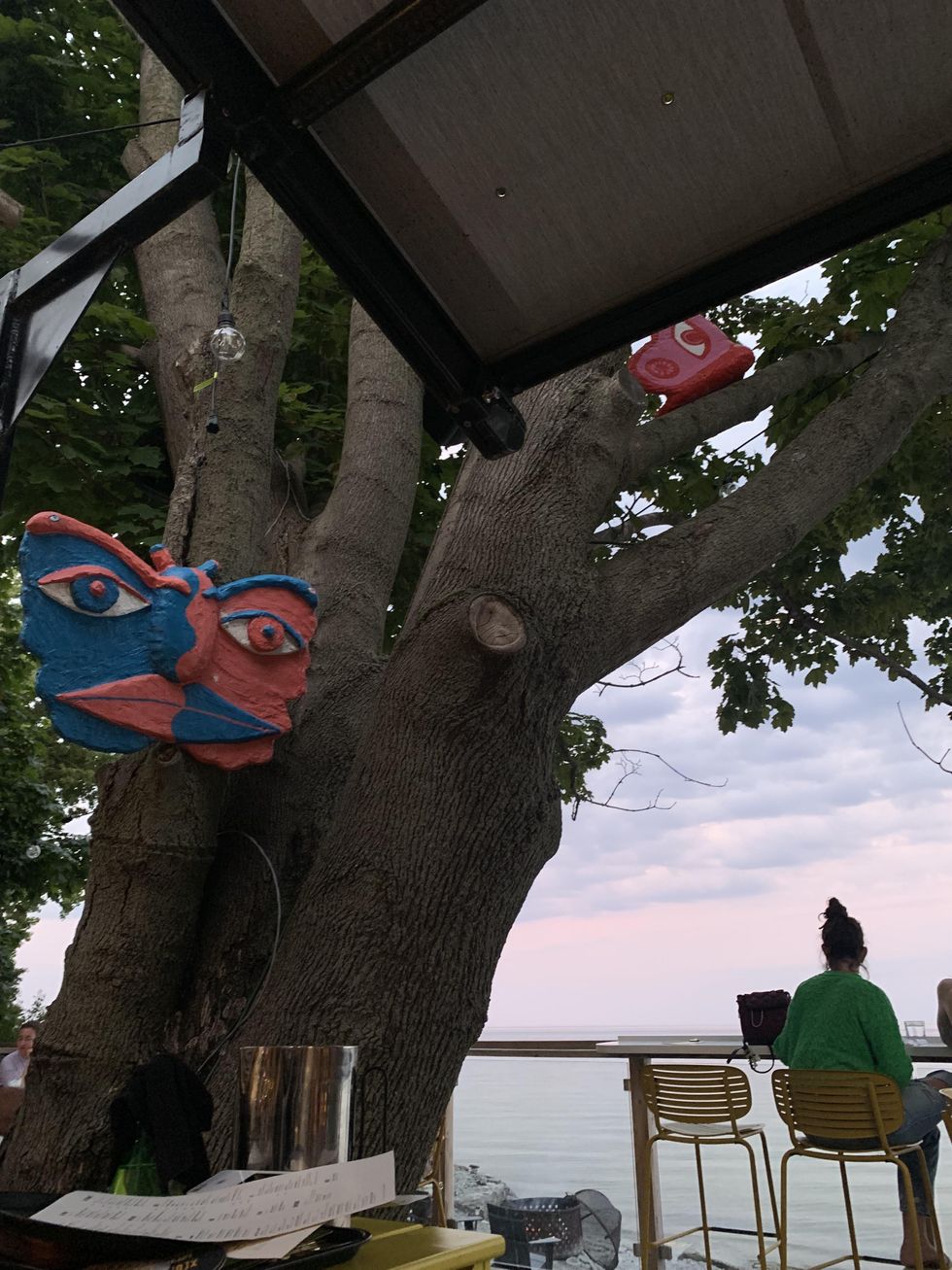 Photos: Courtesy of Sumiko Wilson
Dinner at the Devonshire was a delight—we even went back for lunch the next day. The restaurant is facing the water and if you happen to catch it at sunset (we got to our table right as the sun was setting) it's beyond picturesque. The menu leans into the lakeside vibes with seafood offerings like roasted octopus and a lobster roll, which I ordered (and inhaled) on our first night there. The next day at lunch we tried a salmon bowl with kale, kimchi, and a coconut-y vinaigrette that was so good I tried to replicate it once we arrived back home.
Bocado
Bocado is a newer addition to PEC and it's a local favorite. The restaurant conveniently sits on the County's Main Street and serves up seasonal Spanish-inspired dishes, from tapas to paella. This is a pricier option, but it's totally worthwhile—Bocado is owned by chef Stuart Cameron, who is known by Torontonians as the former executive chef at spots like Byblos and Patria.
Shop Prince Edward County Packing Essentials: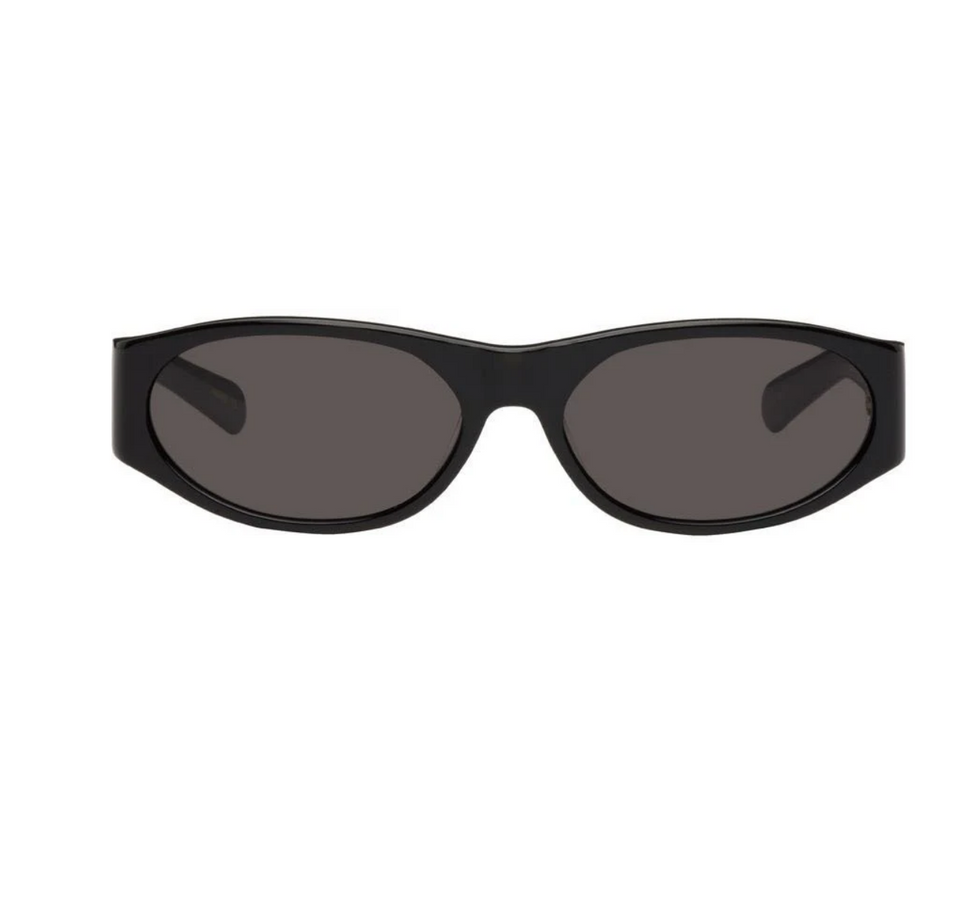 Flatlist Eyewear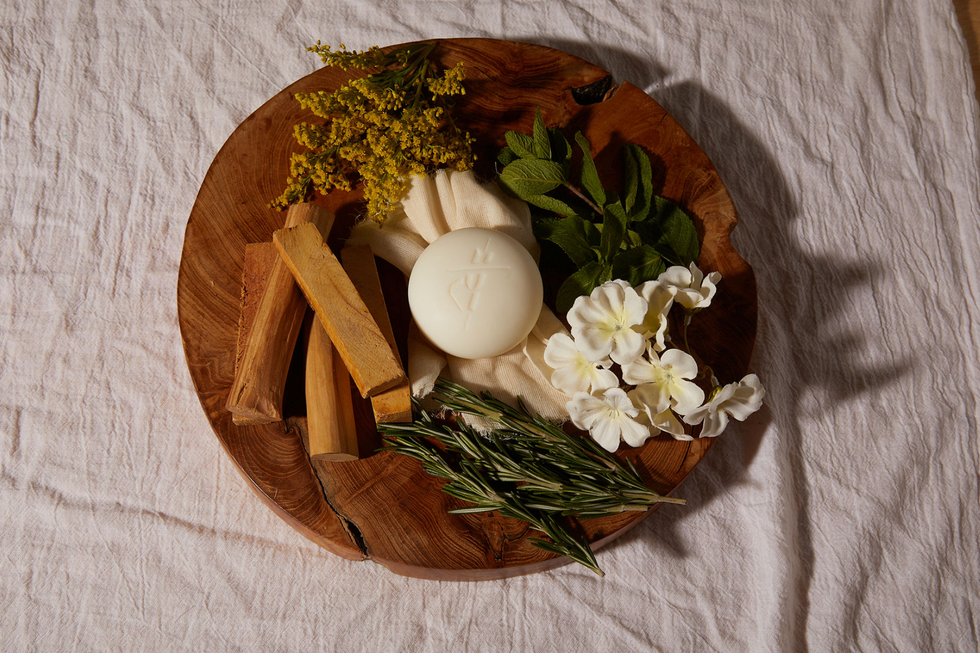 Kate Mcleod
Kotn
Bask Suncare
Co
Opening Ceremony