Peter Som Shares His Favorite Summer Recipes & Entertaining Secrets
Perfect for your next dinner party.
Food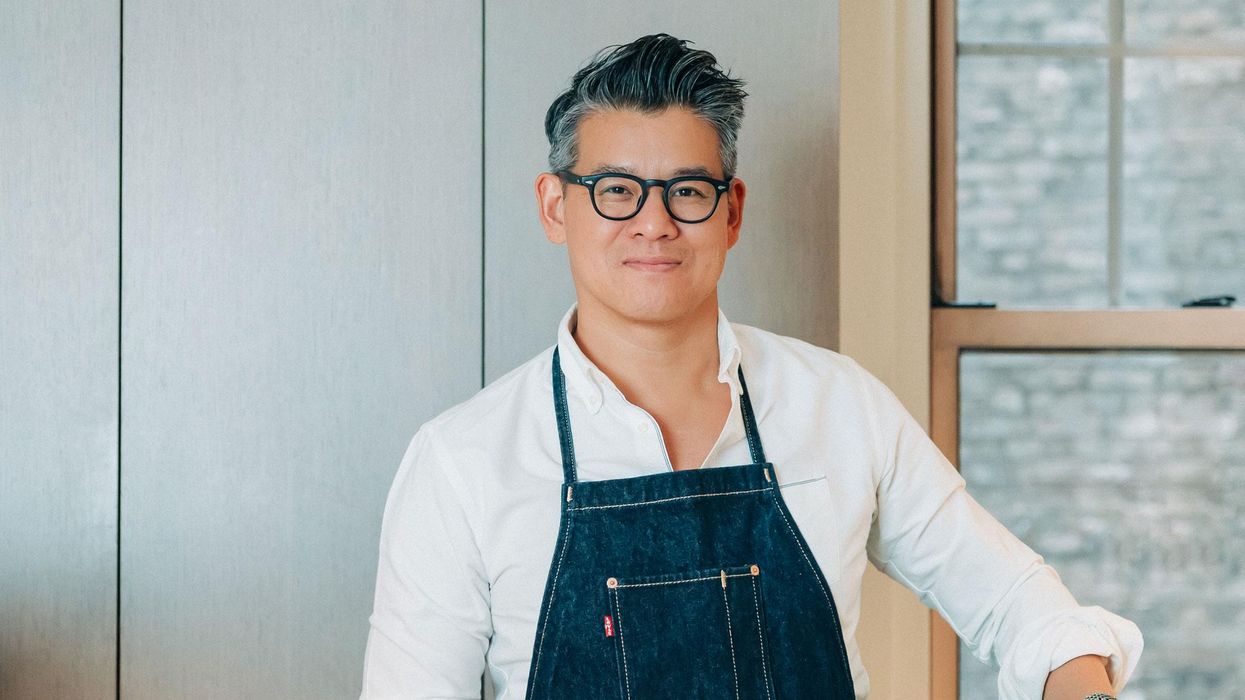 Fashion designer Peter Som might be best known for outfitting the likes of Michelle Obama and Beyoncé in his signature, colorful creations, but for the NYC-based creative, food has always been his other great love.
"I look at creativity as somewhat fluid," says Som, who shuttered his namesake label in 2015 and has since been busy building up his lifestyle site, PeterSom.com, and has recently created a capsule collection for Anthropologie. "Even though techniques may be different between food and fashion, I like to think my approach is similar—effortless, beautiful…a lot of adjectives that could apply to a great dress or a great meal."
Som's website and Instagram (@petersom) are full of delectable recipes he's dreamed up that speak to this creative approach perfectly, like his pink salad with sherry vinaigrette or chocolate olive oil bundt cake. With summer just around the corner, we thought we'd check in with the epicure and consummate entertainer to get his expert tricks for your next pool party or backyard barbecue, from the flowers to the food. Plus, he's already got your menu sorted with these three easy summer recipes he's shared with us, below.
Where did your interest in food and cooking first come from?
"My interest in food really started when I was a kid, being in the kitchen with my mom, sister, and grandmother. I was always so eager to help, whether we were making Chinese food or American food. My mom had an obsession with French food, so there was always French food happening, too. She loved a soufflé, and I would never want to turn that down. Cooking was always, from the beginning, a part of my life. It really wasn't until I started my own clothing line where cooking almost became something to keep my feet on the ground at the end of a long, crazy day. There is nothing more therapeutic than coming home and making something simple and delicious—it really satisfies the soul. It was a natural progression to lean into it more in the last bunch of years."
What are some of your signature dishes?
"Definitely my asparagus and chickpea Caesar is one that friends love. It was sort of one of the first dishes that I made that people started making and posting. It is actually perfect for right now. I like baking too, so on the baking front, one that people really love is my chocolate olive oil bundt cake. I did it in bundt form, but it's also equally as lovely if you make it as a layer cake and put whatever in between. That one has been quite popular, as well. I always like to make sure my desserts aren't too sweet—I like to have a really nice balance."
One of the things I love about your recipes is that they are both gorgeous and delicious, but also approachable and unfussy. Is that your approach to entertaining as a whole?
"Maybe it's coming from fashion and having a short attention span, but my whole idea is really medium effort, high reward, and big flavor. That's really kind of it. Especially in the summer, you want to be out by the pool, you want to be out with your friends, you want to be where the action is and not running around the kitchen. My food philosophy for summer entertaining is it's really about people getting together, and the food is important, but it's not the thing.
"If I'm doing a lunch or a dinner, it's usually very simple...like an appetizer, which is some sort of salad using great produce, and then a main course and a simple dessert. You know, it's not about a buffet of like, 20 different dishes. I think that approach keeps it really simple. And making as many things ahead of time as you can, making sure that your veggies are washed and the dressings are ready to go so all you have to do is toss that. Simplicity is key."
What are your go-to tricks to keep it simple?
"Absolutely get help from the store. There is no shame in that game, whether the dessert is store-bought or you ask your friends to bring dessert. In most cases, in the summer, people just want great fruit and great ice cream or something. There's this place in Sag Harbor called Harbor Market where they have this great roasted chicken, and I have bought that and then just made a quick little sauce to go with it, added a squeeze [of] lemon and a pinch of salt, and that kind of just brightens everything up. So yeah, definitely get help from the store and help from the prepared foods section. Just make sure you take it out of the container and put it on a fabulous platter."
Where do you like to shop for tabletop and decor items like platters?
"Anthropologie always has a great selection of things that are very summery and colorful. There's a store in Amagansett called E.E. Home, which has a beautiful curation of things. I usually tend to stick to white plates and dishes. For me, it's season-less. The irony is white plates are the little black dress of tabletop. They go with everything, any season, they make the food pop and you don't have to worry about it too much. I always need a cloth napkin---no flimsy paper napkins. Get some great cotton or linen napkins and they will last you for a good while. It just sort of elevates everything a bit, you know?"
It makes a big difference! What about florals? Are you a bodega flower guy, farmers' market/flower market guy, or do you pick straight from the garden?
"When we're in the country, we usually go to a great farm stand. I go to Serene Green a lot, which is in Sag Harbor. Amber Waves and Balsam Farms are also great! Here's a good, quick cheater thing: They usually have some great flower bouquets that are already made up, so it's usually really great to just buy those and put them in some nice vases. In the city I am a fan of bodega flowers for sure. You kind of can't go wrong. And again, I usually keep it simple with either one kind of flower, but a nice amount of them, or even just a bunch of bud vases down the middle of the table for more of a wispy effect. It's medium effort, high impact."
I love your whole entertaining aesthetic and your recipes. When is the book coming? I would love to see a cookbook from you…
"I would love to see a cookbook from me, too! I have a lot of plans for the next year or so, and hopefully this will be one part of it."
What are some of your favorite cookbooks and chefs?
"There are so many chefs and recipe developers that I love. [Yotam] Ottolenghi's cookbooks for sure—they really taught me the power of spice and how to get amazing flavor. I love Hetty McKinnon, who has a new book out (To Asia, With Love). Her cooking is really a fusion of Asian and American and it has really inspired me a lot. I love Ruth Reichl—there is always such meaning behind her recipes, and I believe that recipes are a form of storytelling. Toni Tipton-Martin and her book Jubilee—it's not just African-American and Black cooking, it's really a history of American cooking. I love chefs and recipe developers who really share a piece of themselves—there's a piece of history and always something more than just the recipe behind it."
Who would be your dream dinner-party guests?
"OK, I've got this: Oprah, because she is amazing. Wanda Sykes, because she is just hysterical. Audrey Hepburn, and then Amanda Gorman. I was so moved by her at the inauguration that I bought her book and cried. I would have her (if she would want to come to my imaginary dinner party). And my boyfriend, of course."
Here, Som shares three of his favorite summer recipes for your next dinner party:
Heirloom Tomato Lobster Caesar
Serves 4-6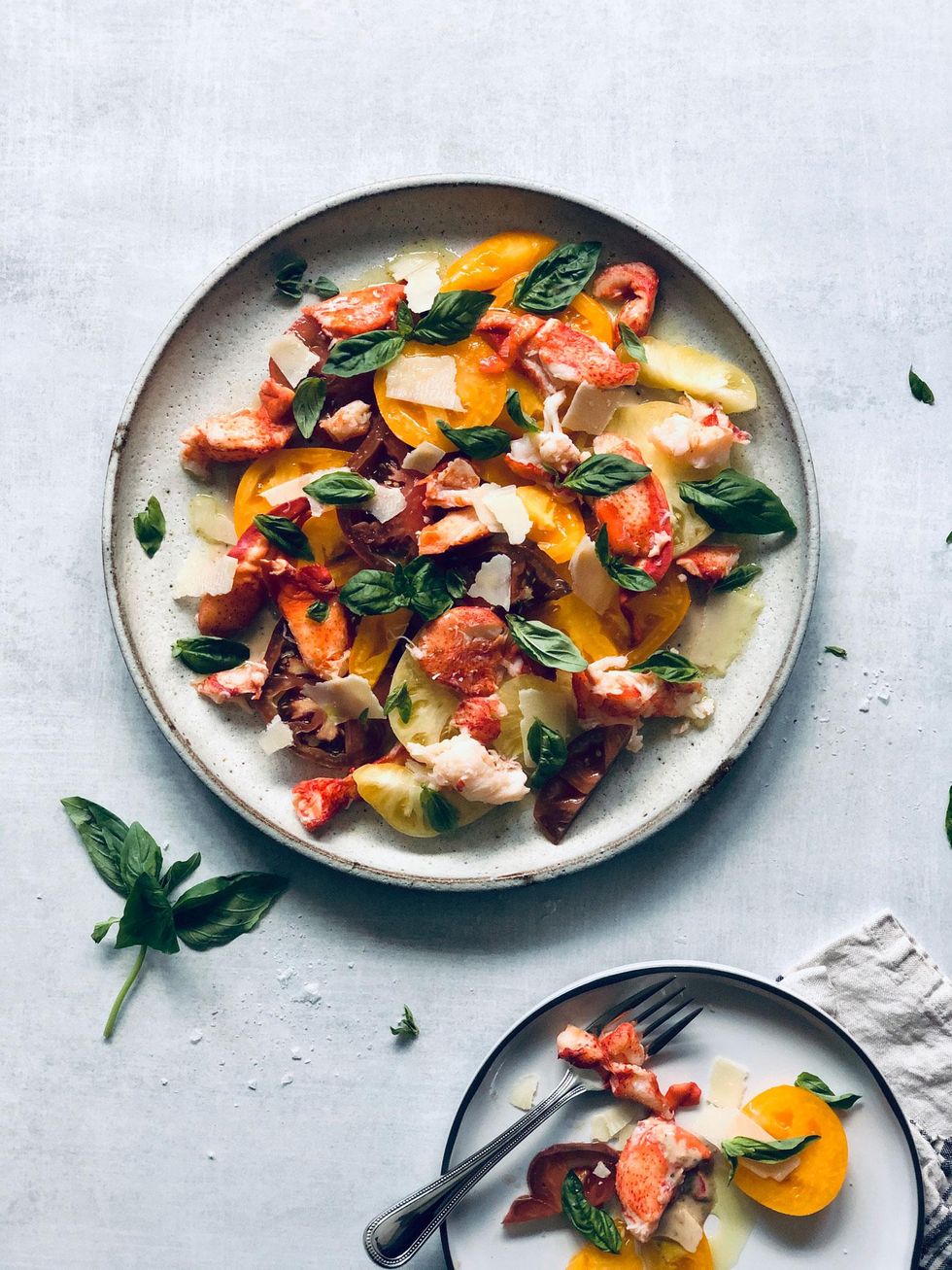 Photo: Courtesy of Peter Som
Ingredients:

4–5 ripe heirloom tomatoes, cut into 1/2" slices
Caesar dressing (recipe follows)
1 cup basil leaves
1/3 cup freshly shaved parmesan
1 lb cooked lobster meat
sea salt, for finishing
a glug of good extra virgin olive oil, for finishing
Dressing:
1/2 cup Greek yogurt
1/2 cup freshly grated parmesan cheese
2–3 tbsp extra virgin olive oil, plus more for finishing
2 tbsp lemon juice
1 tsp anchovy paste
2 tsp dijon
1 tsp Worcestershire sauce
1 garlic clove
kosher salt and freshly ground black pepper
Directions:
1. Combine all ingredients into a food processor and pulse until smooth and combined.

To plate: Pour dressing into a large, shallow serving bowl or platter and top with tomatoes and lobster. Sprinkle tomatoes and lobster with fleur de sel, drizzle with olive oil, and finish with parmesan and basil.
Salt and Pepper Potato and Corn Salad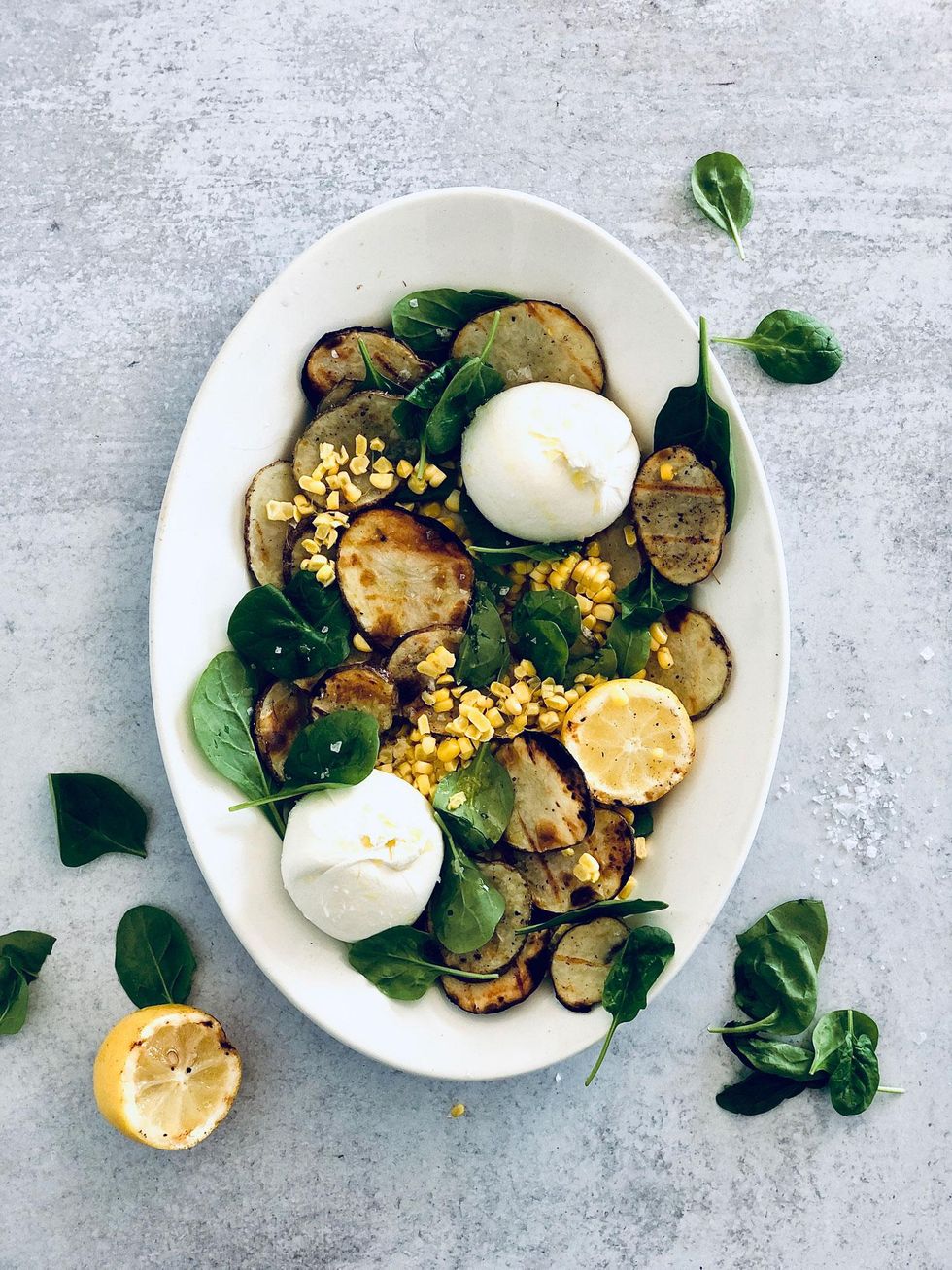 Photo: Courtesy of Peter Som
Ingredients:

2 russet potatoes
1 tsp kosher salt
1/2 tsp black pepper
3 tbsp extra virgin olive oil, divided
4 ears of corn
2 4-oz balls of burrata
1 cup baby spinach
1 lemon, cut in half
1 tsp honey
pinch of chili flakes (optional)
fleur de sel, for finishing
Directions:
1. Turn grill on medium-high.
2. Slice potatoes into 1/4" slices and toss in a small bowl with salt, pepper, and 1 tbsp olive oil.
3. Place corn and lemons cut side down on grill, then potato slices.
4. Grill potato slices five to six minutes until bottom side is deep golden brown; then flip and continue to grill for three to four minutes until fork-tender.
5. Remove potatoes and corn from grill.
6. Shuck corn and cut kernels off.
To serve: On a platter, arrange potato, corn, and spinach and add burrata balls. Squeeze grilled lemon juice all atop, and finish with 2 tbsp olive oil and honey. Finish with chili flakes (if using) and fleur de sel.
Strawberry Skillet Cake with Honey Whipped Ricotta
Serves 6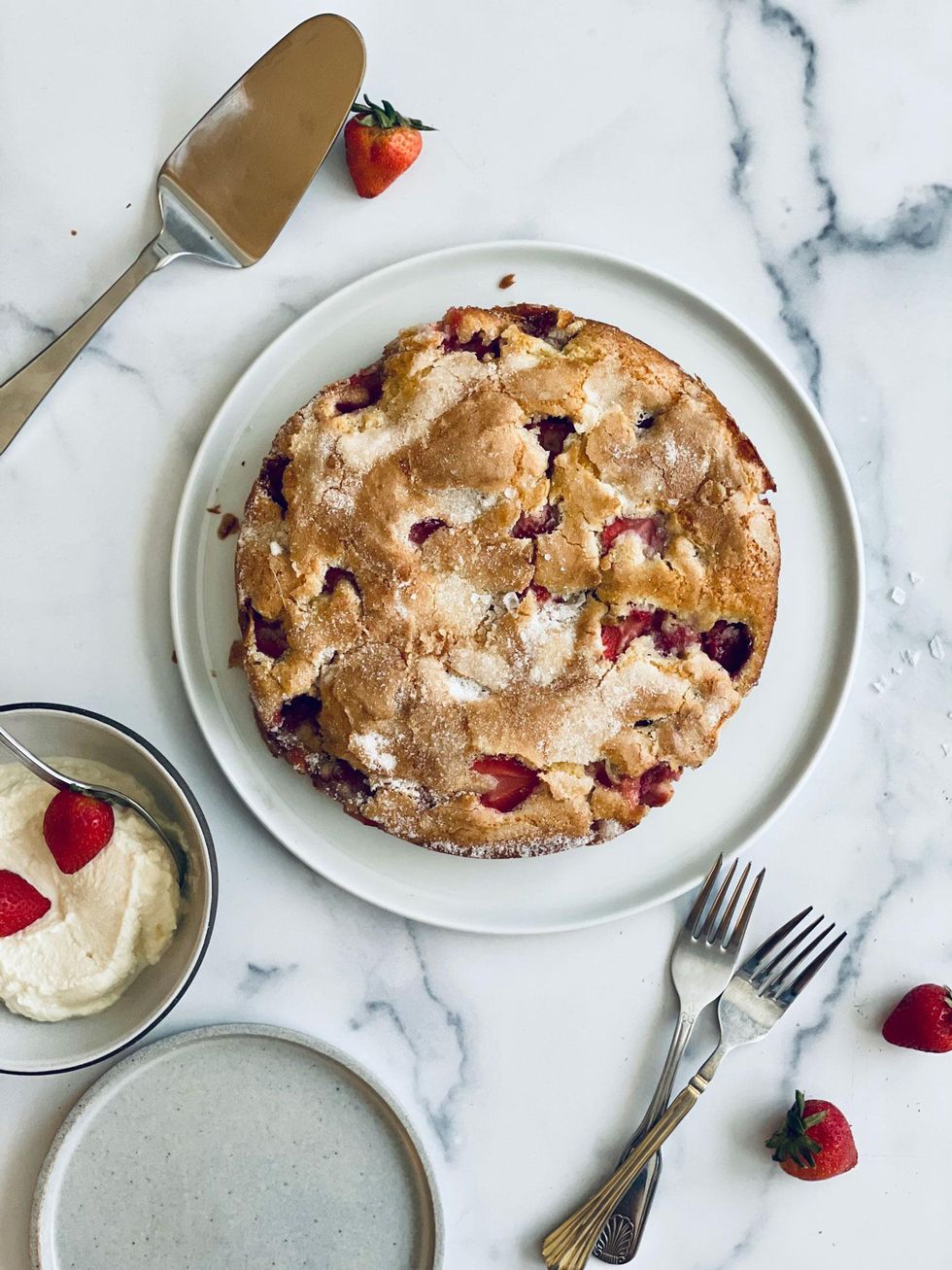 Photo: Courtesy of Peter Som
Ingredients:

8 tbsp unsalted butter, softened
1 cup plus 3 tbsp sugar
2 large eggs
1 tsp lemon zest
1/2 tsp vanilla extract
1⅓ cups all-purpose flour
1¼ tsp baking powder
1/2 tsp kosher salt
1 cup plus ½ cup ricotta, divided
1 lb fresh strawberries, hulled and halved
2 tbsp honey
Directions:
1. Preheat oven to 350 degrees F.
2. Butter a nine-inch springform pan or cast-iron skillet.
3. In a large bowl, beat butter and 1 cup sugar with a mixer at medium speed until fluffy, five to seven minutes. Add eggs, one at a time, beating well after each addition. Beat in vanilla.
4. In a medium bowl, whisk together flour, baking powder, and salt.
5. Gradually add flour mixture to butter mixture in three batches, alternating with ½ cup ricotta, beginning and ending with flour mixture, making sure to stir just until combined after each addition. Fold in strawberries. Spread batter in prepared skillet. Sprinkle with remaining 3 tbsp sugar.
6. Bake until a toothpick inserted comes out clean and surface is golden brown, approximately 40–45 minutes. Cool on a wire rack.
7. To make Honey Whipped Ricotta, add remaining ricotta along with honey in a small bowl and whisk until smooth.
8. Serve with honey whipped ricotta or whipped cream and fresh strawberries (if desired) on the side.