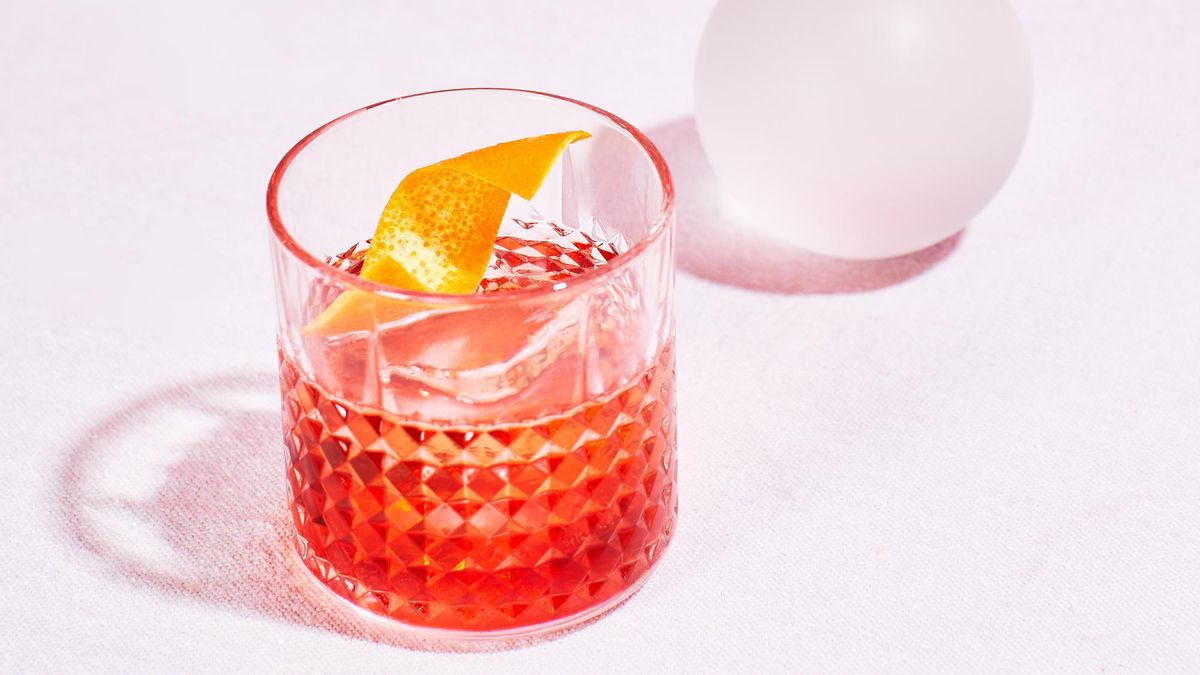 Living
13 Things You Should "Unlearn" about Mezcal
For starters, it's not always smoky.
The first thing you should unlearn about mezcal is that it's just a smoky spirit that makes a great cocktail. While we would never deny you a delightful mezcal Negroni, the Mexican artistry that pours into each and every bottle is too complex and interesting to not examine further. It's Mexico in a sip, as Xaime Niembro (one of our experts for this story) puts it. And chances are, if you imbibe on occasion, you're probably ordering mezcal more often. A recent Drizly report indicates that their mezcal sales increased 600 percent year over year in 2020 and is among the fastest-growing categories on the platform, particularly for the 28-34 age range (with 35-41 trailing close behind).
It's not all that surprising—aside from tasting good, mezcal is embedded in history, culture, and storytelling. One such story Emma Medina (another one of our experts) shares is centered around the most important component of mezcal: the agave plant. "There is a famous myth that says a lightning bolt struck an agave plant, cooking and opening it in the process, releasing its juices. For this reason, the liquid is often called 'the nectar of the Gods.'" Ahead, all the things you should learn (and unlearn) about this delicious nectar.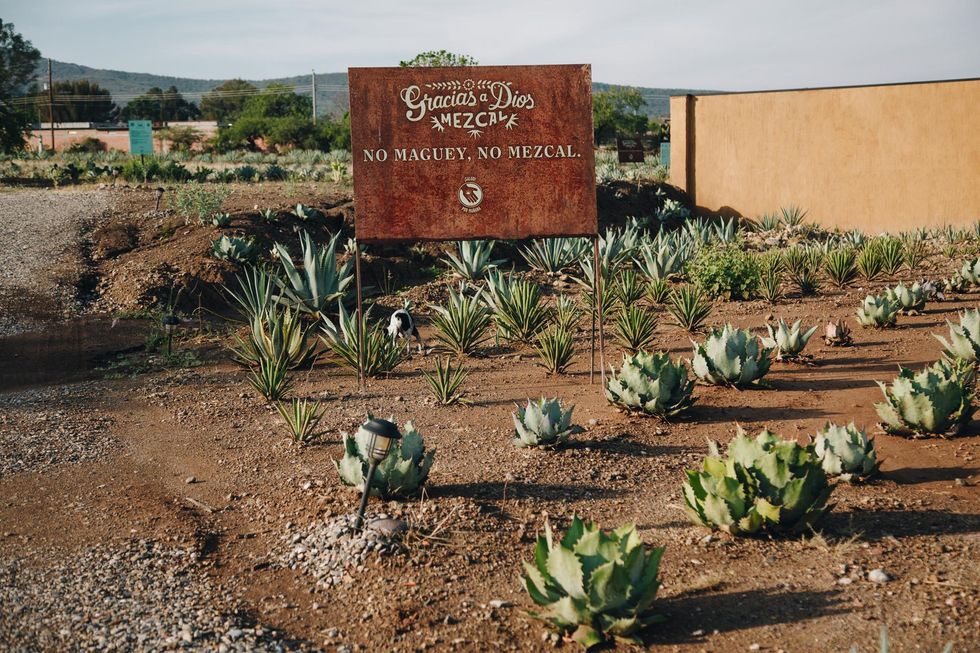 Photo: Courtesy of Gracias a Dios
Meet the Experts
Xaime Niembro is the sales manager for Gracias a Dios, a handmade mezcal brand that is produced in Oaxaca and focuses on eco-friendly practices.
Lou Bank is the founder of Sacred, a non-profit that helps improve quality of life in rural Mexico, and the co-host of Agave Road Trip, a podcast about agave spirits.
Emma Medina is the chief marketing officer at Clase Azul, a luxury brand renowned for its premium tequila and mezcal.
Sonya Vega Auvray is the founder of Doña Vega Mezcal, an organic, artisanal mezcal brand owned and produced by women that's based in Oaxaca.
Photo: Courtesy of Gracias a Dios
First Things First: A Definition of Mezcal
Mezcal is a Mexican spirit that has been distilled from any varietal of fermented agave (unlike tequila, which can only be produced using Blue Weber agave). The word loosely translates to "open-cooked agave" and can only be made in one of nine designated Mexican states, the majority being produced in Oaxaca.
Similar to Champagne, Mezcal Has a Denomination of Origin
As mentioned above, in order to call your product mezcal, it must be made in one of nine states in Mexico. These rules were established in 1994. "The Mexican government controls that DO and determines what the specific definition for mezcal is," Bank explains. "There are regulatory bodies that oversee those definitions and certifying bodies that determine whether or not a specific agave spirit qualifies as mezcal—and if so, what kind of mezcal."
So, No, It's Not All Made in Oaxaca
Though most casual mezcal consumers might instinctively associate mezcal with Oaxaca, the spirit can come from eight other Mexican states. One example of this is Clase Azul, a producer that makes a mezcal in Guerrero. "We are inspired by the beautiful but little-known state of Guerrero—its landscapes, gastronomy, art, heritage, and especially the strength and leadership of the women who call this magical place home," Medina says. "Our exquisite mezcal is born of Guerrero's unique nature, produced using the papalote agave, which grows wild in the mountains of Guerrero, combining the sea's climate and flavor with the green forest's freshness."
The Certification Isn't Perfect
"There are many, many, many uncertified agave spirits coming out of Mexico that truly are handmade that don't get the credit they deserve because the producers either opted not to certify as mezcal or couldn't afford to," Bank says. Opting out of a denomination of origin can save a small producer the cost (or limiting regulations) of certification, but it means unless a consumer is intimately familiar with that producer who is technically selling an "agave spirit," they're probably going to reach for the mezcal next to it instead.

"The certification process forces many producers to change what they are doing to conform to the regulations that define mezcal. The shame is, that hinders the cultural heritage of these unique spirits—a good Denomination of Origin should do the opposite of that," Bank says. "So many families are skirting certification in order to preserve cultural heritage. I wish more people understood that."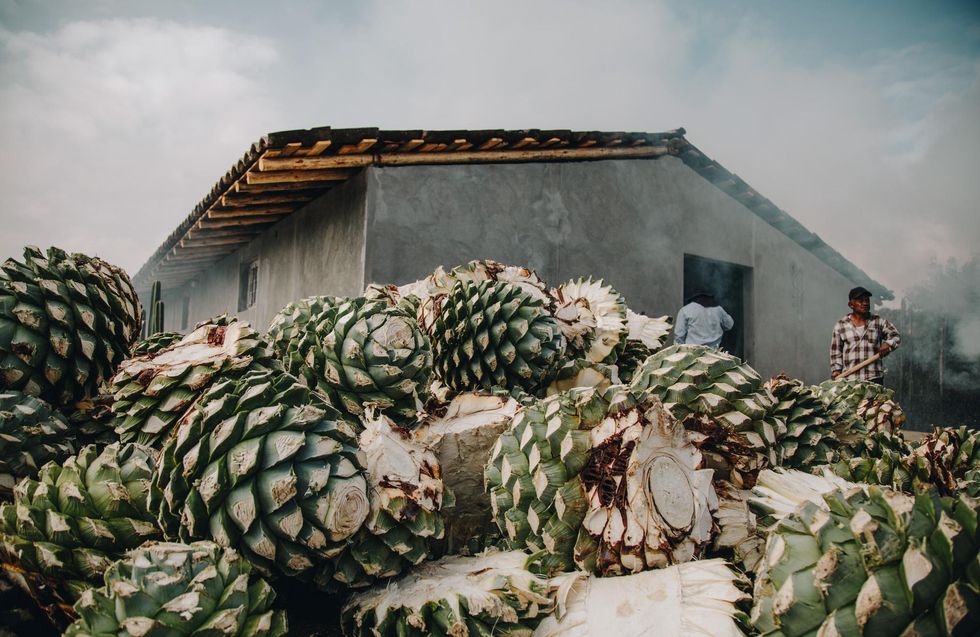 Photo: Courtesy of Gracias a Dios
There Are Hundreds of Agave Species
As called out before, tequila can only be made using Blue Weber agave, but mezcal has open reign. "We have over two hundred species of agave, so it's extremely diverse," Niembro says.
The Maturing Process Is Impressive
The age of the agave plant is a key element in the production of mezcal, and an impressive one at that. "Our organic agave plants are found on the mountains outside of Oaxaca and are matured between eight to nine years before being harvested," Auvray says. Unlike wine, which comes from grapes that are harvested each year, mezcal requires a considerable amount of waiting. "The agave can mature anywhere between eight to 25 years, so we are talking about a spirit that matures in the earth: the sun, the water, and soil make every single bottle a unique piece of art," Niembro says.
The Production Is Pre-industrial (Sometimes)
A common misconception surrounding mezcal is that it's all made by hand. Both Bank and Niembro note otherwise. "Handmade mezcal is very common, but unfortunately, mezcal's popularity has led to a rise in demand, and with this, more brands are going into industrial practices to reach their numbers," Niembro says. Bank adds that this is the biggest misconception he'd like to see corrected.
When mezcal is made by hand, the process is a sight to behold. "The carbohydrates in the agave are most frequently converted into fermentable sugars by cooking the agave in an underground oven—literally a giant hole in the ground that is filled with firewood and stones," Bank says. "The fire heats the stones, and the raw agave goes into that hole with those hot stones. The pile of agave and hot stones is generally covered up with burlap or leaves or plastic tarps and then with dirt, in the same way that goat or pig will be cooked underground, though on a larger scale." It's left there to roast on a low, steady fire for around four days and is then crushed (often with a horse- or donkey-pulled millstone), fermented, and distilled.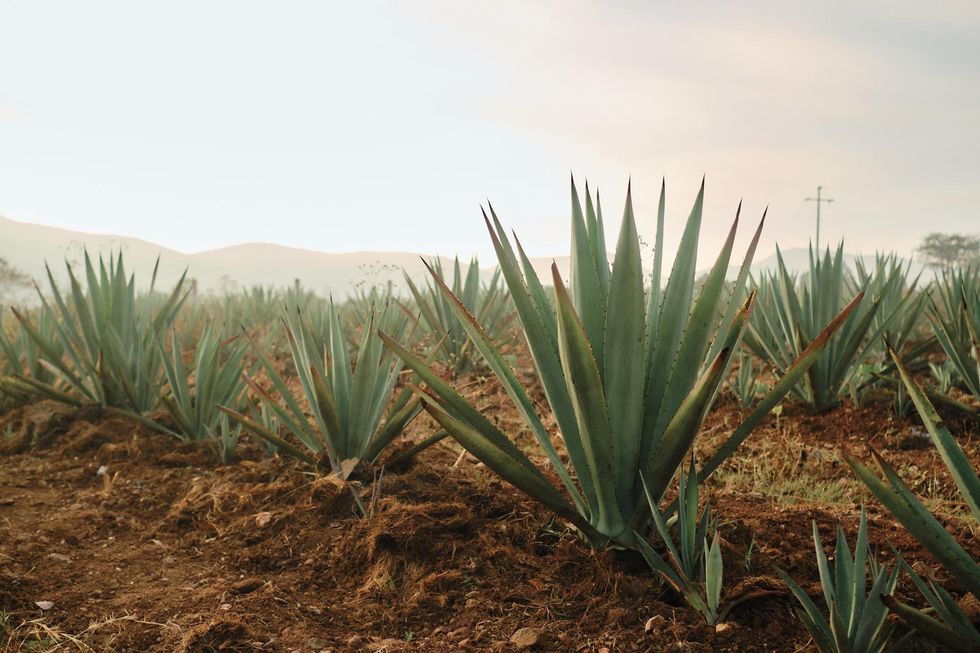 Photo: Courtesy of Doña Vega Mezcal
There Are Three Categories of Mezcal
If you're buying a bottle of mezcal, it'll most likely fall within one of three categories: mezcal, mezcal artesanal, and mezcal ancestral. Bank notes that there are variations within those categories relating to whether or not the spirit was aged, how it was aged, and what flavors may have been added during or after distillation.
The first category is often referred to as "industrial mezcal" because it can be made in an industrial manner (though it doesn't have to be). The second two are made using primarily pre-industrial methods. "They're literally making the spirits in a way that it was done in the early 1800s," Bank says. "These methods rely more on human skill than on machines."
It's Got a Complicated Relationship with Tequila
Well, not complicated, per se, but you know how all tequila is mezcal but not all mezcal is tequila? That's not technically true anymore, according to Bank. "Before the Mexican government took ownership of the word mezcal, it's true that tequila was a kind of mezcal. But as soon as mezcal became a certified spirit, the regulatory definition that was written for mezcal made it impossible to continue using the word in its historical context," he explains. "To put a fine point on it, most tequila is made in Jalisco. But you cannot certify an agave spirit made in Jalisco as mezcal. So how can tequila be a mezcal?"
Not All Mezcal Is Smoky
You've probably heard mezcal referred to as tequila's smoky cousin, but you should unlearn that phrase. "I mean, yes, much of it is smoke. But much of it is not," Bank says. "I think the cousin cliché has perpetuated the production of smoky mezcal. Gringos expect mezcal to taste smoky, so liquor companies make inexpensive mezcal that tastes smoky to fill that market demand. Those become the least expensive mezcals on the market in the USA, in order to meet the pricing demands for affordable cocktails, and that makes them the most widely distributed examples of mezcal; now we all assume that mezcal is smoky."
If you like smoky—great, it won't be hard to find a smoky mezcal (it comes from the pit method of cooking described earlier). But producers like Doña Vega are offering alternatives. "Mezcal notably has a smoky identity, with some varieties showcasing more extreme earthy, bitter, and strong notes," Auvray says. "I find mezcal to be extremely tasty and interesting, but many people are turned off by something too overpowering. I wanted to create and offer a gateway to the world of mezcal with a less smoky, more approachable recipe."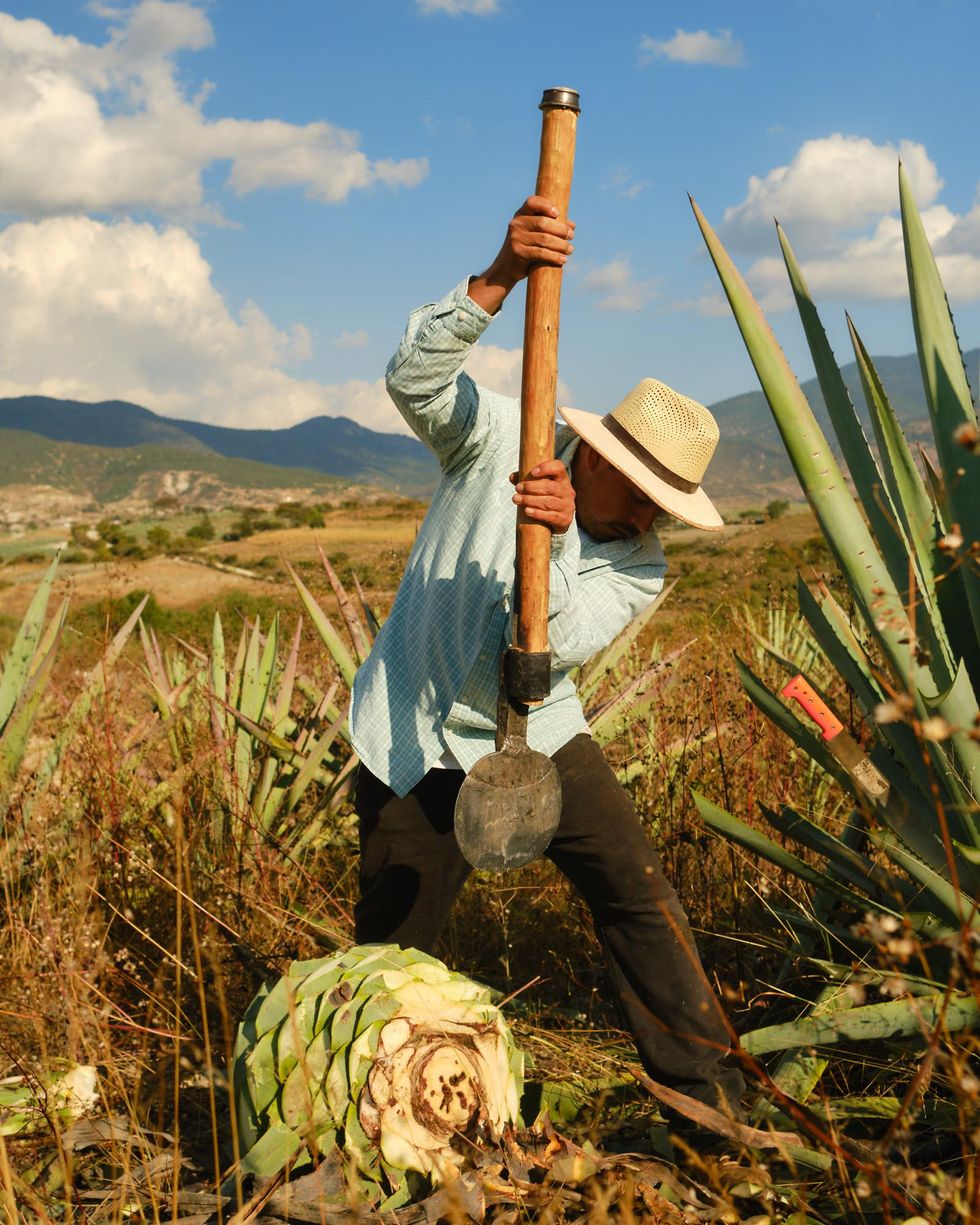 Photo: Courtesy of Doña Vega Mezcal
Sustainability and Mezcal, a Perfect Pairing
Gracias a Dios is a mezcal producer that's transparent about its sustainability initiatives. "Being 100 percent sustainable is almost impossible, but we are trying to balance our production to create as little of an impact as we can," Niembro says. "We are 100 percent powered by solar panels, 60 percent of the water in the distillery comes from the rain, we consume approximately seven trees every month burning wood, so we plant around 3,000 trees every year, and we have our own agave plants and they are not a mono cultive." He also shares that they plant beans, corn, pees, chile, and other goods in the same space so they can keep their soil healthy. "After all, the soil is the most important asset that we have," he adds.
No Worms (or Hallucinations), Sorry
Both Auvray and Medina share that you shouldn't expect a worm in your mezcal. "One misconception about mezcal is that they all contain a worm, which isn't true," Medina says. "Some rumors say that worms were added to prove that the mezcal is fit to drink or that it adds to the flavor—something that has never been proven. None of our mezcals contain insects." She also notes that despite being similar in name to mescaline, mezcal will not make you hallucinate (probably for the best).
Sip It, Don't Shoot It. Or Put It In a Cocktail
All experts agree: You should sip your mezcal neat, at least while you're figuring out what appeals most to your palate. "My strong suggestion is, if you're interested in understanding why everyone is writing and talking about mezcal, try it neat," Bank says. "Unlearn that the mezcal cocktail is the hottest cocktail—I'd argue that's because bartenders who love to drink it neat expect that you won't drink it neat, because gringos drink cocktails." His advice? Find a bar that has a good selection of mezcals and order flights of a few different mezcal expressions that you can sip neat, one alongside the other. "Do this enough, and you'll find flavors and aromas that speak to your palate. Then go searching for more like that, based on the person who made the spirits you like and the process used to make them."
And Pair It with Food
You're familiar with food and wine pairings—and food and cocktail pairings—but straight mezcal and cuisine should also be on your radar. "Mezcal can provide the perfect pairing for a wide array of foods, as long as you choose the right one," Medina shares. "Unlike many other spirits, mezcal is clear, making its flavors more crisp and easier to pair. The smokiness makes it ideal for earthy vegetables, grilled meats, and cheeses." She shares that their Guerrero goes perfectly with Serrano ham, steamed fish tacos, and lemon cake with ripe fruits. Their Durango mezcal has an entirely different profile and would pair well with aged cheeses, chocolate/cocoa, and figs. "Remember, part of the fun is experimenting and trying different combinations to achieve your perfect culinary experience," she adds.

Doña Vega Mezcal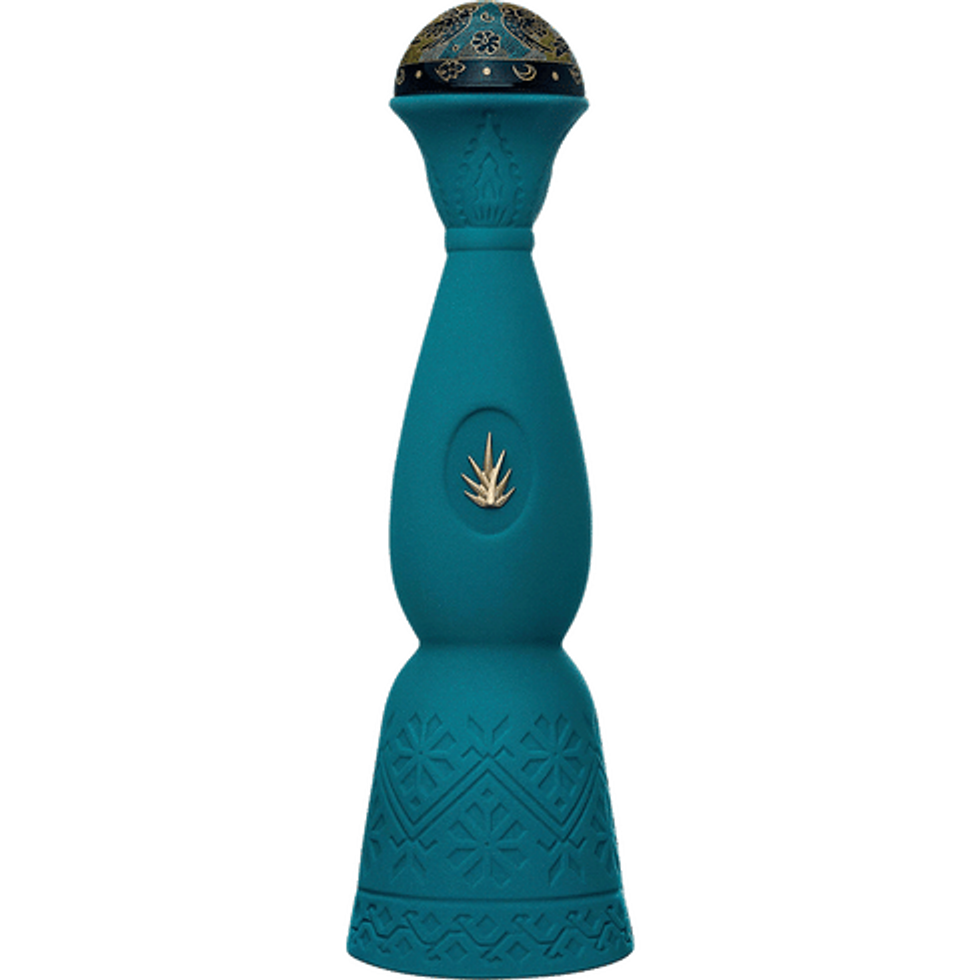 Clase Azul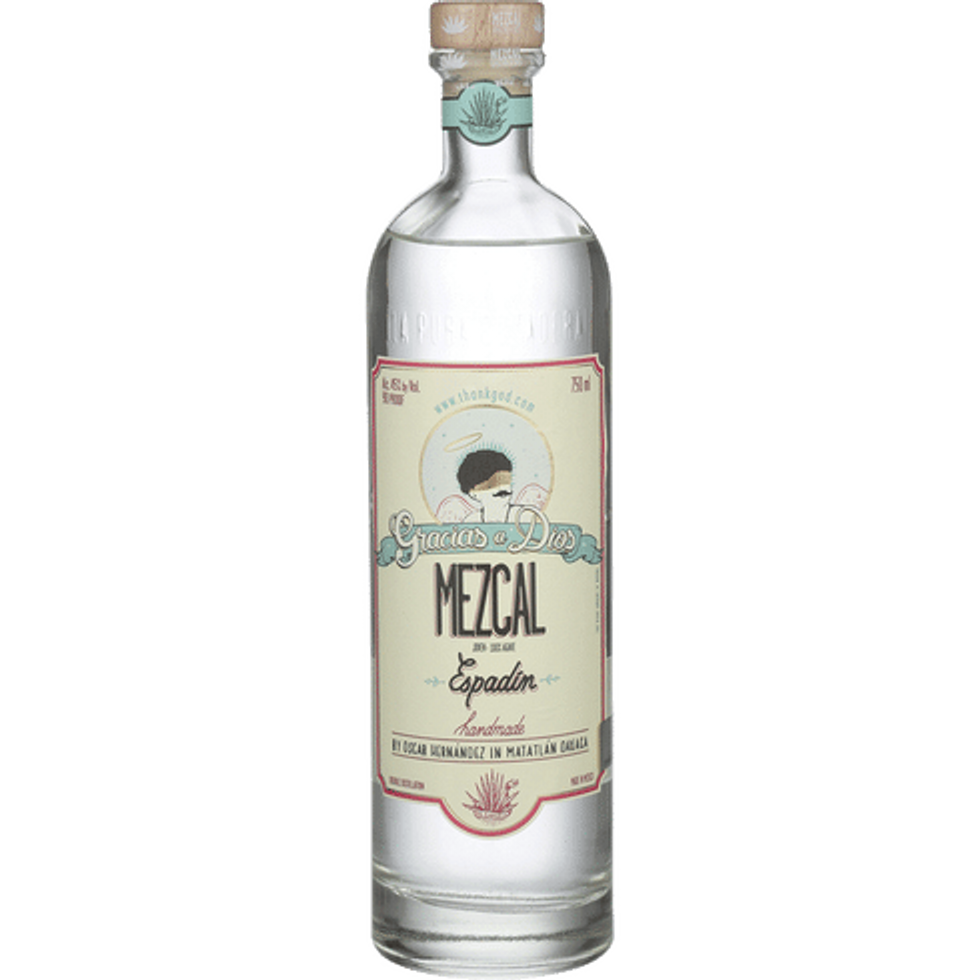 Gracias a Dios
Madre
Rosaluna
Del Maguey