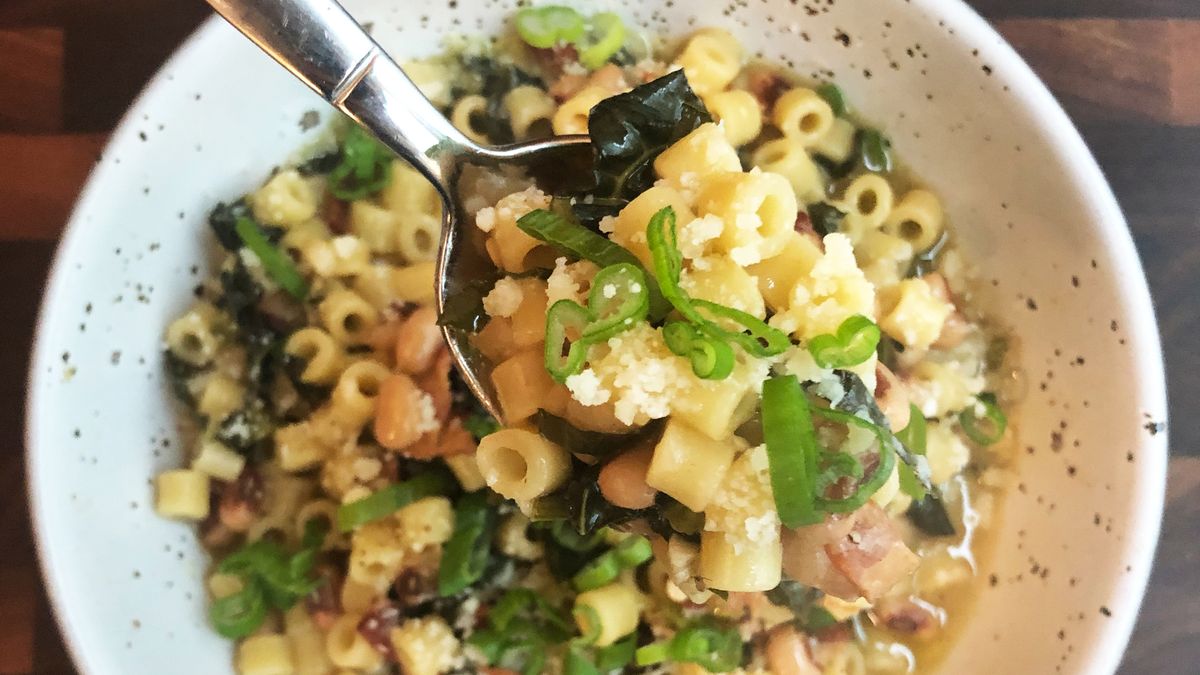 Food
The NYC-based chefs behind Don Angie walk us through their delectable pasta fagioli recipe.
In this episode of
In the Kitchen
, NYC-based chefs
Angie Rito
and
Scott Tacinelli
of
Don Angie
walk us through their delectable pasta fagioli recipe. Soul-soothing and delicious, this dish will keep your stomach (and heart) full for days! Now, as my grandmother would say, "Mangia!"
---
Pasta Fagioli
Pasta fagioli is the ultimate Italian soul food that comes together fairly quickly for a hearty and comforting meal. This recipe is super versatile when you have limited supplies: You can make it with basically any dried or canned beans, any type of pasta you might have lying around (if you only have long pasta, you can simply break it into small pieces), and fresh or frozen greens.
We love to add flavor with cured meat such as bacon or pancetta, but if you don't have any in the fridge, it still tastes great without it. Water can serve as a chicken broth substitute, and the dish can be made gluten-free by substituting rice for the pasta (or your favorite gluten-free pasta).
Ingredients: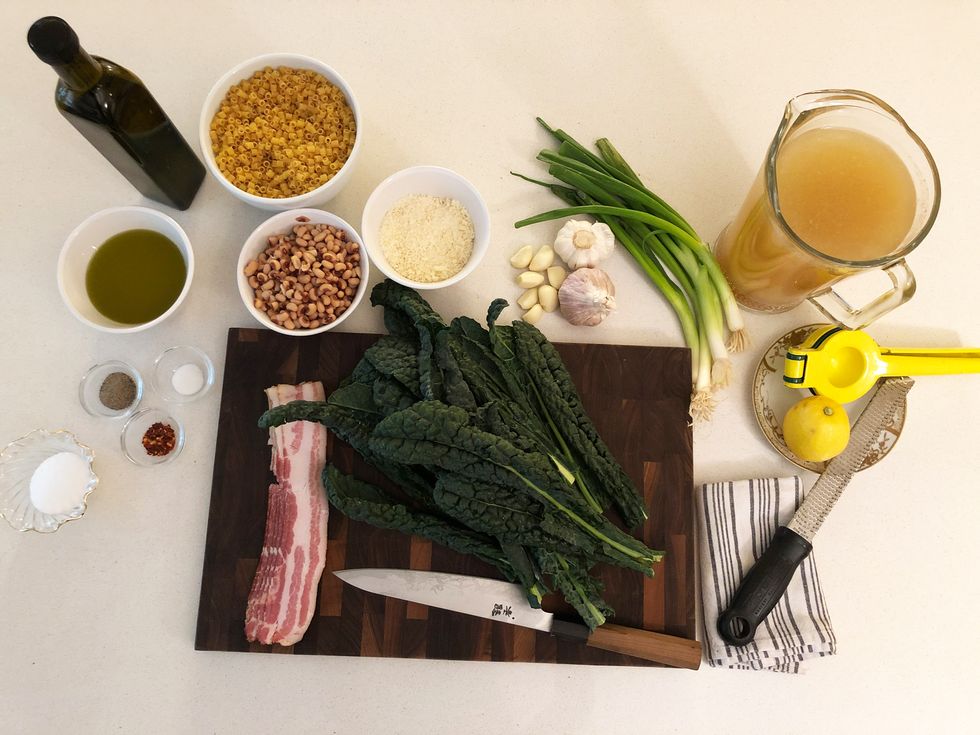 Photo: Courtesy of Angie Rito and Scott Tacinelli
1 cup extra virgin olive oil
¼ lb pancetta or bacon, chopped finely
1 ½ cups chopped greens such as collards or kale
1 bunch scallions, sliced thinly, whites and greens separated
7 garlic cloves, chopped finely
1 tsp chili flakes
2 tbsp kosher salt
1½ tsp fresh ground black pepper
Zest and juice of one lemon
1 ½ cups beans, such as black eyed peas or chickpeas (canned beans should be drained and rinsed; dry beans should be cooked according to package instructions)
8 cups low-sodium chicken stock
1 ½ cups uncooked short pasta, such as ditalini, or long pasta such as linguine broken into small 1" pieces
Pinch of sugar
1 cup grated Parmesan


Directions: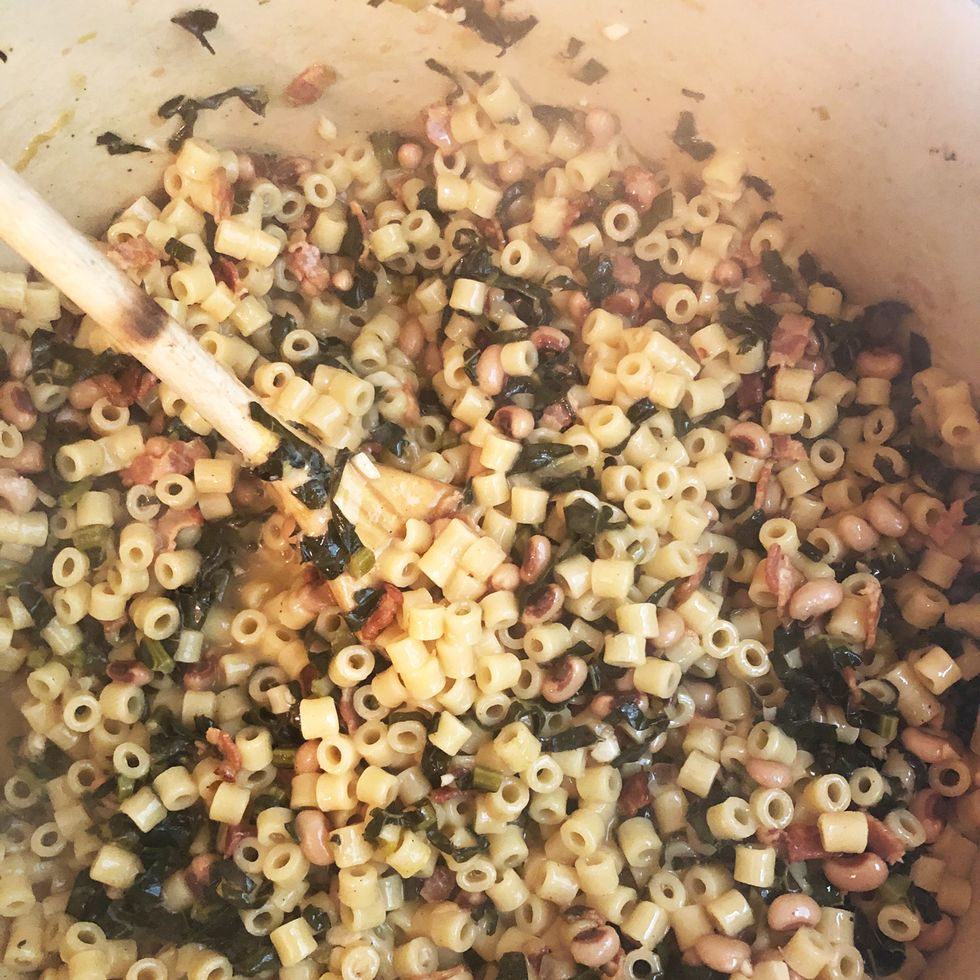 Photo: Courtesy of Angie Rito and Scott Tacinelli
In a large pot over medium heat, combine half the olive oil with the pancetta or bacon. Cook until the fat has rendered from the meat, about three minutes. Add the garlic, chilies, salt, and pepper; stir well to combine. Continue cooking over medium heat, stirring constantly, until the garlic is fragrant and lightly toasted, about one minute. Add in the scallion whites or onions and cook until translucent, about two to three minutes.

Add the greens, lemon zest, and lemon juice. Continue cooking over medium heat, stirring often, until greens are completely wilted and soft—up to five minutes for frozen greens, and up to 12 minutes for hardier, fresh greens. Add the beans and stock. Bring to a boil over medium-high heat, then lower heat to maintain a simmer. Simmer for 10 minutes, then add the pasta. Cook until pasta is soft, about eight minutes. Stir in sugar and half the cheese. Spoon into serving bowls and top with remaining cheese and olive oil. Finish with freshly cracked black pepper and scallion greens.