Oregon Wine Country: Charming Back Roads, Delicious Pinot Noir, & Fewer Crowds
It's time to consider this breathtaking area.
Travel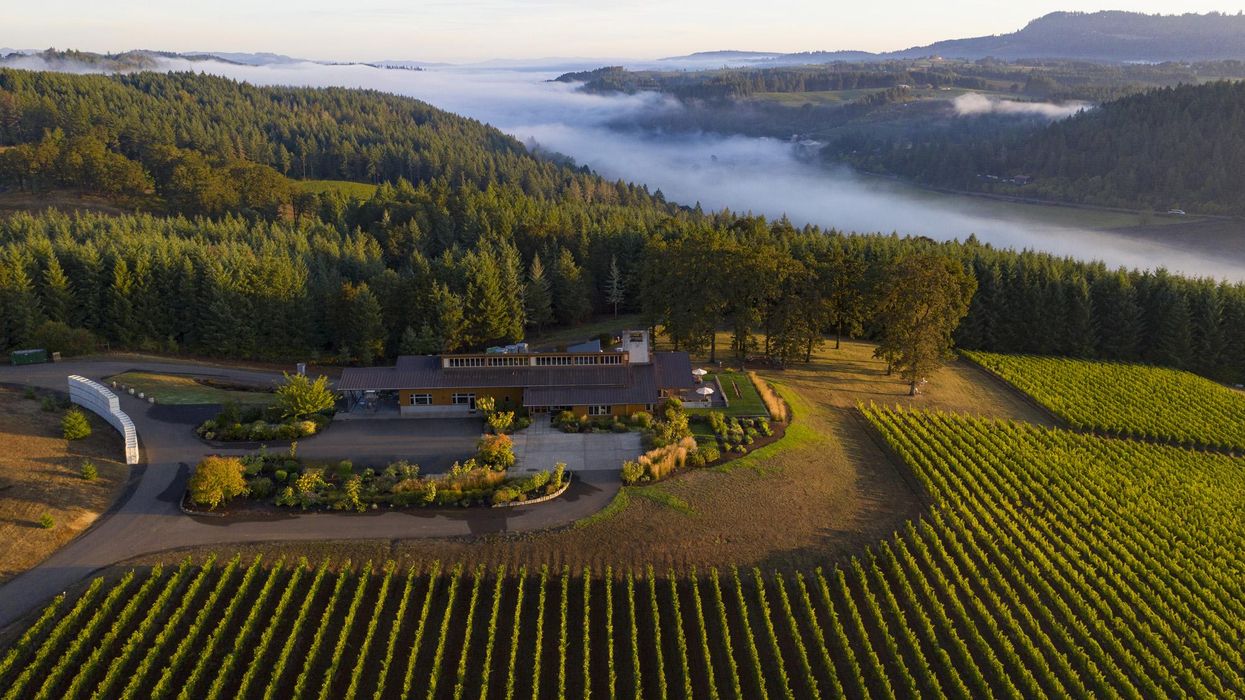 Spanning more than 100 miles along a historic river, the Willamette Valley is a sprawling landscape that's home to a New World wine region that boasts an exemplary climate for grape growing. The first Pinot Noir was planted in 1965, and by the late '70s, this area was full steam ahead toward becoming what is now arguably considered one of the premiere Pinot-producing regions of the world.
Cradled and protected by the Coast Mountains to the west and the Cascade Range to the east, the resulting climate is a long, gentle growing season. Pinot Noir is the shining star here, but other varieties like Chardonnay, Riesling, Gewürztraminer, Syrah, and others are also grown. There are now hundreds of wineries in Willamette Valley, but you'll quickly notice the mood feels welcoming and intimate. Ahead, hear directly from key winemakers in Willamette Valley on why you should add this breathtaking destination to your travel bucket list.
Note: If you're vaccinated and plan to visit soon, read Oregon's COVID-19 guidance prior to booking your trip to ensure the locations you want to see are safe and open to tourism. And as always, wear a mask where required, practice social distancing, and wash those hands.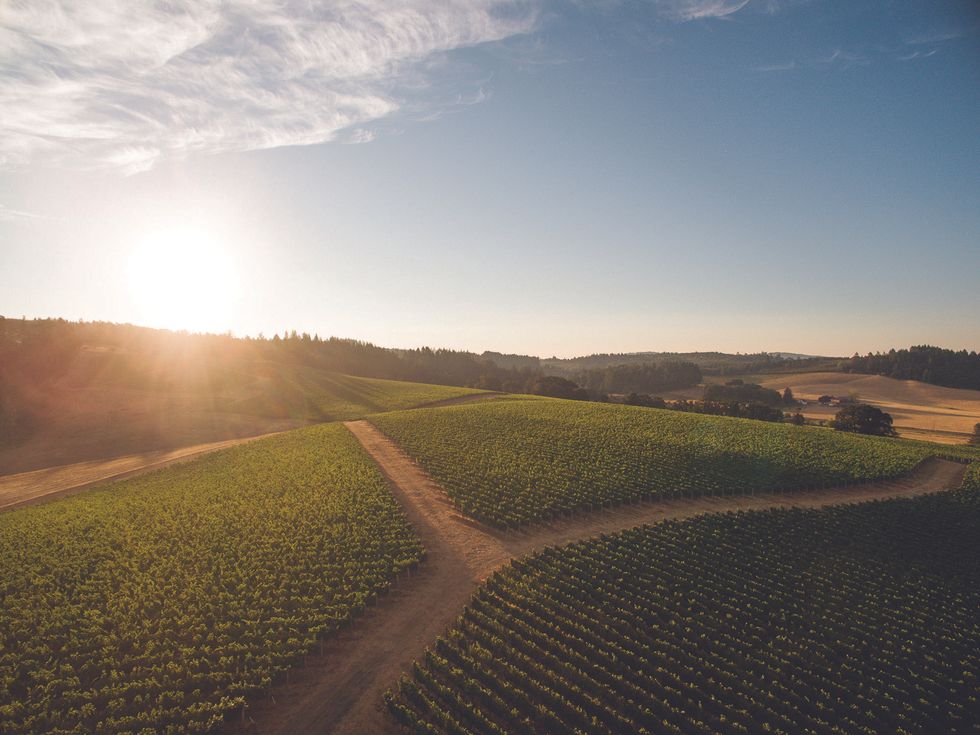 Photo: Courtesy of Gran Moraine Vineyard
Unique Terroir
"The Willamette is an extremely special place," Gran Moraine winemaker Shane Moore says. "In terms of growing regions, we have one of the world's most ideal climates to grow cool-climate varietals like Chardonnay and Pinot Noir." For WillaKenzie Estate winemaker Erik Kramer, the terroir is unique and has a few key factors going for it. "The climate, for starters. Maritime in the fall, winter, and spring (cool and damp, leaving a lot of moisture in the soil). Mediterranean conditions in the summer with long, moderate days and relatively low humidity, and soils with great water-holding capacity," he explains. "So to me, it's the trifecta of climate, soil, and long, moderate days that defines what Pinot Noir and Chardonnay can be here."
Progressive Sustainability
Oregon is a leader when it comes to environmental stewardship, which includes sustainable farming and winemaking processes that are certified by independent third-party organizations (here's a link to wineries that have certifications). Kate Ayres, the winemaker at Penner-Ash, offers a few examples of how her winery tackles the subject. "We are LIVE and Salmon Safe certified, as are many of our growers that we have partnered with over the years," she says. "Our winery is gravity flow with an open floor plan that allows for a lot of natural light, minimizing our need to turn lights on. Also, our barrel cellar is dug into the hillside, making it both naturally cooled and humidified."
Over at WillaKenzie, Kramer explains that only 25 percent of the estate is planted to grapevines, which helps to maintain a biodiverse ecosystem that preserves forest and pasture. "This 'whole farm' concept simply preserves the surroundings of the estate, keeps diversity of species high (both flora and fauna), and makes for a healthy ecosystem that can be managed sustainably for a long time," he says. Other sustainability practices like cover crops and low chemical inputs are also a component of their efforts. "WillaKenzie Estate was also Oregon's first LIVE certified winery, and we are continually exploring ways to reduce the winery's carbon footprint," he adds.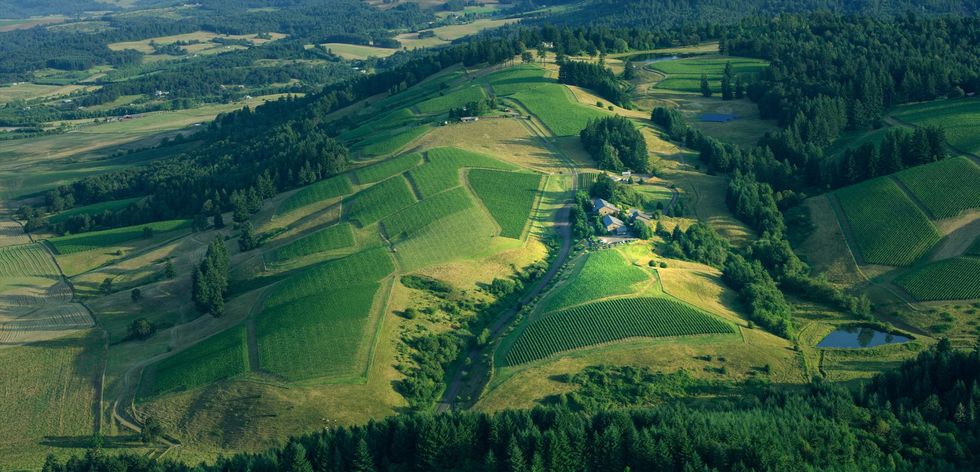 Photo: Courtesy of WillaKenzie Estate
Welcoming Community
Moore describes the wine community in Willamette Valley as incredible and very collegial. "We certainly live the mantra that a rising tide lifts all boats," he says. Ayres echos this sentiment. "More than anywhere I've ever worked, the relationships here are friendships. The collaboration and sharing between winemakers and vineyard growers keeps pushing the Willamette Valley forward," Ayres says. "What helps you also helps your neighbor." If you're wondering how this came to be, Kramer attributes it to the pioneering vintners that got the region going back in the '70s. "The learning curve was very steep back then. Those vintners worked very collaboratively and helped each other a lot, and that kind of collaboration still exists [here]," he explains. "I believe that collaboration has helped move the region forward very quickly and [is] part of the reason why Oregon is where it is on the world stage. It's kind of a 'when the Willamette Valley wins, we all win' kind of attitude."
Tasting Options Abound
The Willamette Valley appellation includes nine nested appellations: Chehalem Mountains, Dundee Hills, Eola-Amity Hills, Laurelwood District, McMinnville, Ribbon Ridge, Tualatin Hills, Van Duzer Corridor, and Yamhill-Carlton. As mentioned before, there are hundreds of wineries situated in this wine region, which can illicit mild decision paralysis when choosing which ones to visit on your trip. Below, a few of our personal favorites and recommendations from our experts, organized by location.
Tasting Room Location: Newberg
Tasting Room Location: Yamhill
Tasting Room Location: Eola-Amity Hills
Tasting Room Location: McMinnville
Tasting Room Location: Carlton
Tasting Room Location: Dundee & Dundee Hills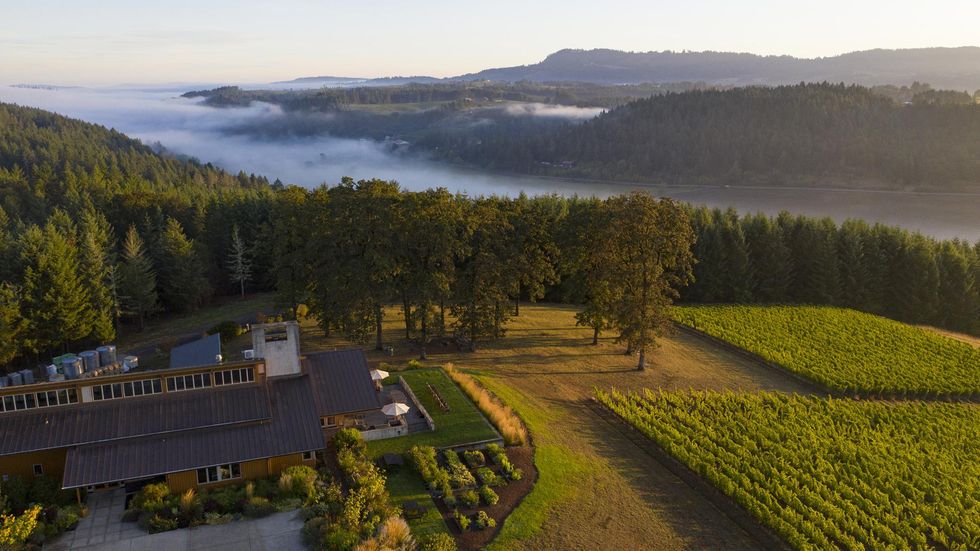 Photo: Courtesy of Penner-Ash Winery
Charming Accommodations
Willamette Valley has a diverse mix of luxury hotels as well as unique farm stays and bed and breakfasts. If you're going the indulgent route, The Allison Inn & Spa is a favorite. Atticus Hotel and The Setting Inn (which just underwent a renovation) are also lodging highlights. If you're after something a bit more intimate, consider Chehalem Ridge, an award-winning B&B that has striking wine-country views and an on-property feral-turned-domestic cat named Stumpy. Other unique options include stays like Sweet Springs Family Farm located on nine acres of countryside splendor. Or you can try Wine Country Tree House & Herbal Farm, located just 10 minutes from Newberg. In essence, you're spoilt for choice when it comes to charming Willamette Valley accommodations.
Culinary Delights
No day of wine tasting is complete (or possible, for that matter) without food stops. Thankfully, the Willamette has a lot to offer on that front. Ayres notes that Nick's (an Italian café) has been a staple of the valley for "many, many years." Moore suggests lunch at Bistro Maison in McMinnville, as well as Jory at The Allison and The Dundee Bistro. His dinner picks? "Tina's in Dundee, Joel Palmer House, La Rambla, Rosmarino, Red Hills Kitchen, and for a super-fancy experience, The Painted Lady." If you need more ideas, check out the Mid-Willamette Valley Food Trail map.
Immersive Outdoors
Beyond the bottle, this area of Oregon also offers an abundance of activities for locals and visitors, like cycling, bird watching, kayaking, scenic drives, and more. "We live in an incredibly beautiful and wild outdoor setting near a major metro area. Within a two-hour drive, I can be skiing in the Cascades, fly fishing on some of the world's best water, finding any number of edible fungi, driving my truck on the sand seaside, or dining at a world-class restaurant," Moore says. Other activities high on Moore's list include: mushroom hunting at nondisclosed locations, bass fishing, hiking (Miller Woods and Silver Falls State Park are top picks), the farmers' market, the Evergreen Air and Space Museum, and the Oregon Garden—to name a few.
Getting Around
If you're flying into PDX, it's not a bad idea to rent a car and drive to Willamette Valley (it typically takes an hour or two, depending on traffic and destination). However, once you're in town, if you want to enjoy a couple of wineries, then be sure to book a ride or tour (a few local vendors include Black Tie Tours, Pinot Car, and Cellar Door Wine Tours). Regardless, if you're DD-ing or vineyard-hopping via hired car, you won't want to miss the bucolic back roads the Willamette Valley has to offer. Sit back and take in the pastoral glory, friends.
Helpful Tips
Due to COVID-19, many wineries aren't allowing walk-ins and are requiring reservations. Try to book your visits as soon as possible so as not to miss out on your wine wish list!