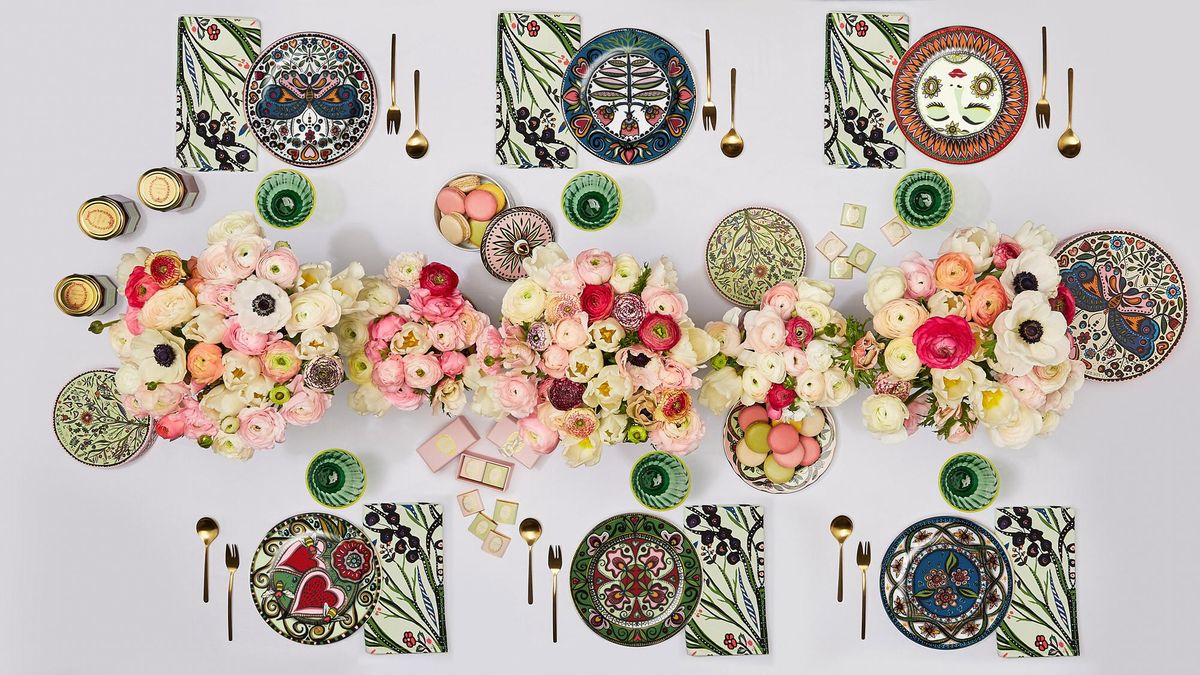 Entertaining
These French and Italian women are masters in the art of entertaining.
Albeit often steeped in stereotypes, the cultures of the French and the Italians are both lauded for indulgence. Whether that be with respect to a cheese plate or a romantic getaway, they overlap in their value of slowing down and having a good time—something Americans often overlook. It's in the nuances where they differ. So we asked American-Milanese transplant JJ Martin of La DoubleJ and French Elisabeth Holder of Ladurée to break down the finer points of how each hosts a (food-based, of course) gathering in light of their most recent collaboration. The stylish duo are revealing to us their table-setting routine. While there are obviously no hard-and-fast rules when it comes to entertaining guests, they have each divulged which aspects of Italian and French culture we could all stand to implement into our lives. Or, as Holder says, we should "live to eat, not eat to live."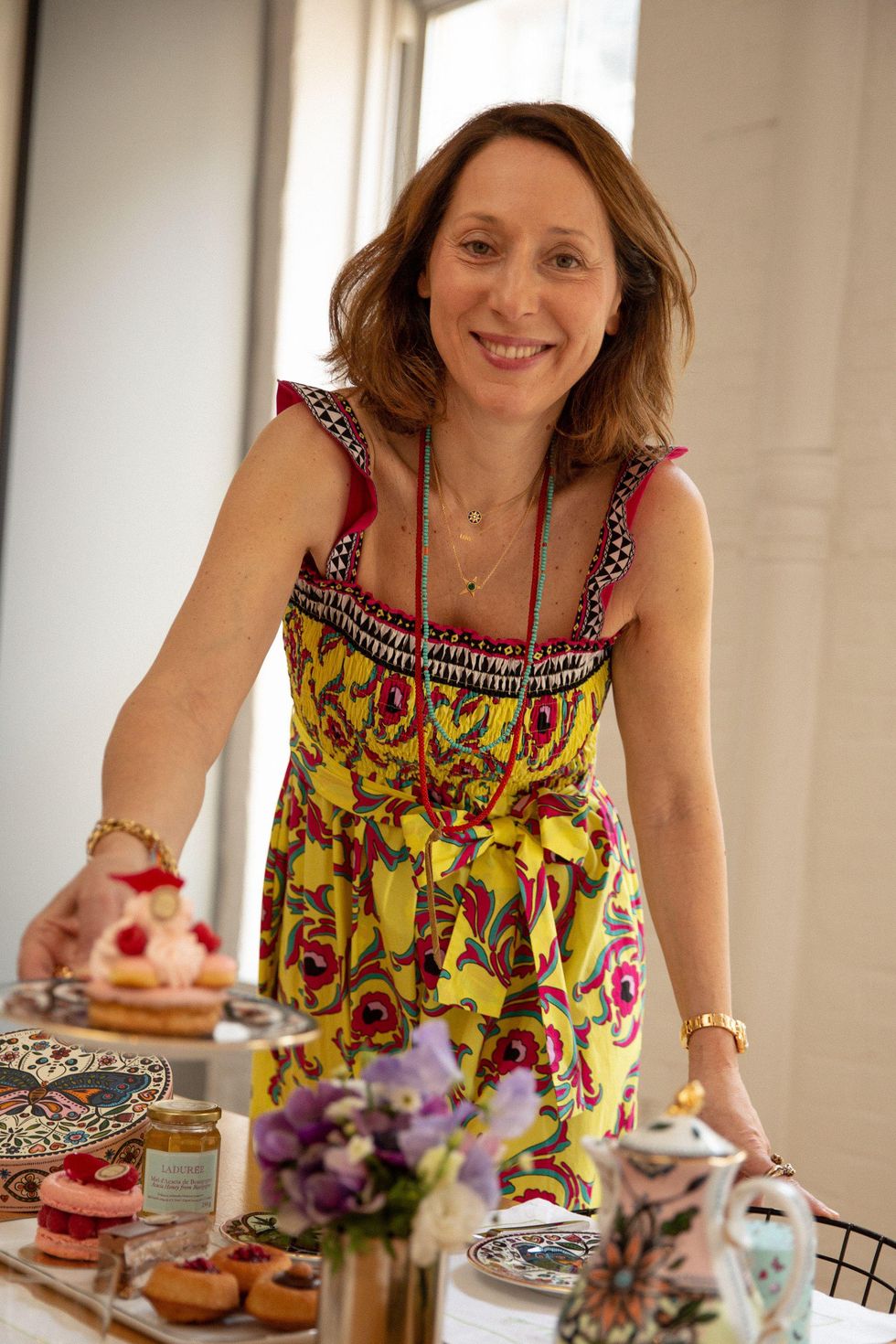 Photo: Alec Kugler
Walk me through the components of your tablescape. What are the cornerstones of how you put a spread together?
JJ Martin: "What I love about an Italian table is the spontaneous way things seem to come together. I think this reflects the Italian tendency to invite friends at the last minute, to throw in an extra dish, and above all, the supreme need to just enjoy life's pleasures—especially food, beauty, and laughter. My table is a riot of color, pattern, print that comes from our printed plates and table linens, as well as colored wine and water glasses, and patterned vases that I always stuff with a rainbow full of fresh flowers. Nothing makes me happier! I generally use very large floral arrangements on the table when people arrive. Then I move them to a smaller serving table and keep the shorter bouquets on the table. I'm also always ready to pull up extra chairs or add on to the table if people bring more friends, which happens very often."
Elisabeth Holder: "There should be silverware for appetizers, the main course, and dessert already set on the table along with two different glasses for wine and water. Of course, there should be a napkin, but never a napkin ring, as it is only for the family and house guests that are spending a few days/evenings at your home, not for dinner guests. Another French tradition is to never use a knife holder, which protects the tablecloth from food and drink spills… It means that it will be used several times for the family after the meal. We use a carafe for both still and sparkling water versus a plastic bottle with branding. Butter, salt, and pepper should be presented in nice shakers. Always add some candles and flowers!"
What characterizes an Italian or French (food-based, of course) gathering?
JJM: "Italians, especially the Milanese, love the aperitivo hour. It's a key component to every dinner party and usually lasts longer than the meal. You can't get by with just chips and nuts. You need to put more elbow grease into it. I personally love to serve a variety of cheeses, grissini, olives, hummus, raw vegetables, and I set up a little mini bar on my living-room table with all of our colorful La DoubleJ Murano glasses so that everyone can serve themselves."
EH: "A French gathering is not successful without a perfect plate of cheese, delicious bread, and a beautiful dessert. The French never eat a cheese plate during aperitif. It is always served prior to the dessert…and perhaps with a salad."
Photo: Courtesy of La DoubleJ
Most important meal of the day?
JJM: "Dinner for sure, or the Sunday lunch, which always lasts three hours. The courses are never-ending. The Italians barely eat breakfast, and if they do, it's a cappuccino with a sweet croissant that they call a brioche. They have not yet embraced oatmeal, egg whites, or protein shakes."
EH: "Dinner is the most important because you have more time to share with your family and friends and enjoy the meal and conversation. I also like having lunch during the weekend."
What do you always see on an Italian or French tablescape?
JJM: "Something antique. They always have some amazing heirloom present. Personally, I love to mix and match new and antique silverware on the same table. I also love to mix vintage champagne coupes with new wineglasses and a different style of water glasses. I love it when the table feels properly shaken up."
EH: "Wine!"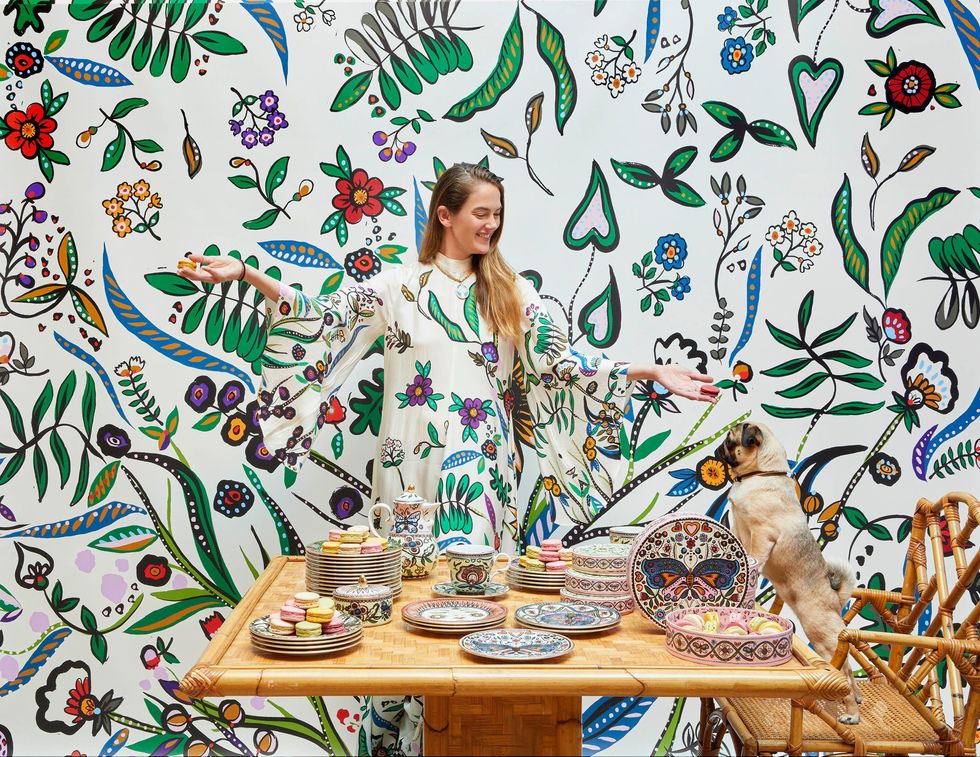 Photo: Courtesy of La DoubleJ
Any common color schemes? Floral arrangements?
JJM: "One of the reasons I love Italy so much is the country's unique embrace of bold color. They are genuinely not afraid of yellow kitchens or red pants on men, and the same applies to the table. We definitely milk that at [La] DoubleJ and perhaps even take things to the next level of brightness when mixing and matching all of our joyful patterns."
EH: "It depends on the season. Never too crazy. Chic and simple."
Any food items in particular that are nearly always present?
JJM: "Pasta, pasta, pasta, pasta. I don't think I have ever been invited to someone's house when they did not serve a pasta course. It's obligatory. When I try to venture out and serve some exotic, healthy, ayurvedic meal, everyone looks at me with the saddest eyes. So now I just cook that way for myself and go carb-crazy every time the guests are over. Forget about the keto diet here."
EH: "Delicious, fresh bread."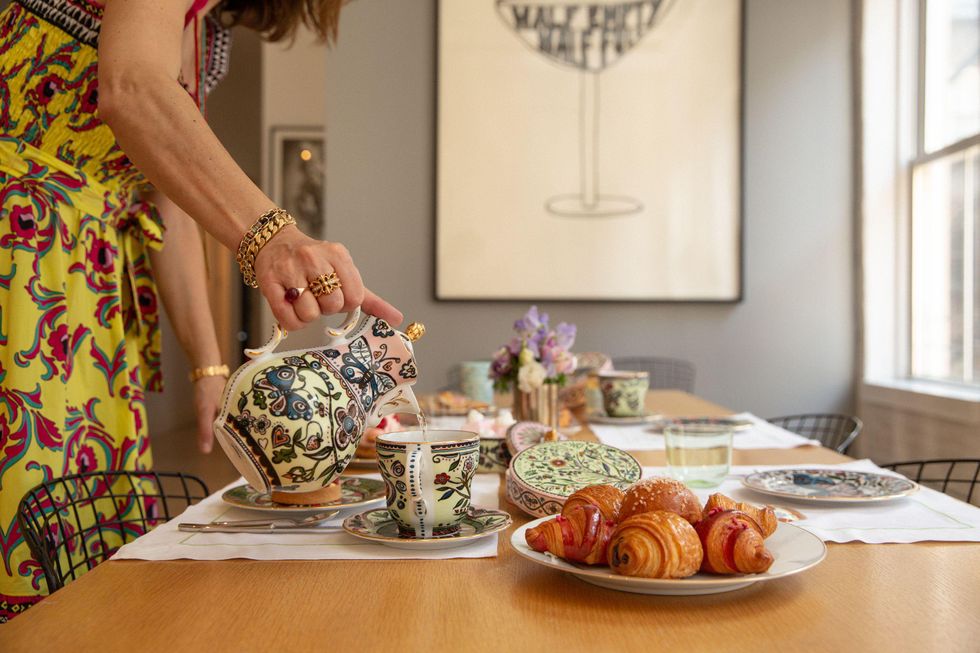 Photo: Alec Kugler
How does the cuisine influence the table settings?
JJM: "The Italians are fearful of different foods touching each other. It's hilarious. So they are always serving many different courses on different plates. One thing that is essential is the piatto fondo, which is a slightly rounded dish that is a cross between a plate and bowl. They use this for pasta and it's essential. The good news is that you can easily use it for soups, salads, or any first course."
EH: "If you serve meat or fish, you won't use the same silverware, and if you drink champagne, white or red wine, you won't use the same glasses. There is a debate about using a tablespoon or a small fork to eat your dessert. As Ladurée is my family business, dessert is a must. The rule is to use a small fork, even for ice cream, but you can finish the dessert with a spoon, which I think is chicer. You are also expected to drink your wine in a small glass, but it is better for the wine to be served in a large one."
What aspect of Italian or French tablescapes, or celebratory culture in general, do you think the rest of the world would benefit from integrating into their lifestyles?
JJM: "The Italians are some of the greatest humans on earth. Their sense of ease, joy, and passion that they put into everything has taught me so much over the last 20 years of being a guest in their great, hospitable country. More than anything, they have taught me to slow down, relax, and enjoy the moment even when the turkey comes out of the oven on fire or the lights go out at a dinner party—all of which have actually happened to me."
EH: "In France, we live to eat, not eat to live!"
Photo: Alec Kugler
Top photo: Courtesy of La DoubleJ
Want more stories like this?

JJ Martin on the Importance of Spirituality & Finding the Beauty in Everything
Heartthrob Crosby Tailor Shares Three Gut-Friendly Treats
13 Things You Should Unlearn about Mezcal