So What Actually Happens In Between NYFW Shows?
While it may not be all glitz and glamour, there certainly are some fabulous moments.
Fashion Week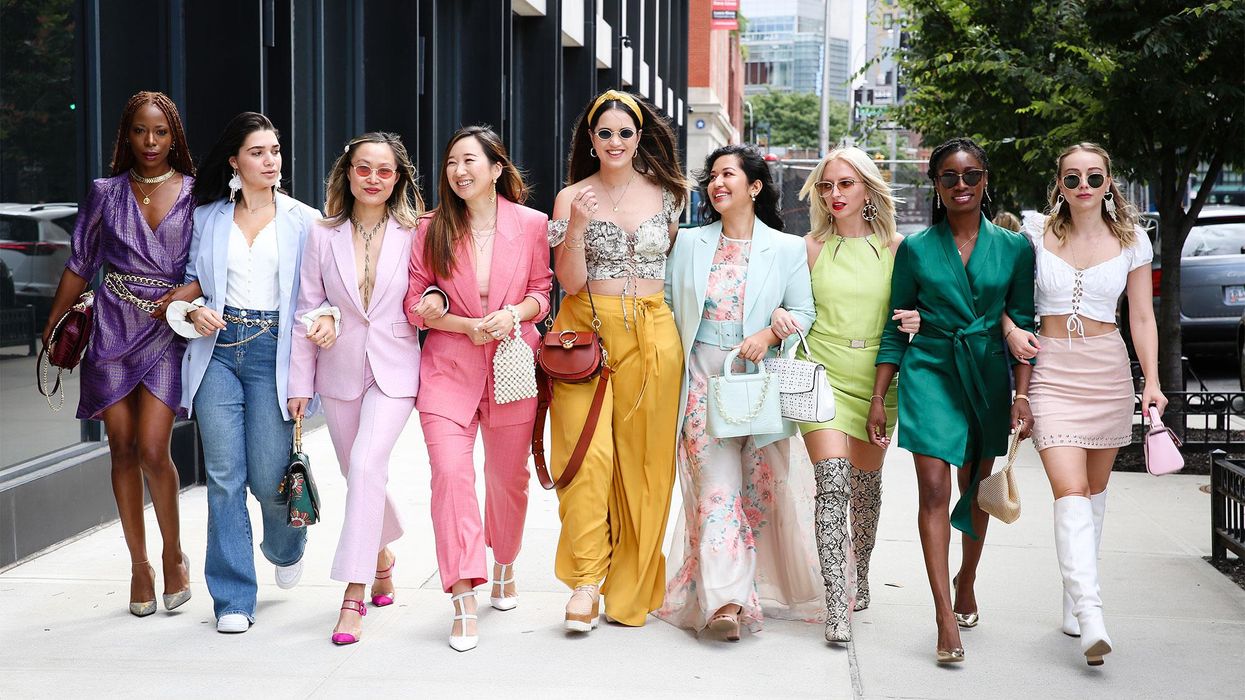 If you thought your IG stories were done being filled with models donning the catwalk and over-the-top OOTDs, think again. Although it's officially a wrap on New York Fashion Week, "fashion month" is far from over. While the glitz of swoon-worthy clothing and exclusive parties typically steal the show when it comes to media coverage of global fashion weeks, it's easy to forget that, well, fashion week is work—and a lot of it, at that.
I know, I know—it seems frivolous to complain about a week that so many dream to attend and the rest of the world glamourizes from the outside looking in. To make it clear, the work is pretty damn fun but taxing, too—running around for days without much substance other than free cocktails and a granola bar while networking, keeping up with meetings and deadlines, handling clients, navigating events around the city, and somehow keeping your health in check (which is especially important this season) can be exhausting, to say the least. But at the end of the day, it's safe to say that the New York fashion industry was more than thrilled to welcome the week back this season.
While it's easy to chat about the challenges as well as the glam, what's not always spoken about is the way this all comes to fruition. So from the best places to re-energize downtown to what essentials are in an editor's bag, we're diving a little deeper to uncover what actually happens in between shows, according to the New York industry's insiders. Plus, you'll want to add these hangout spots to your reservation wish list stat.
First thing's first: decoding the balancing act—this is a work event, after all. Especially for editors at digital publications, the news cycle certainly doesn't sleep. "You have to stay diligent about meeting deadlines throughout the week, which can be tricky at times. I find that I'm often running back to my laptop during any lulls in the schedule," says Camille Freestone, associate style editor at Coveteur.
All in all, there's a fine line between typical obligations, keeping yourself on schedule, and creating content for both editorial as well as social media. Fashion and Lifestyle editor at Stylecaster Bella Gerard shares her array of responsibilities throughout the week: "I definitely don't get to write as much as I would during a normal work week, so my focus shifts instead to capturing content for our social media accounts and taking note of trends for future stories. This season we're juggling a packed show schedule and a celebrity photo shoot mid-week at our office, so balance and pre-planning are as essential as a good outfit."
As for public relations, the week quite literally wouldn't go on without them. Between wrangling attendees, supporting their brand clients, and securing media coverage, it's undoubtedly a multifaceted (and incredibly important) week. Lindsey Solomon, founder of Lindsey Media, shares his key to success that sounds much simpler than it is: Make a to-do list and stick to it. "Time management is a constant struggle for a PR person, so for me, I try to make sure I'm also being honest about what I'm capable of doing and what needs to be delegated. I try to keep a running doc of RSVPs on my desktop so I can pitch more effectively to people attending first, and then I can assess where my efforts are most needed to achieve optimum coverage," he says.
If you've ever wondered where the fashion set is hanging out to escape the madness, downtown turns into a safe haven between shows. Depending on the time of day, you can find people like Caroline Vazzana, author and stylist, and Belle Bakst, freelance fashion writer and stylist, (and myself) typing up what was seen on the runways across the street at Spring Studios moments earlier over at The Roxy Hotel in TriBeCa. When I say this place is a gem, it truly is: There's a plethora of seating, Jack's Stir Brew Coffee during the day, and a mouthwatering oyster happy hour accompanied by a pianist in the evening, and it's safe to say the jazz-age vibe is on point.
When it comes to a quick bite, publicists and stylists have a handle on efficiency done right. Rachel Kaplan, PR manager at Infinity Creative Agency, says Two Hands is her go-to for a spot that's open early and has coffee and breakfast, while celebrity stylist to the likes of Shawn Mendes and Catherine O'Hara Tiffany Briseno, on the other hand, recommends the ever-classic Prince Street Pizza.
For a lull in show schedules, an evening cocktail and savory dinner is basically a must—and the downtown scene is full of options. Nearby, there are, of course, star-studded classics like Carbone and the Top of the Standard (aka Boom Boom Room, which was a hot spot for NYFW events this year) while Saint Theo's, from the team behind cult-status American Bar, and Veranda, headed by Michelin-starred chef George Mendes, are recently opened favorites along with James Kent's Crown Shy. According to celebrity stylist to icons like Olivia Palermo and Ashley Benson, Jacqueline Zenere recommends Crown Shy for its "incredible view and cocktail creations and chef connected with 11 Madison Park"—all in all, it's a must-try. Plus, for an affordable option in TriBeca, she suggests Terra; its cozy interior and Italian comfort food are perfect for unwinding after a busy day.
And, if you're wondering how everyone looks so put together through all this, the secret was almost unanimous: Don't forget about self-care. For some, that may be starting the day with an eye mask (
this de-puffing option
by 111Skin is a runway favorite), keeping styling essentials like
Band-Aids
or
hairspray
on hand, and, the most essential of them all, don't forget your power bar at home.