How 5 Brides Landed on the Wedding Nails of Their Dreams
"I wanted to give just as much thought and care to my nails as I did to any other element of my wedding look."
Nails
Photo: Courtesy of Arden Wray
All eyes may be on the dress, but nails are a key player in any bridal look. Can you imagine exchanging rings with a chipped mani? Or clutching onto a bouquet with crusty cuticles? No thank you. So, what's the consensus on bridal manis? Though rosy neutrals and milky whites appear to have the monopoly, more brides are opting for louder looks when they walk down the aisle. For some weddings, the longer and the bolder the nails, the better. But as more untraditional wedding manis make their way onto the bridal scene, it's clear that the classics haven't lost their appeal either—so how does one land on a decision?
We checked in with five brides to learn why they said 'I do' to their wedding-day nails. Keep reading to find out what went into (one of) the day's most important decisions.
Jaclyn Morga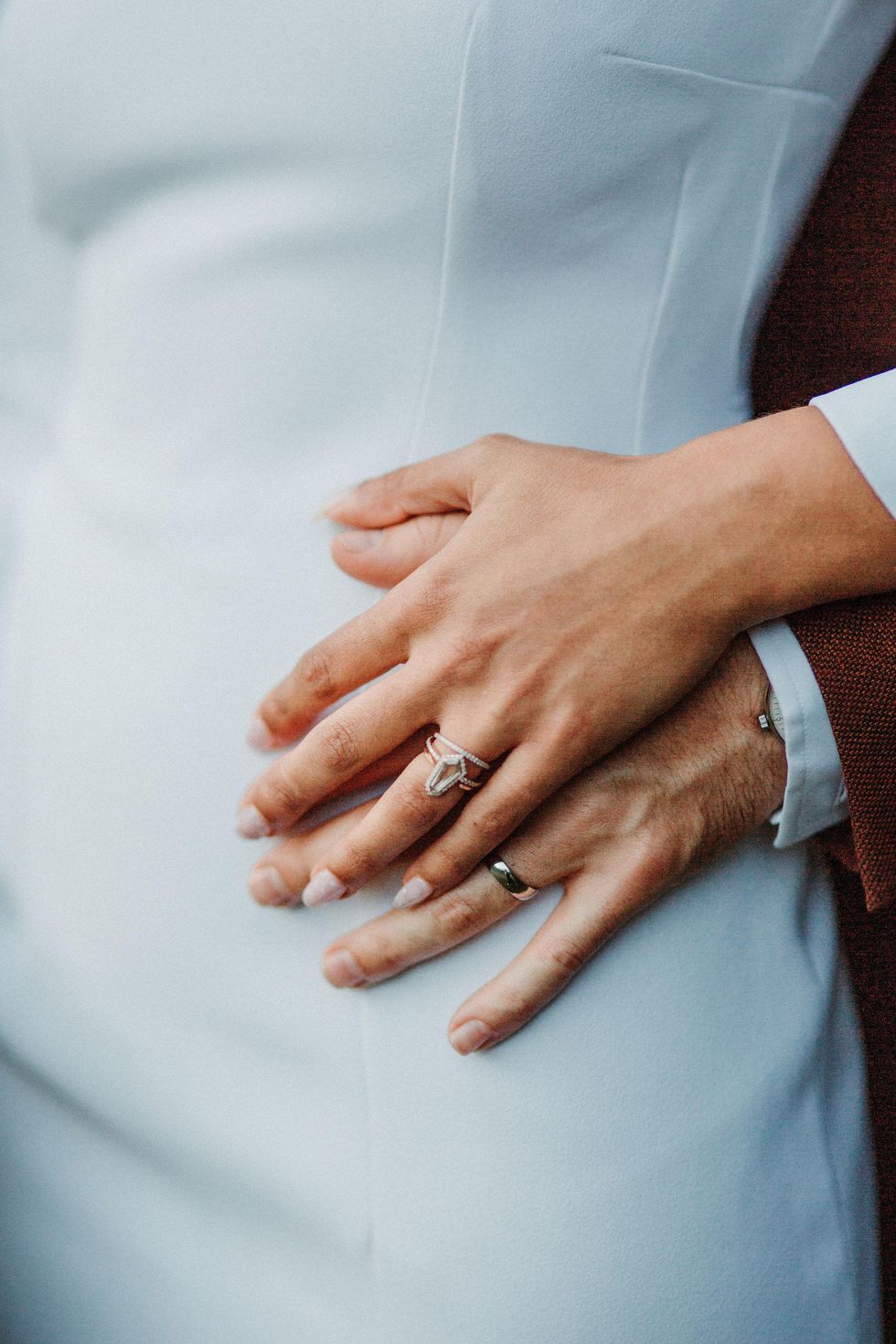 Photos: Courtesy of Arden Wray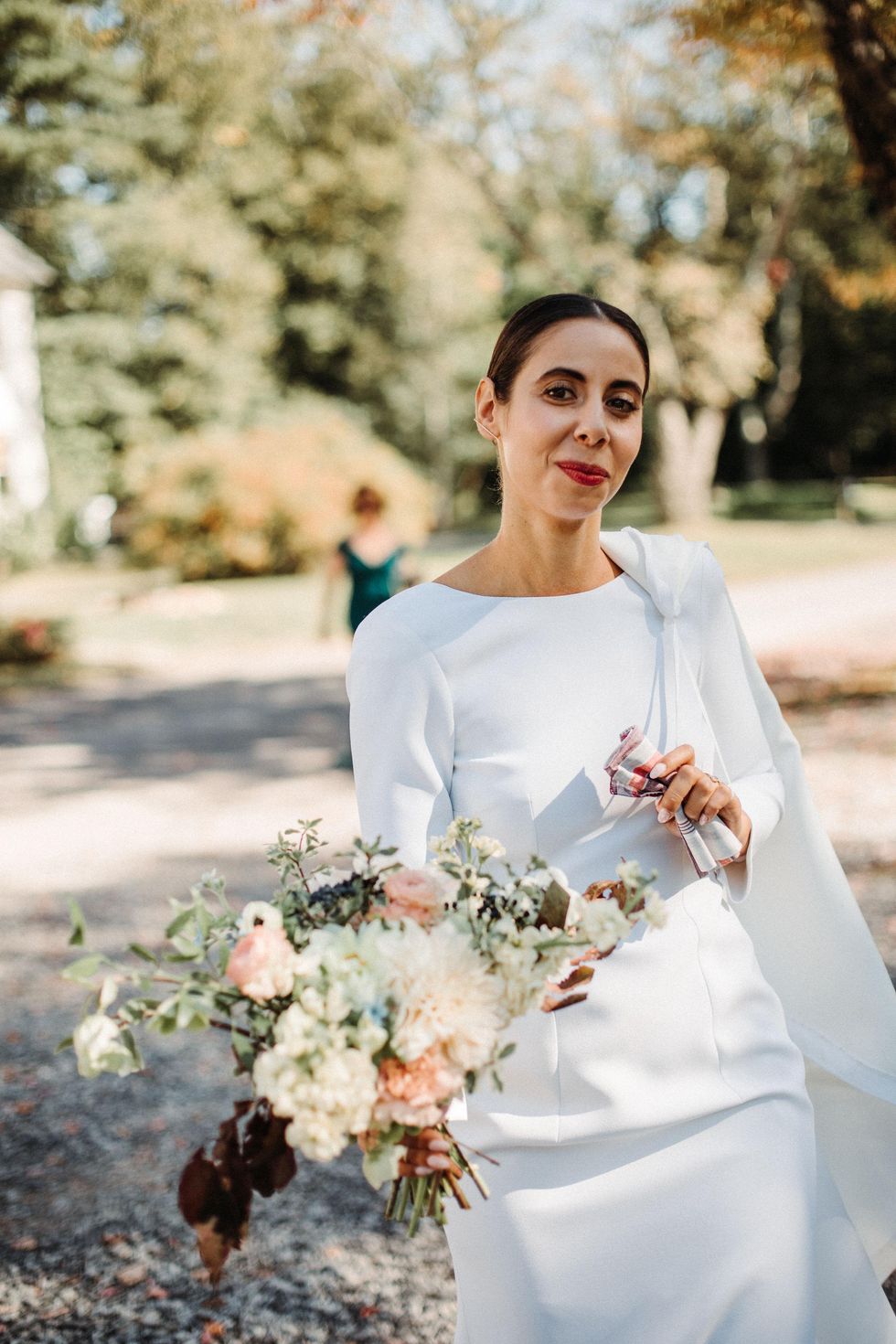 "A lifelong nail art fan, I wanted to give just as much thought and care to my nails as I did to any other element of my wedding look to ensure everything felt cohesive, rather than have any individual elements compete for attention. I think nail art is a playful way of expressing yourself, and for such a formal occasion, I wanted my nails to be a sweet surprise and delight upon further inspection.
I decided to go with a rose quartz design for my nails because it struck just the right balance between earthy, understated, neutral, and unique. Rose quartz is also known as the crystal of unconditional love. I thought that would be a nice Easter egg to boost good juju for the day, too. I poured over a ton of nail art on Instagram and Pinterest and had a summer-long trial of different styles: black block letters on a nude base, dried pressed flowers, a few different French-style tips, an exploration in metallics, and finally rose quartz—that one was the clear winner! We got married in upstate New York among the Catskill Mountains, so the rose quartz reinforced that elevated, natural look with personality that I was after."
Nathalia Mahecha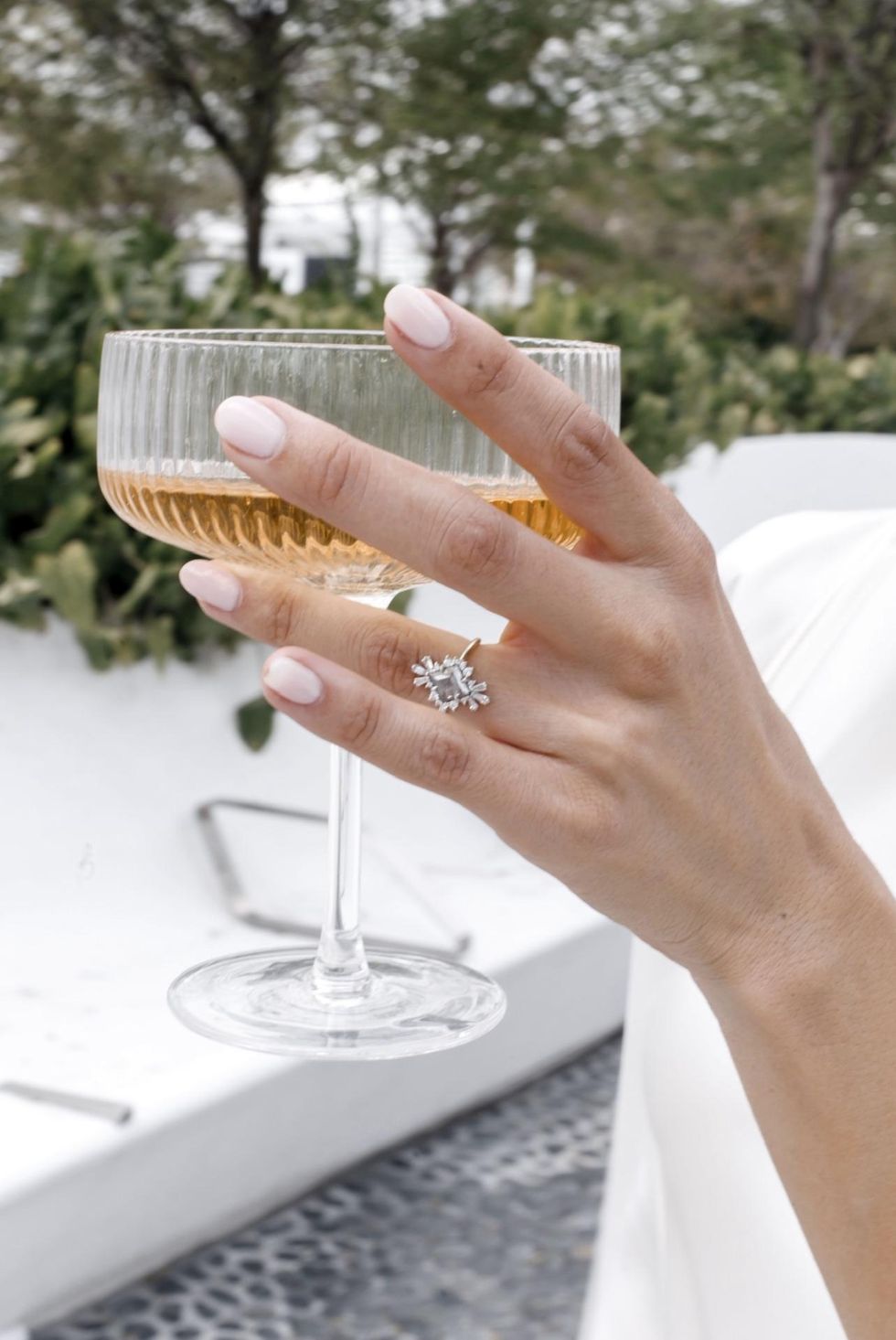 Photos: Courtesy of Zai Laffitte
"I planned my wedding in two weeks, so everything was very spontaneous. I got my dress four days before the wedding and bought my shoes the day before. I knew I wanted my look to be different, so I went for a monochromatic look, from the sunglasses to the shoes to the purse. Naturally, the nails had to match, too. I wanted some nail art at first, but to be honest, given the tight timeline the place that I wanted to go was closed on the Monday before our wedding, so I ended up going with a more clean, minimalist look using OPI's Bare My Soul."
Taylor Rowe Baca
Photos: Courtesy of Samm Blake
"I wanted to keep my nails simple and neutral for our wedding day. After a few test runs at my favorite neighborhood nail salon in Williamsburg, I landed on OPI's Put It in Neutral, which achieved the barely there look I was hoping for."
Nudsuda Tyrrell
Photos: Courtesy of Nudsuda Tyrrell
"I'm extra, so for my wedding mani I just wanted as many gemstones as possible. But I also had to be realistic—I was having a beachy destination wedding, and I was nervous they would fall out. So I just limited it to one nail, but I wanted as many gemstones as humanly possible on that one nail. Looking back, I probably would have done more nail art versus just gemstones and glitter, but I still love them because they were definitely my vibe at that point in time. On the day of, I thought I was the baddest bitch in the world."
Emily MacCulloch
Photos: Courtesy of Chelle Wootten
"Considering I'm a beauty editor, I was surprisingly chill about my beauty look for my wedding day. I planned on doing my own makeup and hair, but painting my nails was never an option since my mani skills are bad, at best. I didn't really have a plan when it came to my nails, so a few days before the ceremony, I popped into a small local salon to get a manicure.
With nothing really in mind, I selected a pale blue Essie shade, since I thought my regular go-to nail art might be too OTT for such a big occasion. The lovely nail technician had no clue I was tying the knot in a few days and I figured there was no point in telling her, as I didn't want to add any additional pressure. The color of the flowers at my wedding was a surprise to me, and it turns out, my sky-blue tips perfectly match the pale pink and lavender adorning my bouquet."
Shop the Story
OPI
OPI
Essie