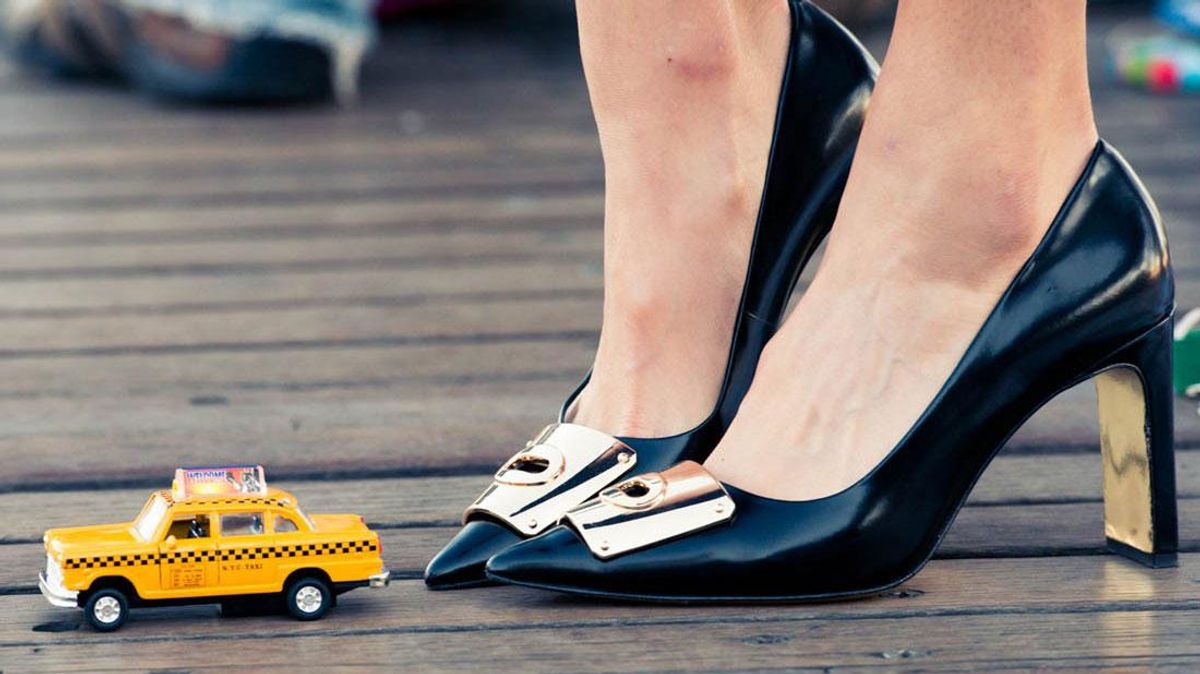 Opinion
How a Move to NYC Changed My Perspective on Getting Older
Even in your 30s, it's hardly ever too late.
As I sit at a cafe on a fall New York City morning listening to the hum of conversation around me—musings and opinions about recent shows, literature, and post-lockdown life—I can't help but smile to myself because I'm so happy to finally be here. Happy to be part of the hum of this city.
For me, it started in my teens, enamored by the on-screen depictions of NYC life. Every time I visited the city that never sleeps it lit a spark in me I hadn't found elsewhere and I knew it was home. Except my life was happening over 2,900 miles away on the opposite side of the country.
As a West Coast native, my life, career, and support system all existed in California. And as my network and personal relationships continued to expand, my life became more rooted in San Francisco with each passing year. I made never-ending lists of life plans and New Year's resolutions, always adding "move to NYC" somewhere on the list. I was determined to call NYC home and envisioned that someday I'd finally land the "perfect" opportunity that would propel the cross-country move. I was so tightly wound around the idea of it happening only when every box was checked, and doing so within the timeframe society deemed it acceptable to make big life changes—my 20s.
Your 20s are positioned as the time to have the life experiences, take the big risks, and make all the mistakes, because it's all easier to do without the complexities that come along with life as we get older. We're told we need to get everything out of our system in our 20s so that we can settle and have it all figured out by the time we turn 30, 40, 50 and so on. And that idea is terrifying.
I felt so much pressure to have checked every box on my life to-do list by my early 30s that I started to think of myself as a failure if I didn't do so by the timeline society had created for me and so many others. Especially as women, there's an immense pressure to have it all effortlessly figured out by a certain age. And once I was in my 30s, the pressure I was putting on myself went into overdrive.
One day I woke up, in my early 30s, realizing I still wasn't living the life in NYC I'd dreamed of for nearly a decade. But then I started thinking, if I've accomplished all my goals and have it all figured out by my 30s, what will I spend the rest of my life doing? It was time to let go of the idea that I was too old to make big life changes and embrace the opportunity to create the life I wanted to live, no matter my age. It was time to abandon the desire for every box to be checked before moving forward and simply make it happen. And to do so, I needed to ditch the timeline.
So, in January 2021, I purchased my first one-way ticket along with my amazingly supportive husband, and we landed in NYC on a snowy February evening to start a new life. And it's been wonderful—dare I say better—than it may have been in my 20s because I know what I want, and I know who I am. There are still days I feel lost or defeated but I've never been more sure of what I want to do and where I want to be, which, so often, only comes with age.
And guess what? I didn't have every box checked for the ideal move-to-NYC-scenario. I didn't have the perfect job or apartment or life plan in place before making the move. Instead, I had a blank slate which was both thrilling and terrifying.
I'm not denying that it gets harder to make big changes as we get older, but I think we need to reframe the narrative around timelines and aging and give ourselves permission to follow that spark, even if it means starting over, wherever we are in life. Starting over is scary, but it's hardly ever too late.
It looks different than I imagined in my 20s, but I'm finally living my dream life in NYC, just as the city reemerges from the depths of the pandemic. In a way, we're both starting a new chapter, me and NYC, and we're both just happy to be here.