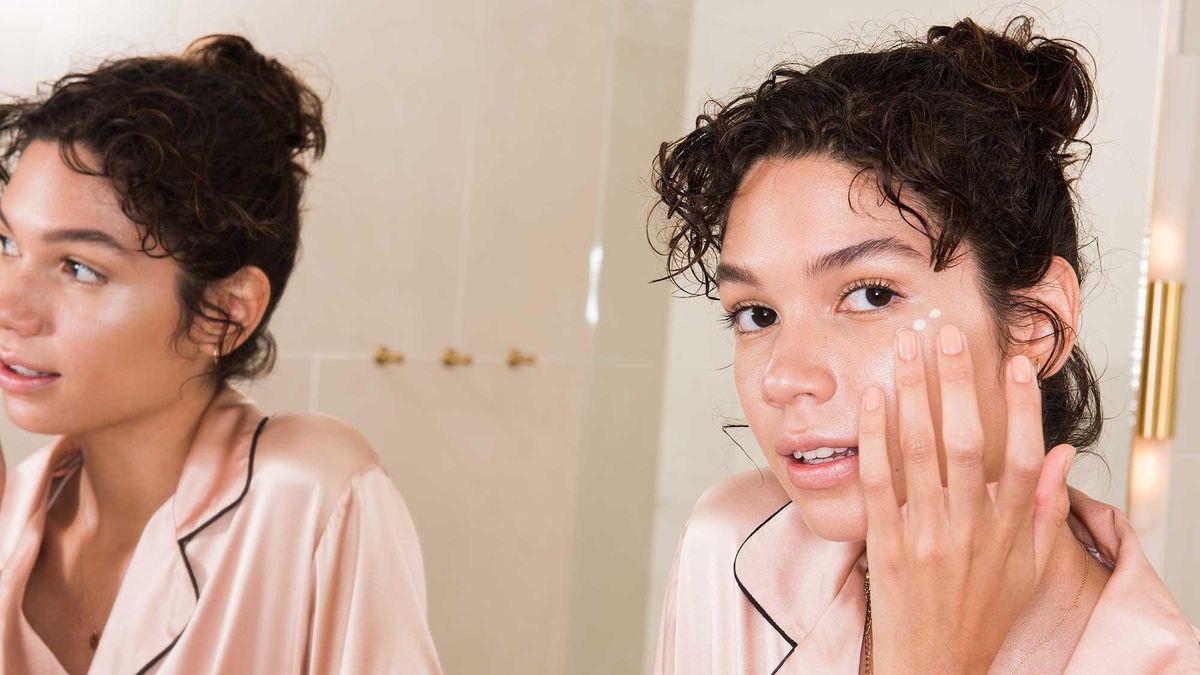 Skin
Dream team or dermal disaster?
Confession: Amidst the slew of toners, serums, and moisturizers, our skin-care routines can be somewhat of a lengthy process. And while we pride ourselves on layering formulas correctly, we sometimes forget that the active ingredients within each formula should work harmoniously together. Buzz-worthy ingredients such as vitamin C, benzoyl peroxide, bakuchiol, and niacinamide sound dandy on their own, but what happens when they're used simultaneously? According to Los Angeles–based, board-certified cosmetic dermatologist Dr. Ava Shamban, skin care is like a recipe—while some spices blend to enhance the flavor of a dish, others are downright inedible. Ahead, our experts fill us in on how to build a smart—and effective—skin-care routine.
Mixing Skin-Care Ingredients
Picture this: You've come up with what you think is an effective skin-care routine to combat your enlarged pores, fine lines, and dull complexion. You've remained committed to the steps, never skipping a morning or night of application, yet three months later you're still battling the same issues. What gives? According to Dr. Shamban, mixing the wrong ingredients can render both to be less effective or inactive. "Understanding the actual ingredients in the products you are using and layering is a key component to a healthy, results-driven skin regimen," she says. "Retinol is probably both the most temperamental and the least likely to play well with other highly active ingredients."
Dr. Amy Ross, board-certified dermatologist and advisor for MONAT's scientific advisory board, agrees, especially if you're using products from more than one brand. Says Dr. Ross, "When products are formulated by one company, they are typically created to work together to give you the best results. If you choose products from different skin-care lines, however, it's crucial you pay attention to the ingredients in the products to make sure they work together and don't end up causing harm to the skin." That being said, there are ways to ensure your ingredients play well together (more on that later).
Both experts note that doubling or tripling down on active ingredients can be counter-intuitive. "This can compromise the product's potency integrity and lead to inflammation, atopic reactions, and disruption to the skin barrier," says Dr. Shamban. "Once our protective matrix in the epidermal barrier is compromised, it can lead to a host of problems, starting with an increase in irritants and pathogens gaining access to our skin, and water evaporating out of our epidermis." Bottom line: Less is more when it comes to using products with active ingredients.
Ingredients You Shouldn't Mix
Retinol + AHA/BHA
Retinols are celebrated in the beauty industry as being the king of anti-aging, but pairing a retinol product with a strong exfoliant may cause damage to the skin's protective barrier. Says Dr Ross, "Retinols work by improving cell turnover, boosting collagen production, and improving the appearance of fine lines and wrinkles. But they are particularly finicky when combined with other products because of their potential for irritation (think dryness and redness). An AHA/BHA product that contains glycolic acid, lactic acid, or salicylic acid can exfoliate and produce a more even skin tone, but when paired with an anti-aging ingredient [like retinol], it can cause painful peeling in a person with sensitive skin." Instead, use your retinol product with a hydrating product to minimize this potential side effect.
Retinol + Vitamin C
Retinoids can be tricky with certain forms of vitamin C, particularly less stable formats. While vitamin C is an environmental protector and best used by day, retinoids are correctors that become inactivated by sunlight, thus making them best used at night. In order to get the optimal effect from either ingredient, Dr. Ross says they shouldn't be used at the same time. Instead, use your vitamin C products during the day and your retinoids at night.
Retinol + Benzoyl Peroxide
Dr. Shamban notes that most of the vitamin A category doesn't work well with some of the best acne fighters out there, like benzoyl peroxide. "They can be competitive, working against each other, with some studies showing that benzoyl peroxide can literally deactivate the retinoid," she says. "Fortunately, there are many formats and derivatives of vitamin A, such as tretinoin, that have been found to stay stable even when used with benzoyl peroxide."

Water-Based Products + Oil-Based Products
It's common science that water and oil don't mix, and the same goes for when they're the base of your skin-care products. "Oils are hydrophobic, meaning they repel water, and in order to get them to work together, an emulsifier must be added so the product doesn't separate," explains Dr. Ross. "Many skin-care products are water-based because [of] the idea that applying oil to our skin will clog our pores and cause us to break out. If you are prone to increased oil production in your skin, seeking out a water-based product is a good idea." That said, all oils are not created equal, and oils that are small in size and lightweight can safely be applied to the skin without clogging pores.
Our Picks:

Struggling with discoloration? Try this nighttime treatment, which features 0.5 percent pure retinol along with niacinamide to create an even, glowing skin tone.
PCA Skin
Dr. Shamban recommends combining your drying retinol products with gentle, hydrating products like this cleanser from It Cosmetics that calls out ceramides, hyaluronic acid, and collagen as its hero ingredients.
It Cosmetics
Give your skin all the brightening it needs with this mask that combines vitamin C with green tea, ferulic acid, and ginseng. It has a thick, jelly texture that feels cooling upon application—it's the ultimate skin pick-me-up.
Pixie
Thirsty skin will drink this water-based moisturizer right up. It's made with good bacteria (to help balance the skin's "bad" bacteria"), plant-based hyaluronic acid, and New Zealand extracts. The result? Skin that's well hydrated, soothed, and healthy.
Antipodes
The aloe vera and AHAs in this cleansing gel are a match made in skin-care heaven, especially if you have sensitive skin. AHAs work to shed off complexion-dulling dead skin cells to reveal radiant skin, while aloe vera calms irritation and offers much-needed moisture.
Anova