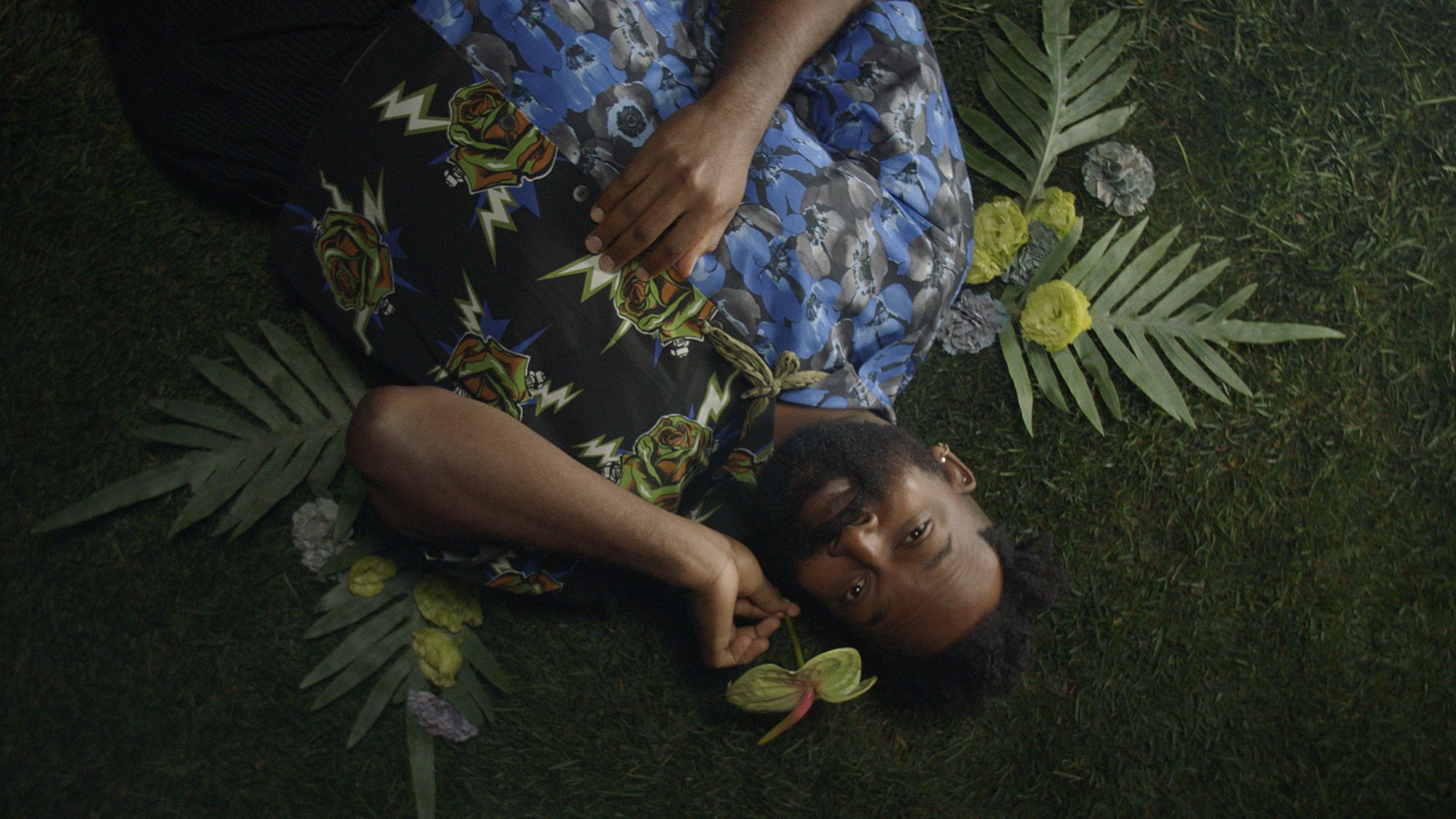 Culture
Meet celebrity florist Maurice Harris.
Is it just us, or have flowers taken on a whole new meaning lately? They're making us feel closer to nature on our walks, lifting our moods inside as bright pops of color, and they're scattered all over our social media timelines, because at the root of it all, they're just darn beautiful. And there are few feeds that are radiating the beauty of flowers like that of Maurice Harris. Every single one of his posts at
@bloomandplume
is a jolt to our systems—and we need those boosts of energy and beauty as often as possible right now. "Every day I wake up and I'm in a good mood. I know it's going to be a great day, because those emotions ebb and flow so quickly," Harris told Coveteur about his current mood. And oh, can we relate.
The events of the last six weeks have shaken us all, but have induced a particular kind of fatigue for those of us who are Black. As a Black queer entrepreneur, Harris is leaning into his community and led a digital conversation three weeks ago aptly titled
Process the Protest
. "Love doesn't mean the absence of conflict, and unity does not always mean uniformity," he powerfully stated on Instagram. But he's also calling for action outside of the necessary, uncomfortable conversations taking place about racism. "White people, stop taking the easy road and make a difference already, and don't rely on the few Black people you know to give you the playbook," he posted on Stories over this
@OregonProcess tweet
. "Stop cheating, and do your homework."
Blackness is centered throughout Harris' multi-faceted creative work, from his bespoke flower-arrangement business (which just decorated Masego's virtual BET Awards 2020 performance) to his Bloom & Plume coffee shop and his new show, 
Centerpiece
, for new digital video platform Quibi. In it, he talks to fellow Black creatives across disciplines, like Maya Rudolph, Kerby Jean-Raymond, and Jeremy O'Harris, about their creative journeys, and in the end he makes them a centerpiece based on their conversation which reflects their spirit. "We gloss over the pain it takes and the sacrifice it takes to make something," Harris states about his motivation for creating the show. "Everyone is so results-driven. We don't acknowledge the years."
Ahead, we talked to Harris about how he came to love flowers, the origin story of his Centerpiece, and so much more.
---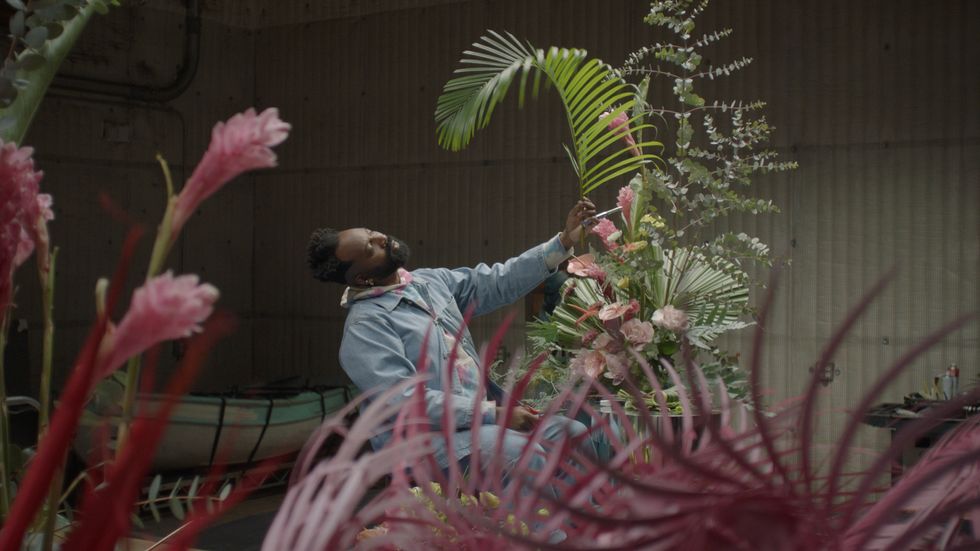 Photo: Courtesy of Quibi
On how he came to love flowers:
"I was never more in love with flowers than the average person. My interest stemmed from
'
flowers are pretty and who doesn't like getting flowers?
'
Many of us are attracted to the things we're exposed to. My grandmother was a creative, and I watched her make hats and flower arrangements for her church, for herself, and for her children. So I dabbled in all those things as well. I used to make headpieces, and there was an attraction to flowers because I was a creative, as well, and I understood them from watching my grandmother work with them. My mother and father are also both creative and charismatic. I also got a great response from my peers and others, so I kept doing it. External validation is real."
On how he came to create his Bloom & Plume coffee shop in L.A.:
"I saw my neighborhood changing rapidly. I live two blocks away from my studio and my coffee shop, and I've lived in my place for 16 years. The changes are crazy—they're building two huge apartment complexes literally right next door to my house. I realized the change is unavoidable, and I thought, 'Someone is going to open up a coffee shop in my neighborhood, and it's going to annoy me. So let me be the change I want to see in the world and do it myself.' I was also trying to figure out spaces—obviously before we were social-distancing—and I was thinking of all the ways in the future people would still want to leave their homes, with online shopping being a big deal and flowers being hard things to reach the masses. We are very bespoke, and we do everything custom. We keep it that way to maintain the integrity of the arrangements we send out and to stay true to what we want to do. I tried to expand quickly before, and it just did not work—we lost clients that way.
"So I was wondering, what encourages community? And how can I express myself creatively to make an experience that hasn't really existed before, yet is still familiar? That's a lot, but a coffee shop felt like it encompassed all those things. Coffee is one of those luxuries we afford ourselves. A $5 latte versus a $200 flower arrangement. If you come into the shop, you see flowers and plants and greenery, and it's beautiful. So you can experience the world of Bloom & Plume without having to break the bank. It was more out of necessity and a way to make my business more sustainable with something that people gravitate toward more on a regular basis. And coffee felt right as a way to engage the community and give back."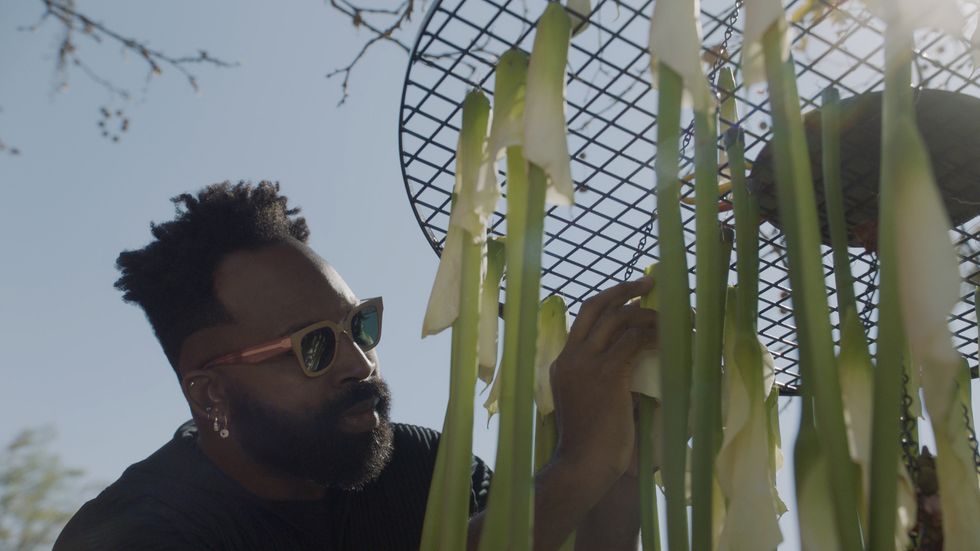 Photo: Courtesy of Quibi
What he has learned during quarantine:

"This moment has really caused me to stop and slow down. The pace at which I worked and did things was so fast. There were so many things happening, so I never really had time to catch my breath and literally stop and smell the roses. With everyone stopping and my business failing, in a way [it] has given me time to relax. Most of the time I'm stressing about figuring out how to make payroll, pay rent, and figuring out the next job we're going to take on. Being in this and when we come out of it, I never want to go back to the way I was working before because it wasn't sustainable and it was horrible. Because we do everything custom and we're not a cookie-cutter business, people are attracted to us. But people also think what we do doesn't cost a lot of money, and they don't understand. So the onus is on us to educate people on how small businesses and creativity works. And with a country that's built on slavery, we still expect that labor is free.

"People will pay a ton of money for flowers, but don't want to pay me to pick them out, load them into my vehicle, unload them, process them, hydrate them, pick out a vase, arrange them, cut them, deliver them, and then sometimes pick them up. There are a lot of steps. And when you can go elsewhere and pay $65 for a decent-looking arrangement, customers then wonder why they would spend $200 on ours. Our volume is small, so I really want to focus on where we get more bang for our buck, which are installations, events, and partnerships."

How his show Centerpiece on Quibi came about:

"I started to develop this show about two years ago. My then-manager told me he thought I should be on TV or do a show and asked if I'd ever consider it. At the time, I said no because I liked my privacy and my anonymity. I felt that unless I was pushing the conversation forward and it was a show of great substance, then I was completely uninterested in doing that. He was like, 'OK!' But then he ended up partnering with this production company, All Day Every Day, and introduced me to this show developer, Peter Klein, who is now my creative partner on the show. My manager urged us to sit down together and talk because he felt like something was there. So once a month we would get together, and I told him, 'I feel like we're living in a time where we gloss over the process. We gloss over the pain it takes and the sacrifice it takes to make something. Everyone is so results-driven. We don't acknowledge the years.'

"In the Maya [Rudolph] episode, she knew she was funny when she was a child and that comedy was the way she wanted to process her own pain—by entertaining people and making them smile. People will scream that she's amazing and funny and that they love her without the acknowledgment of the lifetime of work that has gone into her to be the excellent creator that she is. So I thought there must be a way to honor and celebrate and see people for doing that. And then, more specifically, looking at people of color who never get the sort of elevation and shine they deserve. Black people are still being killed for no reason without consequences. My way of being a political person [is] to always use beauty as a tool to communicate other ideas. Hopefully, this show does that on some level and gets you to think deeper or differently about the creative process, or maybe even cultivating your own creative process."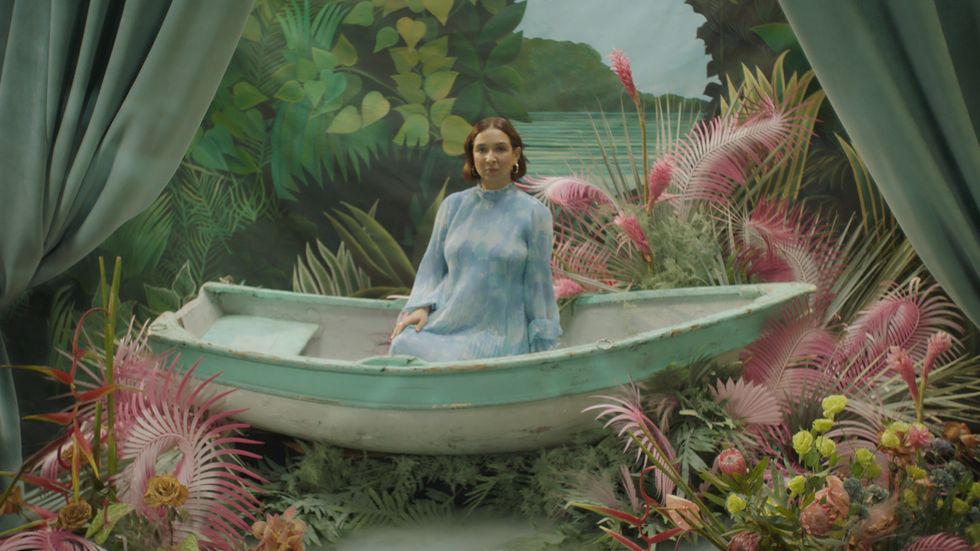 Photo: Courtesy of Quibi
How he chose
Centerpiece
's incredible interview subjects:
"It was quite the process. There's the combination of having the aspiration to want to interview
Oprah
and Beyoncé, while also thinking about who's in our network and who would be exciting. I was quite interested in multi-disciplinary creatives. You look at a person like Rashida [Jones], for example, and most just think she's a great actress. But she's also a producer and always has a great idea: We talked about how to accomplish what I wanted to do with the show. She's also an amazing writer, and these are all different skill sets, though we often lump them into one. They take a lot of sacrifice and a lot of work to cultivate those things. Maya is an amazing singer and an amazing actress and an amazing mother. She's an amazing creative in general. Look at her aesthetics and the way she presents herself. Some parts of creativity come a bit more naturally, but you must still spend time cultivating it. You must spend time nurturing and watering and watching those seeds grow.
"I was really interested in creatives that show that. One of the people I really wanted to interview who exudes that so much is a person like Donald Glover—that man is a genius. He's able to write a show, act in that show, be a musical artist, and a musician... That's crazy! It takes me a second to absorb the force of discipline and creativity it takes to be that excellent in that many different mediums, even though they seem connected. And then there were also people in my community who I wanted to celebrate who have been so generous and kind to me. A person like
Melina [Matsoukas]
, who is an amazing creative and has been doing her thing for so long. She's so community-oriented, and she's let me into her community in such a beautiful way, so it was a nice way to talk about her creative process. It was also a way of honoring her with something in which she's seen and in which she's loved. Then there were people like Moses [Sumney] and Kerby [Jean-Raymond] and Jeremy [O'Harris], who were people that I had met but didn't know well. I really admired and respected them and thought they were amazing, so I wanted the opportunity to show what they mean to me, to get to know them, and to possibly talk them into being my friend."
On including his family in
Centerpiece
:
"I once heard someone say, 'If you're trying to be creative, notice the environment in which you feel your most creative.' Notice what's around you when feelings of peace come up for you. One of the things that has always grounded me is my mother's organ playing and music. That became an important component in the show because the idea is that when I have people on set, I want it to feel as intimate and as real as possible. I want them to feel as comfortable as possible so that when we're sharing, they can feel it's real and not an overly staged, overly produced thing. As much as possible, it should reiterate authenticity, so my mom being there helps me with that. My mom and I have had a tumultuous relationship, and we've really turned a corner over the last few years. So I really wanted to take her on this journey with me so she could witness firsthand all the creativity I encompass and being able to see me in action. It was such a privilege to be able to include her in this process."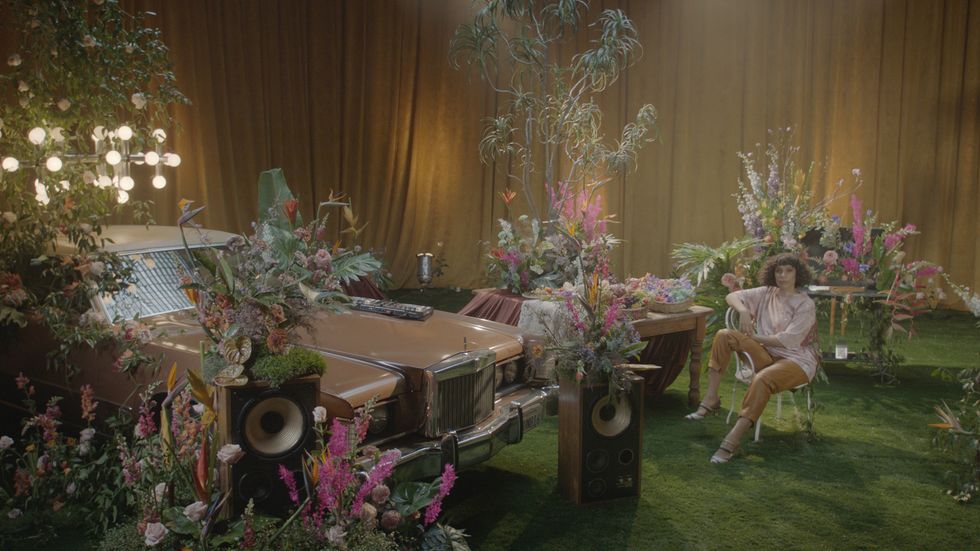 Photo: Courtesy of Quibi
How we can better access our own unique brands of creativity:
"People have access to it—they often know what they like and what feels good to them. As babies, we're balls of intuition, and as we grow up, we're taught to suppress that and use our minds. But at a certain point, you realize your gut is telling you something, but you don't know if you should trust it. That's your intuition. As adults, we must reintegrate our intuition back into our lives. That is one of the things I heavily rely on in the show. Lean in and trust yourself. You know what works well for you and what you like. Other people might not, and that's OK. Before I met them, as I was getting to know them, and as I was creating, I leaned into how I felt about everyone on the show. When I go to pick flowers, just in general, it's very emotional for me. Textures, colors, and making it dynamic all matter to me. Seeing a bird of paradise next to a carnation can be disgusting and beautiful depending on the complementary colors you choose. So many people say roses are basic, but you probably haven't seen all the roses. They're insanely incredible, and they come in the most beautiful colors—a mocha brown, gold, a fleshy pink. We're always rushing, and we don't take our time because we think there's a shortcut. You just have to slow down and spend a little time."
On returning to "normal":
"Trying to rush back to normalcy—when all of us were losing our minds—I don't think we need to be in a hurry to do that. I don't want to be insensitive, and we obviously need to be able to provide for our families, eat, and take care of ourselves. But the ways we had to do that with the haves gaining more and more and the have-nots literally wasting away and dying—it breaks my heart, and I think we really need to take this time to reevaluate how we live.
"I walk a lot now, and I really try to take in nature. I work with nature all the time, and there's this intuitive way that I'm connected to nature—it's subconscious for me. But bringing it to my consciousness has been important to me, looking at all the plants in my neighborhood that I had no idea about. I was rushing so much, constantly, that I live two blocks away from my studio and I drive to work almost every day. I would usually have a meeting to go to or I was running late for a meeting at the office. Now I walk to the office, walk to the park, walk to the grocery store. I've been doing little projects around my place—doing things in my kitchen and being a basic bitch, working on my raised bed. I've been working on my front yard, and I'm getting a dog."
On becoming a dog dad:
"I need a boss, and I need to be held accountable. A dog never stops. I'll be able to go on long walks, too. I'm getting a black poodle, and we're going to have some fun. I'm excited, and I'm pretty sure his name is going to be Latrice. He is going to be a big black poodle, and he's always going to have his hair cut in an insane way. He'll probably look like a big drag queen anyway, so I named him after Latrice Royale."
Photos: Courtesy of Quibi
Want more stories like this?
Nana Oforiatta Ayim on Quarantine in Accra and Deconstructing Privilege
How Four Creatives Are Finding Light in the Midst of a Pandemic
Finding and Maintaining Your Inner Creative