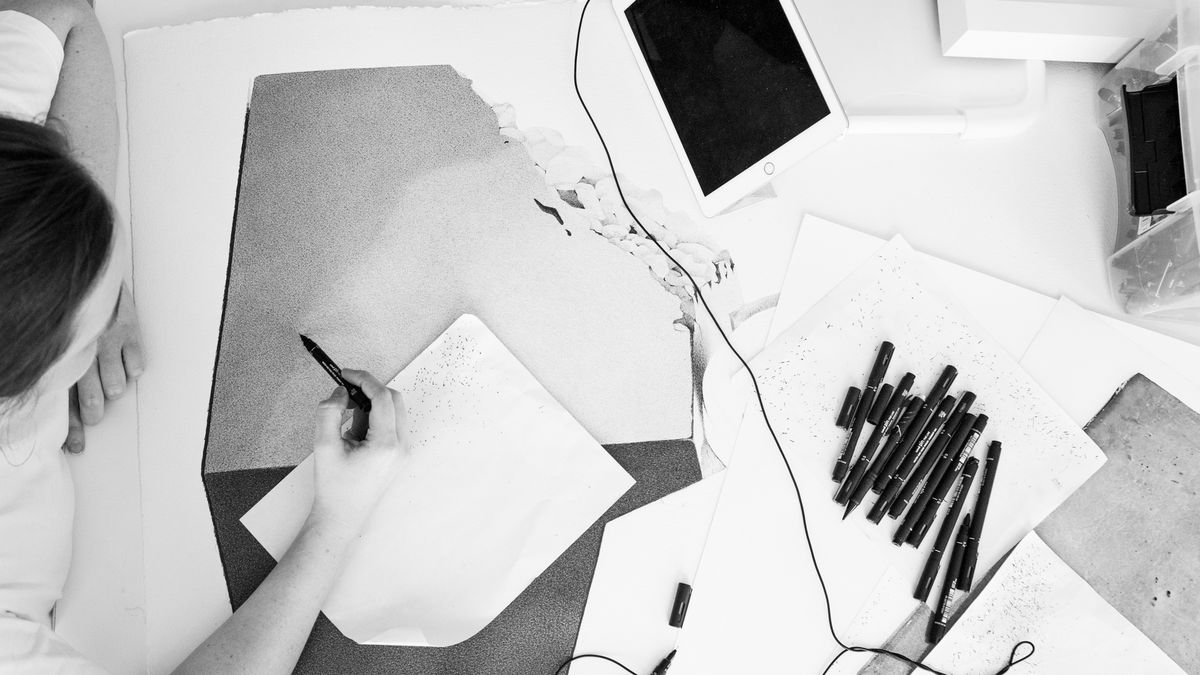 Living
Four tips from influencer Krystle Coleman.
Finding and growing your creative side is a lifelong journey that requires constant introspection and self-evaluation. What's more, the act of exploring creativity whenever, wherever, and however is essential to the development of both the mind and self. Beyond that, creativity and self-analysis are the catalysts to achievement, both in personal and professional journeys.

In a constantly changing world, staying focused on your creativity can be a challenge. With distractions pulling at you from every angle, tapping into your thoughts and inner workings can feel impossible—but don't fret. Ahead, four tips on finding your flow.
 

Take a Walk in Your Community
Make some time in your day to take a walk, especially without any particular destination in mind. The world around is always abuzz with comings and goings, so try walking around, sitting in a park, even riding public transportation; any action performed with the
intent
of simply being in the moment can birth genuine ideas. Even more so, paying attention to people can be inspiring. We receive an incredible amount of information through implicit signaling—think body language, facial expressions, and posture. Paying attention to these smaller items can often lead to much larger patterns and trains of thought emerging. When it comes to observation, allowing yourself to be the student, rather than the teacher, and trying to perceive above all else is undoubtedly a rewarding experience. 
Lose Yourself in a Book
Books provide nourishment for all who seek to find it. Immersing oneself in a land of fact and fiction alike can stir the creative potential inside anyone. Visiting a library or bookstore or even browsing an online selection of literature represents an opportunity to open the mind to all that still remains unseen. It's also a great way to learn a new skill or hobby. There is simply no quicker way to disappear into the waves of thought and emotion than by diving into a book. 
Watch a Show or Film
If you've got a favorite show, production, or film that sticks out above the rest, there's never a bad time to revisit it. After all, there's probably a good reason why it's your favorite. Whether it's because of the cinematography, writing, or a character that speaks to you, going back to these viewing experiences is a great way to get in touch with exactly what it is that continually pulls you in. Grab a pen and a notebook, and jot down ideas that come to mind as you watch; these influences will be immeasurably helpful to draw upon when you're looking to conjure your own creativity. Try to pay attention to how you feel as you watch, and dig deep into the
why
behind your emotions. 
Just Create!
Sometimes it's as simple as putting pen to paper, strumming some strings, or simply doing whatever it is that you enjoy! If you're an artist, grab some crayons or colored pencils, and draw to your heart's content, even if you're just throwing colors on the page. If you're a musician, grab your instrument and learn some new scales or riffs. If you're a carpenter, there's never been a better time to go out and build a birdhouse. The most rewarding part of engaging with your senses and creating something tangible is the act of influencing someone else to feel something inside. Creative work can often have a measurable impact on the world around it and can serve to inspire anybody, anywhere. 
Want more stories like this?
Parachute Founder Ariel Kaye Talks Creativity, Working from Home, & Summer Style
What to Eat and Drink for Every At-Home Summertime Activity
The 10 Best Investments to Make Around Your Home