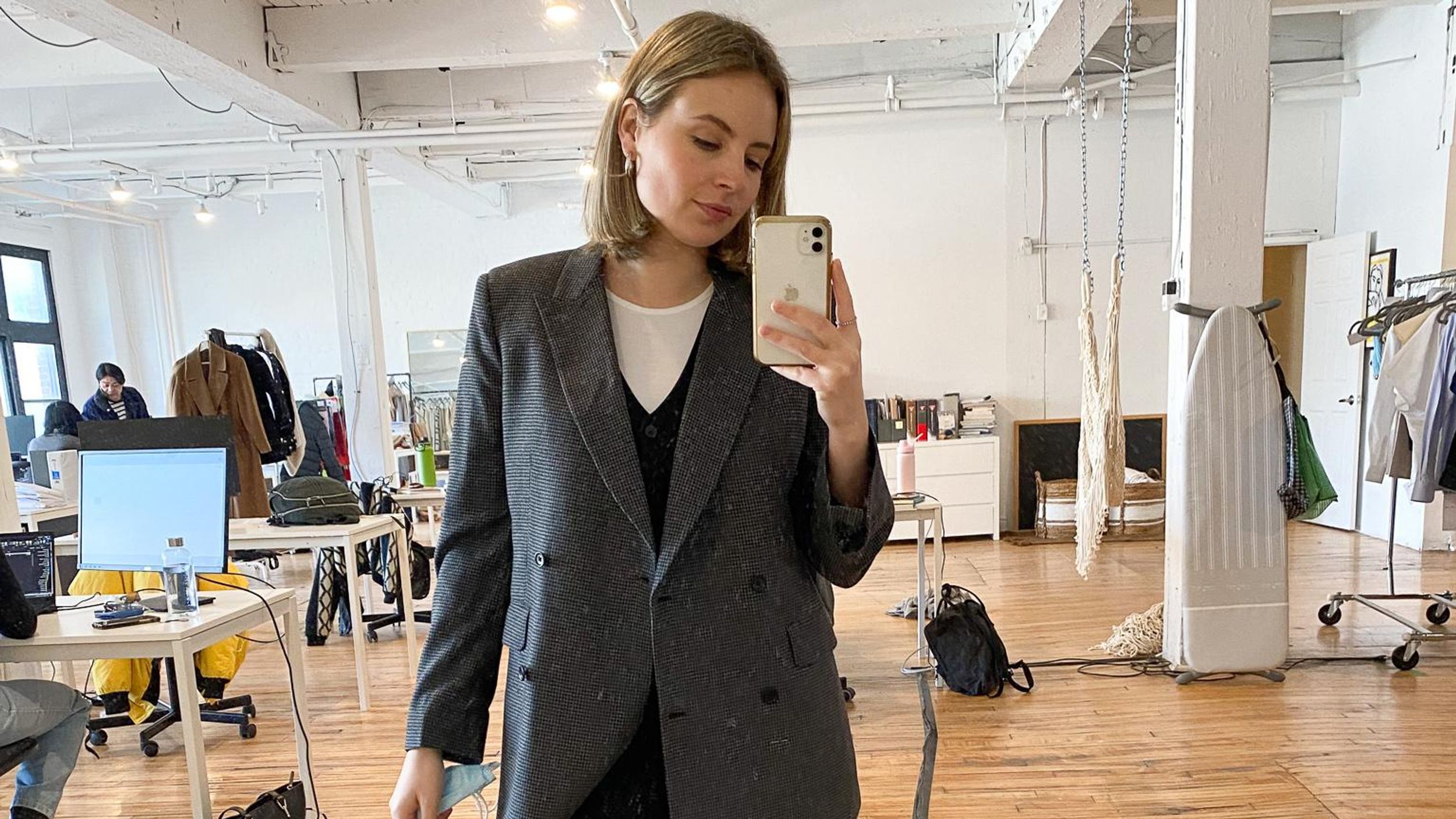 Style Diaries
For Kotn's co-founder Mackenzie Yeates, ethically-produced outfits are always in style.
Welcome to Style Diaries, a series where we research the physical manifestations of our closet tours IRL. We're asking friends and tastemakers to show us what they're *actually* wearing during the week and to provide a little insight into their thoughts on the current state of fashion. This week, we follow along with Mackenzie Yeates, the Toronto-based co-founder and chief branding officer behind Kotn, Instagram's favorite line of ethically-produced basics.
What role does fashion play in your life? How does it serve you?
"Fashion plays a big role in my life as a co-founder of Kotn. I've always been passionate about getting dressed and have used my clothes to lean into how I'm feeling day-to-day. I can never pre-plan my outfits because I always dress according to my mood. I often listen to music on the way to wherever I'm going that 'matches my outfit.' I think fashion is a great way to communicate a little bit about who you are, what you like, and what you believe in."
Day 1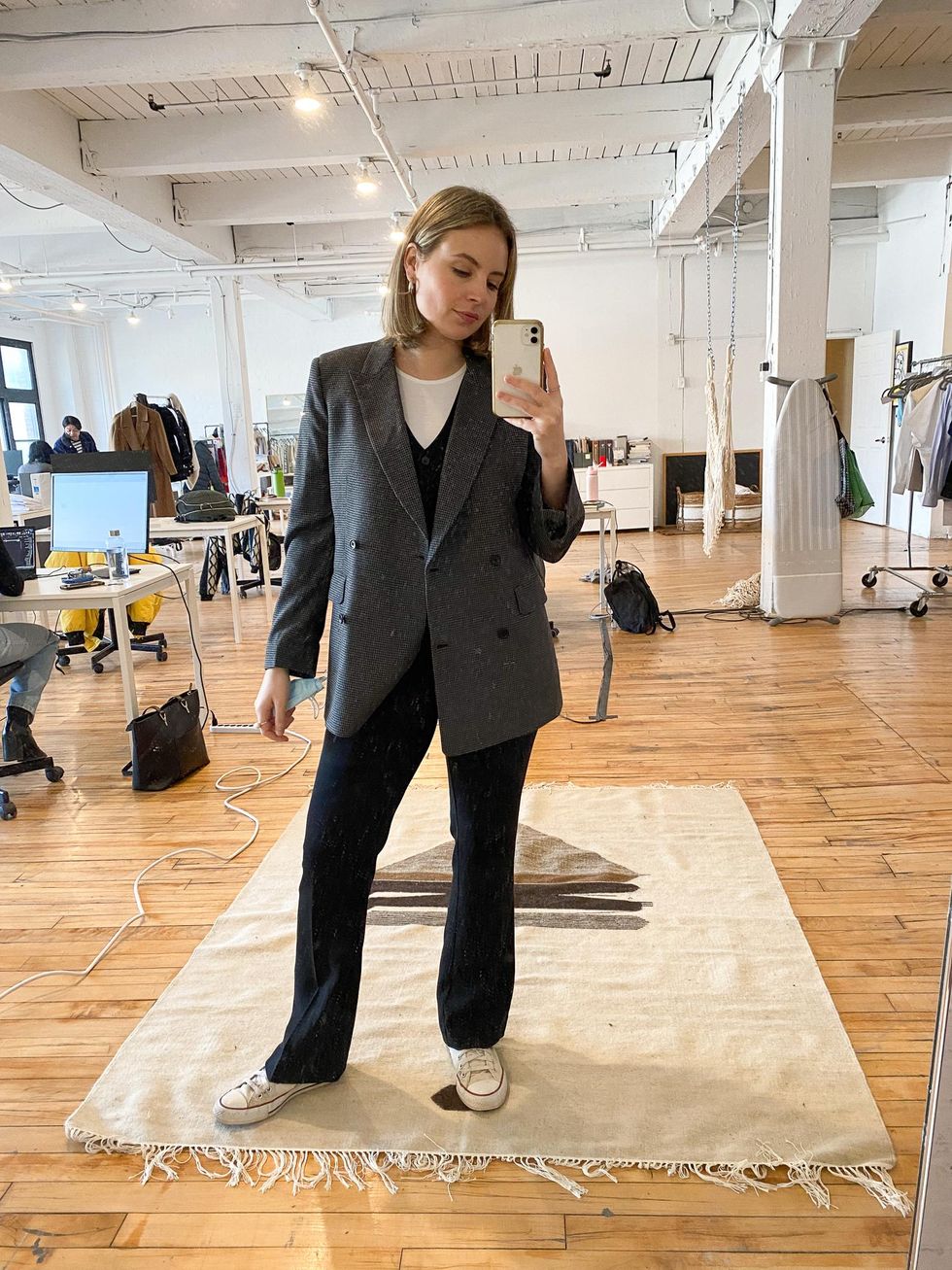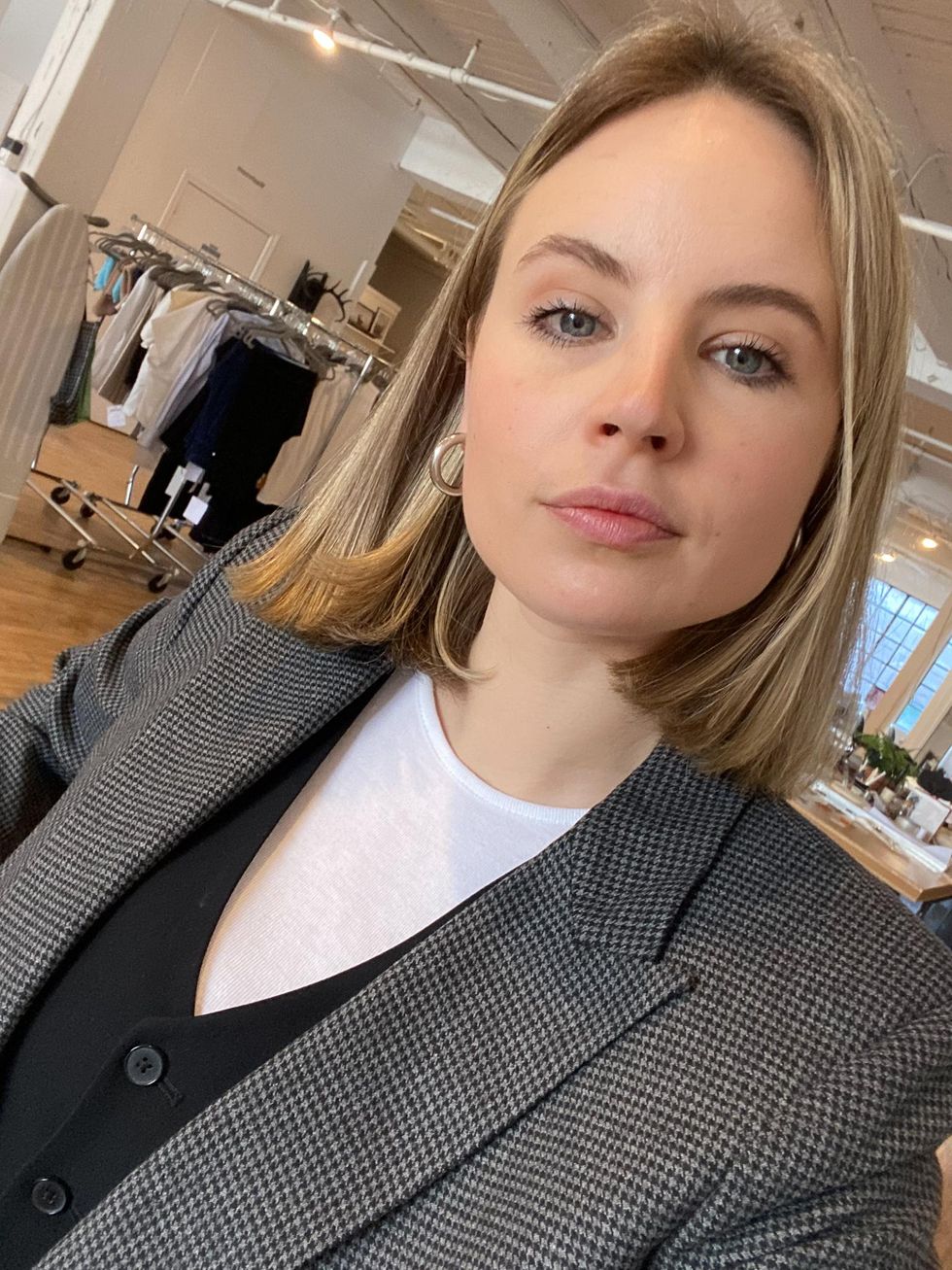 What did you do that day?
"I went into the Kotn office for a spring product knowledge meeting and a team lunch."
How/why did you select/combine the pieces in this ensemble?
"Now that I spend so much time working from home, it's nice to dress up a little when going into the office. I was actually wearing a different jacket but changed into this when I got into work because this blazer was a new sample. Working in fashion means half the time I end up changing into something else mid-day. I still kept it casual and comfortable with a white t-shirt and Converse!"
What excited you about this look?
"I think layering a vest under the jacket and over my t-shirt made it feel a little new and fresh. Plus this jacket just really excited me because we're just starting to add great, classic tailored pieces to our collection."
Shop the Look:
Kotn
Wilfred
Babaton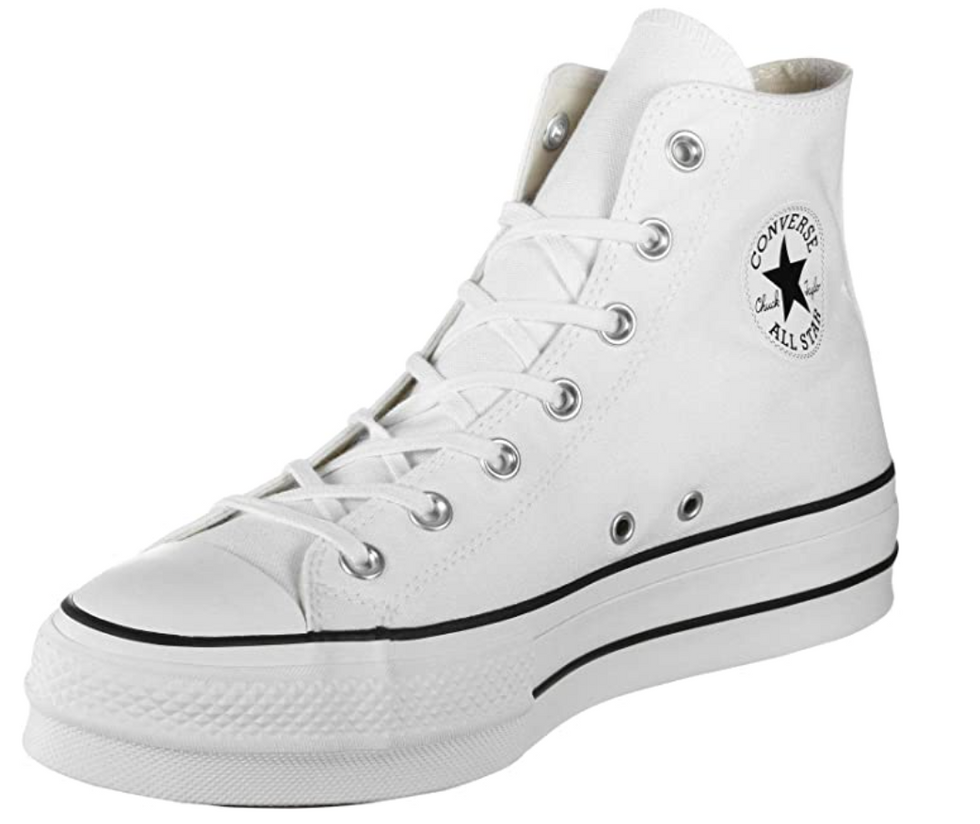 Converse
Sophie Buhai
What does your style look like these days? Do you have a go-to outfit formula or do you prefer to switch it up when getting dressed?
"Starting a sustainable brand and learning more about the garment industry has caused me to shop a lot less and dress much simpler. I wear mostly basics—t-shirts, turtlenecks, cotton knits mixed with wide-leg pants and add a twist with vintage pieces and accessories. Living through the pandemic and having a baby last year has made me really value comfort more than I had before. I still like to look put-together, so I look to natural fabrics, relaxed tailoring, and good cuts, but these days, I can't even think about wearing heels!"
Day 2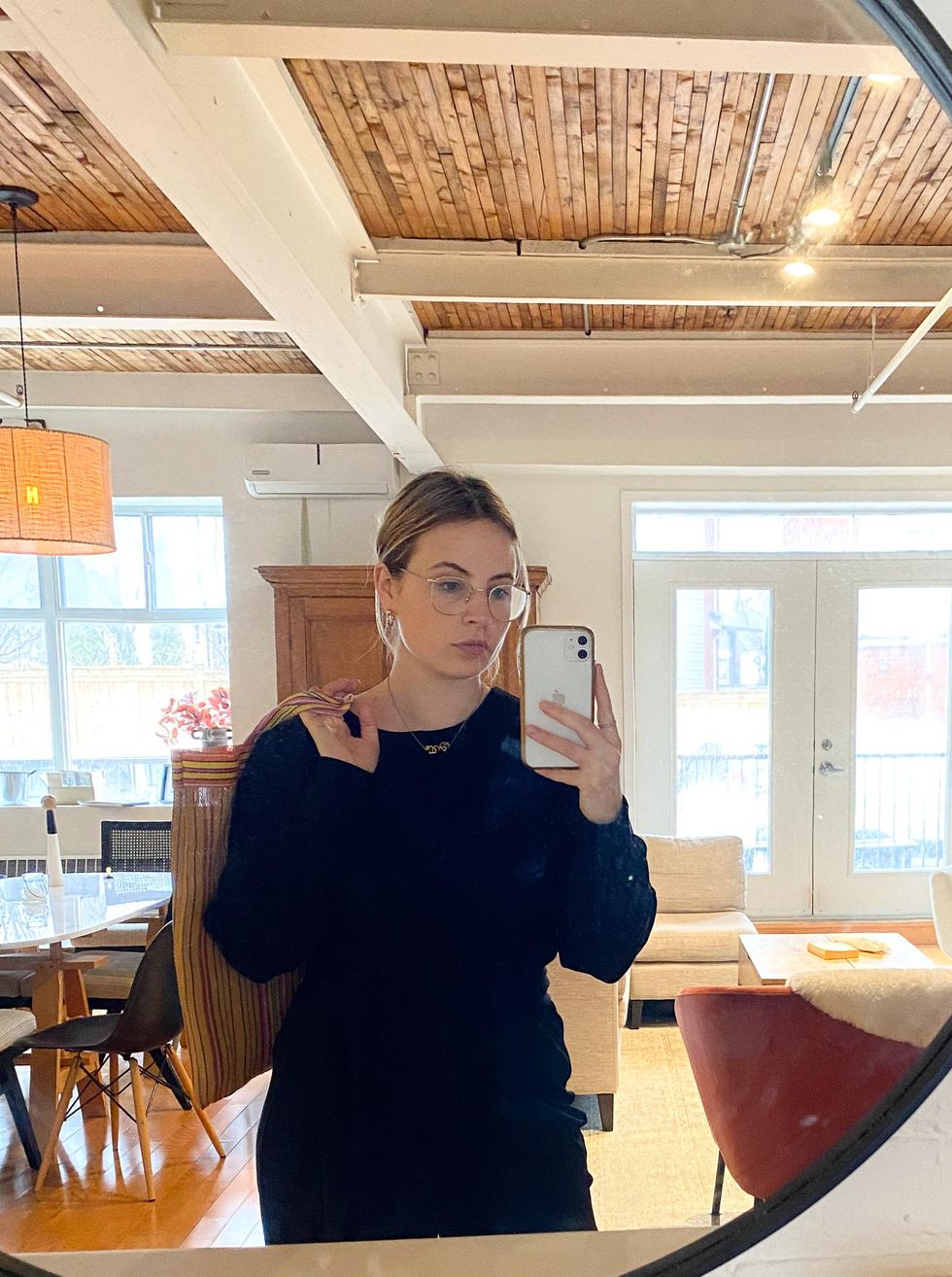 What did you do that day?
"I worked from home, sat on the floor for hours playing with my nine-month-old Emmett, and ran out to the grocery store."
How/why did you select/combine the pieces in this ensemble?
"The thing that's great about this look is that it requires zero decision-making since it's a jumpsuit. I paired it with these velvet mules, which are basically like slippers. When I ran out to the grocery store, I also grabbed this Bode tote, which I use as a diaper bag. For jewelry, I just wore simple gold hoops and my Arabic nameplate necklace."
What excited you about this look?
"The exciting thing about this look is that it is so damn comfy. I spend a lot of time at home, working or hanging with my baby, and this jumpsuit makes me feel comfortable but still confident. It's more comfortable than some of my pajamas, but it also looks chic, flattering, and put-together."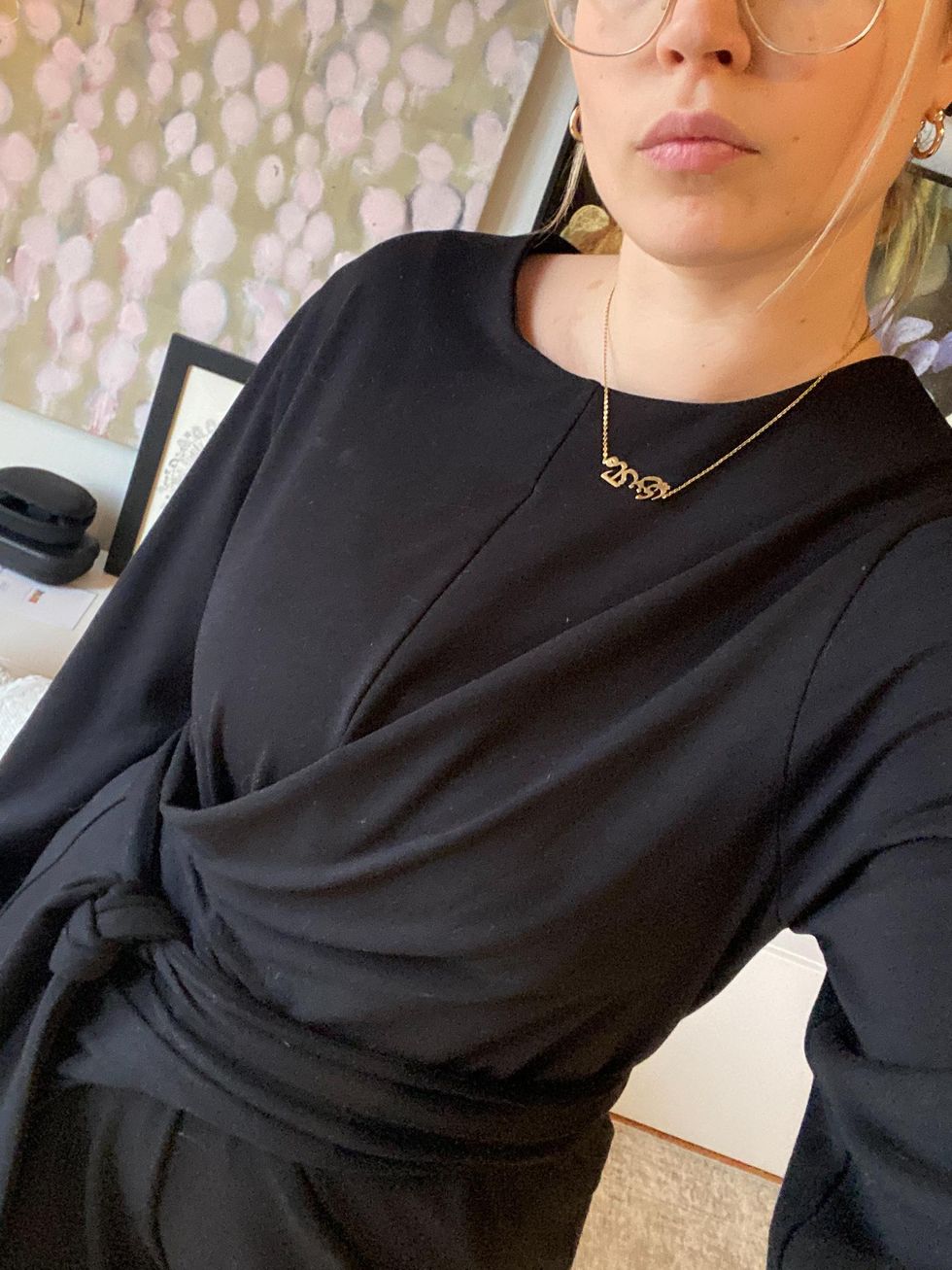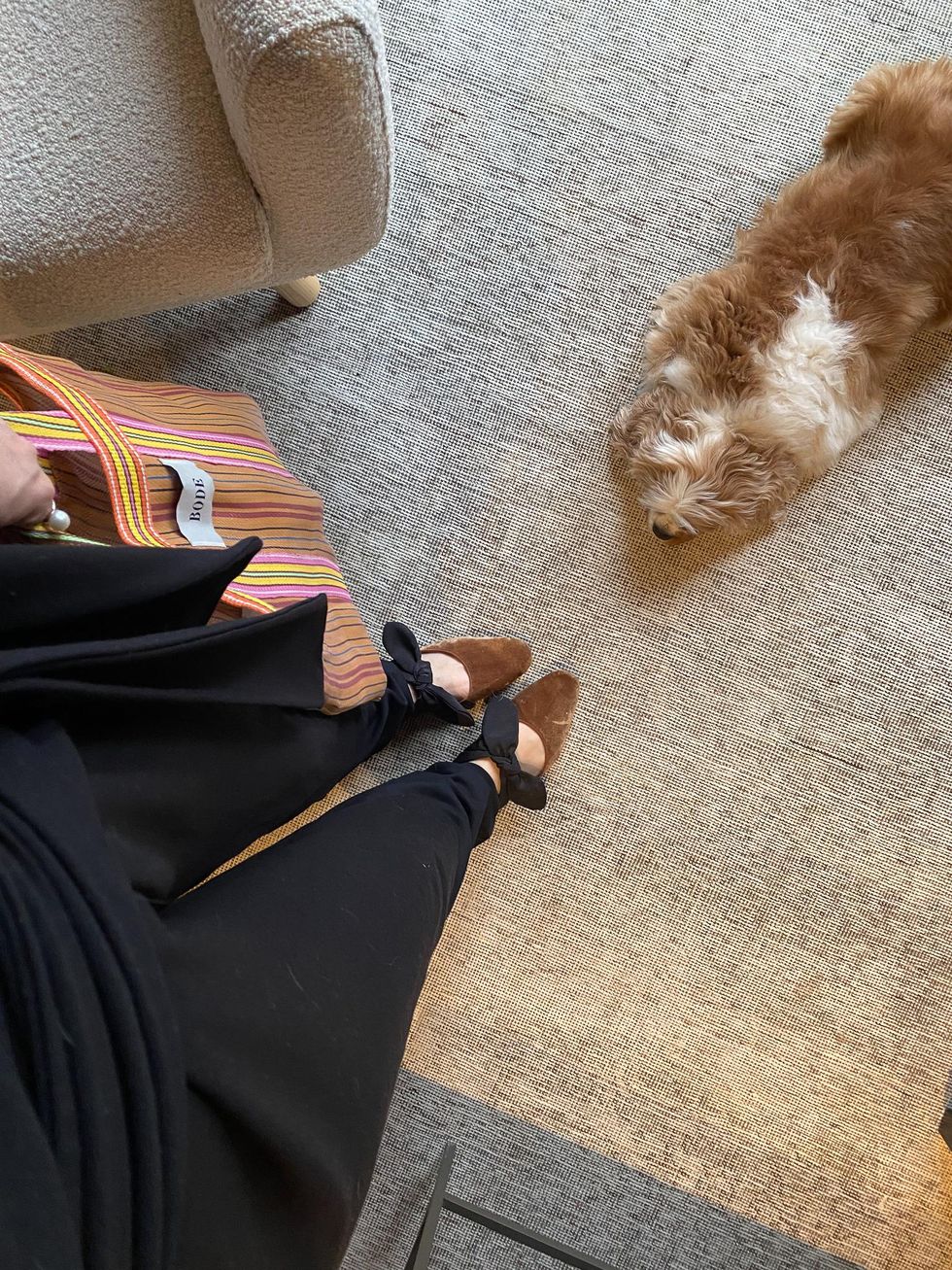 Shop the Look:
Kotn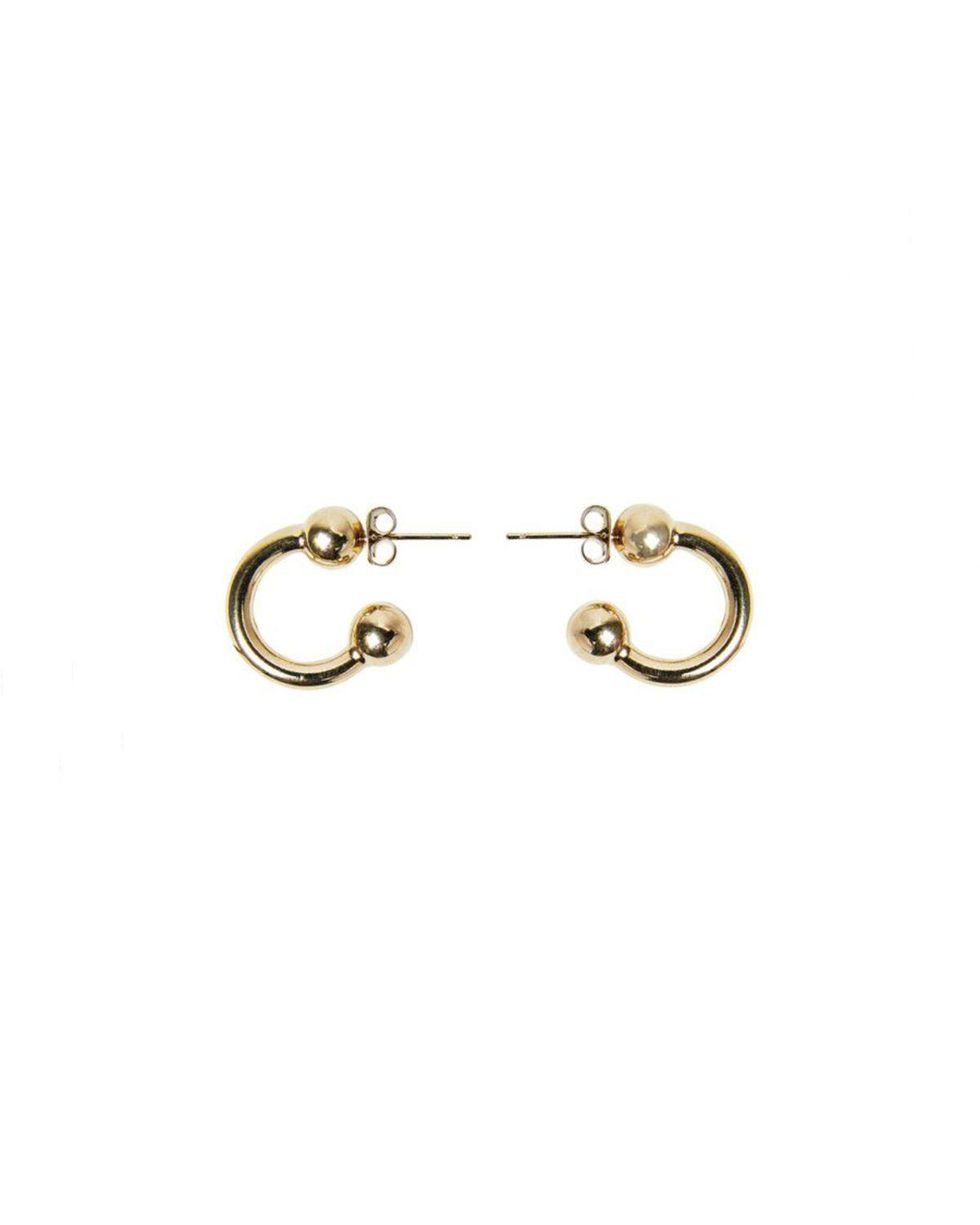 Justine Clenquet
What energy are you bringing to your ensembles this season? What are you looking forward to wearing?
"Being in my thirties and becoming a mom, I'm not interested in trying to be anyone other than myself. My moods ebb and flow and influence my outfits, but I always want to feel comfortable in my own skin. I want to invest in a few good quality wardrobe staples this season—a great spring coat, some simple square-toe boots, and a new handbag in a classic color that isn't black."
Day 3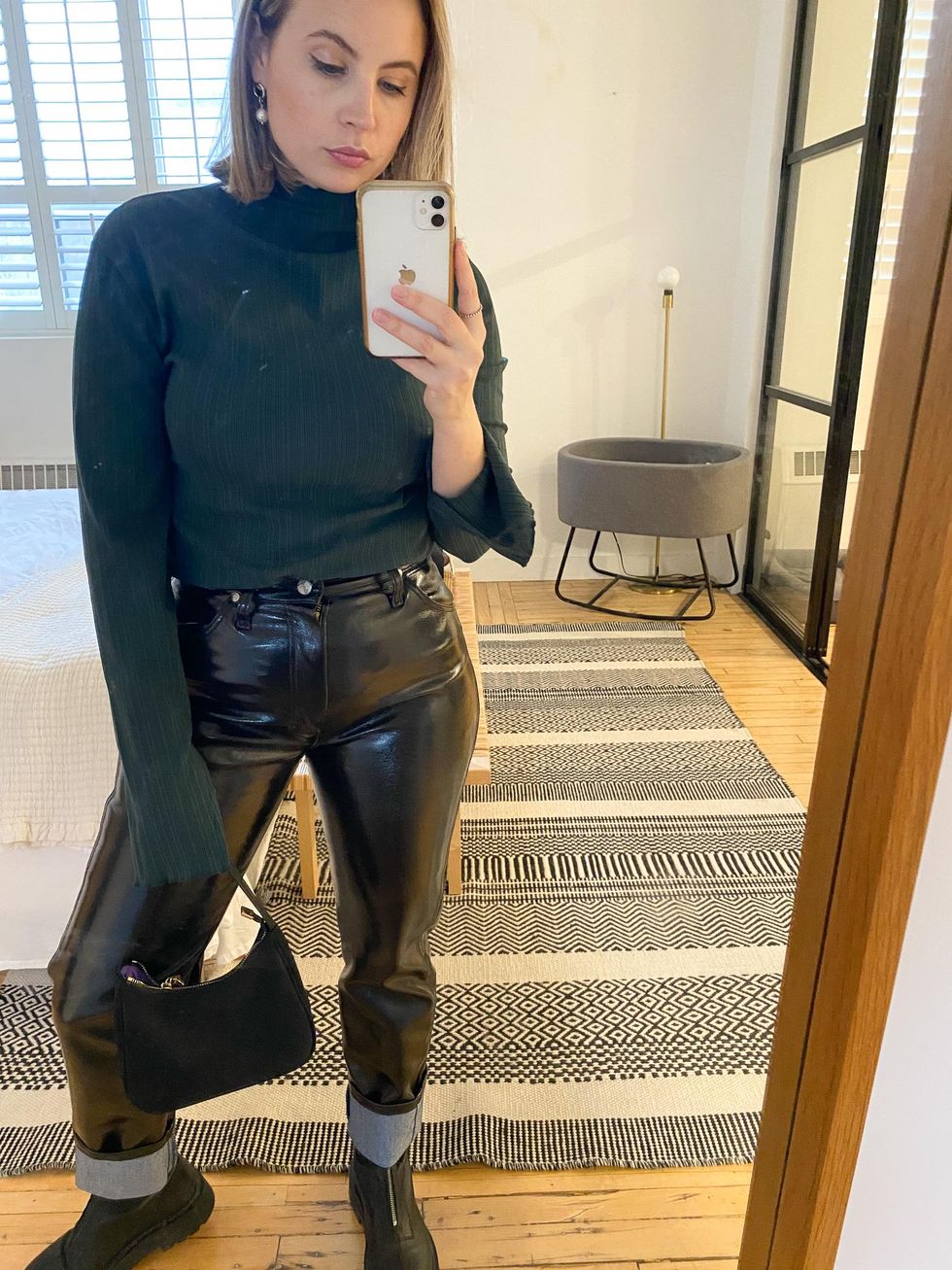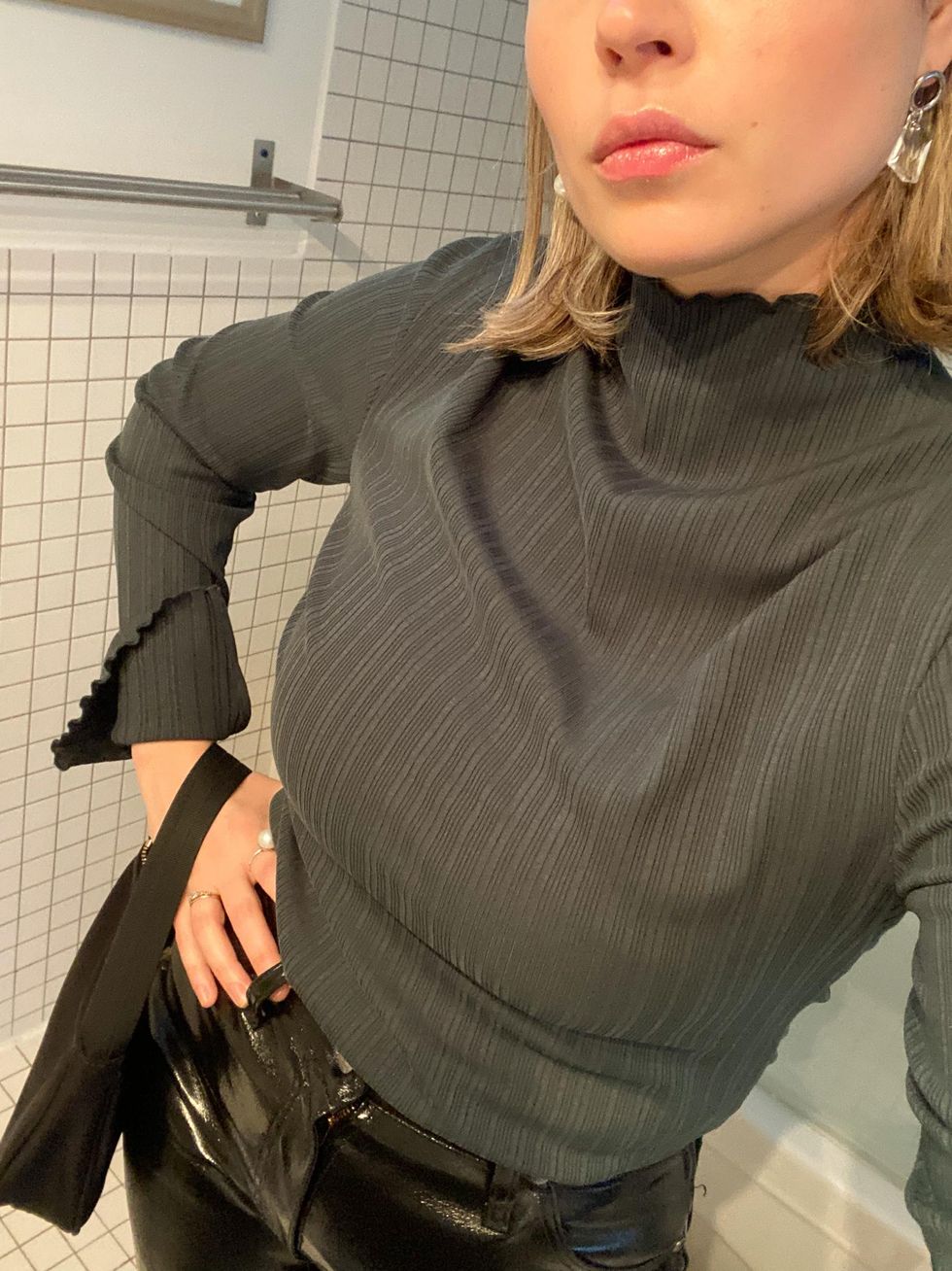 What did you do that day?
"I went out for a drink with a friend."
How/why did you select/combine the pieces in this ensemble?
"Going out to a restaurant feels like such a novelty for me post-baby and post pandemic lockdowns! I wanted to wear something that made me feel like I'm not a regular mom; I'm a cool mom. This little bag from Ela Handbags is also a new favorite for me because I actually love how simple and unbranded it is."
What excited you about this look?
"This ribbed mockneck is one of those pieces that just makes me feel good. The green color, the rib, and long sleeves with slits at the wrist are the small details that make it feel fancier than a classic turtleneck but is just as versatile and easygoing. These vintage coated-denim Wrangler jeans always make me feel a little rock and roll. I also like how the earrings are really pretty individually, but the fact that they are mismatched makes them feel edgier."
Shop the Look: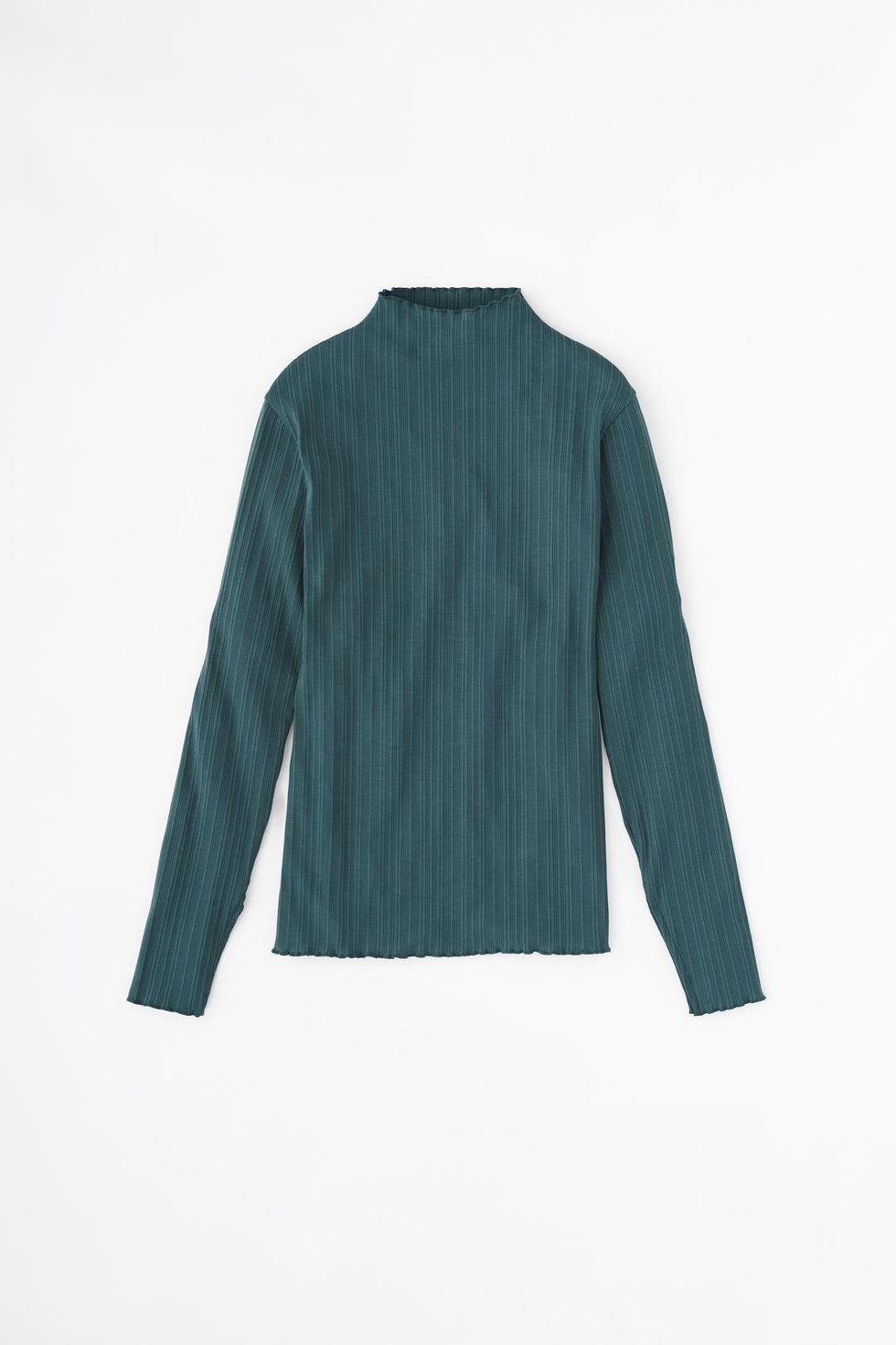 Kotn
Ela Handbags
Justine Clenquet
In terms of beauty, what does your go-to hair and makeup routine look like and how does that change based on what you're wearing?
"I usually wear my hair with a middle part either blow-dried straight or pulled back in a low bun or with a claw clip. For makeup, I've been doing what I can to stay glowy during these dry months, so I've been moisturizing like crazy and not using too much makeup on my skin. I load on the undereye concealer to attempt to mask my bags and then, just liquid blush, mascara, and brow gel for the day-to-day. On a night out, my go-to is to add a cat eye or a red lip."