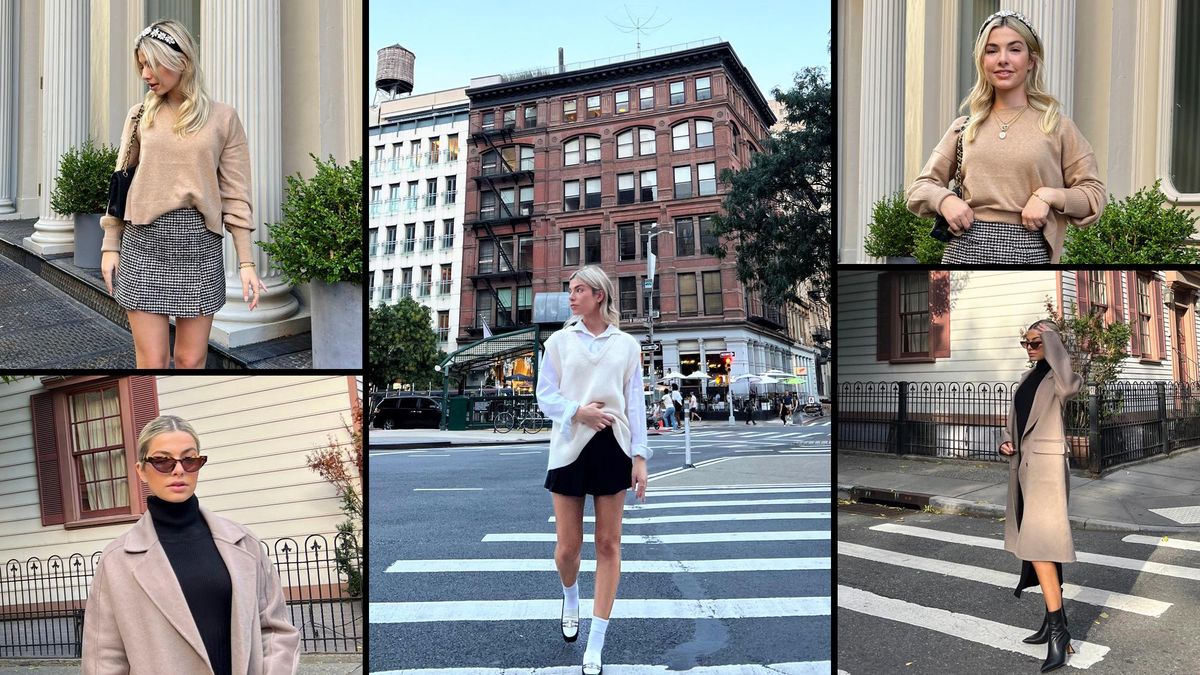 Style Diaries
Of Course, Cynthia Rowley's Daughter Has a Knack for Getting Dressed
How the 22-year-old styles pleated minis and sweater vests.
Graphic:
Ashley Combs
Welcome to Style Diaries, a new series where we research the physical manifestations of our closet tours IRL. We're asking friends and tastemakers to show us what they're *actually* wearing during the week and to provide a little insight into their thoughts on the current state of fashion. This week, we are speaking with student, designer, and small business owner Kit Keenan—oh and did we mention she's Cynthia Rowley's daughter? Keenan is infusing classic preppy staples with a youthful edge, styling trendy favorites like pleated minis and sweater vests in modern yet feminine ensembles.
What role does fashion play in your life? How does it serve you?
"I grew up in the industry so fashion has always been part of life. When I was little, my mom was very open about how my little sister and I dressed. She always let us put together our own outfits, which sometimes lead to fashion faux pas like my sister wearing a Barbie life jacket to her first day of kindergarten or me wearing a birthday crown for a year straight in preschool. It also, however, allowed us to develop our personal styles very organically. My style has changed over the years, but it's always been a form of self-expression."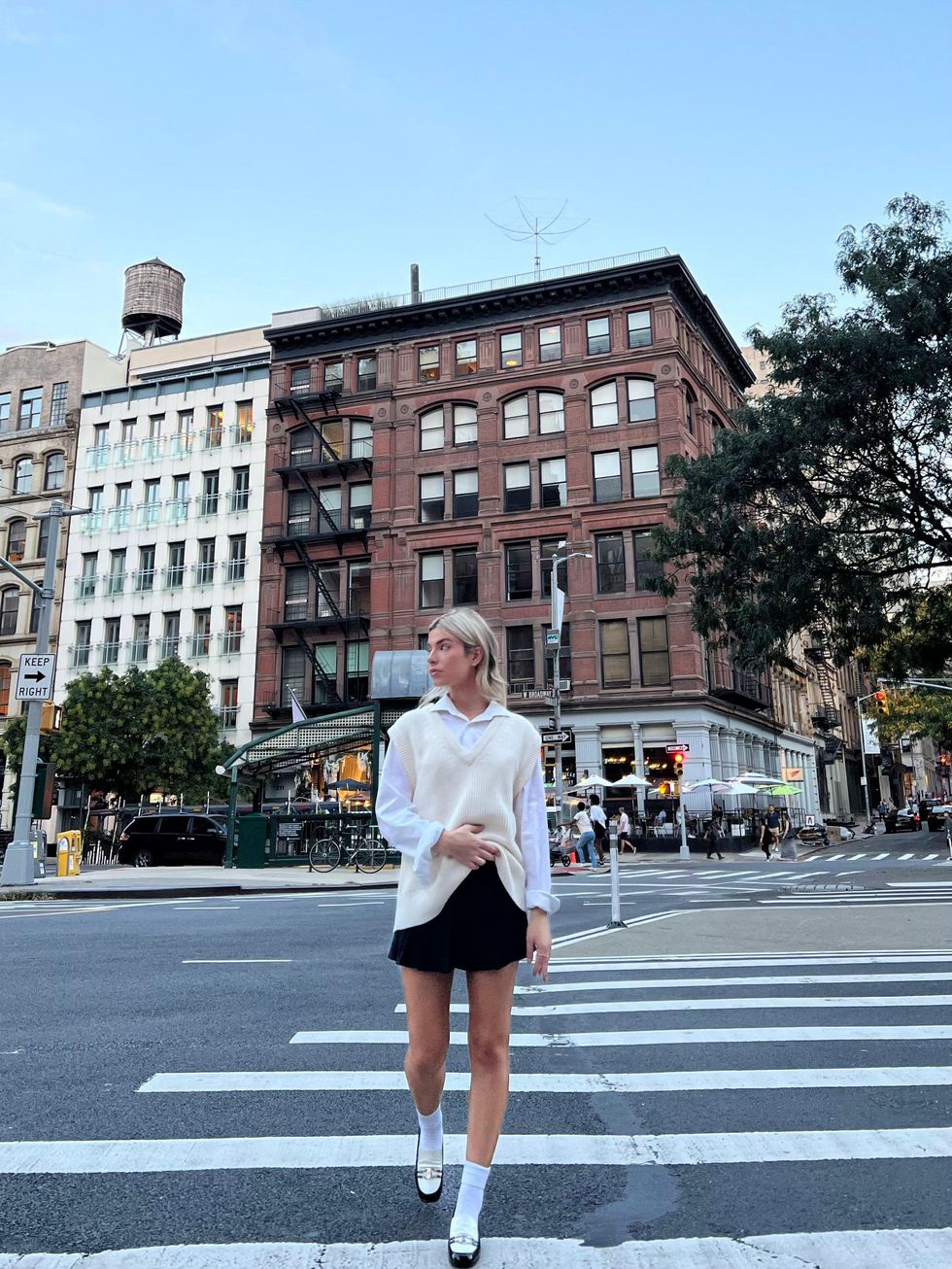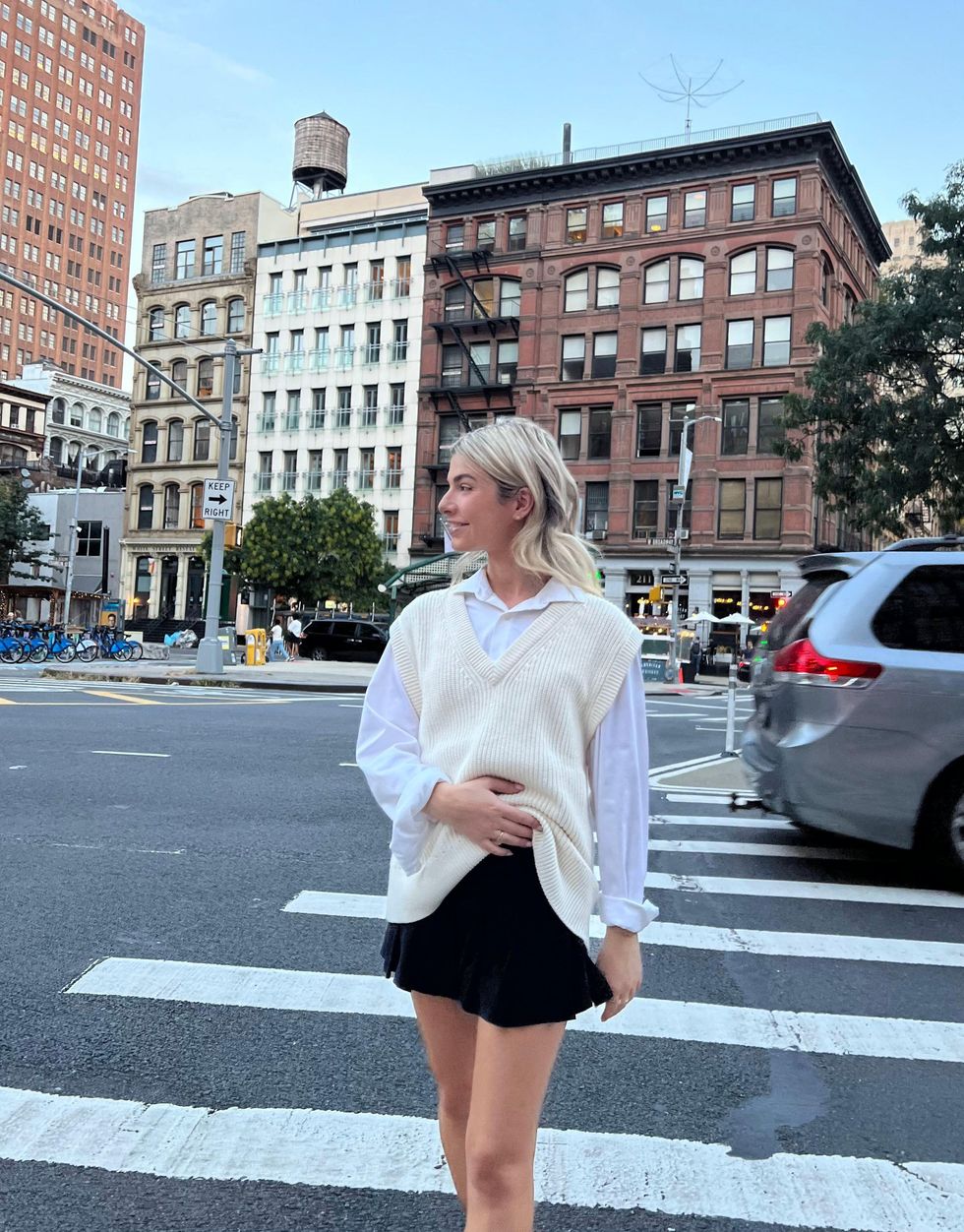 "I am loving the preppy look for fall. This sweater vest from Rails is the perfect ivory color and I got it in a size medium so it would look a little slouchier on me. Sweater vests will never go out of style; they are the perfect layering piece and can be worn in so many different ways. I also think pleated skirts look good on everyone and are a great staple to have in your closet, as they can be worn with bare legs in the warmer months or tights when it gets a little chilly. I know loafers are super trendy right now, but I have had this vintage pair for years and they're the perfect shoe when you want to look put together but don't want to wear heels."
Shop the Look:
Los Angeles Apparel
Loewe
What does your style look like these days? Do you have a go-to outfit formula or do you prefer to switch it up when getting dressed?
"I like to go for timeless pieces. Vintage or classic silhouettes are usually what I gravitate towards. My style inspirations are Jackie O, Bridgette Bardot, and Audrey Hepburn, but I love mixing it up with trends online as well."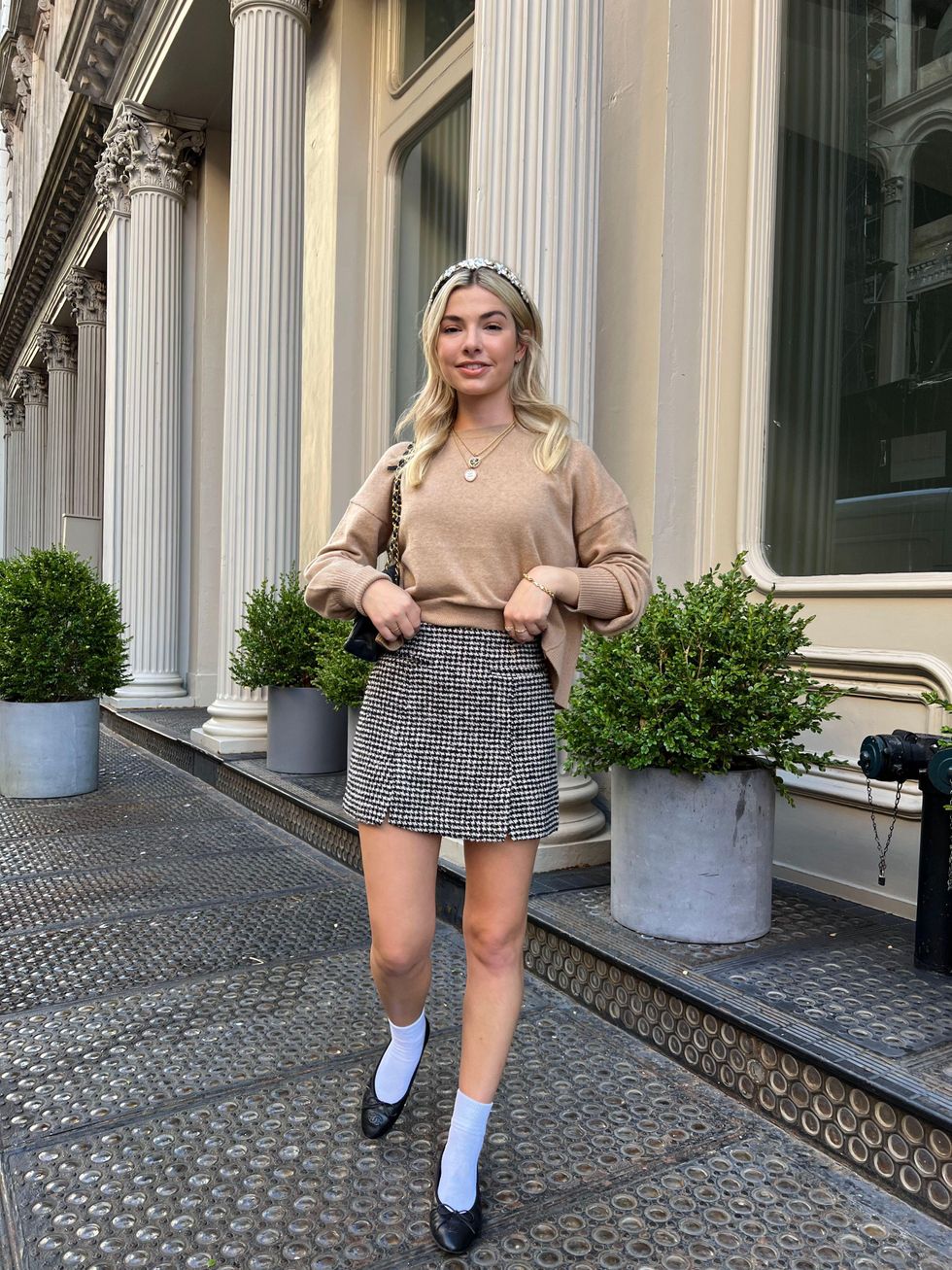 "This look is definitely giving Blair Waldorf, who is my brunette alter ego. Mini skirts are also a go-to and can easily be transitioned to the colder months with over-the-knee boots and a long peacoat. I always love a good headband or hair bow (especially on bad hair days)."
Shop the Look:
Astr the Label
Le Ore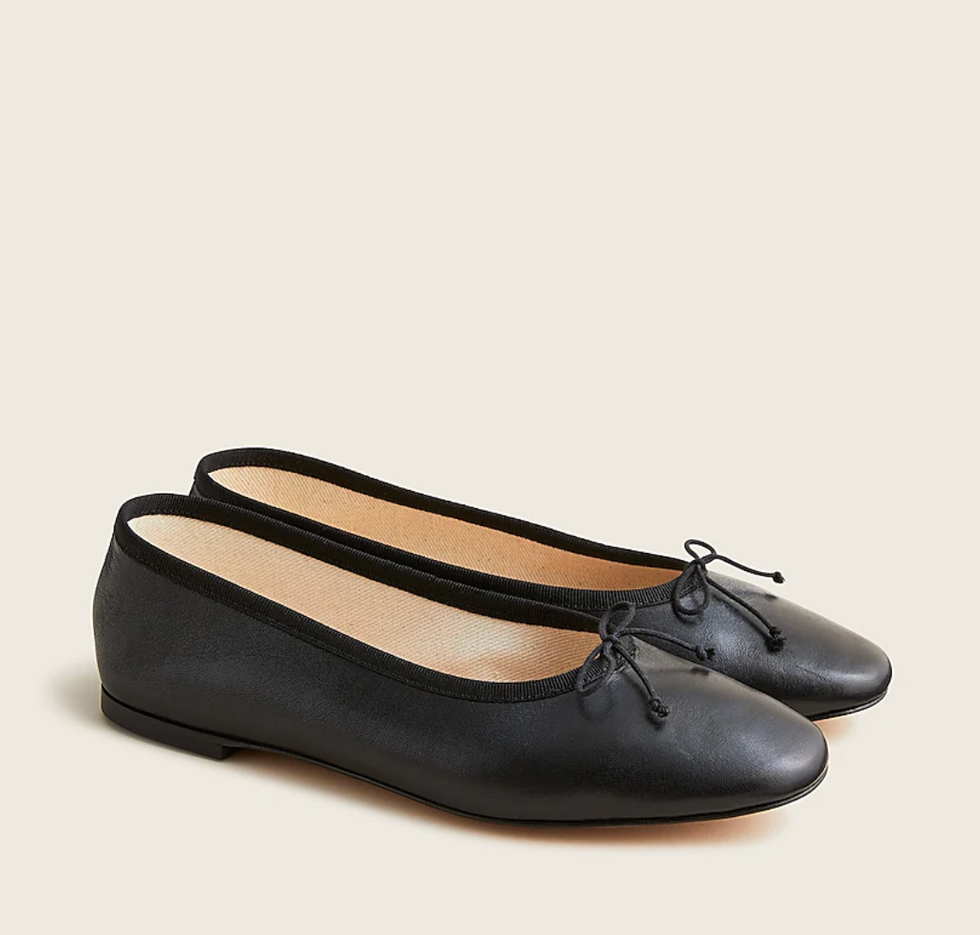 J.Crew
What energy are you bringing to your ensembles this season? What are you looking forward to wearing?
"I'm giving 'hot-Upper-East-Side-mom' mixed with her daughter's school uniform for fall."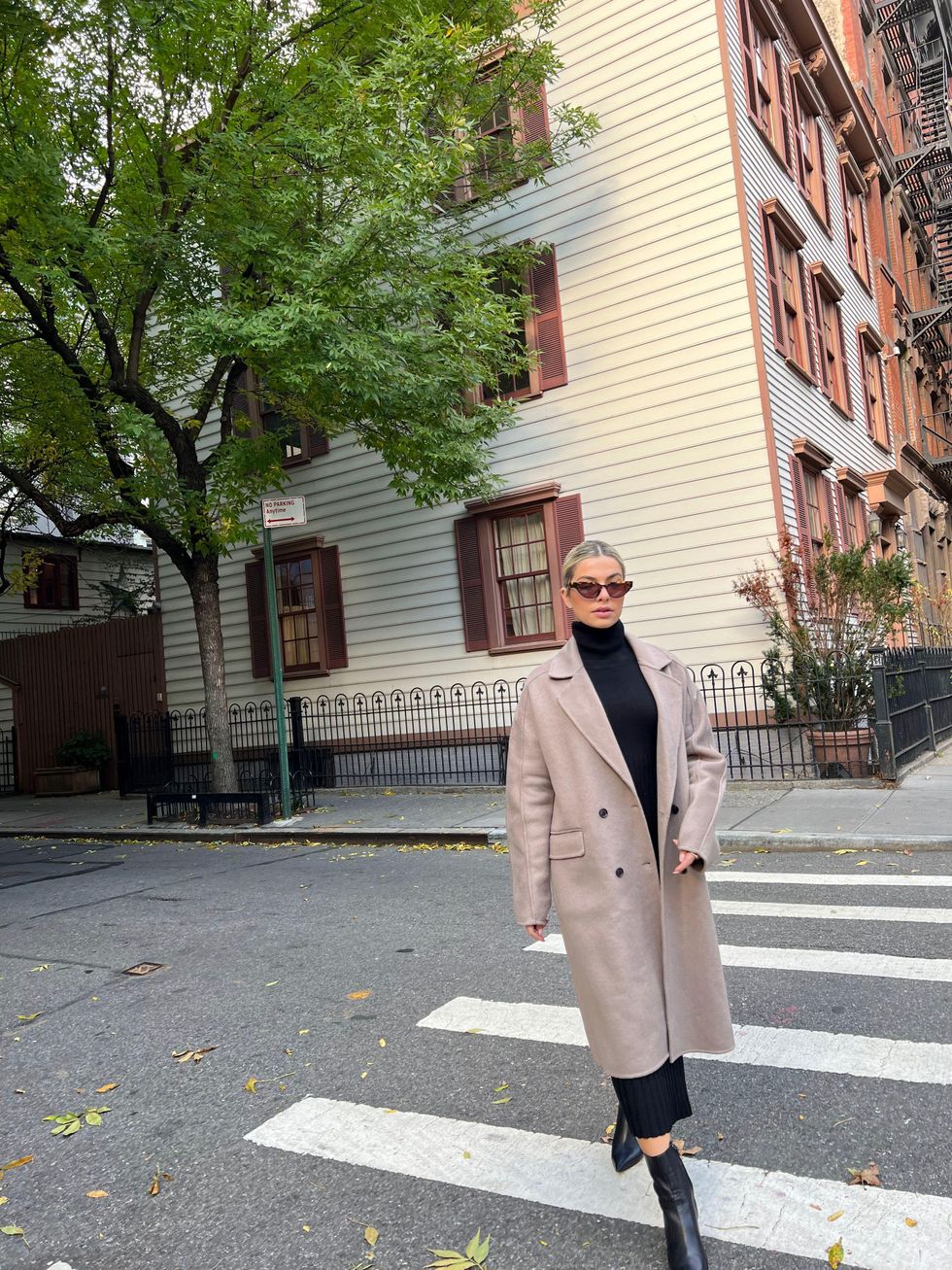 "This is my 'Tribeca Mom' alter ego. A good beige or tan peacoat is a necessity in my fall/winter wardrobe. The bodycon sweater dress I'm wearing underneath is super flattering and actually warm, which is incredible. I also love a simple black pointed-toe boot. I end up wearing them to death every winter."
Shop the Look:
M. Gemi
AG Jeans
In terms of beauty, what does your go-to hair and makeup routine look like and how does that change based on what you're wearing?
"I like to go for Old Hollywood curls—I call it my 'George Washington' look, but really it's just a ton of dry shampoo and texturizing spray. Simple makeup, always, and I love a winged liner."