Makeup
Vlada Haggerty spends hours on her lipstick, and it's earned her almost a million followers.
Tristan Kallas
The first time we saw makeup artist Vlada Haggerty's work on
Instagram
, it was a now-iconic image of a copper metallic mouth with a single drip inching downwards from the bottom lip. The image looked computer-generated—the flawless shape of her lips, the smooth, chrome finish of the lipstick, and the perfect droplet caught at *just* the right moment—but it's not. It's the elbow grease of one very hardworking, patient, and precise Haggerty from her apartment in Los Angeles that she shares with her husband and small, fluffy white puppy. (This elbow grease, by the way, led to some
controversial copycat moments by Kylie Jenner
herself, as you might remember.)
But after hundreds of images of
bejeweled
and
sequined
lips, and pouts painted to imitate artwork like
Van Gogh's Starry Night
and
Dali's melting clocks
, Haggerty is showing more and more of herself—not just her face, but her product expertise. The petite platinum blonde was scooped up by Smashbox as their lip editor-in-chief and just this spring launched her
Petal Metal collection
with the iconic L.A. makeup house. We recently visited Haggerty at her apartment in L.A. to see everything that goes into each of her high-impact images, get a look at her camera game, and beg her to share her lip balm secrets.
---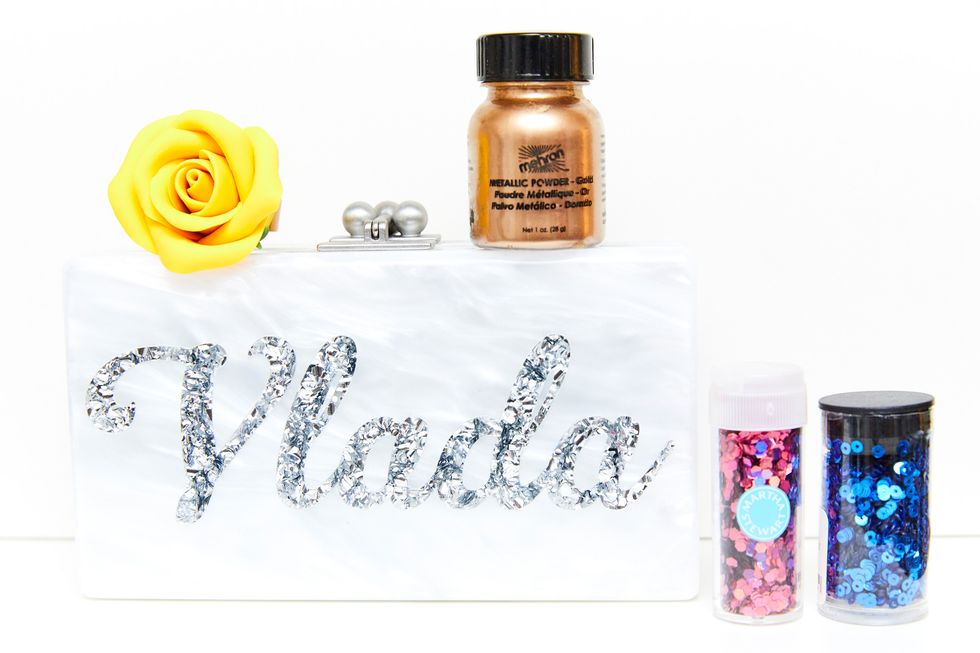 How did this all begin?
"I moved to the States from Ukraine in 2013. My husband is American. We were long-distance for three and a half years, and then I finally moved here. I got a job at Sephora [in Petaluma, CA], but for some reason, I just felt like 'I need to be in L.A. I don't know why. It feels like this is the place.' But a week before my final day at work, I still hadn't heard anything about my transfer to the Sephora in L.A., and it didn't come through. So I ended up in L.A. on December 15th, right before Christmas, with no friends, no job. It was really scary. And I just started doing lip art [on myself]. There's a London-based makeup artist, 
Karla Powell
—she's actually my original inspiration to see lips as an art object—[and] I just started experimenting with her techniques. She had this series where it's just paint on your lips, but it doesn't drip—kind of runs, but it's within the lip. So I was playing with that; I was trying to get that look."
Is that about just getting the right consistency, like putting in powders or waxes?
"Yeah. It's usually a clear lip gloss with either a pigment or another lipstick, or another lip gloss. You just have to do it plenty of times to figure it out, especially with temperature. In L.A., when it's really hot, you have to make it a little thicker. So I was taking pictures, and one of them, it was suspended in the air. I wasn't even trying. I thought, 'Woah! This is so cool!
'
I was just doing this [
holds out camera
]—blind selfies. Then I just noticed that people really liked what I did. I think those drips set me apart. It's just such a precious, split second. Now that I have my screen, and I can see what's going on, I usually take five or six shots and I'm done."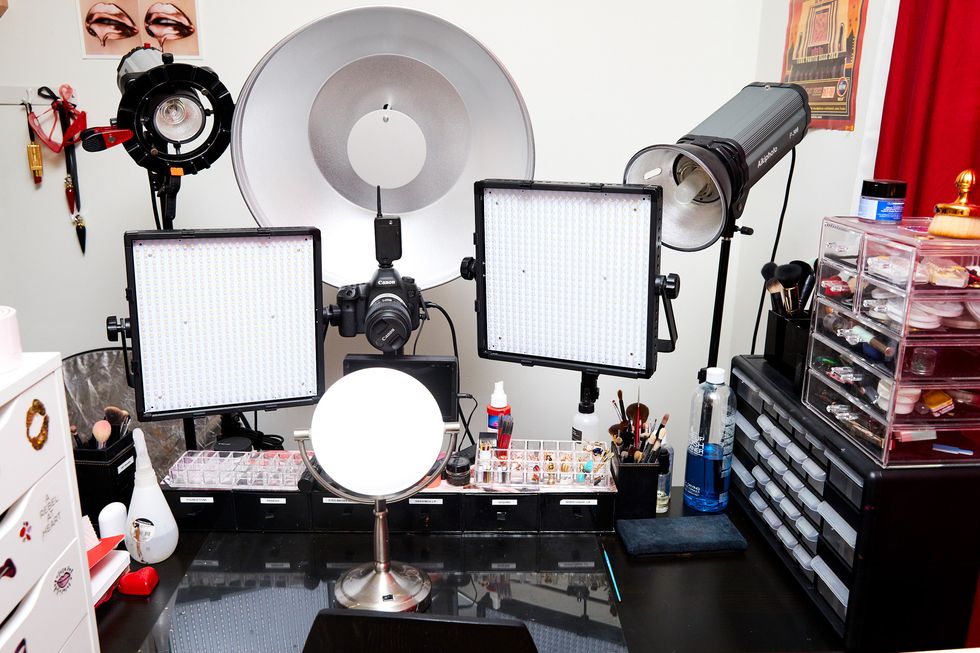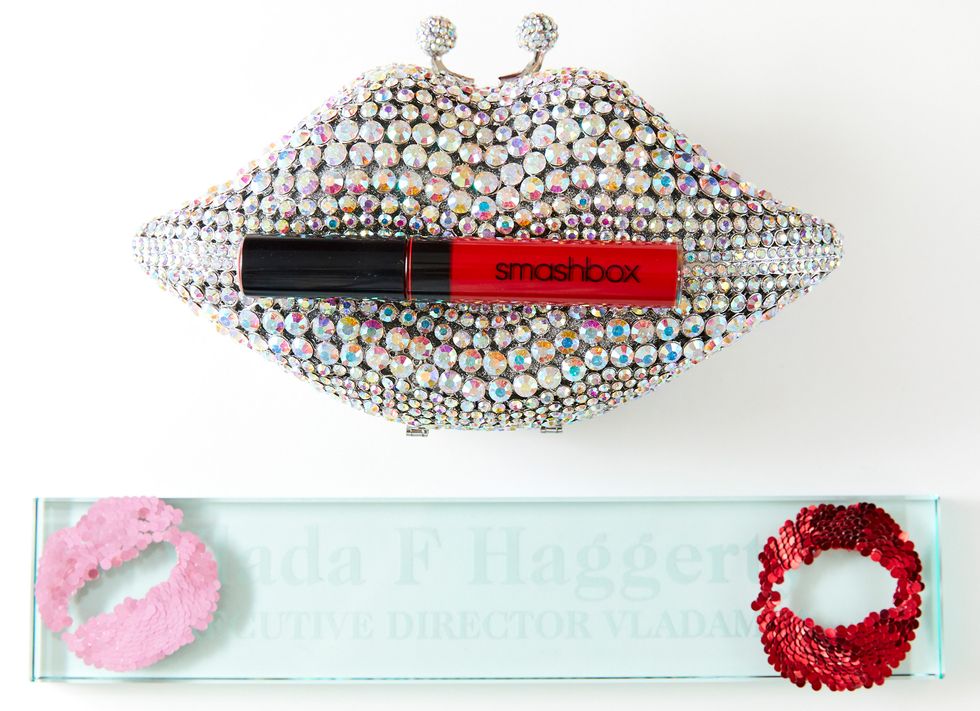 How long does it take to do the lips with stones all over them, or the paintings?
"With rhinestones and sequins, it can be about an hour, an hour and a half. When it's something super detailed—when I'm drawing—that can be three hours or more. I usually don't [have] anything [to] drink at all. I don't want to even risk it. But I just get so in the zone. I usually do it in the morning. I have my coffee, I have some breakfast, and then I just go and I work for three, four hours."
Do you have to prep your lips?
"If I do something that has rhinestones or sequins or glitter, that's going to cover the texture of the lips, I usually don't do anything, because it's better when they're more resilient. But if I have to do swatches of straight lipstick, it's like a 24-hour process to get ready. First of all, you have to get rid of all the peach fuzz, so I have those little brow razors. That was such a life-changing thing—getting rid of those little white hairs. As soon as you get rid of them, it's flawless. I also have two of my favorite overnight lip masks [
Laneige Lip Sleeping Mask
and
Aritaum Ginger Sugar Overnight Lip Mask
]. I just put on a lot, and I go to sleep. It's like a very thick, almost waxy texture. In the morning I wake up and I wipe it off, and then I use a toothbrush to scrub with a little bit of water. You gently rub, rub, rub, and that's it. I just usually apply some lighter lip balm. I love
Tatcha's lip balms
. They're really nice. Everything from Tatcha is amazing, like her
lipsticks
. I have one, and I haven't used it. I think I'm just going to save it. Same thing with
Pat McGrath lipsticks
."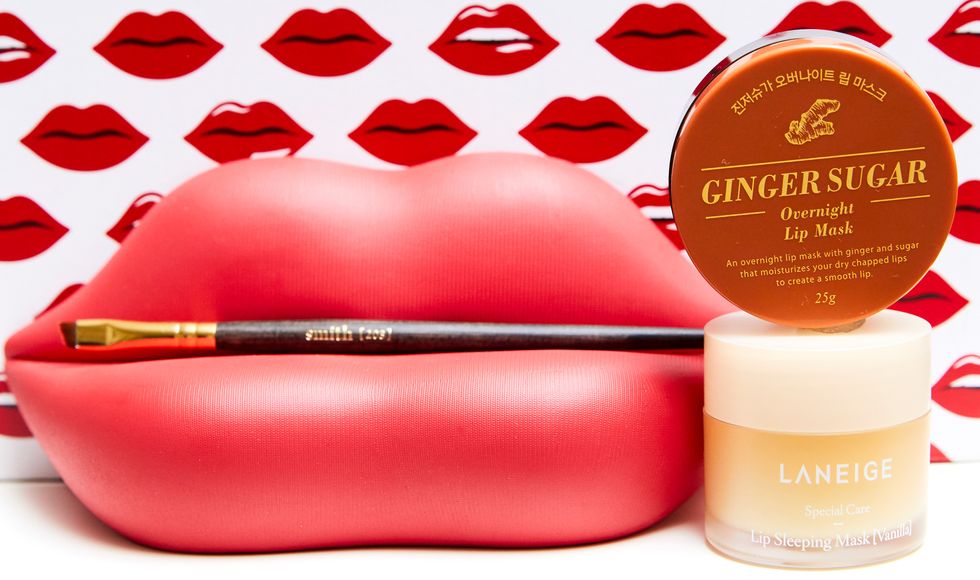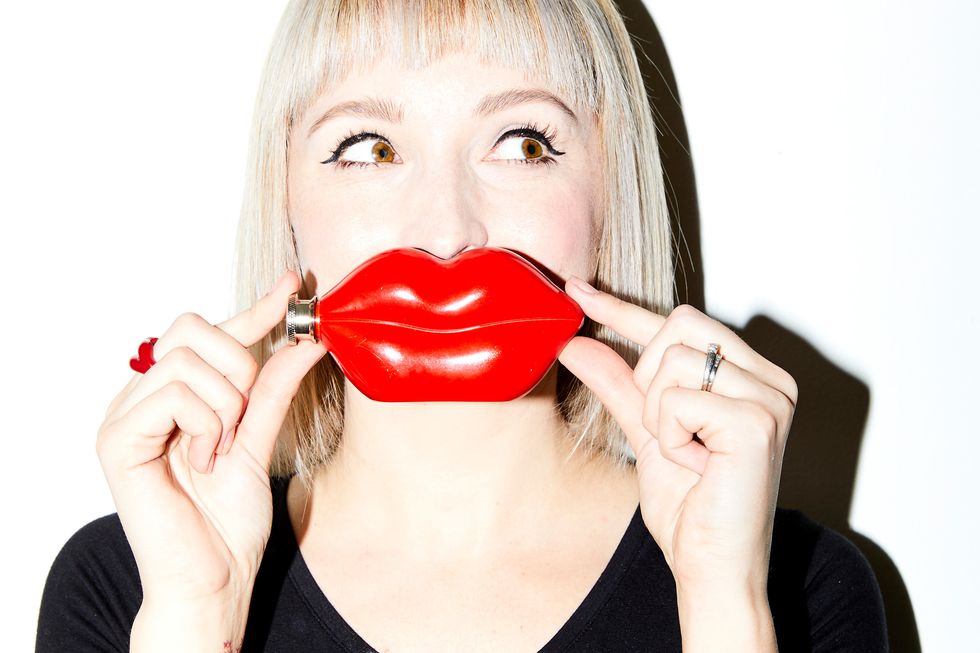 Were there certain points your Instagram really spiked?
"I think the biggest spike was when
Anastasia Beverly Hills
reposted me. That was great, and that's why I fight for proper credit. Because the difference that it makes when done properly and when not done properly... It's huge how many opportunities people miss because nobody said who it was. It's not even hard to do a Google reverse image search. You find a picture online, you don't know who it belongs to, you take it, you drag it to the image search bar, and it just... That's why it's just so mind-boggling that people do that."
Where do you want this all to go next?
"Most people that I know are like, 'Hey, you need to start your own makeup brand.' I'm like, 'How many more makeup brands can we fit in this market?' It honestly just feels like... Ugh, no. Unless I come up with something groundbreaking. Right now, there's no reason for me to do it. Just to have another brand of lipsticks? I'll just wait. I'm not in a rush. I feel like patience is very important. What I really want, because I have such a big body of work already, I want to make a coffee-table book. A big, heavy one. I don't know how most of my followers see the pictures, but I think 99 percent look at them on the phones. It's super tiny. But I get to look at them on the screen, on the computer. I really want it to be super high-quality, and I want it to have at least 150 pages, maybe even 200, and I have to shoot a lot. I want to have maybe half of my works from [my Instagram] page, and then half brand-new, never seen."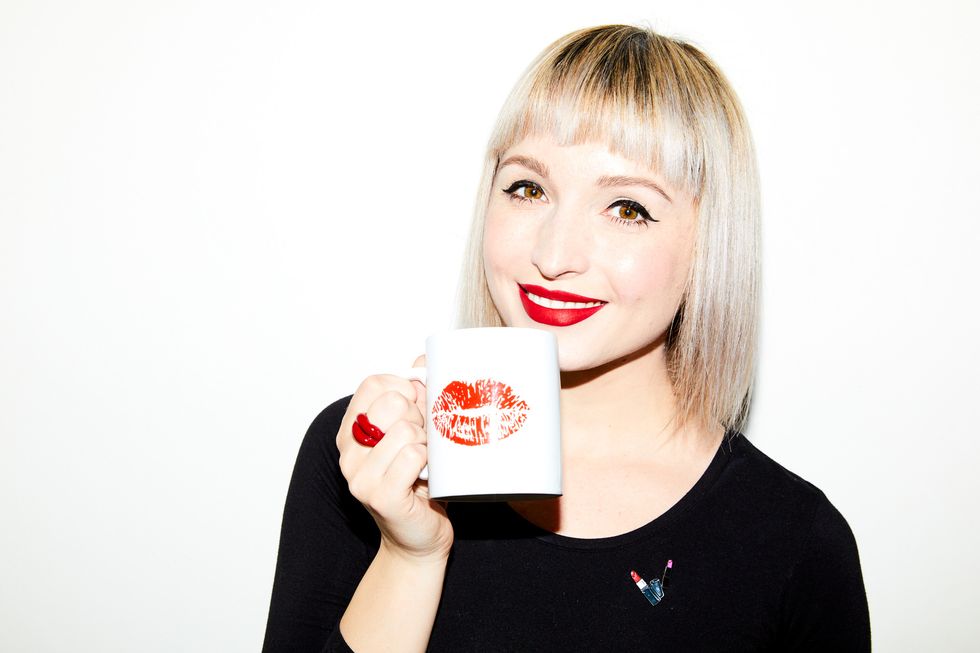 What about the makeup influencer community? What's that world like?
"The people that I interact with are super supportive. But I feel like there's a certain amount of competition, like in every industry. The people who are close to me are very kind and uplifting. There's a stigma behind influencers. Professional makeup artists don't really take them seriously. But I am a professional makeup artist, and I do my own photography, so I'm in this in-between. Photographers don't take me seriously; makeup artists don't take me seriously. And I'm tiny, and I look 12. So it's a struggle [
laughs
]. I'm like, 'Take me seriously!'"
Who are some of the people that you look up to in the industry?
"
Pat [McGrath]
, I would say. Pat for sure. Her stories are incredible. The first time I met her, she was in L.A. because she launched her makeup line. She had that little Instagram hashtag contest of the 'Show me your gold' looks, and I had like, 20 or something. I tagged her in every single picture, like, 'Pat, check me out!' and a week later, her assistant emailed me. He said, 'Hey, Pat really liked your work. We would like to discuss a possible partnership.' I was doing a shoot; I started jumping and screaming like, 'Oh my god!' The first time I met her, I remember I knocked on her door, and that split second before the door opened, I was like, 'It's about to happen! Is this real life?' Pat was the first one to find me. It wasn't even about the work opportunity, it was just being recognized by Pat McGrath. I would never even dream about it. Especially [since] I grew up in Ukraine."
Want more stories like this?
Mario Dedivanovic's Makeup Closet Is Like Sephora
Inside the Kit of Tom Ford Makeup Artist Isamaya Ffrench
14 Beauty Products We're All Talking about at Coveteur HQ