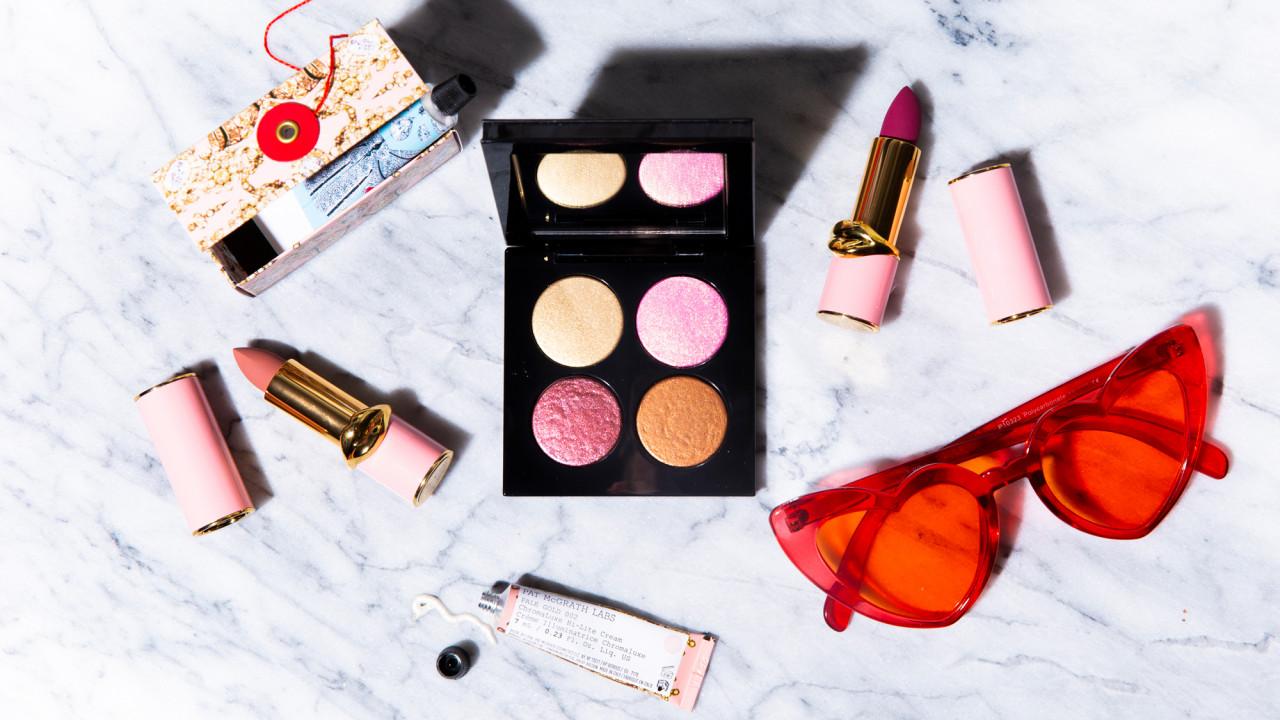 Brace Yourself for Pat McGrath's Holiday Collection
Stock up before it's gone.
We're honestly never thrilled when the temperature starts to drop, but in the world of beauty, it signals the arrival of one thing: holiday collections. And who else would know how to blow the proverbial lid off your seasonal makeup game better than Pat McGrath? No one, that's who. Mother has blessed us yet again with her new Limited Edition Obsessive Opulence Collection for face, eyes, and lips. Think rich colors, heaps of sparkle, and absolutely no shortage of drama.
As McGrath explained via brand statement, "Holiday is the most glamorous time of the year, and my obsession knows no bounds. Each piece is designed to embellish and adorn with unparalleled ornamentation."
If you're a fan of her cult-favorite Mothership eyeshadows, then get ready to scoop up one of her three new eye quads. Nocturnal Nirvana contains an array of jewel colors, including a jaw-dropping turquoise (this was also the palette McGrath used to create *those* gilded eyebrows at Valentino this season); Ritualistic Rose brings plenty of gold and rose tones for a gorgeous flushed look; and Iconic Illumination keeps things metallic and earthy with a peachy bronze and drool-worthy bordeaux. The formulations combine powder, cream, and fluid textures, which means each shade is easily applied with either your finger or a brush and can last from day to night without issue.
And because this is Pat McGrath we're talking about, there's also a new highlighter: the Chromaluxe Hi-Lite Cream. The formula comes in an *adorable* mini tube in either Astral Blue Star—a pearlescent blue—or Pale Gold 002—a metallic gold—and while both look absolutely stunning on your cheekbones or below the brows, Mother also recommends layering it over one of her Matte Trance lipsticks for some "diamond-sparkle" lips. Conveniently, the brand is releasing a select few lip shades in limited-edition packaging just in time for the holidays (the Iconic Illumination set with Fever Dream and Vendetta is our must-have).
Fans of McGrath's otherworldly fashion-week looks can snag one of her two Eye Ecstasy curated palettes, which contain five of her most beloved shadow shades. And if you need a subtle look for Halloween but still want a hint of drama, the Lip Fetish Balm will be available in an opaque ebony or iridescent blue on 10/31. Don't forget to snag a piece of merch while you're at it—there will be hoodies, pins, mugs, and more available later this month. Because sometimes it's not enough just to have a full face beat—instead you need to rep Mother from head to toe. Don't worry; we'll be doing the same.
Pat McGrath's Obsessive Opulence Collection will be dropping throughout October starting on 10/10 and is available on PatMcGrath.com.
Want more stories like this?
The 32 Best Beauty Products That Launched in September
6 Beauty Products I Always Keep at My Desk
7 Longwear Eyeliners We Love for Fall