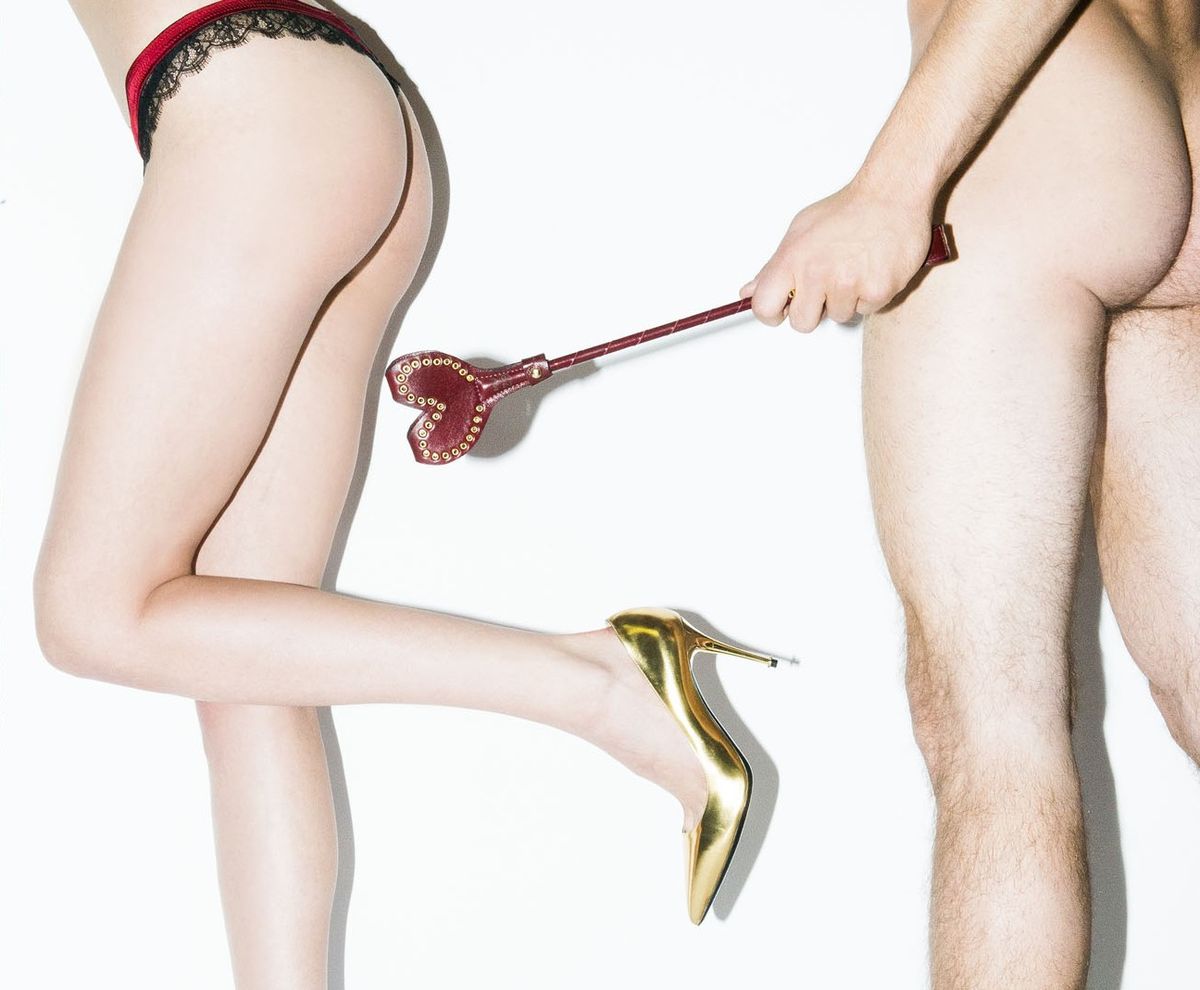 Underwear, Kiki de Montparnasse; Shoes, Tom Ford; Crop, Zana Bayne x Marc Jacobs
Love And Sex
As Lindsay (of Tinder in Brooklyn) discovers, 50 Shades of Grey doesn't exactly get the full picture.
A few weeks ago, The Coveteur team asked me to educate on BDSM. While I was thrilled to discover that I was giving off an air of expertise in sexual domination, I knew I wasn't cut out for the task. Frankly, I don't know all that much about BDSM. But l do know a professional dominatrix. Her name is Queen Aston and she runs QueenAston.com.
---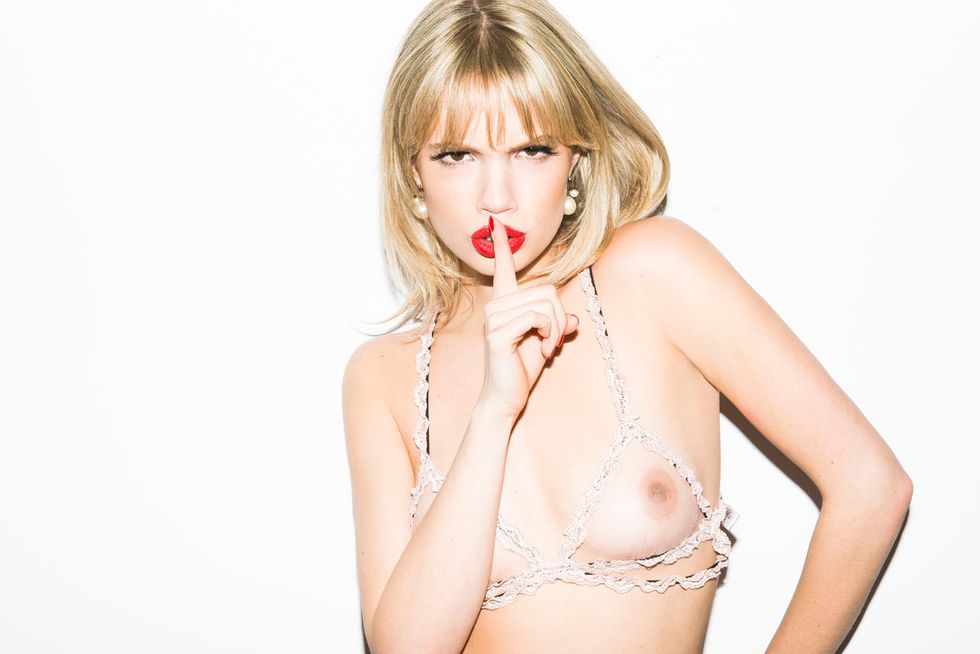 The Queen and I met because we both like the same shitty bar in Williamsburg. We both also love red lipstick, but that's where the similarities end. Queen Aston describes herself as a "deviant sensual sadist who inflicts pain for money." I, on the other hand, am a Canadian. While I'm not sure exactly what I'm contributing to the friendship here, I'm grateful that she allows me to stick around, and that from time to time, she even entertains my questions. And as the premiere of Fifty Shades of Grey approached, I had a few more than usual, so I sat down with her on Sunday to get her thoughts on exactly what it takes to dominate.
On the world of BDSM:
"BDSM stands for Bondage, Discipline and Sado Masochism. I'm a dominatrix and a humiliatrix, so I explore all of these areas. There are lots of individual fetishes that fall into the BDSM category that a lot of people outside the Dom-world aren't necessarily aware of. For example, a lot of the discipline isn't physical; I do a lot of humiliatrix work and financial domination, which are less about physical restraints. I also do blackmail fantasy, which is consensual blackmail—that's actually one of the areas I specialize in.
I also do real time stuff: tease and denial is basically binding, not letting them come and orgasm ruination. I also do tie and tease, which allows for completion… That's what we call 'coming' in the BDSM world.
With the in-person stuff, I'll sometimes go to sex dungeons, but I have to watch out depending on what state I'm in. There are very clear laws about what can go on in sex dungeons. In New York, you can't insert something in someone's ass at a sex dungeon, but you can manoeuvre it once it's in there. Nevada is less restrictive."
On taboo:
"If people weren't afraid of BDSM I'd be out of business! The reason my website does so well is frankly because people are afraid to talk about their kinks and fetishes with their partners. I'm a stranger, so I'm unbiased. People are so judgmental, but let me tell you: most alpha men want to be dominated. I have not met a single person that does not have a kink, a fetish or a fantasy of some sort."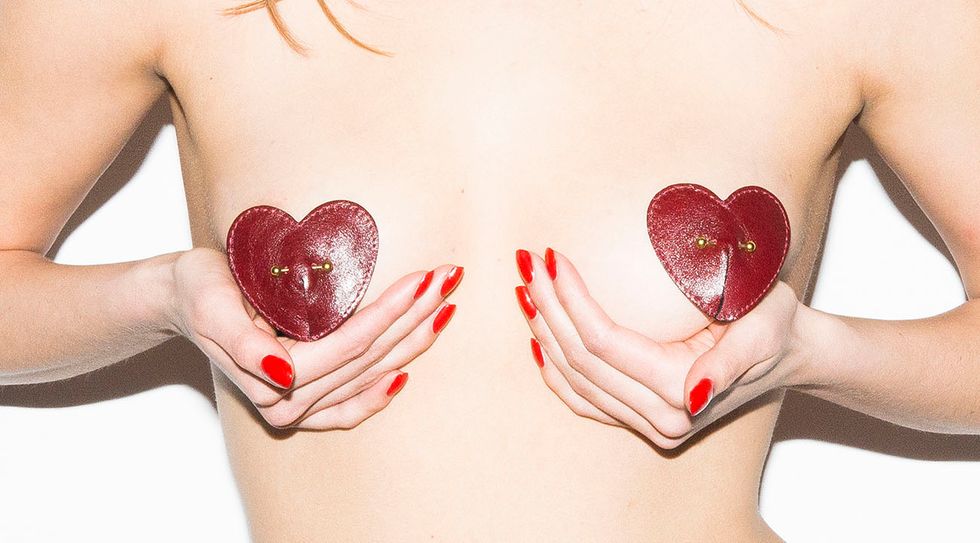 On Fifty Shades of Grey:
"Well… I'm glad it's out there because it's allowed BDSM to become more mainstream. I've been doing it since 1998 and it used to be so ensconced in taboo—now people are talking about it. I think Fifty Shades is like the Pitbull of BDSM. Pitbull took Reggaeton mainstream but he also watered it down. It's the same with this book.
The biggest problem I see is that Christian Grey is the Dom in the book. It's always a female sub in these books, but in real life, women are usually the Doms! I am a female supremacist, so he [Christian Grey] does not work for me. Also, I don't get why he lavishes his sub with gifts. I'm a dom and I would NEVER buy my sub a present. They worship me. That's the point."
Presentation is everything:
"Fetish had nothing to do with nudity, so the giftwrap is critical. It's not about nudity. BDSM is about sex and power and doing what other women are afraid to do. We're taught to be so nice and polite, and BDSM is just the opposite of that. So I dress the part. I stick to the classics, bright pink and bright red lipstick—Marilyn Monroe, Bettie Paige, Madonna. Corsets, leather pants and a leather whip. My favourite corsets are by a British brand called Steampunk. For lingerie, I like Simone Perele."
On the definition of 'good pain':
"Seriously? It's not that difficult to figure out. The cock tells all. If it's jumping you're doing something right. If not…"
On building the pain and making him scream:
"Have you ever thrown a lobster into boiling water? Let me tell you what they do: they scream. But if you build the heat up slowly, they don't make a sound. So consider your man your lobster. Throw him in warm and increase the pain level slowly until you boil him alive."
And there you have it, my friends. Have fun tonight.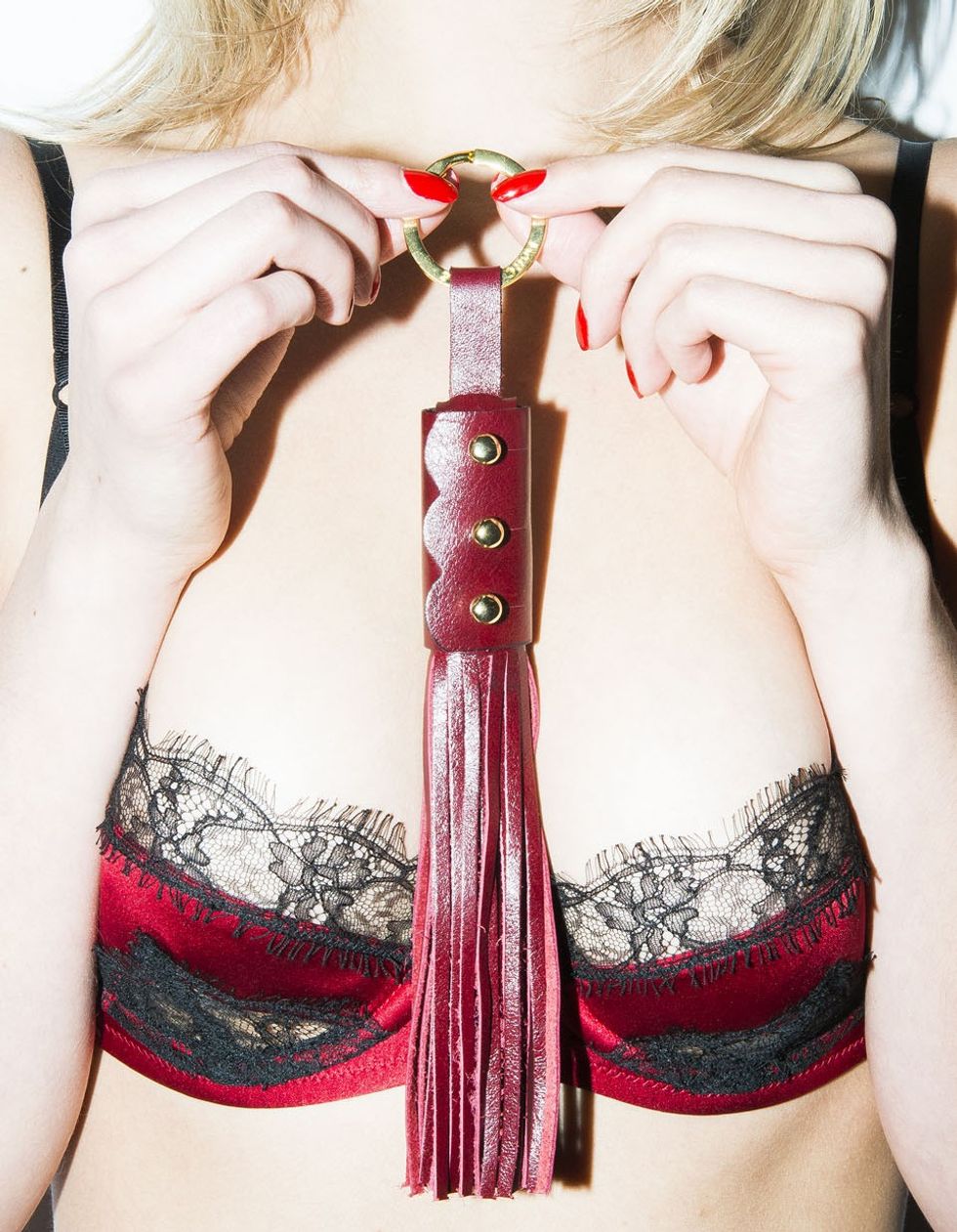 1. Riding Crop
"Real leather, of course."
2. Cat O'Nine Tails
"I have the most beautiful one that has leather rose petals on the end, instead of balls, which are standard. It's custom made."
3. Snake Whip, 30 inches long
"I'm not a fan of bull whips, which are whips that are over 30 inches long."
4. Rope
"Rope is more personal than handcuffs. I like to use a Shibari, which is Japanese sex rope, basically."
5. Bondage Tape
"Unlike duct tape, bondage tape is designed for body parts so it won't rip the skin and it won't leave marks."
6. Condoms
"My favourite condoms are Crown and Kimono. Durex and Lifestyles are also good."
7. Lube
"Pjur silicone-based lube is the best. You need to buy silicone; water-based will ruin your sex toys."