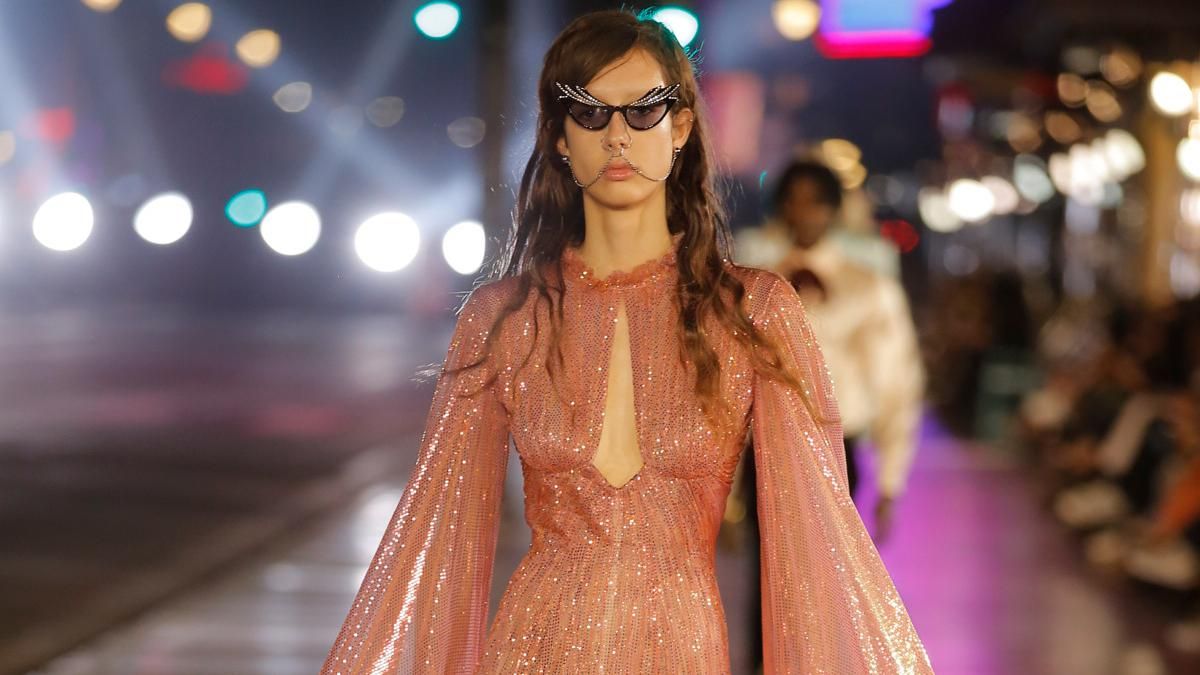 Fashion Week
Gucci Takes the Concept of a Fashion Show to a Whole New Level
Here's what you missed at the Gucci Love Parade show last night in L.A.
The esteemed Italian fashion house of Gucci doesn't simply put on a fashion show. They create an entire world, a spectacle ripe for escapism for day-to-day reality. For his recent Love Parade collection, designer Alessandro Michele played tribute to classic Hollywood, citing the fairytale allure of Marilyn Monroe's "diaphanous voice" and Rita Hayworth's black satin gloves as inspiration. So naturally, he blocked off Hollywood Boulevard to allow us as viewers to fall down the rabbit hole. With a backdrop of neon signs and the iconic Chinese Theater, models strutted in front a star-studded guest list perched (fittingly enough) upon directors' chairs as the sounds of Björk ricocheted above. If you count yourself as one of the mere mortals not lucky enough to snag an invite, continue to discover everything you missed at last night's otherworldly show.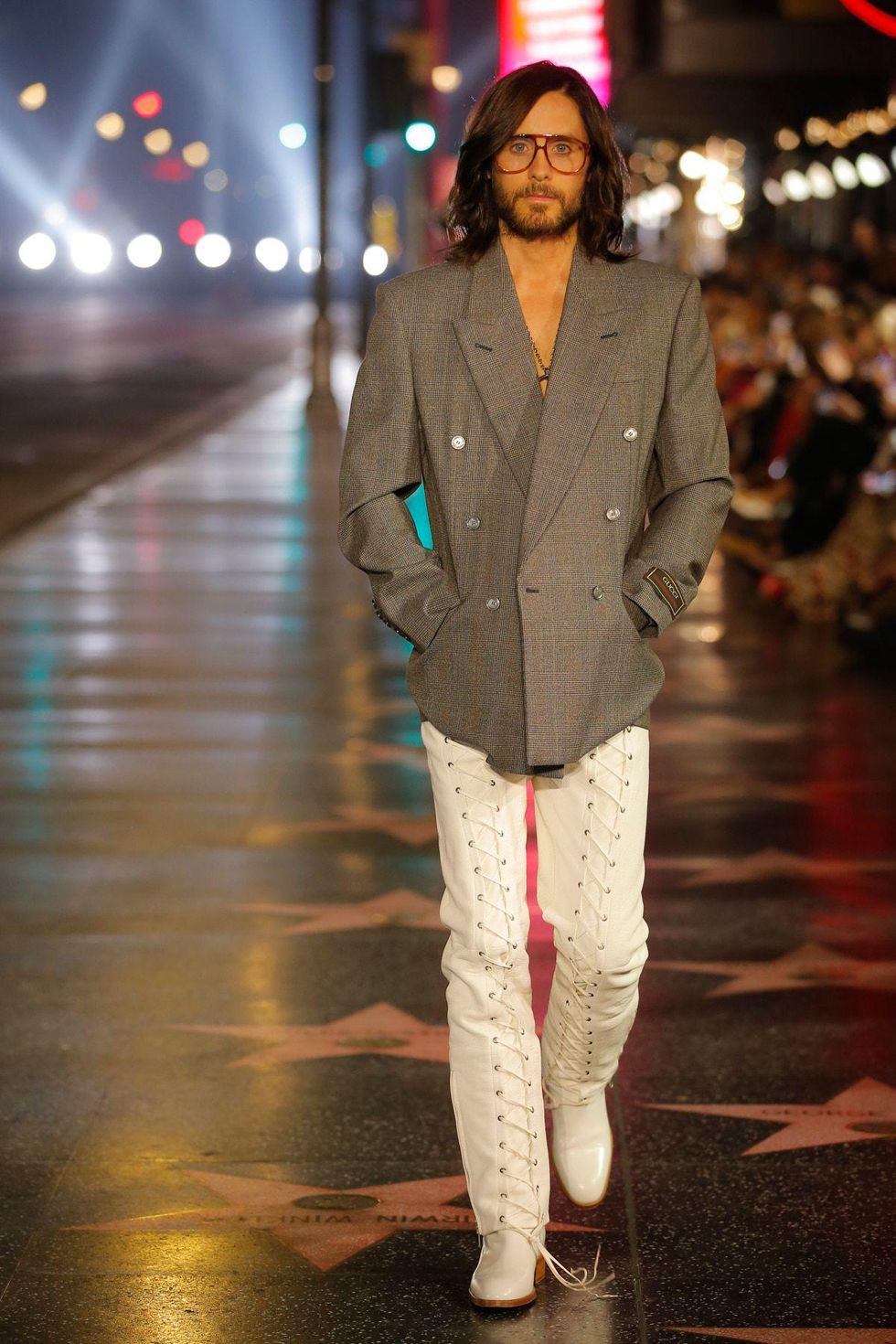 We'd like to thank Gucci for helping us to realize our dreams of seeing Jared Leto walk in a runway show. Aside from the House of Gucci star's catwalk debut, we were also surprised to see the faces of Jeremy Pope, Steve Lacy, Grace Johnson, Jodie Turner-Smith, St.Vincent, Miranda July, Phoebe Bridgers, Janaya Khan, Kodi Smit-McPhee, Macaulay Culkin, and Hayden Pedigo interspersed throughout the brand's normal model procession.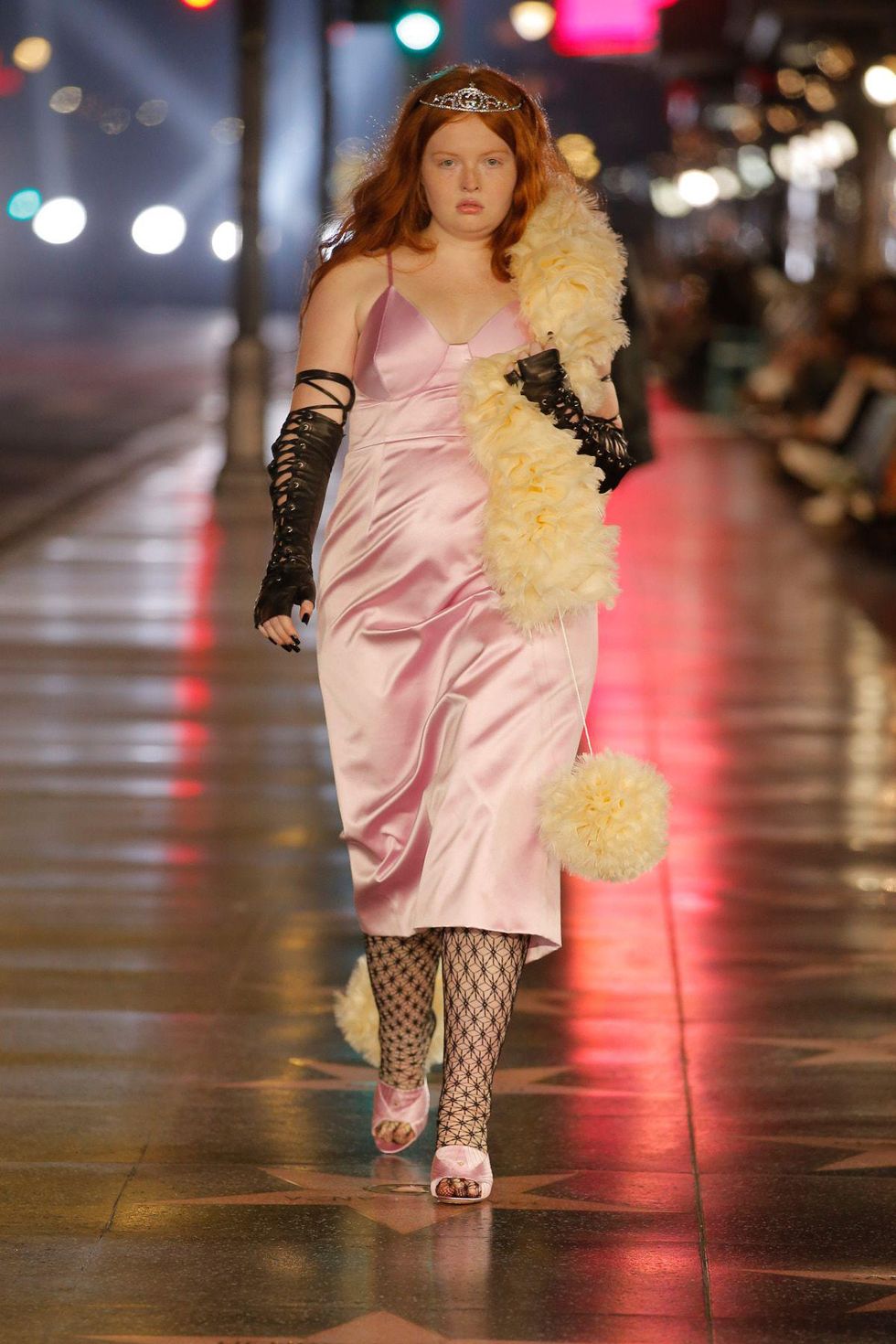 Leave it to Gucci to shut down Hollywood Boulevard for their fashion show. As neon signage flashed and spotlights danced about the sky, models clad in Hollywood-inspired garb traipsed across the iconic walk of fame. Side note: we wonder if Leto noticed when he walked across his own star?
Though Gucci always layers in a cacophony of aesthetic references, Michele added a western tinge this season. A sartorial ode to the cowboy, there were cowboy hats, suede fringe, prairie dresses, and leather boots. Who knew an outfit composed of a cowboy hat, a feather boa, metallic fringe, fishnets, and platforms could look so good? We're not sure, but we'll definitely be adding a few aforementioned items to our accessory lineup come spring.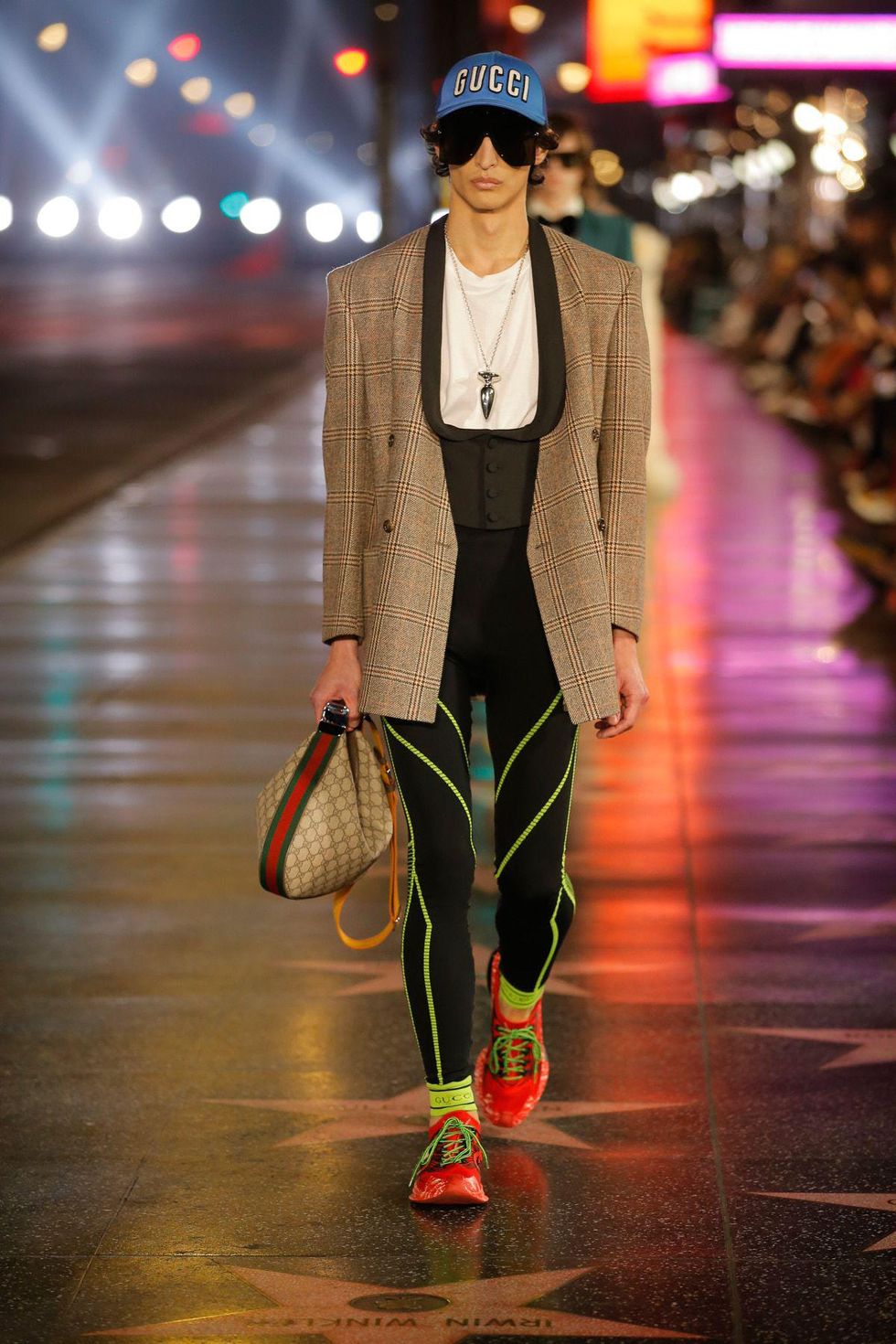 In a tribute to L.A. style circa 2021, Michele embraced the city's athleisure vibe, layering in leggings, bike shorts, joggers, and more. He juxtaposed his masterful western-meets-hollywood-meets-dominatrix ready-to-wear with, well, regular sneakers. In case the clothes are too much for you, the sneakers could seemingly take up residence in just about any wardrobe.
Again, it's no surprise that Gucci garnered a stellar turnout, especially since many were quite literally in the neighborhood this time around. While the runway had its own legion of stars, the attendees included Billie Eilish, Angelica Huston, Diane Keaton, Gabrielle Union Wade, Tracee Ellis Ross, Selma Hayek, Lizzo, Lena Dunham, Jeremy O'Harris, Miley Cyrus, Olivia Wilde, Awkwafina, Dakota Johnson, and more. While they all dressed to impress, Gwyneth Paltrow actually showed up in a modern rendition of her iconic red velvet suit that she wore in 1996—a product of Tom Ford's tenure at Gucci.