Nutrition
The Blind Barber boys rustle up five truly tasty pairings.
Renée Rodenkirchen
---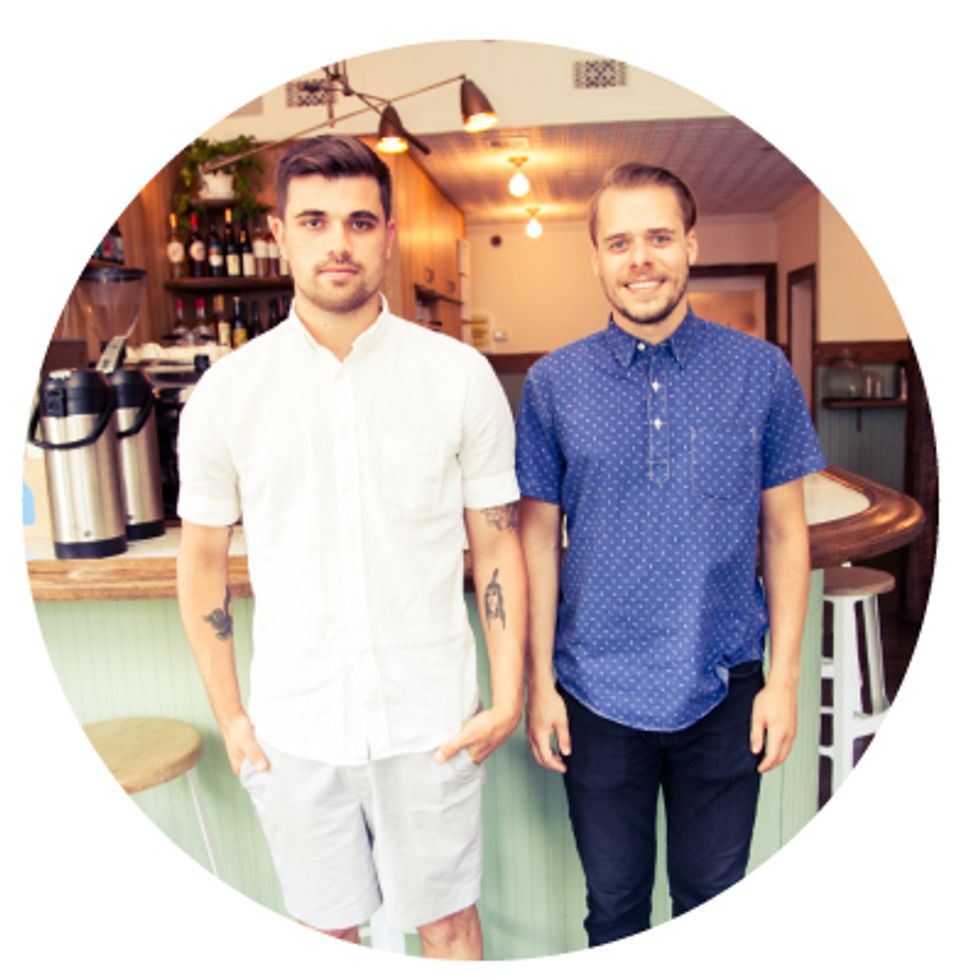 We've admitted previously that we're not total pros in the area of culinary arts, but we do have a couple go-to recipes honed back in our college days, which, well, we're pretty proud of. They're the kind of dishes we depend on for last minute meals and late night cravings (read: post bar food, which, these days, is more like post daily fashion week nourishment). But most importantly, they satisfy both hunger and tastebuds. And it's the simple grilled cheese—bread, butter, slices of cheddar—that just might just be our favorite.
Granted, though, there can never be too much of a good thing (and by good thing we mean melted cheese and pan-fried bread). And since we're perfectionists in other areas (beauty routines, closet curation, fitness, uh, inspiration), we figured it was high time we get the art of making the perfect grilled cheese down. Thankfully, our (very handsome, incredibly generous, gastronomically inclined) friends over at the Blind Barber think of the grilled cheese as their specialty and cofounder Jeff Laub shared five distinct, yet equally delicious recipes, adding bacon here (remember: there can never be too much of a good thing) and dates and walnuts there. And because they really know the way to our hearts (and yours), when we showed up at their Culver City, Los Angeles shop, they'd paired each of their delectable dishes with the ideal libation with which to consume it. Think a pepperoni, jalapeños and garlic-enhanced sandwich (with mozzarella and Parmesan, bien sûr), chased with a pineapple and cilantro infused Milagro Reposado Tequila cocktail: a pairing that works equally well at dinnertime or as a wholly fulfilling meal after your fifth fashion week after after-party. We know which one we're trying tonight—do you?
5 Simple steps to the Perfect Grilled Cheese
1. Using a non-stick pan, preheat pan over low to medium/low heat. This ensures a more accurate cooking time.
2. Apply margarine, not butter, to both sides of the bread and assemble the cheese in meltable pieces (shredded or small squares depending on the cheese)
3. Add additional ingredients if desired. It's great to have hot items like bacon or sautéed mushrooms in the middle, which helps with the melting process.
4. Flip the sandwich every 30-45 seconds or so, checking on the bread's crispiness on each side to ensure that it doesn't burn and that all of the cheese melts. Total cook time should be no more than 6-8 minutes. Pro tip: let it sit for 30 seconds to a minute to ensure that all the cheese melts without cooking the bread. Then cut it in half for the perfect grilled cheese.
Ingredients
Applewood smoked bacon
Two different kinds of cheddar
Cherry tomatoes
DRINK
"One of Blind Barber's signature cocktails, this has a nice pour of Jack Daniels along with a hint of heat, from our house-infused Cointreau, which complements both of these staples."
FOOD
"This was the first grilled cheese I remember eating. My mom brought it home for me when I was in kindergarten from her first job as a chef. The next year, she opened her restaurant and went on to own it for 25 years! It was when I had that grilled cheese that I first recognized her talents as a chef."
Ingredients
Roasted broccoli
Cheddar
Smoked Gouda
Bacon
Garlic
Drink
"The Olsen twins' favorite, 'Broccoli and Chocolate' keeps the grilled cheese's flavors rustic and smokey, while this 94-proof Old Fashioned stays savory and semi-sweet, with one large brown sugar cube and black cherry."
Food
"The only way you could get me to eat a vegetable before I was 9 was it had to be doused in cream or cheese. I used to eat lots of roasted broccoli covered in cheddar. Then I thought this would make a great grilled cheese. Especially when you add the smokiness of the Gouda and the bacon."
Ingredients
Brie
Parmesan
Sea salt
Honey
Walnuts
Drink
"One of Blind Barber West's favorite beers; this IPA holds true to its caramel malt and has a good dose of floral and citrus hop notes. Much like the #2, these complementary flavors balance each other out... both shocking the drinker along the way."
Food
"One of my favorite things to eat is something that is [both] salty and sweet. I also wanted to make something with dates because I love medjool dates from the Coachella Valley, and felt that our customers wanted a French style sandwich while incorporating [those] salty-sweet elements. It melts perfectly."
Ingredients
Sauteed Shiitake mushrooms
Crimini mushrooms
Garlic
Thyme
Truffle
Parmesan
Taleggio Cheese
Drink
"The hints of mint, cucumber and sake pair well with this intense mushroom treat. Mellowing out the palate with the dry sake allows all three types of mushroom to really come through."
Food
"This grilled cheese is dedicated to my dad. He is a vegetarian because of health reasons, but thinks eating fried stuff or very rich cheeses is perfectly fine. So, this would be something he would order and we [would] make it in the event he comes in. Lots of people liked it, so it stayed [on the menu]."
Ingredients
Pepperoni
Sauteed jalapenos & garlic
Whole oregano
Mozzarella
Parmesan
Fresh tomato sauce
Drink
"Just like a pizza slice, you can't just have one. The Roswell incorporates Milagro Reposado Tequila, pineapple and cilantro. The pineapple keeps this tequila-based cocktail refreshing while the cilantro and jalapeño round out the earthy aromatics."
Food
"I have been to Coachella every year of my adult life. At the end of the night, the one thing I always crave is the pizza from Spicy Pie. They have no brick and mortar locations, just food trucks, so outside of major music festivals, you can't get Spicy Pie. This is the Spicy Pie recipe for their signature pizza in grilled cheese form. Now everyone can enjoy Spicy Pie year round... kinda."