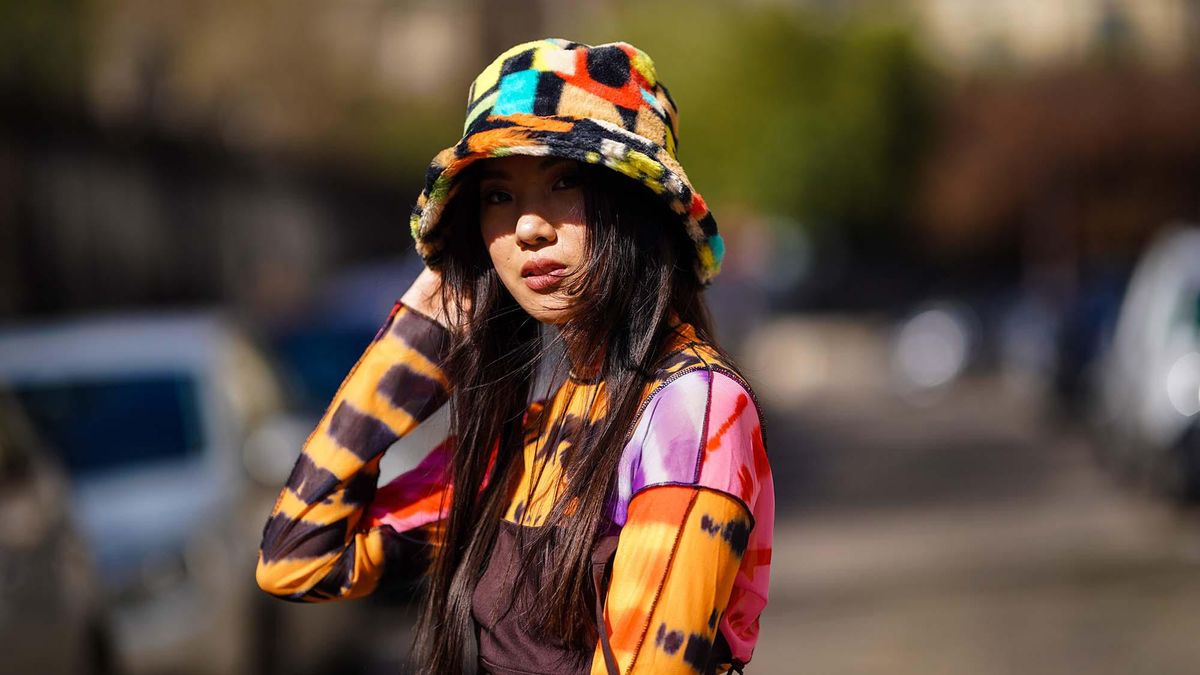 Trends
Winter's Most Eccentric Accessory Is Also the Coziest
A sartorial state of affairs on fuzzy bucket hats.
As far as headwear goes, the bucket hat has proven to be just as perennial as a classic baseball cap. Whether crocheted, leather, paneled, or quilted, it's a staple that's hard to hate on. But the hat's most divisive interpretation, the fuzzy bucket hat, is omnipresent this winter. Is it Muppet-esque? Yes. Is it inextricably tied to Jamiroquai? Always! Did my grandmother keep one on hand for chilly walks to the pharmacy? She absolutely did. But despite all of that, there's also something charming and chic about them. They're flamboyant and playful but also wildly cozy, almost like an animal-print rug or a pair of tie-dye Crocs. It's millinery for those who dare.
When Tom Ford featured slanted faux-fur fedoras in his 2019 fall ready-to-wear collection, many were divided. Ford's fuzzy, wide-brimmed hats prompted writer Edith Zimmerman to respond with a poem for The Cut: "It's not a sleeping hat, but I like the way it feels. Okay. Does it look weird? I mean, I don't care, I love it!" Our thoughts exactly.
Model Adwoa Aboah was also an early adopter when she covered Elle UK's September 2020 issue in an extravagant fuschia top hat. And later that year, Lil Uzi Vert accessorized with a textured Marni bucket in his 2020 video for "Over Your Head."
But it was Rihanna who pioneered the off-runway resurgence (as she tends to do) pre-pandemic when she paired a pistachio
Emma Brewin
hat with a Metallica tee. Then, last summer, she stepped out several times in a rainbow assortment of Brewin's hats, cementing it as the accessory du jour. The adage "it's ugly until Rihanna says otherwise" has never been more applicable.
Now, Rosie Huntington-Whiteley, Bella Hadid, and Emily Ratajkowski count themselves as devotées, making it yet another style risk that Rihanna convinced us was worthwhile and another '90s trend reigning in the roaring '20s.
The widespread adoption of the fuzzy bucket hat is exciting but also intimidating. How does one incorporate it into their everyday outfits if over-the-top isn't their go-to? Unlike other statement accessories that require a degree of restraint from other elements, some of the most masterfully styled fuzzy bucket hat moments were maximalist and loud all over. It's an accessory that can stand its ground among equally eccentric pieces but also works as the main character.
Shop the Story
Telfar
Stand Studio
Sumiko Wilson
Stolen Girlfriends Club
MCQ
Emma Brewin
Apparis