4 New Dads Share How Fatherhood Has Changed Their Lives
How love and joy triumph over sleepless nights.
Living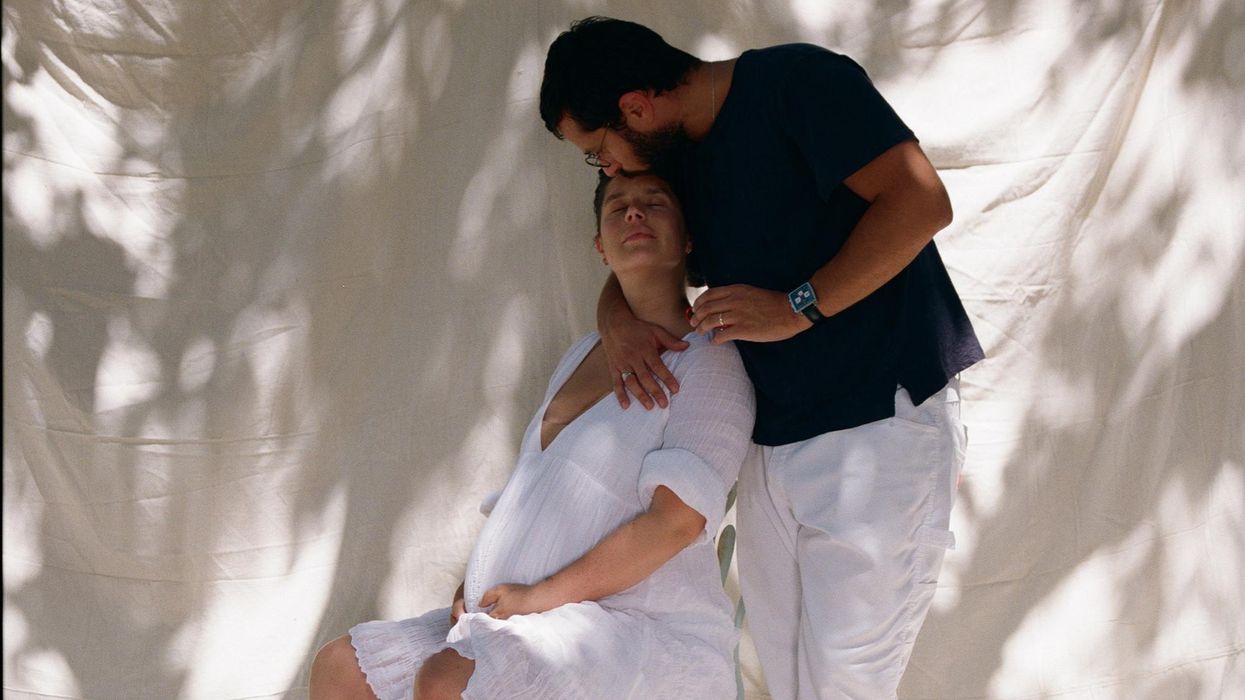 Though a Hallmark holiday, the sentiments surrounding Father's Day are worth celebrating. The third Sunday of June is a time to celebrate the fathers or father figures in our lives, but it's also a moment to reflect on what it means (both in terms of privilege and responsibility) to be a father. Excitement, fear, joy, love—this flurry of emotions just cracks the surface of what's entailed in the transition to fatherhood. And it's one of those exclusive situations where you simply can't know until you know. In lieu of our typical gifting-centered coverage, we decided to ask four new fathers to put words to this fundamental shift in their lives. Amidst all the sleep deprivation and parental learning curves, they all seem fully immersed in a world of love and joy—and wouldn't have it any other way.
Steven Dubb
Principal at The Beechwood Organization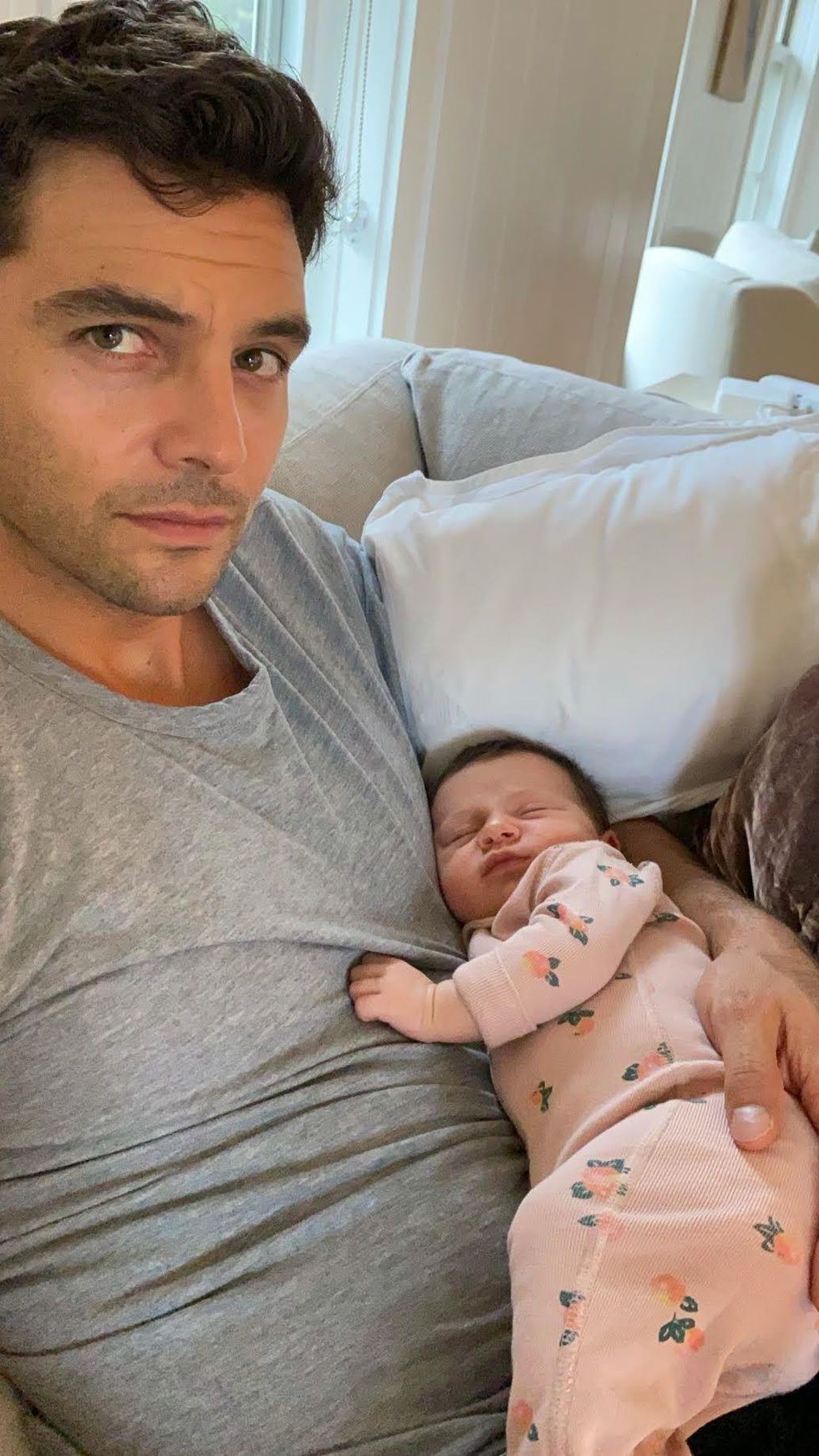 Photo: Courtesy of Steven Dubb
Can you describe what it has felt like to transition into fatherhood?
"The first week was a real shock to the system—not much sleep, diaper changes, crying, spitting up—but adrenaline gets you through it, and you don't have much time to think about it anyway. I can't remember many specifics from the first few weeks other than feeling both afraid and consumed with love for this little girl like I've never felt before. Celine's a little over a month old now, and we've figured out how to get some more sleep, and I've gotten much better at diaper changes. She's started smiling at us, which is the best feeling in the world. Her smiles make my day. We are far from being in a routine—every time we think she's settling into one, she gives us a new surprise—but I think we're getting better at dealing with the surprises and taking things in stride. It's really fun to be a dad. I love doing things with her, even if right now it's just talking to her or taking her for a walk. And it's also been really fun to go through all this together with my wife, Selby. Sharing this experience with her—the worrying, the exhaustion, the getting pooped on, and the laughing—has been incredible."
When was the moment things got real for you?
"Sometimes I still can't believe this is real. I still can't wrap my head around the idea that we have a little human in our house now and she's ours, and we get to watch her grow up. Part of me is afraid I'm going to wake up and this will have all been a dream. But I guess when she was first born and they handed her to me, and I was holding her against my chest—that was a real 'holy shit' moment. After 10 months of talking about her, planning, buying, assembling, sonogramming, feeling kicks through Selby's belly, worrying that something could go wrong, she was finally here in the flesh, not just a topic of conversation anymore. And I remember feeling a lot of things in that moment. Chief among them being 'Fuck, I don't have the slightest clue how to take care of a baby. How is it legal that you're allowed to have this?'"
How has fatherhood shifted your approach to day-to-day life?
"There are definitely a lot of sacrifices that you make as a parent, both big and little. I used to be able to tell Selby I was going to have dinner with a friend at a moment's notice. Now dinner with a friend is a logistical hurdle to be mapped out, like we're doing seating for a wedding. It's a big lifestyle change, but the good news is I couldn't care less. I wouldn't trade this for anything in the world. I spent my 20s and early 30s living for myself (and a bit for Selby), and in the last few years, I started to feel like there wasn't much purpose to it. I think I was ready for this next stage of life where it is no longer just about me. I think having a kid gives you renewed purpose in daily life. Now, the best part of my day is getting home from work and picking up my baby. I think less about me and more about Celine. I think that's healthy."
Any essentials you swear by these days?
"Yep. Isla face toner to soften the effects of sleep deprivation on my skin, and my wife Selby. Both are postpartum essentials. Get them if you can."
Nam Nguyen
Chief of Staff at Giphy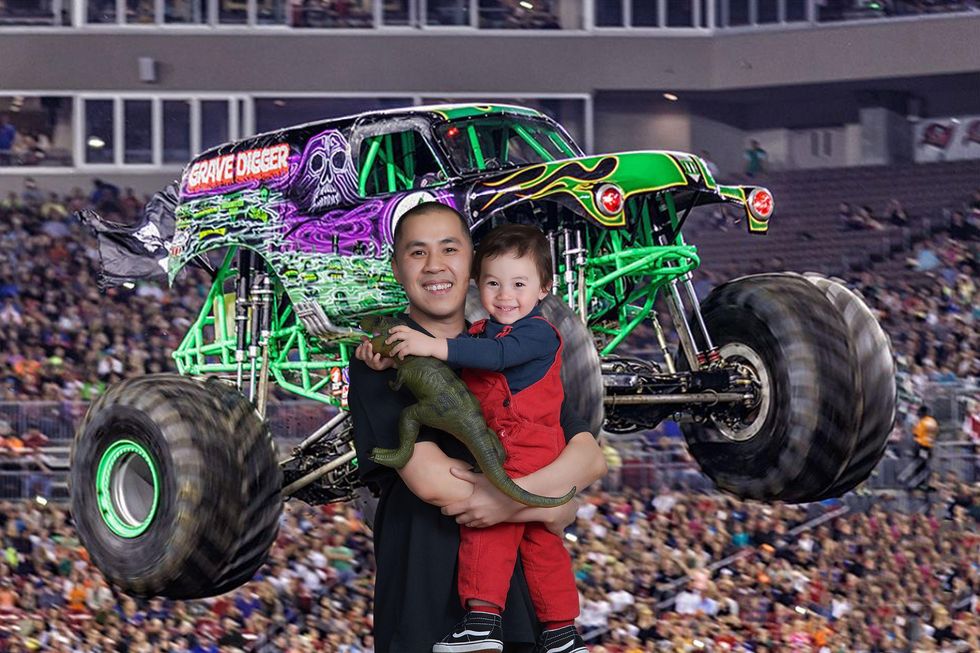 Photo: Courtesy of Nam Nguyen
Can you describe what it has felt like to transition into fatherhood?
"Everything I do needs to have a purpose in building a better and more sensational life for my family. I think long-term about my actions today and how they will impact Nico's future. A lot of fun eBay shopping. A constant desire to create a supportive, positive, and happy environment around Nico. A new respect for my parents, who immigrated here with nothing to give me a better life."
When was the moment things got real for you?
"San Francisco, October 2020. Nico took a wooden toy car and clocked me in the back of the head with it. Sofie lol'd. I cried a little. I also cried a little while taking him on this ride at Fantasy Forest in Queens. It was too much inner and existential joy."
Video: Courtesy of Nam Nguyen
How has fatherhood shifted your approach to day-to-day life?
"The deep, deep, deep realization that time is gold. Stress is not that stressful unless it's a 4:00 AM diaper blowout and you forgot to Amazon wipes. Laughing every minute is goals."
Any essentials you swear by these days?
"Yes. A sleep coach. Don't play yourself! If you broke your leg, would you Google how to fix it? No! Julia Redmond (@a_little_support.co.uk) is our secret weapon. She drastically improved our lives when we thought we knew how to put babies to sleep without professional help."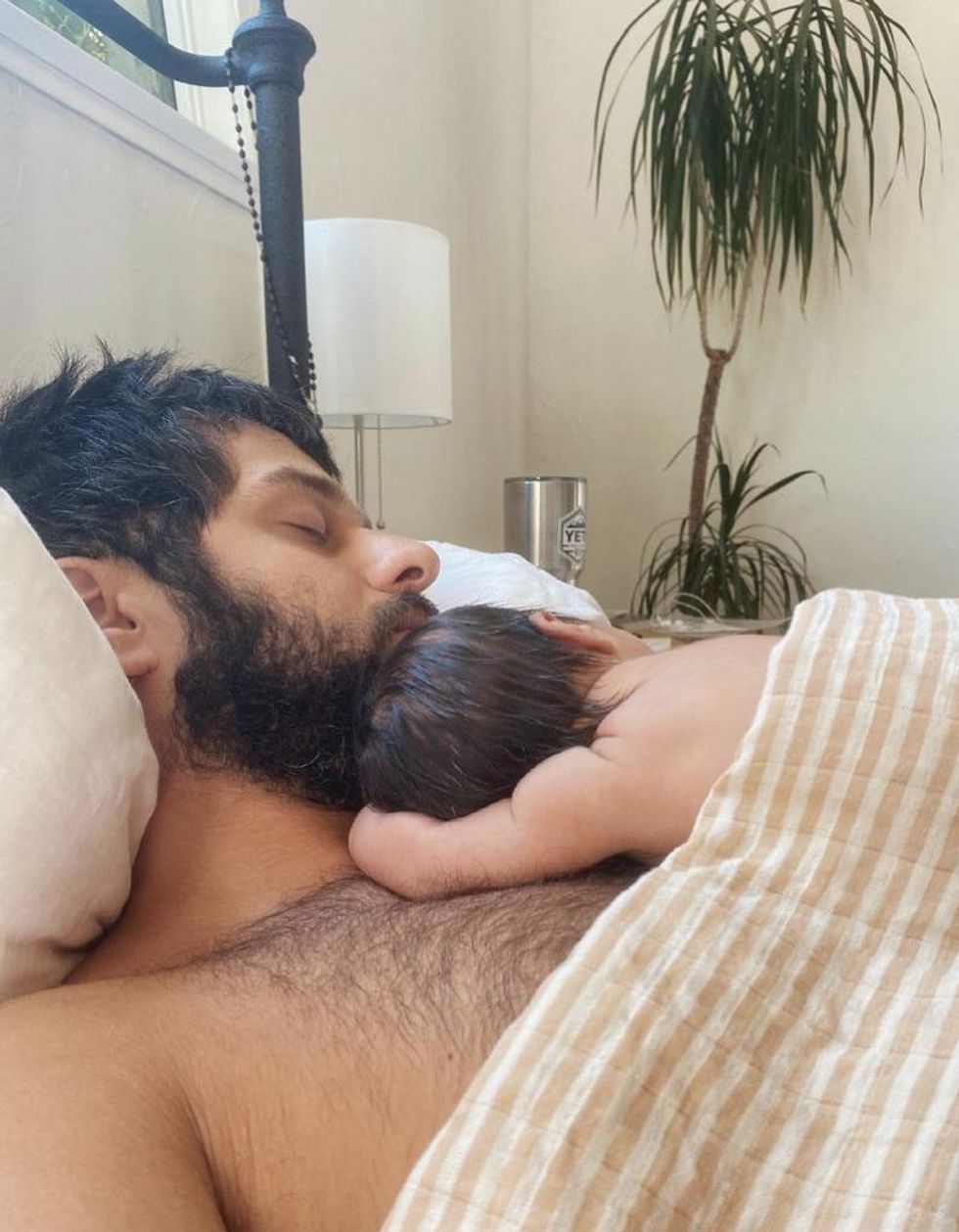 Photo: Courtesy of Davide Baroncini
Can you describe what it has felt like to transition into fatherhood?
"I was born and raised in a place (Sicily) where you need to grow up fast by necessity. At the age of 18, I remember my father telling me, 'Davide, it's time for you to figure it out if you are meat or fish,' which is a dialectical form of asking a young person to figure out what their path will be in life. I grew up with the idea that it is important to find who you are going to be in life. I always associate the idea of being a father as the ultimate step towards becoming a man. Now your thoughts switch. There is no time to think about superficial things. You naturally develop a sense of responsibility and urgency in everything you do. It's incredible how—and I'm not a father yet; my wife's water broke last night—as soon as you realize that you and your partner will give life to another human being, everything shifts. The baby's birth, health, and future are your priority. My father Francesco wasn't necessarily the 'friend' kind of father, but he taught me what it means to put your family first no matter what. I feel lucky to have experienced that figure in my life. My father himself didn't have a father, and I always found it fascinating how even if that was the case, he had an incredible sense of family in him."
When was the moment things got real for you?
"Due to COVID-19, I unfortunately have not been able to be in the room with my wife. She has been incredible during this whole journey, and it made me understand how important it is to have the right life partner who will be the mother, guardian, and guide of your kids with you. The moment I will never forget was when I saw our daughter Carmela (Carmela was my mother's name; she left us in 2019 due to cancer) on a 3-D sonogram—her features, position, and expression. I impulsively started crying, and I found it scary, beautiful, and so powerful. I didn't think it would feel this way."
How has fatherhood shifted your approach to day-to-day life?
"No matter what day it is—Sunday, a holiday—I feel that beginning in the morning, it is time to 'rumble.' At work, at home, I'm just the super version of myself. The softer note is that everything is better, I feel way more grateful about everything I'm able to achieve or accomplish—I feel an incredible drive. At night, when I drive back home from work, I feel serene, balanced, and excited. I think that the easiest way to describe it is that I feel like I grew up. I feel like a man now."
Any essentials you swear by these days?
"I think that the most stylish and charismatic man in the room is always the one that didn't pay too much attention to what he's wearing or the one that looked at the mirror for too long. Wear what makes you feel confident and forget about it."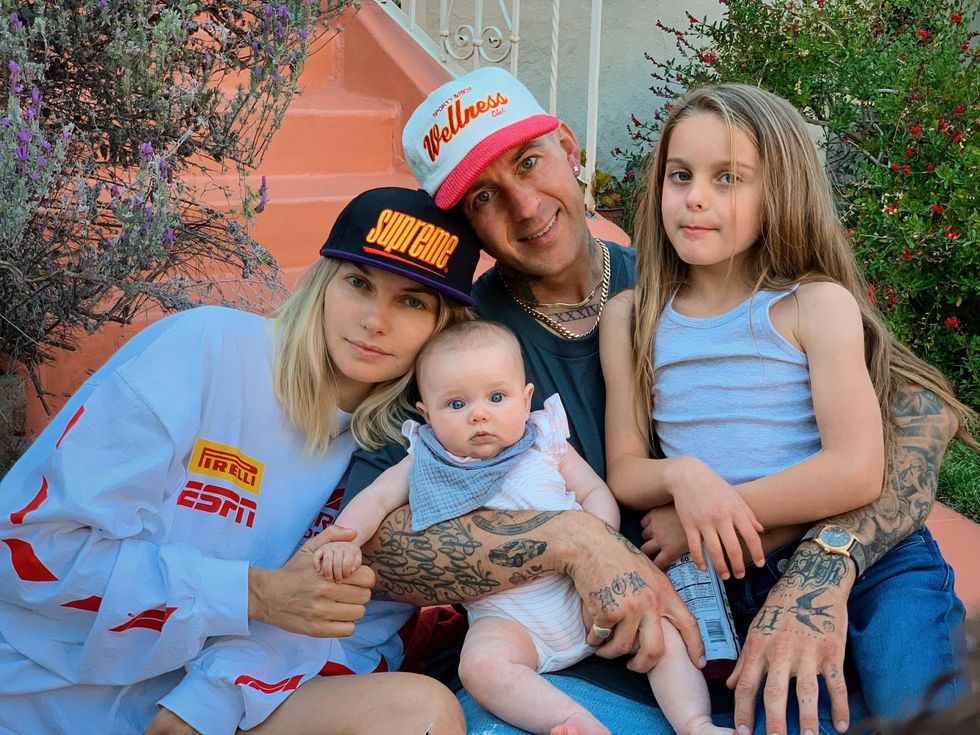 Photo: Courtesy of James Kirkham
Can you describe what it has felt like to transition into fatherhood?
"I'm so grateful to have such wonderful partners in this. It's allowed for the transition to focus on an increase in purpose. The day-to-day stuff just has more meaning. Something simple like going to the grocery store now has added responsibility, but a much bigger perspective. I love seeing the way my girls make people smile and how their reactions are big, bright smiles right back to the world. With the first one, Wren (seven), everything was new and fun—challenging, yes, but finding the fun in the simple things is the key. Now with our beautiful seven-month-old girl, Baby, it's about remembering that it all goes by so damn quick and not to take any of it for granted. Knee deep in diapers and wide awake at 4:00 AM, it's not always easy, but that super-naive three-toothed innocent grin is everything, and I promised myself that no matter how hard it is in the moment, to never not smile back."
When was the moment things got real for you?
"When Jess told me she was pregnant with number three! Lol. Truthfully, we found out we were pregnant with number three on a tough day. Tough for no other reason than normal 'being a parent is hard' stuff. We were at each other for nothing at all, and Jess opened the backdoor to tell me something. I thought she was going to tell me I needed to clean up my mess inside, but instead she said those two magic words, "I'm pregnant"—all of the trivial bullshit disappeared, we came together, embraced, and both of us told each other we were there for each other, for our FAMILY, in our own ways. We're super excited to have two youngsters 15 months apart. Our team just got so much stronger."
How has fatherhood shifted your approach to day-to-day life?
"To be honest, nothing else really matters. It's so easy to get caught up in the noise and forget that this is all just a game. The only thing that really matters are those hearts beating next to you and keeping your tribe strong—both your family and friends. Do what makes you happy, push forward with an open mind and heart, and never take anything too seriously."
Any essentials you swear by these days?
"Meditation. Two 20-minute sessions a day. For years I thought I knew what it meant to meditate. Earlier this year, Jess asked for only one specific thing for her birthday: for me to learn to meditate with her teacher, Jeff Kober. It's been transformative in ways I have yet to even understand."