Designers
Katya Dobryakova is bringing serious spectacle to high fashion.
Alec Kugler
Despite the throngs of people meandering through SoHo's crowded streets, it's nearly impossible to miss the windows of Katya Dobryakova's new NYC store. Her circus-themed designs, some complete with elongated elephant trunk sleeves (no, really!), glitter from their mannequins' perch. So, should you be looking to stand out in that crowded sidewalk, look no further. What's more, step inside, and the designer herself is often on hand to help you find the perfect cozy sweatshirt (because winter is, unfortunately, here to stay).

With its dedicated Russian following and two brick-and-mortar stores on two continents, Dobryakova is starting to rack up some serious frequent flier miles. As a Moscow-based former graphic designer, her clothes reflect her diverse training—subtlety has no place amongst the fur-trimmed coats of her Fall/Winter collection—and that's how we like it. You can find everything from sequined streetwear and velvet dresses to one-of-a-kind denim jackets with hand-painted portraits of everyone from Homer Simpson to Frida Kahlo. Beyond The Mag's Sophia Macks and streetstyle star Samantha Angelo are already fans, and the list is sure to grow as Dobryakova sets her sights on more than just the big top.
---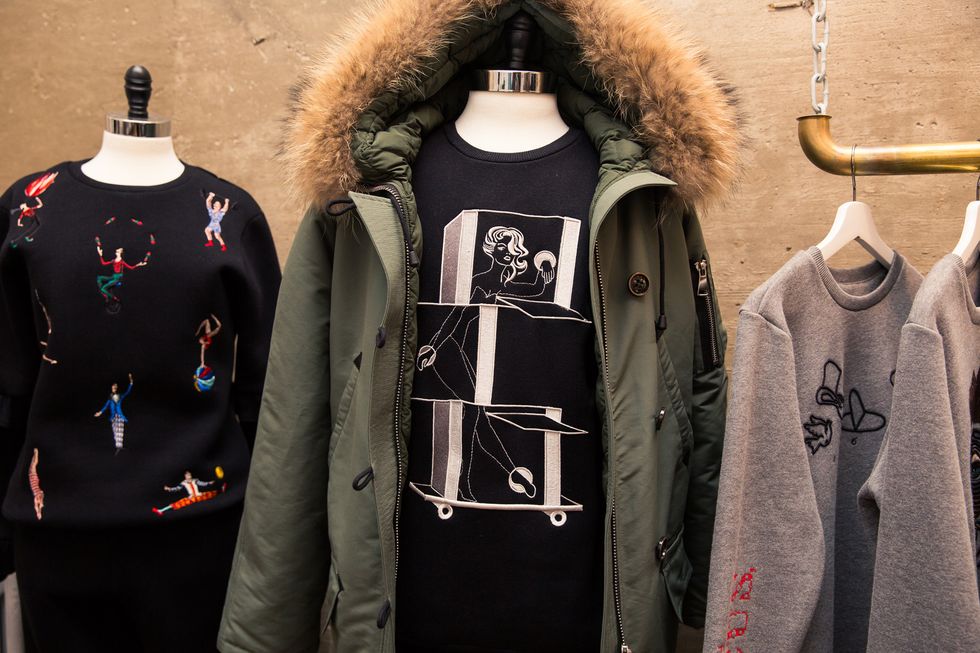 How she got her start in fashion:
"I graduated from [Stroganov Moscow State University of Arts Industry] as a freelance graphic designer. I worked with my friends and started to do [album] covers. My first work was for Sony Music Russia. [After] a few years I was getting bored because [graphic design] is about sitting behind your computer and not going out. I just wanted to talk with people and communicate more, so I started to create interiors. I did a big project for this restaurant Tutti I Giorni [in Moscow]. I had drawn big paintings for the restaurant to decorate the walls, and then I put [the print] on pillows. [It] had Michael Jackson's portrait, and everybody wanted to have a shirt with Michael Jackson after he died, so I decided to make the prints on t-shirts too. They became popular and I produced more and made a brand. That's where the business started. At that time, I could not even image that I'd become a fashion designer."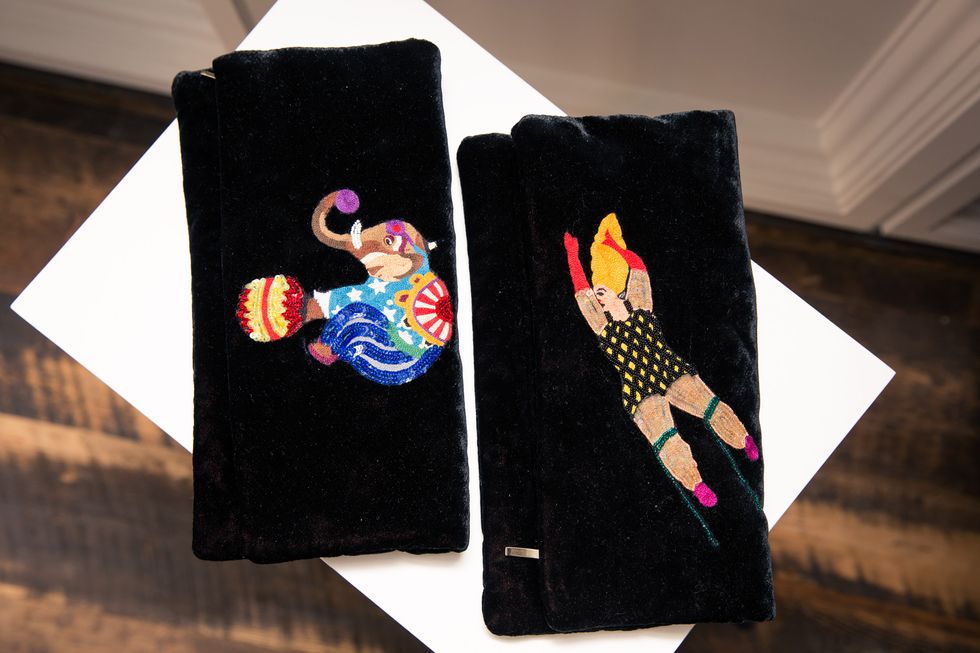 How Vladimir Putin helped her start a business:
"I had a meeting with my friend who works in government and she suggested [that I] make a t-shirt with Putin. So, that night I made the shirt and I woke up a celebrity—I think Russians understand the nature of irony and satire, so they received it with humor."
Why she rejects the Russian fashion stereotypes:
"I think a lot of Russian designers use Russian themes for inspiration, but that's not me. I'm not about Russian style or Russian matryoshkas or Russian vodka. Everybody thinks that Russia is white beards and the red square hats. I hate that. I don't want to present Russia as those cliché things. We are very modern, especially in Moscow. All of the young people know a few languages and are very educated. Moscow is now a center of culture. Contemporary things are developing there, the city center is developing, and there are a lot of new designers and creators and creative people. A lot of hipster culture has come there, in a good way. Musicians, artists, museums. It's exciting."
On working with the Walt Disney company:
"I've done several collaborations with Disney. The first one was to celebrate the launch of the Cinderella movie. I created a special Cinderella dress which was shown in the windows of Tsum, Moscow's premiere department store, and then created three special Cinderella sweatshirts that were very popular. The second one was a Mickey and Minnie Mouse jean jacket collaboration. I'm proud of being one of the first Russian designers to open a store in the U.S. I'm proud that I have had the opportunity to work with the minister of culture, with Intel, Disney, and other companies who want to do special projects."
How she runs a successful business on two continents:
"Our team is working 24/7 to keep up with demand, but also because of the different time zones [in Moscow and New York]. The back-and-forth trips are keeping me very busy. Basically, a typical day for me includes no proper lunch and no personal life! Many of our customers follow me on Instagram. It's a huge tool for the business. I have my personal Instagram and then our official Instagram. It really works. People want to see new stuff, and come and shop. You need to get them interested. If they didn't see the clothes, then they won't want them. If you post, then you can get people in your stores."