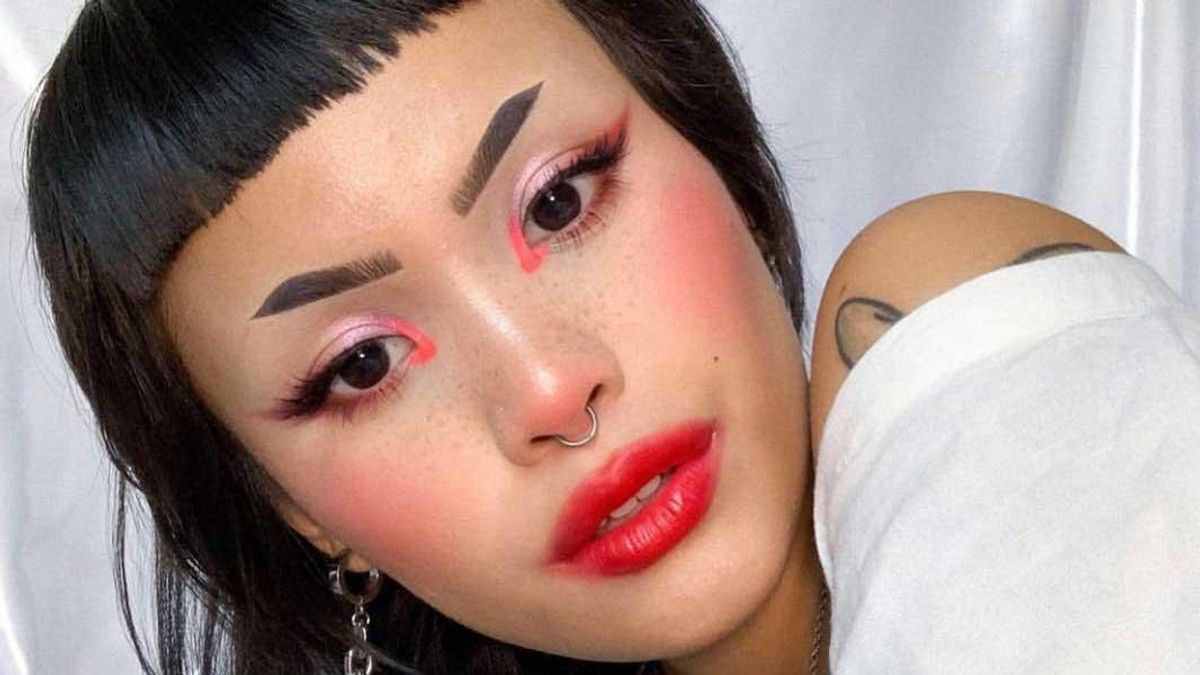 Makeup
The Latest TikTok Beauty Trend Is All about Celebrating Self-Expression
P.S. It's definitely not just for kids.
Fake freckles—once only created with easily smeared off eyeliner—recently took the cyber sphere by storm when it spurred a "No Rules/Just Expression" movement to which everyone else seemed to cling. As TikTok's latest viral beauty trend, it serves as an inspiration for individuality, rather than perpetuating an obsession with youth. We chatted with Remi Brixton, founder of Freck, about the line's namesake liquid makeup product that imparts beautiful faux freckles that are perfectly-on-point.
Freck launched in 2017—well before the craze went viral—proving to be ahead of its time. As a kid in sun-deprived Seattle, Brixton was always obsessed with freckles ("in my drawings, the dogs, the sun and the trees all had them"), which continued through her college days where she shopped her makeup idea around to all her friends. While living in L.A., a mentor in New York helped her devise a plan, and even though her Kickstarter campaign failed, she knew the concept would stick. "When all my cool friends in East L.A. expressed how much they wanted it, I knew something real was there." And since the Gen Z community loves to experiment and celebrate creative freedom, it made sense that once the product made its way into the world, it also made its way onto the generation's biggest social platform. "It was really organic!" says Brixton. "We were actually still building up our own following when the product went viral—probably because it's fun, multi-use, and plays with the camera so it translates really well on the app."
So what's this trend about, exactly? Childhood? Edge? Striving to look au-naturale? The answer seems to be, all of the above. "At first people didn't want to announce that they were wearing fake freckles but over time, it almost became a sign of empowerment," says Brixton. "It was more, 'you work for me, you work for my look, these are tools for my self-expression.'" When she noticed that people were even layering them with glitter and color-tinted freckles, she realized that there was an emotional response. "It's almost as if people were waking up in the morning and asking themselves, 'who do I want to be today?'"
If you're freckle-curious, sprinkling your complexion with a bunch of tiny dots isn't that hard to do. The product comes with a brush that dips into a potted formula—all you do is use the tip to dot directly on the face in your desired constellation. Then, with the pad of your finger, copy and paste the cluster all over your face. The more space between the constellation, the more natural your freckles will look. "The reason why these freckles look more realistic than anything on the market is because the pressure of your finger creates each freckle's own unique outline," says Brixton. "It's all about the repeat of the process." She also points out that you can place one deeper dot over a blemish and voila!— it's a chic mole (this is especially helpful in the continued days of maskne).
If you're wondering how to "wear" the look, there's no one right way as all types of people are embracing the trend. "We've seen everything from 'Under-Eye-Circle Dead Girl' to 'Cottage-Core Girl' to 'Anime Girl,'" says Brixton. "But they also look gorgeous with an all-natural makeup look, like beautiful Hollywood glam skin, bushy brows, and freckles—basically, freckles fit with everything." Brixton says she's happy to see makeup moving into a "pro-skin texture, pro-coloration" movement where we're not trying to hide our true selves. What's trending is authenticity—everything from moisturizer-and-go to full-blast orange shadow, glitter and blended foundation. And the brand recently launched Freck Noir, a darker shade, for those with deeper skin tones or for anyone who wants to layer for more dimension.
Moving forward, Brixton guesses that people will continue to be inventive, citing how quarantine spurred a cream blush craze for its ability to change the shape of one's face over zoom. "I think re-imagining how to use your products in new ways will be important, whether it's bringing bronzer over your nose to look sunburn or getting imaginative with highlighter," she says. She's already applied this idea to her own product by using freckles as a contouring move, dusting them to create a sculpted cheekbone, but in a more toned-down way than it would be with regular contouring makeup. "As I'm getting back out into the world, I'm going bigger with my look."