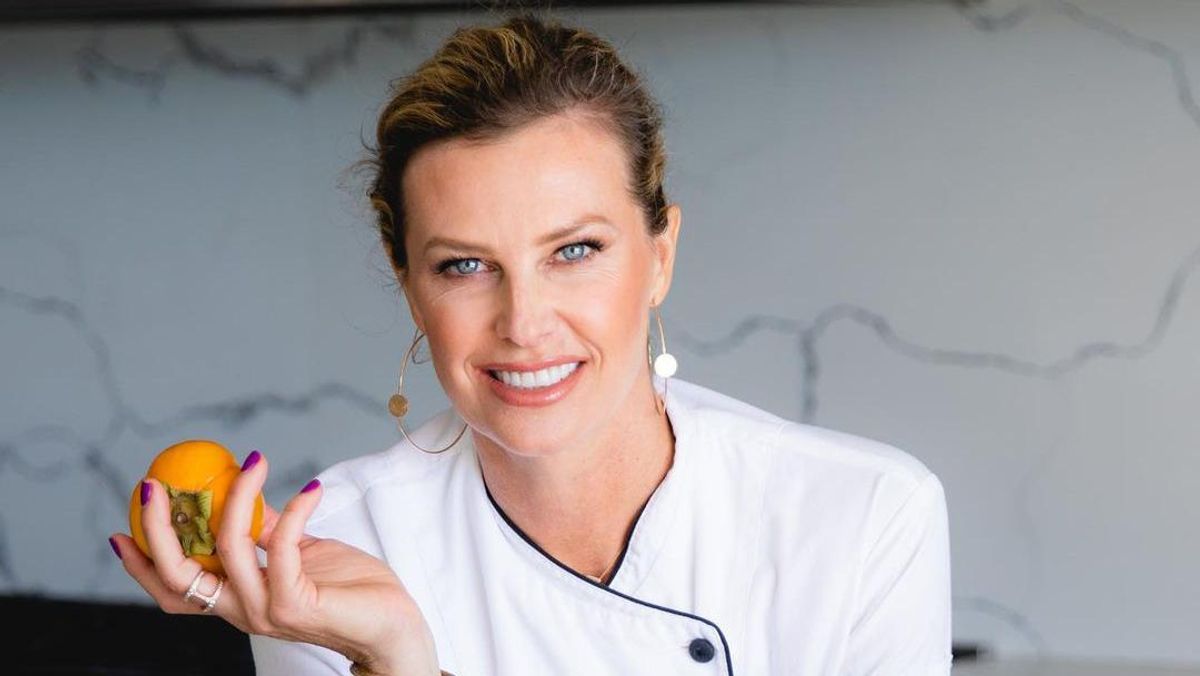 Food
Easy Recipes That Celebrate the Best of Summer
Former model and celebrity chef Gina Clarke-Helm shares her favorite recipes.
If you love to cook, then you know the joy seasonal ingredients can bring to food—tomatoes perfectly ripened by the summer sun, a fragrant bouquet of fresh herbs, or even a leafy green rich with the earthy flavors of fall. There are many ways to get creative in the kitchen using local produce that celebrates the season and the scenery around us. For model turned celebrity chef Gina Clarke-Helm, those elements of fresh, local ingredients combined with her passion for cooking were the start of a delicious new career as a personal chef.
"Food allows me to express who I am and connect with people. Chefing goes beyond the food. It's all the small details that lead up to the experience. The search for perfect ingredients, creating a beautiful menu, setting the environment, and putting it all together is what's most inspiring," she shares with Coveteur. And just like that, Malibu Seaside Chef was born, a catering and event company where Clark-Helm does it all. "Entertaining is perhaps my favorite thing to do besides cooking for people, but they go hand in hand," she says. Her exquisite food and personal approach to entertaining is thoroughly enjoyed by the likes of Justin Bieber, Seal, and Barbra Streisand, just to name a few. Ahead, she shares some of her favorite recipes that celebrate the bounty of this season and the coming days of fall.
Ingredients:
1 1/2 lb bay scallops
5 –6 limes
20 small cherry tomatoes
2 cloves garlic
1 bunch fresh basil
1 bunch fresh cilantro
1 stalk celery
1–2 Serrano peppers
1 large red onion
1 bunch fresh chives
2 tbsp olive oil
sea salt
black pepper
edible flowers
Directions:
1. Cut bay scallops into small pieces and place into medium-sized bowl.
2. Squeeze limes into the bowl and toss the juice with scallops.
3. Cover the scallops in a bowl with plastic wrap and place the bowl into the refrigerator for one hour to marinate. The acidity from the juice will cook the scallops.
4. Dice cherry tomatoes into quarters; finely chop garlic; dice the bunch of chives; thinly slice red onion into circles; dice serrano peppers; leave basil whole; cut stems off cilantro and leave bunch whole; cut celery stick into three pieces.
5. Utilizing the mortar and pestle bowl, take half the ingredients of tomatoes, garlic, cilantro, serrano peppers, red onion, basil, fresh chives, celery, and one scallop. Place ingredients into mortar and pestle bowl with two tablespoons of olive oil, a dash of sea salt, and black pepper. Lightly grind ingredients until you get a nice mixture of juices and flavors.
6. Remove scallops from refrigerator, add mixture of ingredients from mortal and pestle, and toss together. Cover with plastic wrap and place back into the refrigerator and allow to marinate for the complete two hours.
7. After two hours, remove scallop mixture and serve into martini glasses or appetizer spoons.
8. Use remaining fresh chopped herbs, onion, garlic, and peppers to garnish the serving dishes.
9. Salt and pepper to desired taste.
10. Garnish with edible flowers to decorate.
11. Enjoy with fresh tortilla chips and your favorite margarita.

Herb Butter and White Bean Crostini
Ingredients:
1 baguette, sliced into 20 thin rounds (sourced here from Back Porch Bakery)
Olive oil
Coarse salt and ground pepper
1 medium shallot, diced
1 clove garlic, diced
3 sprigs of thyme, stems removed
1 can white beans, drained, reserving ¼-cup liquid
1 pack gournay-style cheese (5½-ounce pack of Boursin Garlic & Fine Herbs cheese used here)
Directions:
1. Heat oven to 400degrees F.
2. Place baguette slices on baking sheet(s) and drizzle with a bit of olive oil, salt and pepper. Bake slices until golden and crisp, time depending on thickness and your oven. Remove from the oven.
3. Over medium-low heat, sauté shallot, garlic and 2/3 of the thyme in 1 tablespoon of olive oil. Remove from heat when vegetables are soft but have not developed any color.
4. In a blender, combine beans, reserved liquid, cheese, and sautéed vegetables. Blend until smooth.
5. Place toasted baguette slices on a platter and top with white bean mixture.
6. Garnish with remaining thyme leaves and optional edible flowers from earlier recipe.

Ingredients:
4 large avocados (ripe, seeded, & peeled)
1 lime, juiced
1/2 bunch cilantro, chopped
1/2 medium red onion, chopped
8–10 cherry or grape tomatoes, diced
1/2 Serrano or jalapeño pepper, chopped
sea salt
black pepper
pinch of cumin
1 clove minced garlic
Directions:
1. In a medium bowl, chop or mash avocados. I prefer to leave avocados a little chunky.
2. Add Ingredients—onion, cilantro, tomatoes, garlic, peppers—and gently mix.
3. Add cumin, sea salt, black pepper, and fresh squeezed lime to finish off the taste.
4. Gently stir and service with your favorite chips.

Fall-Inspired Spring Rolls
Ingredients:
1/2 pack Asian-style rice noodles
1 pack spring roll wrappers
1 pack edible flowers (sourced here from Gourmet Sweet Botanicals)
1½ cups carrots, julienned
2 red or orange bell peppers, julienned
1½ cups butternut squash, boiled until tender and julienned
1 bunch each of fresh basil, cilantro and mint, stems removed
Directions:
1. Bring a large pot of water to a boil. Add rice noodles to cook for two to three minutes. Drain rice noodles and pour cold water over to cool.
2. In a medium bowl, mix carrots, bell peppers, and butternut squash.
3. Fill a large bowl with warm water. Dip one wrapper for a few seconds and lay flat on a wooden board. Two wrappers can be used if they break easily.
4. On the center of the wrapper, place edible flowers first, then continue with a handful of rice noodles, vegetable and squash mix, and herbs.
5. Fold uncovered sides towards the center of the wrapper, then roll gently from one end to the other until sealed snugly. Rolls can be kept whole, cut into pieces like sushi, or cut in half diagonally.
Dipping Sauce


Ingredients:
1 10-ounce bottle of your preferred sweet chili sauce
1 bunch each of fresh basil, cilantro, and mint, stems removed

Directions:
1. Blend sauce and herbs in a blender until herbs are in small bits. Serve beside spring rolls.

Top photo: Courtesy of Instagram/@malibuseasidechef
Want more stories like this?
Everyone Is Talking about Piquette—But What Is It, Exactly?
Gia Coppola's Guide to Summer Entertaining with Wine
How to Throw the Easiest & Chicest Picnic Ever