5 Protective Styles You Won't Get Bored of This Summer
Switch it up without stressing out your edges.
Hair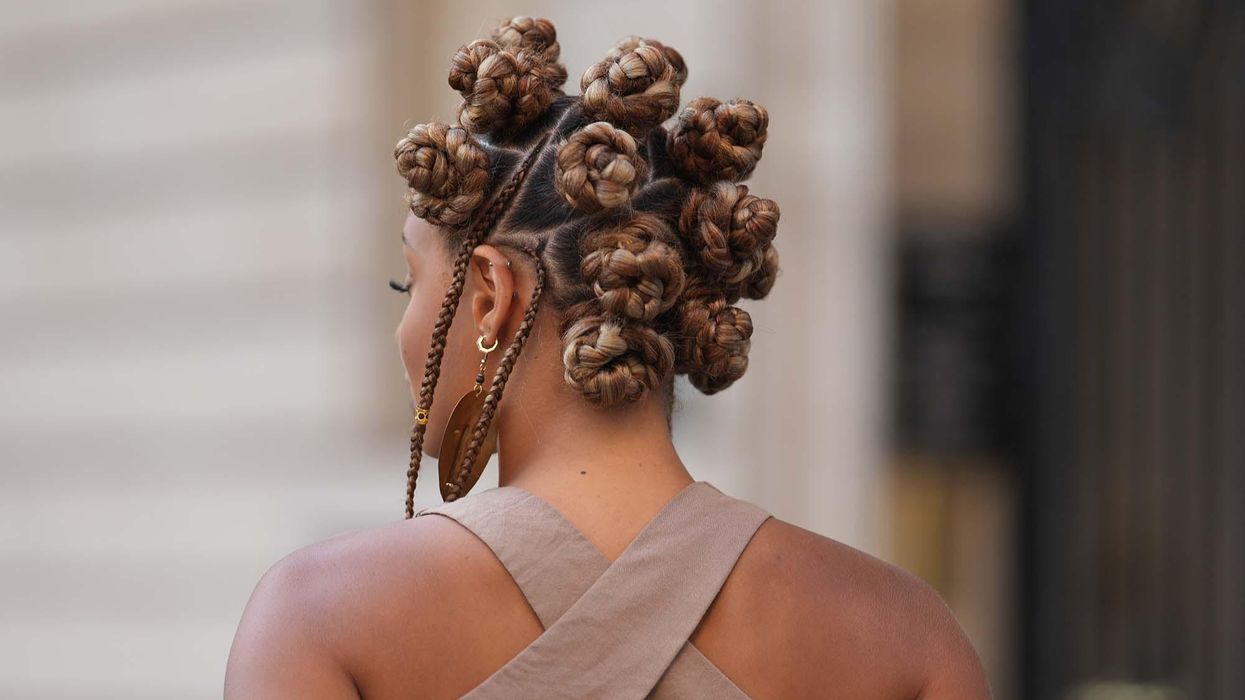 Photo: Edward Berthelot/Getty
Celebrity stylist and natural hair expert Whitney Eaddy opened our Zoom call with a disclaimer. Though we'd be discussing summer-friendly protective styles—a term that the natural hair community uses to refer to hairstyles that keep ends tucked away and minimize manipulation to retain length and moisture—there's one that would need to be left off the table. "I hope you don't expect me to recommend goddess braids," she says with a laugh. It's not that the intricate braid style isn't popular per se, it's that it's not quite as protective as it purports to be, says Eaddy, the self-proclaimed Growth Guru. Hair health isn't an afterthought for her but rather of the utmost importance.
With clients like SZA, Eaddy opts for low-resistance styles that embrace the uniqueness of textured hair instead of trying to mask or manipulate it. And that's the very essence of protective hairstyles. Essentially, they're everyday styles that will keep your tresses in top form. "Think of protective styles in terms of how they benefit your hair," Eaddy says. "Your hair should [always] feel better when you take it out." Below, Eaddy outlines five summer-friendly protective styles that are easy to execute and not hard on your hairline.
Braids With Human Hair
Photo: Gilbert Carrasquillo/GC Images via Getty
It's widely known that the secret to Zoe Kravitz's signature braids is that she opts for human hair instead of synthetic extensions. Yes, this leaves the braids with more body and a softer finish, but Eaddy says that it also leaves less damage behind. "When it comes to protective styles, most people immediately go to braids, but if you're going to do braids, I always try to tell people to offer human hair if you can," she says. "It's generally better for your hair. If you think about it, [Kanekalon] hair is acrylic."
She likens this to glass cutting against your hair, which isn't a very pleasant visual. Since the step-by-step is more intricate (and personally took me the entire first half of the pandemic to master) this would be best executed by a professional. Some stylists, Eaddy says, will use hair cut from wefts of human hair, typically used for sew-in weaves, and braid that in. "That's a really luxurious way to braid your hair, but it's an option." It's also more long-lasting if you're looking for a style to last you from the summer solstice to Labor Day.
Braidless Crochets
If you aren't familiar with crochets, they are a low-tension way of installing extensions. With this method, hair is crocheted onto a braided base, similar to the base you would have for a sew-in weave and fastened by being looped through itself using a hooked tool. With this in mind, the idea of a braidless crochet feels counterintuitive—if you aren't crocheting to a braid, then what is the hair fastening to? "You can do twists underneath," Eaddy says. This style is about creating a base and crocheting hair on a net. You can create invisible hairlines." Eaddy affirms that this is an even lower intensity way of wearing this famously low-tension style.
U-Part Wigs With Clip-Ins
Any wig-wearer knows that realistic, affordable wigs are hard to find—especially when you're looking to match coarser textures. So, to enhance the realism of a U-part wig (a wig that only sits over the back and sides of the head with a U-shaped opening at the crown of your head), she uses clip-ins. "I love adding clip-ins to U-part wigs for texture," she says. "A lot of times our curls are different shapes and whatnot, so you can do twist-outs with your clip-ins and style them in between the leave-out."
Two-Strand Twists
Photo: Taylor Hill/FilmMagic via Getty
The two-strand twist is hardly new and far from a trend, but celebrities like Coi Leray and Zazie Beets are breathing new life into the tried-and-true style. The beauty of this style is in how easy it is to execute—as its name suggests, you literally twist two strands, install an elastic at the ends, and voila!
To personalize the twists, swooped baby hairs are an easy addition. But it's important to create a moisture barrier between your hair and the edge tamer that you're using to style your edges. "When you look at most edge control, they don't mix with oil and a lot of people's edges really need that oil for nourishment," Eaddy explains. "So it doesn't always allow you to use products that are care-based as opposed to just styling." She creates this barrier using three steps: two leave-ins and an oil. "You [have] to create a good barrier for yourself," she says. "Don't put it on dry. Nicki Minaj even said, 'You can't give it to 'em dry like that!'" The best part about two-strand twists? You're always ready for a twist-out.
A (Not So Tight) Bun
Photo: Frazer Harrison/WireImage via Getty
When it comes to protective styles, the bun reigns supreme because the versatility is unmatched. "I like a top knot, I like a side-part, I like a swoop. You can even do flat twists and wrap them around," Eaddy says. But not all buns are created equal–especially when you want to keep your edges intact. Eaddy advises against buns that pull too tightly on your hairline (Bella Hadid, we're looking at you). The tensions that these buns create can counteract how protective the style can be. But you can still achieve a sleek style that doesn't pull. The rule of thumb, Eaddy says, is to make sure that it feels comfortable. "Avoid styles that hurt. If your scalp is telling you that something's off, something's off."
Shop Whitney's Favorite Products:
Uncle Funky's Daughter
Sumiko Wilson
The Doux
Camille Rose
Juices and Botanics
Juices and Botanics
Natural U Hair