Fashion
Celeb-favorite brand CULTNAKED has taken a huge hit during Russia's invasion, but designer Mary Furtas won't be surrendering any time soon.
"They're alive," says Mary Furtas of her employees. "They're not okay, but they're alive."
The Ukrainian creative is the founder of CULTNAKED, a brand that Furtas claims has "rise[n] like a flower through concrete." In the past five years, CULTNAKED's party girl staples have been donned by both Jenner sisters (Kendall famously worte the brand's pleather set for her first public outing with boyfriend, Devin Booker), as well as the likes of Megan Fox and Dove Cameron. Despite a steady upward trajectory, the company has experienced a 75 percent loss of business over the past several months. Company group chats are now used for survival. In the grips of war, celeb sightings and sample requests take a backseat.
"It's so crazy. I can't believe it's real life," says the photographer-turned-designer of the Russian invasion of Ukraine. "My employees text to tell me they're taking a break to go to the bomb shelters. I get all my news from them because our group chat goes off, 'I'm safe, I'm safe.'"
The CULTNAKED team.
Photo: Courtesy of CULTNAKED
War was as much of a shock to Ukranians as it was to the rest of the world. After a nearby area was bombed, Furtas abandoned her Kyiv apartment to build a new life in London with her 12-month-old. She's currently managing CULTNAKED across multiple countries—working with employees who remained local, as well as those who sought refuge in other European nations.
"As an empire of colonized nations, Russia has been attacking countries for centuries, but nobody thought it was going to happen this way," Furtas explains. "Everyone thought they were just going to flex their muscles, but before we knew it, we were getting bombed."
Safety aside, a slew of war-induced challenges have threatened to shutter the brand completely. Not only has manufacturing become increasingly difficult, but rising inflation has made processing returns enormously expensive ($1 USD is now valued at $29 Ukrainian hryvnia). Meanwhile, product shipping time has increased dramatically to two months.
"No client wants to wait that long [for a product]," she says. "It's really hard with the currency too, and you can't transfer the money out of Ukraine. We can't order textiles because we can't pay for them, and the logistics are so hard in Ukraine that no one is shopping. In terms of sales, we've been on the verge of closing."
Inside the CULTNAKED office.
Photos: Courtesy of CULTNAKED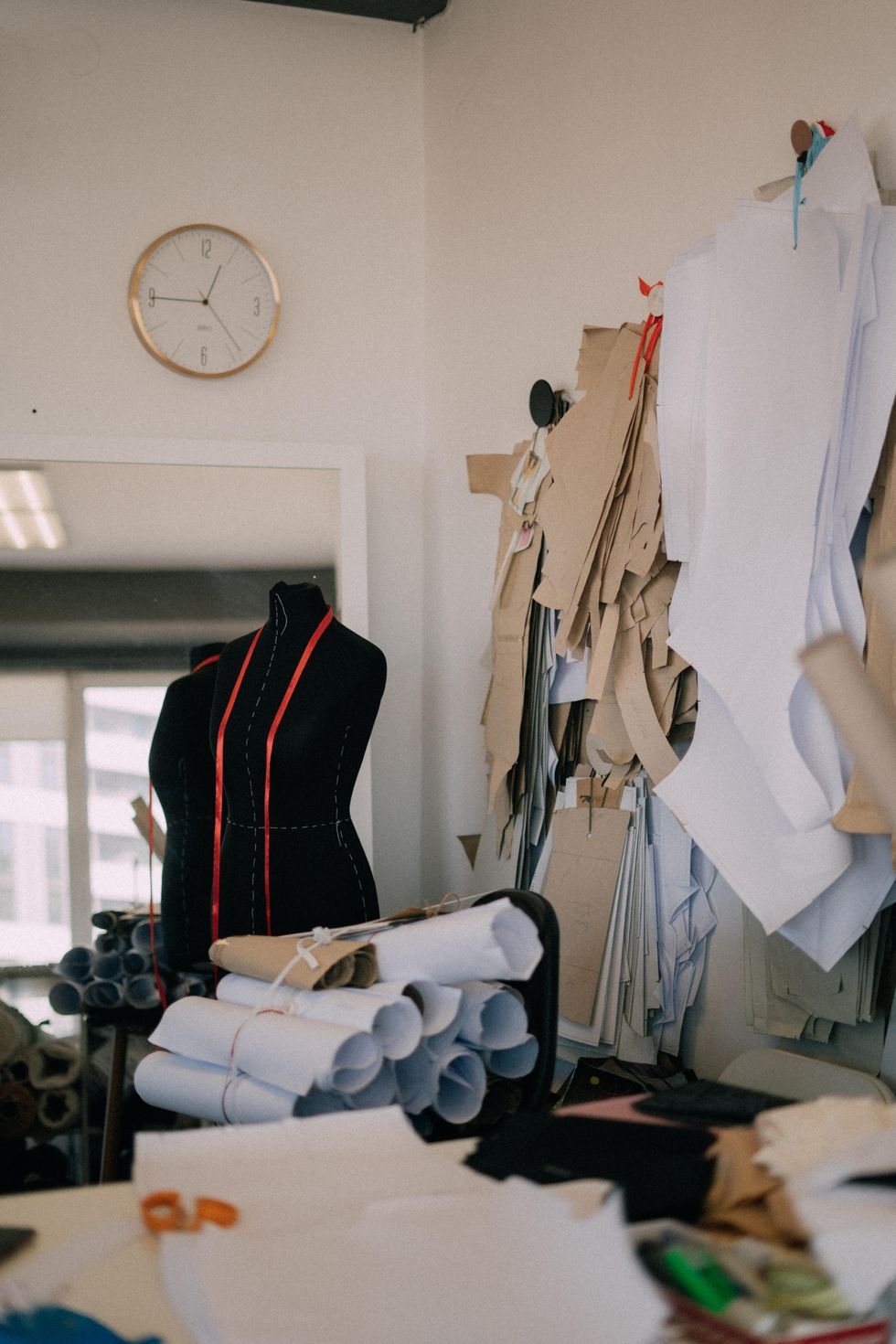 Throughout the war, CULTNAKED has continued to feed its near 100,000-strong following, so much so that even its most fervent disciples likely aren't aware of the brand's challenges. Much of CULTNAKED's presence can be credited to Furtas herself. At one Paris Fashion Week, she met Fergie in a hotel bathroom, stripping down then and there to reveal her CULTNAKED bra. At another, she gifted Bella Hadid and Caroline Vreeland on the spot after running into them at a restaurant. Later that week, Vreeland would post her CULTNAKED skort (a high-waisted micro mini skirt with built-in shorts) to her stories. The brand's Instagram blew up.
"I wanted to solve the problem I saw in the market: party clothes that are sexy and fitted but also comfortable and cool," she says. "The first thing we kicked off with was dresses that had shorts because no one wants to feel uncomfortable when they're dancing on a table."
Founder Mary Furtas.
Photo: Courtesy of CULTNAKED
The skort would quickly become CULTNAKED's calling card. Now, most body-contouring numbers sold by the brand feature boy shorts for comfort-seekers. Instead of adhering to fashion's biannual schedule, CULTNAKED generally releases new pieces on its own terms, discouraging consumer overconsumption. Every few months, its core collection reboots in different colors or fabrics, while several featured pieces are added into the mix. Now, the CULTNAKED closet includes a sheer mini dress (woven with enough sparkles to outshine a disco ball) and, as recently as last month, two versions of a Britney Spears-reminiscent bra top.
For an entrepreneur who would once despair over a $2,000 loss, Furtas's adaptation to extreme adversity has been remarkable. In the midst of juggling employee management and young motherhood, she's now resolved to relocate CULTNAKED to the U.K. (production will remain in Lviv, Ukraine), and several new designs are scheduled for summer release. The creative jokes she could be tempted to add "war" to her resume. In the meantime, like the most resilient of flora, Furtas and her business will hopefully bloom again.
"It's been so hard, but I'm always trying to keep it positive," she says. "This is the adventure."