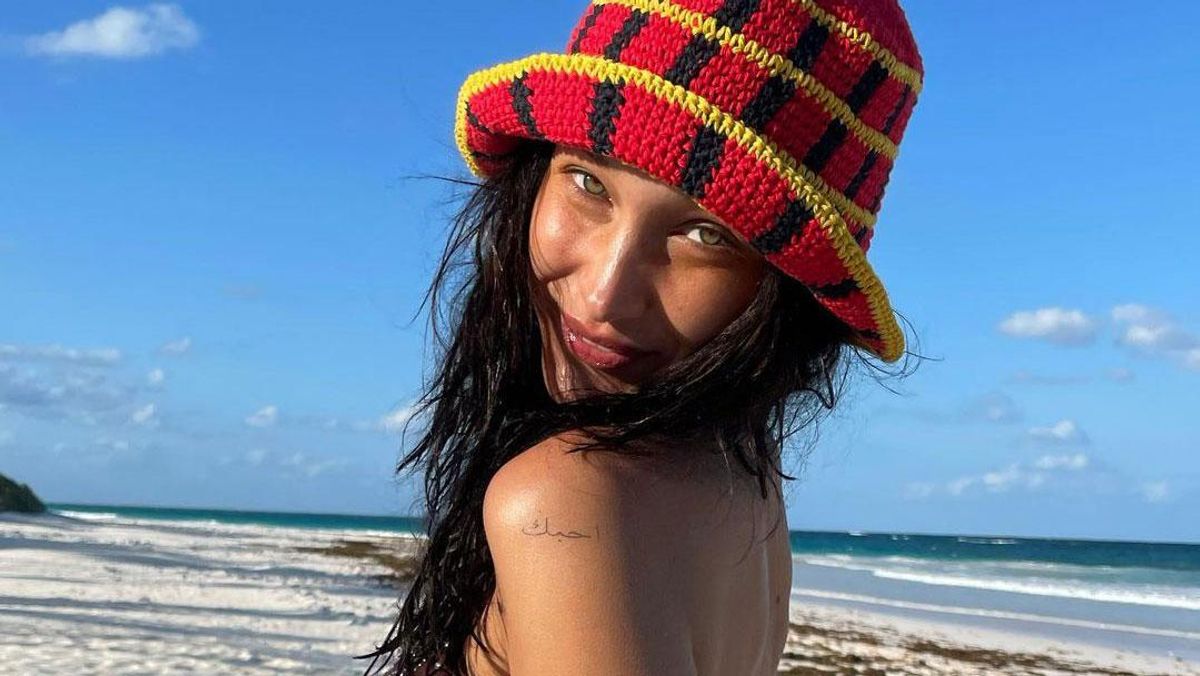 Trends
These knitted, colorful headpieces will dominate our summer.
As we get ready for summer and the very much missed beach days to roll around, we start planning our best outfits to show off this highly anticipated season. If last year's dog days were marked by cotton bucket hats all over, this year the popular head accessory received an upgrade with crochet variations becoming all the rage. Because we are already sold on the trend—just like celebrities and influencers from Bella Hadid to Blanca Miró, sporting the snazzy head piece both on and off the beach—we sat down with three hip crochet hat designers to learn about their quarantine-hobby-turned-business brands and some fun styling tips to best rock the colorful knitted item this summer.
"The concept of Memorial Day was created with the vision to celebrate self-expression that is ever-changing, like the transition of seasons that comes with the holiday itself," says founder Delsy Gouw. An FIT marketing graduate with an entrepreneurial vocation passed down from her late father, Gouw originally conceived her brand Memorial Day as a vintage store named after her birthday, which happens to fall on the last Monday in May. But when COVID-19 hit and everyone was in lockdown, she could no longer source vintage pieces and had to completely switch gears. "I've always known how to crochet. My mother taught me when I was young, and we would make crochet scrunchies and scarves together. But it wasn't until the pandemic and being in lockdown that I had the time to revisit this old hobby," says Gouw.
She then started making crochet hats and gifting them to her friends when everything took off from there. "I used the Memorial Day Instagram account and slowly transitioned it out of a vintage store and into a crochet account where I shared the pieces I made for my friends," explains Gouw. "My friends were then offering to pay me a fee for a commissioned piece, and the next thing you know it was a full side hustle. I remember my first order from a person that wasn't a friend. It was a pivoting moment for me, knowing that there were people out there that actually wanted to buy my pieces."
Because her brand is a quarantine-hobby-turned-business, Gouw spent the entire year building Memorial Day from her home, getting inspired by all sorts of mundane things around her house. "The inside of my pantry holds a lot of color inspiration, and my office chair and refrigerator hold inspiration for photography. I'm constantly looking around my house for common household things we look past, and I think it's become part of my brand," says Gouw. Any tips on how to style your crochet hat this summer, you may ask? Gouw suggests careless color clashing and a bold monochrome moment are fun go-tos, along with wearing your hat right when you need to. "Functionality is cool this summer!"
[Editor's Note: Memorial Day is sold out of hats for now, but sign up for their newsletter here to be the first to learn about their next drop.]
A proud Italian citizen and cosmopolitan soul, thanks to her modeling career, Rat Hat founder Alice Sofia Navarin is another example of starting a quarantine-hobby-turned-business. "I learned to do crochet one year ago with my mom during the first lockdown. I had the need to make something colorful during dark times," Navarin explains. "I started Rat Hat because I wanted to do a handmade birthday present for my best friend, Agata. I posted the picture of my first hat on my Instagram profile, and I started to have a lot of requests immediately. I didn't mean to build a brand, of course, but eventually I had to!"
Navarin's family helped with the business since day one, along with some friends who came into the now fast-growing team to join forces. With a longtime passion for art and colors paired with an academic background in the business of art from Ca' Foscari University in Venice, Navarin not only takes her inspiration for her crochet pieces from paintings, but also from travels she did in the past and whatever she feels or sees around her. "So many times I don't feel like selling the hats I make because I feel they're too personal and I want to keep them all!" admits Navarin. Her ultimate goal with Rat Hat? "To share happiness and to start a charity plan, too!"
[Editor's Note: Rat Hat is exclusively sold on their Instagram story. Follow along to snag one!]
Spanish sisters Maria and Esther Fàbrega have always wanted to create something fun together. A shared penchant for travel and a law degree under their belts have translated into the duo's desire to financially help local communities they've encountered during their travels abroad. With their brand Cashfana, their mission is to become a platform for artisans from different countries by bringing handmade high-quality pieces sourced from the most remote places on earth together in one place. "Each piece brings origin, culture, and tradition. It is a window into the people that we are passionate about sharing with you," say Maria and Esther. "Every time you buy at Cashfana, you will be supporting an artisan. From local to you."
The colorful crochet hats named after the little beaches on the Costa Brava region in Spain, where the two sisters spend their summers, are inspired by childhood memories. "This collection of hats is a tribute to our late aunt Silvia. Every summer she would teach us how to make them," the duo tells us. "They were always our favorite accessories." Wherever you find yourself this summer, you can wear your Cashfana hat with every look. "Wear it with your suit on the way to the office and at the beach with a summer dress. You will stand out either way!"
Cashfana
Cashfana
Cashfana