What to Keep & What to Sell According to Resale Experts
A guide to your New Year's closet cleanout.
Fashion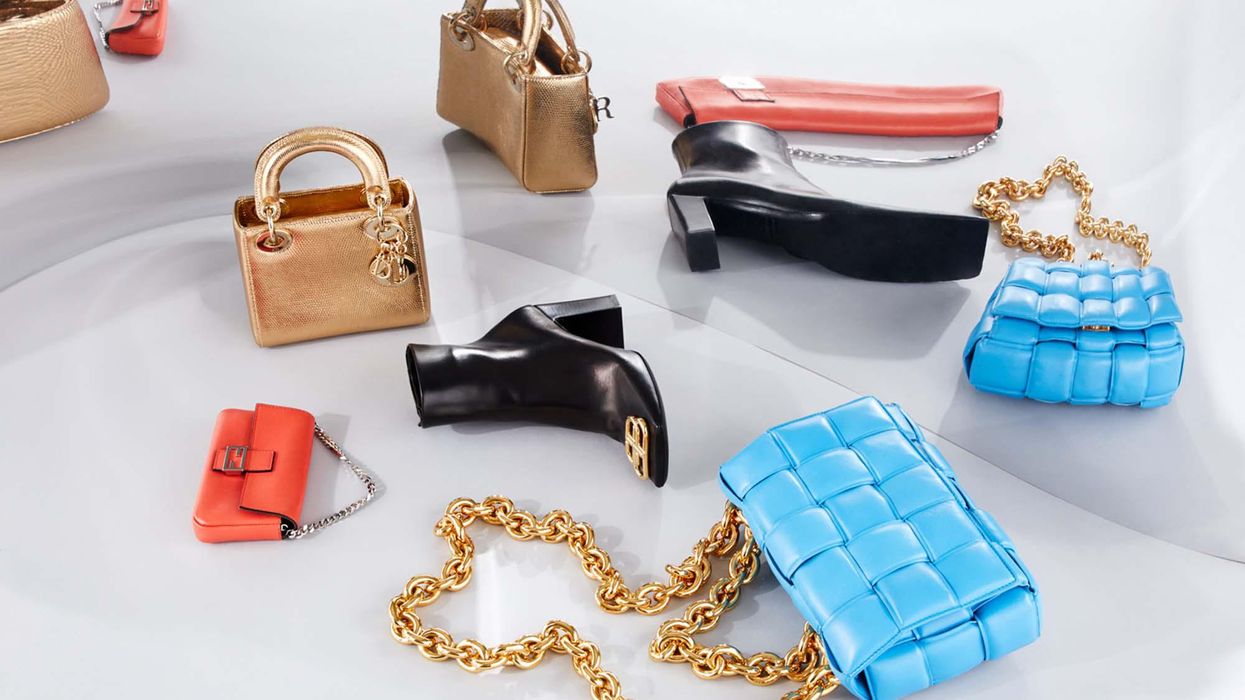 The process of a closet cleanout boils down to one simple question: Do I like this? While that umbrella inquiry can branch into dozens of different caveats—How long has it been since I've worn it? What if it comes back into style? It's basic, so I'm sure I'll need it at some point, right?—the main point to address is whether or not that item of clothing still makes your heart sing. It's the next step that is up for debate.
Once you've decided to retire an item, there's a certain amount of strategy involved with its subsequent trajectory, specifically if you're hoping to cash in on the departure. So much of resale is about timing; adhering to market demands that fluctuate with current consumer desires. It's also important to note the items that will never go out of style to help gauge your "forever" items. The likes of both aforementioned statements are nearly impossible to keep up with as a layman so we called in some expert help. Two resale extraordinaires, The Realreal's Women's Editorial Lead Noelle Sciacca and Vestiaire Collective's Co-Founder & Fashion Director Sophie Hersan, are here to walk us through everything to keep in mind when getting rid of your next haul.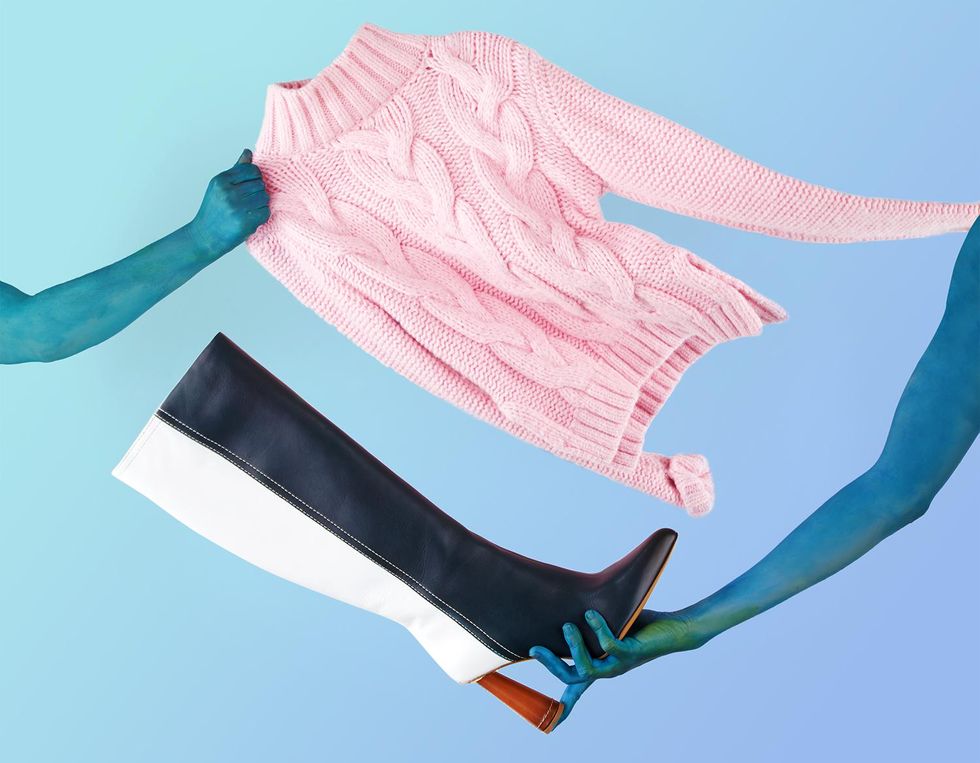 In general, how do you suggest approaching a closet clean-out? What are the factors to keep in mind?
Noelle Sciacca: "Even though the resale market isn't beholden to traditional selling cycles, I do keep seasonality in mind when I purge my closet. For example, at the end of winter I may be tempted to consign my heavy coats and winter accessories to make space for a new spring wardrobe, but this is the time when demand for these types of items start to soften. To earn the strongest return, I'll instead let go of dresses, sandals, and lightweight jackets that no longer suit me about a month before temperatures begin to warm. Another good rule of thumb before cleaning out your closet is to ask yourself, 'What am I excited to shop for now?' If you're on the hunt for specific items, chances are others are as well."
Sophie Hersan: "In order to have a successful closet cleanout, I believe you should loosely follow these steps:
Choose what stays & goes: You can make a keep, sell and donate pile and start with the obvious items. Go through your closet in sections, and ask yourself 'When did I wear this last?' Outside of seasonality clothes, If the answer is more than 6 months, it's probably time to consider letting it go. For the categories that we don't wear every day like sequins or satins, you should ask yourself 'Would I want to wear this to the next special event?' If the answer is no, it's time to pass it on to someone who will enjoy it more.
Give a second life to your unused pieces: If you feel someone can give a second life to one of your pieces, you should look into reselling it on a trusted resale platform like Vestiaire Collective. In just a few minutes, you'll be able to list your item for sale and start receiving offers! As for your 'donate' pile, you should look into your local options including Goodwill, women's or LGBTQ centers, or even homeless shelters.
Organize your closet: Once you've cleansed your closet and narrowed it down to a curated wardrobe, it's time to start organizing. We all have our preferred methods of folding, hanging, etc. but no matter your technique, you should arrange your items so that they're all visible and easily accessible.
Fill in the blanks: Once you have your organized and functional wardrobe, you should look into what staple pieces (if any) are missing—remember, this is essential! Pay attention to the things you are selling or donating and don't make the same mistakes, you should look to upgrade your basics and invest in classics that won't go out of style. I would strongly urge you to consider buying secondhand; it's better for the planet and much more unique and stylish than buying a piece off the racks that thousands of people will own."
Which designers do you foresee having a resurgence in 2022?
NC: "Iconic designers from the '90s and early aughts are continuing to see a resurgence. Last month, we saw demand for Thierry Mugler increase 105% and Blumarine rise 51% compared to last year. Designers like Vivienne Westwood, Miu Miu, and Moschino are also gaining in popularity again. Based on the increased demand we're already seeing, we think these designers will make a serious comeback next year, especially as shoppers continue to lean into nostalgic dressing."
SH: "Beyond the timeless classics like Louis Vuitton, Chloé, Céline, etc. and the designers that have already made a comeback in 2021 like Prada and Balenciaga, I definitely think we'll be seeing a big resurgence in contemporary designers like Miu Miu, Proenza Schouler, Isabel Marant, Loewe, Rick Owens, Marine Serre, and more sustainable brands."
What about trends in terms of silhouettes, colorways, etc.?
NC: "We're seeing continued demand in gender-fluid styles that readily transition between seasons, like relaxed trousers, oversized blazers and button-down shirts and loafers. Interest has also been growing for skin-baring silhouettes—think mini skirts and dresses as well as one-shoulder and halter necklines and strapless bustiers. People are dressing up to go out and be seen. Vibrant colors and bold graphics are also trending across the board. Our shoppers are seeking out brands known for their iconic vintage prints like Emilio Pucci, Gianni Versace, and Roberto Cavalli."
SH: "2022 is going to be a big year for fashion lovers! I think next year's trends are going to accentuate all of the trends we've started seeing in late 2021 like Y2K, bling is back, cut-outs, fringe, baggy pants, and vintage."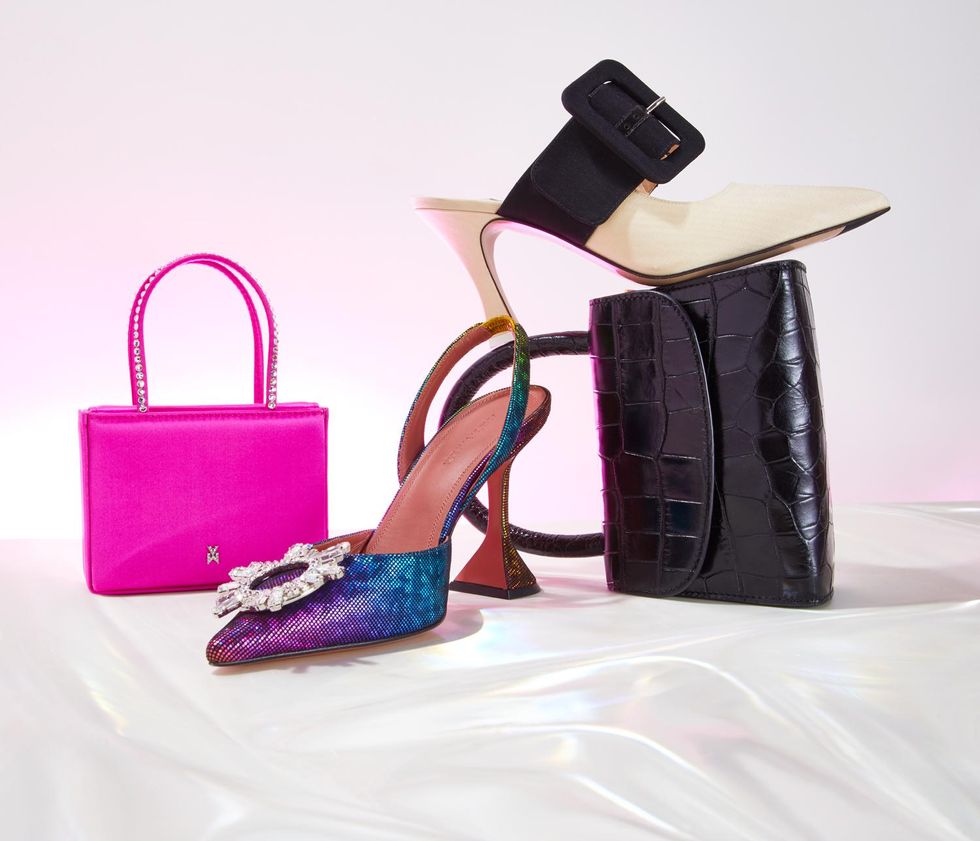 What are the characteristics of items you should keep in your wardrobe long term? What are some specific timeless staples you suggest holding on to right now?
NC: "Capsule wardrobe staples like cashmere sweaters, trench coats, and loafers are items I always recommend keeping in your closet. Classic investment jewelry like gold hoops and chain necklaces are also great to have on hand to elevate any look. These versatile pieces transcend trends and age, making them worthy of a long-term place in your closet."
SH: "Your capsule wardrobe should have foundational pieces that are versatile and can be worn in any occasion. These are the pieces you should invest more in! Some of these essential go-to's should be:
A good pair of loafers are an investment piece that can be worn with anything, from pants to skirts and anything in between.
A classic coat is the kind of piece that will stand the test of time! You can not go wrong with a trench or cozy wool camel coat.
A good pair of jeans are perfect multi-purpose pieces that transition effortlessly into day-to-night. You can opt for your unique taste from vintage to high-waisted, so you can truly make it your own.
A transitional blazer is one of the most essential pieces in your capsule wardrobe. It's another perfect day-to-night look and ideal for transitional weather between seasons."
What are some telltale signs someone should part with an item? Building on that, which items will likely continue to depreciate the longer you keep them?
NC: "When deciding to part with an item I always ask myself, 'Will I notice this piece is missing?' If the answer is no, then that's a sign it's ready to be sold. I always keep a very close eye on what's trending in the primary market, especially since trend cycles move fast. If a certain brand or style is having a moment, now is the time to strike while the iron is hot and sell since this strong demand could result in a bigger payout. Otherwise, there's a chance you might not earn as much as time passes."
SH: "I believe styling yourself is all about self-identity. If you don't feel like yourself wearing a garment, it's probably a telltale sign that it's time to part with it! Chances are if you lack the excitement and you haven't worn it in a while then that piece will be better off in someone's closet who will appreciate it a lot more."
From your vantage point, what is currently selling well on your platform?
NC: "Demand for vintage has been rising significantly over the past few months. Vintage handbags like the Gucci Diana and Christian Dior Street Chic are becoming the new It bags, and we're seeing a newfound interest from our shoppers for heritage vintage designers like Bob Mackie, Bill Blass, and Mary McFadden. High-value unbranded jewelry has also been having a moment. Earlier this year, it was the most sought after high-value brand, second only to Chanel. Shoppers are looking for one-of-a-kind, no-logo pieces from cocktail rings to chain necklaces that spark joy and help express their personal style."
SH: "Our members are always in the search of unique vintage & designer pieces. The pieces that sell the quickest on our platform are Gucci Jackie Bag, Prada Tessuto, and Louis Vuitton pochette accessories."