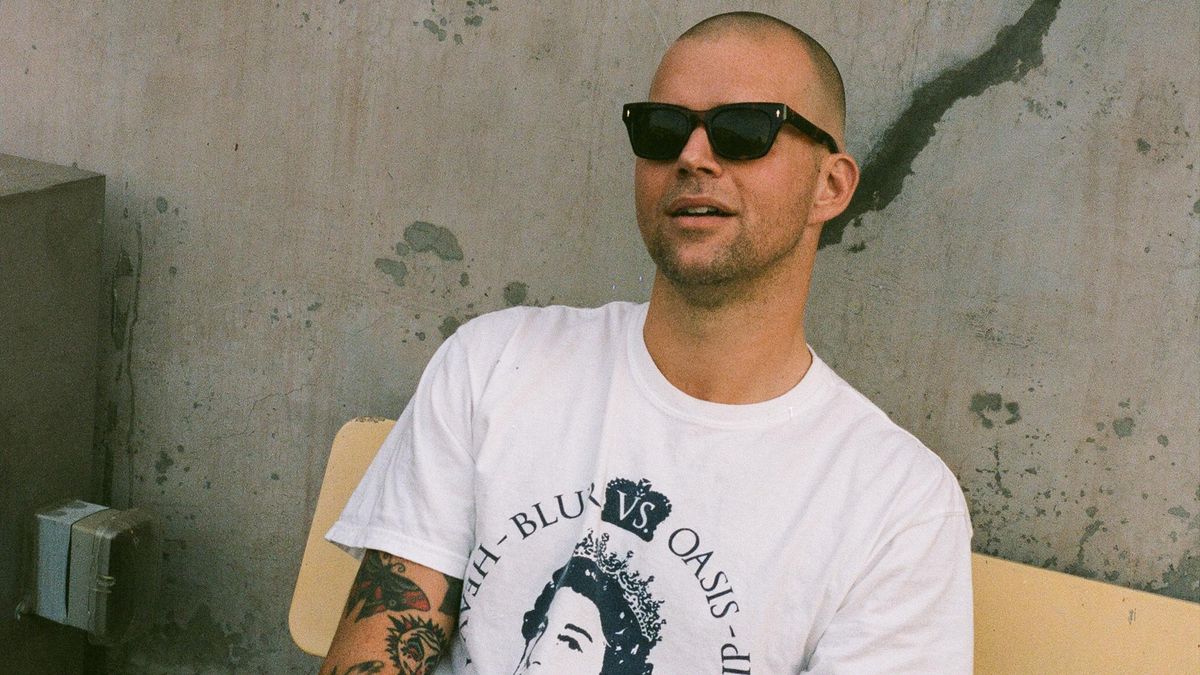 I Swear by This
Chris Black taps into his skin care sensibilities.
Welcome to I Swear by This, an interview series where we chat with our favorite fashion and beauty insiders about the beauty products they use down to the last drop. This week, we asked the ever-opinionated Chris Black, writer, consultant, and co-host of the podcast How Long Gone, to share all the products that have earned a spot on his self-care lineup.

Chris Black knows what he's talking about. He dispenses his hot takes with an ease that can only come from a place of impermeable confidence and if-you-know-you-know intel. He went from managing the pop-punk band Cartel to consulting for brands like Thom Browne and Stüssy—but you probably already knew that. To devotées of his pandemic project-turned-long haul podcast How Long Gone, he's an arbiter and iconoclast with a strong stance on everything. So what does he know about skin care? A lot, apparently.
In an essay for Ssense, Black diagnosed himself as "brand-sensitive", a term he used to describe his affinity for luxury items. "I cannot simply buy a pair of white sneakers, get a salad, or book a flight," he wrote, "I want only the best."
For Black, a product's value can be distilled down to a feeling. Case in point? His Aēsop deodorant. "It costs $40, but it feels good to buy," he explains during our Google Meet conversation. "The experience is good. I like the way it smells and I like the way it makes me feel. So I'm going to do that for myself. We have to go beyond the product and talk about how it makes us feel, which is important." Below, he breaks down his multisensory approach to skin care and shares the eight products he can't get enough of.
I'll set the scene: I go home with a guy, I go into his bathroom. I look in his medicine cabinet, see this item, and leave immediately. What product in a man's bathroom should warrant such a response?
"Axe Body Spray, no question. Any sort of drugstore shit deodorant that smells like a 24 Hour Fitness locker room. Men are much more informed [on skin care] than they ever have been, but even when you're at an expensive gym, you see guys using that. Like, you're paying $300 a month to go to the gym, but your deodorant costs $5 and smells like feet. What are we doing here?"
Are you conscious of packaging? If a product is amazing, but the packaging is so subpar that it defiles your nightstand, would you choose efficacy over aesthetics?
"This probably says a lot about my psyche as a person, but that doesn't happen to me. Actually, it's not true. One of the items that I've been using since high school is called Queen Helene's. It's a green clay mask that you get at CVS for like, $4 but it's ugly as fuck, so it stays in a different cabinet. It's not next to all the good products being displayed. It's hidden away a little bit."
Is the skin care routine a time to stunt?
"I think a skincare routine is really about what works for you. If something from the drugstore works for you, then that's great. Skin is something that is so deeply tied to confidence. So if you feel good and you look good, that's much more important than like, 'This all costs $200 versus $5.' It's like a Cetaphil bottle. Like, this really works for me, and it's $5 and I feel good. And that's the most important thing about taking care of yourself in general."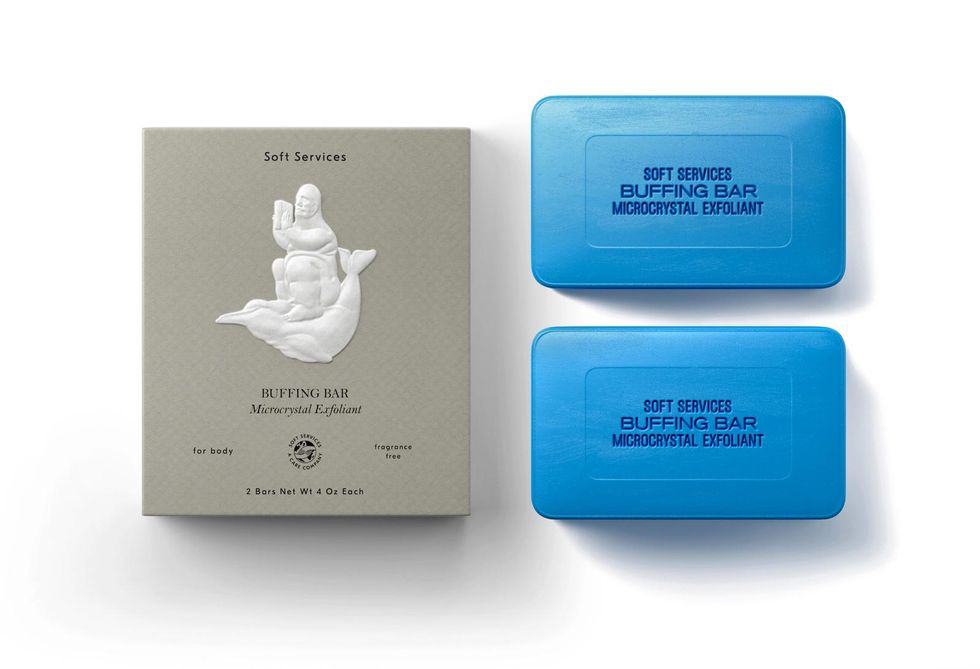 "I love the way this makes my skin feel and I love the blue color. They just sent me this soap holder and it's so cool because it keeps the soap clean and protected from water when you're not using it. Exfoliating the body is not something I necessarily thought about a lot, so now I really appreciate that."
Soft Services
"I've used this for years. Eye cream is something all men need to be using because that's where you start to look old. I've got grays and a beard and it's all good. But you can't have crow's feet—that's when you get fucked up.
"For eye cream I used to use La Mer because my old studio mate did a project with them and I ended up with three or four jars, but it was just too heavy. I didn't like the way it felt but the Aēsop Eye Cream is really nice and portable. It's always in stock and I love that it smells really clean. I've used it for a long time and I'm pretty loyal when it comes to stuff like that."
Aēsop
"My friends Allison and Jay started [Wonder Valley] in Joshua Tree. They have a really great body oil, they have a great olive oil, and a face oil but the Hinoki Bar smells incredible. I rotate bar soaps but that's the one I've been using quite a lot lately."
Wonder Valley
"I shave my head, which is a pandemic thing—I never did that before. But I still shampoo my scalp because it feels good and it smells good. This is a shampoo and shower gel but I only use it on my head. The smell is like a rich Italian guy on holiday smoking a cigarette, which is really nice. Santa Maria Novella has been around for like 500 years but to me, everything they touch is goals. I also like the store experience, especially the original location in Italy."
Santa Maria Novella
"Because I'm outside a lot in the summer, I put a little bit of this on my head beforehand to moisturize my scalp so I don't get super sunburned. I love the way that it smells. It's a nice little treat—it's easy."
Crown Affair
​"Byredo is as good as it gets to me. The stores are so beautiful, the packaging is so beautiful. It's a great experience, where you walk in, you spend $300, and you don't even realize you did it. That's very powerful. That's a very powerful brand."
BYREDO
"A girl I know, Claire, did all the design direction for this brand. So they sent me some products, and I really appreciate this exfoliator. I like that the packaging is super clean."
Isla Beauty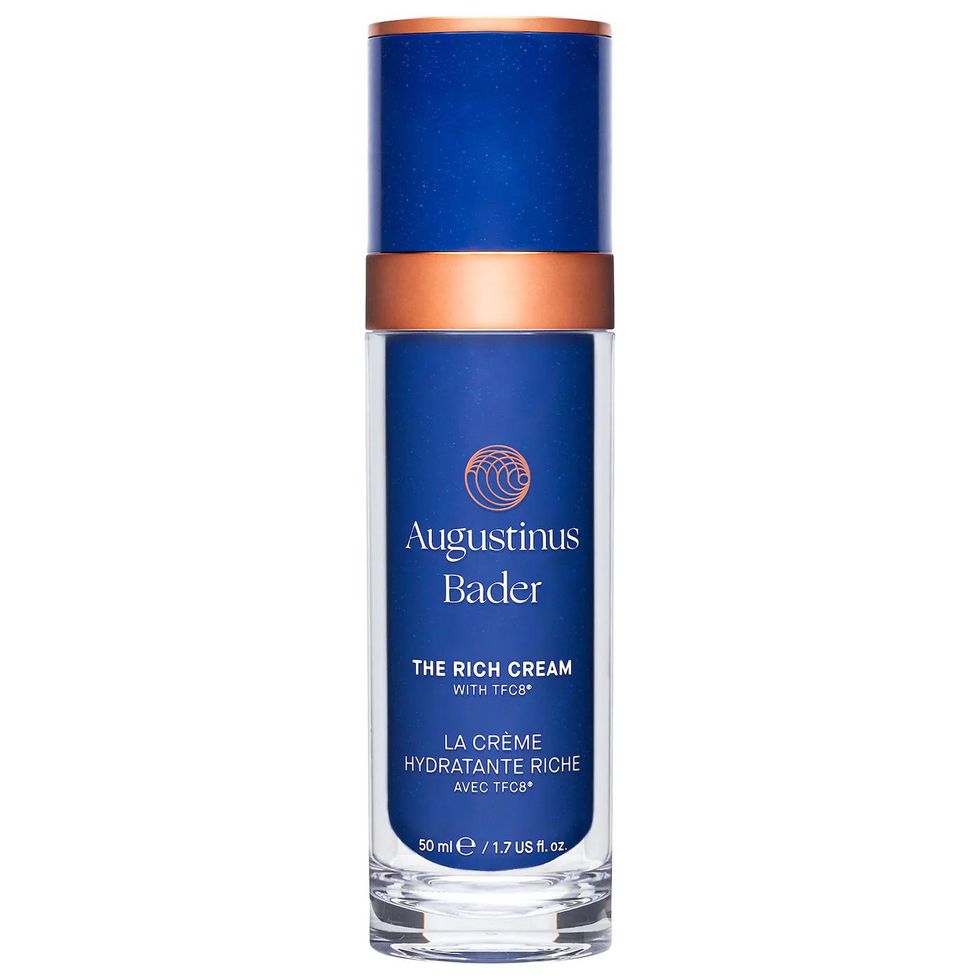 "If it's good enough for burn victims, it's good enough for me. It's expensive, but some stuff you can't really put a price on. Plus, I'm not using that much. My girlfriend buys it, so it's all over the house. Basically, when she's not around, I use it, so I don't get slapped on the wrist.
"This is an interesting product because it's become the hot chick thing. They sell this at The Row; it's like, the one. Every two to three years there's a product like that. I don't even know if it's celebrity-driven because, with anything that becomes as big and popular as this, it's just because it's good and it works.
"Skin care and beauty are so personal. You can't just have beautiful packaging and marketing. It really does have to work and there has to be a word of mouth element. That criteria doesn't exist in other categories."
Augustinus Bader