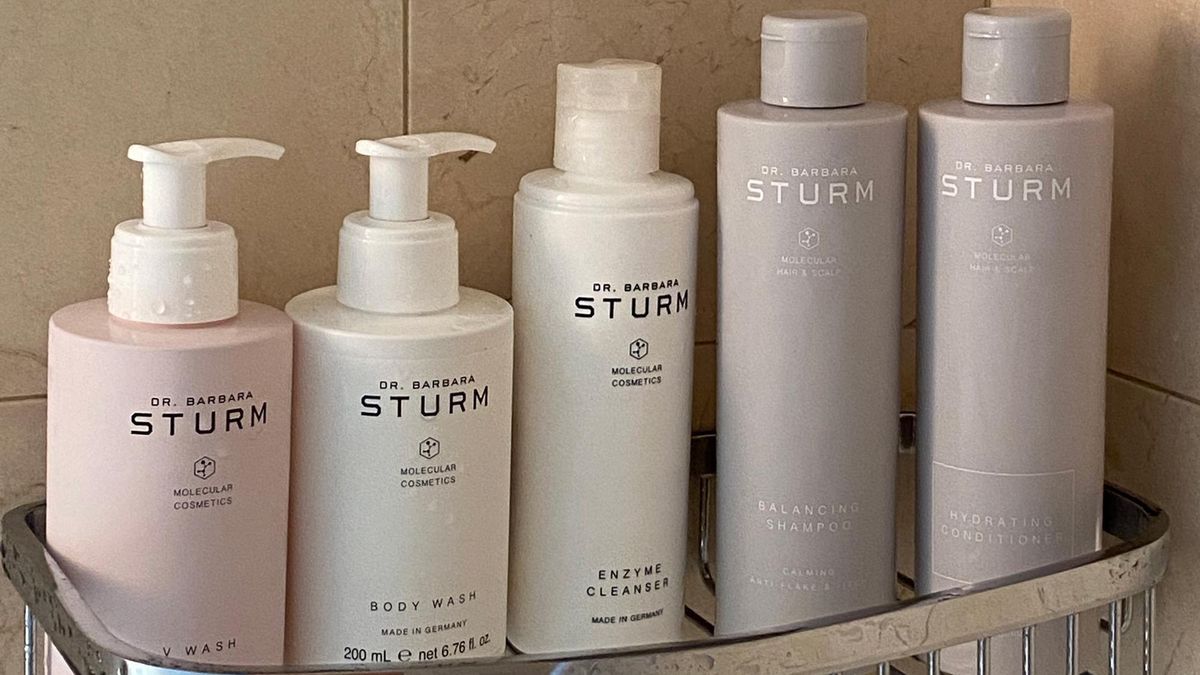 Hair
A Step-by-Step Guide to Ultimate Hair & Scalp Health
This complete, science-backed system is a game changer. In collaboration with Dr. Barbara Sturm.
Skin care and hair care have often been regarded as two separate entities. Skin care draws attention to the face, neck, and limbs while hair care speaks to the tresses on the top of our head. But in the latest release from Dr. Barbara Sturm, hair care comes from a more holistic, science-backed approach, acknowledging that amazing, healthy locks begin with proper skin care, particularly at the scalp. The result is the new Molecular Hair & Scalp Collection.
"The scalp is one of the most overlooked areas of our skin," says Dr. Sturm, the founder of the cult-favorite line and one of the most sought-after aesthetic physicians worldwide. "Its surface provides a distinct microenvironment for microbes called the 'scalp microbiome,' which is comprised of the epidermis, sebaceous glands, sweat glands, microorganisms, adipose tissues, and hair follicles. This physiology extends into the dermis to deliver nutrients essential for healthy hair growth." Unfortunately, as she explains, many shampoos, conditioners, or other treatments on the market can further exacerbate the imbalance of the scalp, leading to more cases of dandruff, heightened scalp sensitivity, or oiliness. With this in mind, Dr. Sturm has applied her extensive anti-inflammatory research to the latest launch of three distinct hair systems, each addressing unique needs, to obtain complete hair wellness: the Super Anti-aging Collection, the Anti-hair Fall Collection, and the Balancing Collection.
The Balancing Collection includes a Balancing Shampoo and Balancing Scalp Serum, and it is intended for those with scalps prone to flaking, itching, or burning. "The cationic hyaluronic acid, which does not get washed off like normal hyaluronic acid, assists with retaining moisture" shares trichologist Bridgette Hill after reviewing the line of products. A certified trichologist, inventive colorist, and founder of Root Cause Scalp Analysis, Hill explains that this ingredient is imperative in reducing inflammation and irritation on the scalp. Furthermore, in an independent study of 60-65 participants over four weeks, 96 percent of participants also agreed that their scalp irritation had improved after using the products.
As far as application, the Balancing Shampoo should be used as the first step in the process, followed by either Dr. Sturm's Hydrating Conditioner—for smoother, softer, easier-to-comb strands—or Repair Hair Mask—for even deeper hair hydration and a glossy, frizz-free finish. Lastly, the Balancing Scalp Serum is applied as a leave-in treatment, post-shower, and pre-styling. "The shampoo and serum are also a must for men who have shaved and bald heads to keep the skin on the scalp supple and healthy," adds Hill.
Dr. Barbara Sturm
Dr. Barbara Sturm
Dr. Barbara Sturm
In the Super Anti-aging Collection, Dr. Sturm addresses anyone concerned with dry, damaged, chemically treated, colored, or aging hair. Comprised of the Super Anti-aging Shampoo and Super Anti-aging Scalp Serum (applied in the same order as the Balancing Collection), the Super Anti-aging line takes Dr. Sturm's work in promoting youthful, healthy skin and applies it to preserving hair's volume and appearance.
"The Super Anti-aging Collection provides a solution by nourishing hair follicles and keeping the cells and tissues of the scalp thriving," says Hill of the line. "As an advocate for preventive hair fall care, this collection is a must." Furthermore, you can think of the Super Anti-aging Collection as the default hair-care system for anyone who doesn't suffer from a dry, flaky scalp or loss of hair. It's best suited for dry, thicker, and/or chemically treated or colored hair types.

Dr. Barbara Sturm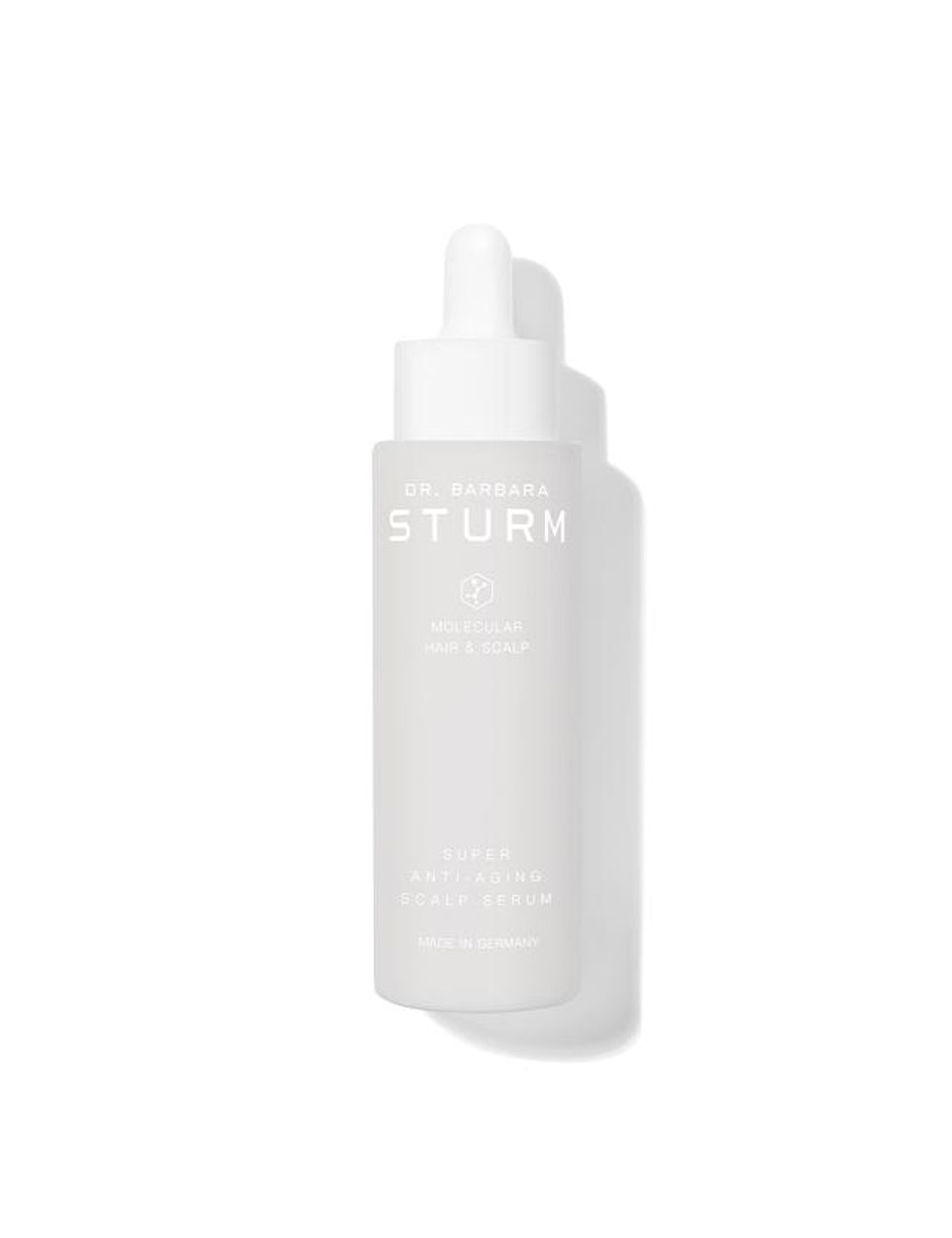 Dr. Barbara Sturm
Dr. Barbara Sturm
Finally, the Dr. Sturm hair-care line rounds out with the Anti-hair Fall Collection. These products fundamentally nourish the scalp, promote the growth of strong, healthy-looking hair, and provide radiant shine, vitality, and volume. With fine and normal hair types in mind (though anyone concerned with hair loss will benefit from these products), the formula includes Camellia and Larch extracts that help strengthen the hair and reduce fall-out. "One of the keys to managing hair loss is to extend the growing phase of the hair growth cycle," says Hill. According to her, an expert on all things scalp-related, "When faced with the early signs of aggressive hair fiber shedding, managing hair loss concerns is essential."
Again, Anti-hair Fall Collection is used much like the other products in the Molecular Hair & Scalp Collection. After the Anti-hair Fall Shampoo, follow with the conditioner or mask and complete your hair and scalp care with then Anti-hair Fall Scalp Serum before styling.

Dr. Barbara Sturm
Dr. Barbara Sturm
"I created the Molecular Hair & Scalp Collection using advanced science formulations that promote a clear and healthy scalp," says Dr. Sturm of her brand's new product releases. "As a doctor, I insisted on extraordinary hair products that strictly avoided unhealthy ingredients, such as sulfates, silicone, and fragrances. Instead, we chose to use potent ingredient science that supports the healthy functions of our scalp and hair." The complete hair collection marks a whole new chapter for the beauty editor–beloved brand that's praised for its science-driven formulations and its all-over #SturmGlow results, which now extend well beyond your skin.
Photo: Courtesy of Dr. Barbara Sturm
Want more stories like this?
Succession Is Using Hair to Tell a Story About Ambition and Power
Meet the '90s-Inspired Hairstyle You Need to Try
7 Edge Tamers to Keep Your Baby Hairs Laid