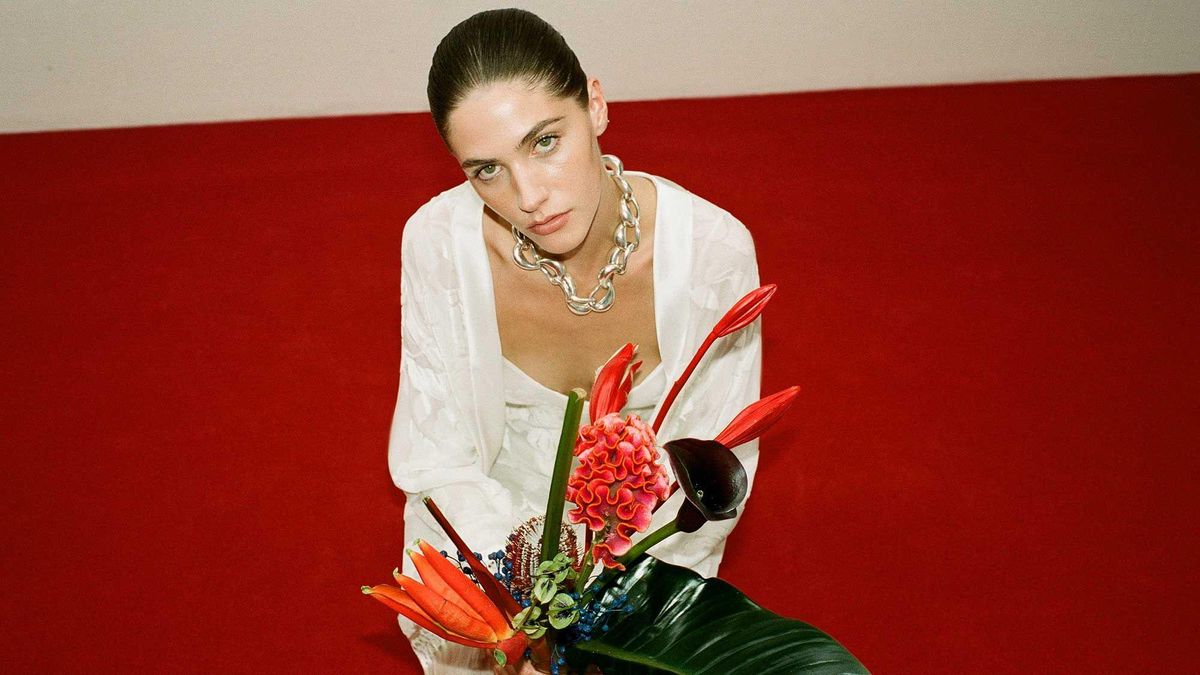 Trends
11 expert-approved silhouettes for any type of event.
The wedding industry is one of those hardest hit by the pandemic. If weddings were hosted at all, they looked totally different. With the current vaccine rollout tempting our lust for in-person events, it's sparking debate over whether weddings will continue to trend towards more intimate gatherings or if the industry will experience a backlash and the events will be more over-the-top than ever. According to Larkin Brown, user researcher and in-house stylist at Pinterest, "Our Pinterest Predictions for 2021 points to less-is-more when it comes to nuptials this year." In a domino-like effect, "smaller gatherings are leading to minimalist [dress] styles."
Alexandra Macon, founder of online bridal destination Over The Moon, takes a more diverse approach to her predictions. "Much like events themselves, I think we're going to see both ends of the spectrum, which is really nice. The pandemic forced us to focus on what's most important in life—family and health—and reminded us of why people get married in the first place," she explains. "The pomp and circumstance surrounding weddings can be really exciting, but it can also be overwhelming. It's nice that couples can make the choice to do what they're most comfortable with—whether it's hosting something very small and intimate or a big bash—and there's a more prevalent understanding now, that no matter what, it will be incredibly special."
It seems this flexibility will extend to the fashion, as well. "I fully expect to see some brides embrace this idea of a post-pandemic 'Roaring Twenties' resurgence and really go all out, and then others will feel more confident than ever before in doing something more pared back and practical—and this freedom to do what makes the most sense individually and not feel as pressured to do whatever the norm is considered to be is one small positive to come out of everything that's happened in this industry over the past year," says Macon.
At the recent bridal fashion week, we saw both Macon's and Brown's predictions ring true as everything from sophisticated mini dresses to full-skirted ball gowns found their place on the (virtual) runways. Whether you're planning an all-out shindig or will simply be heading to the courthouse, we've rounded up the biggest trends to inform your dress selection.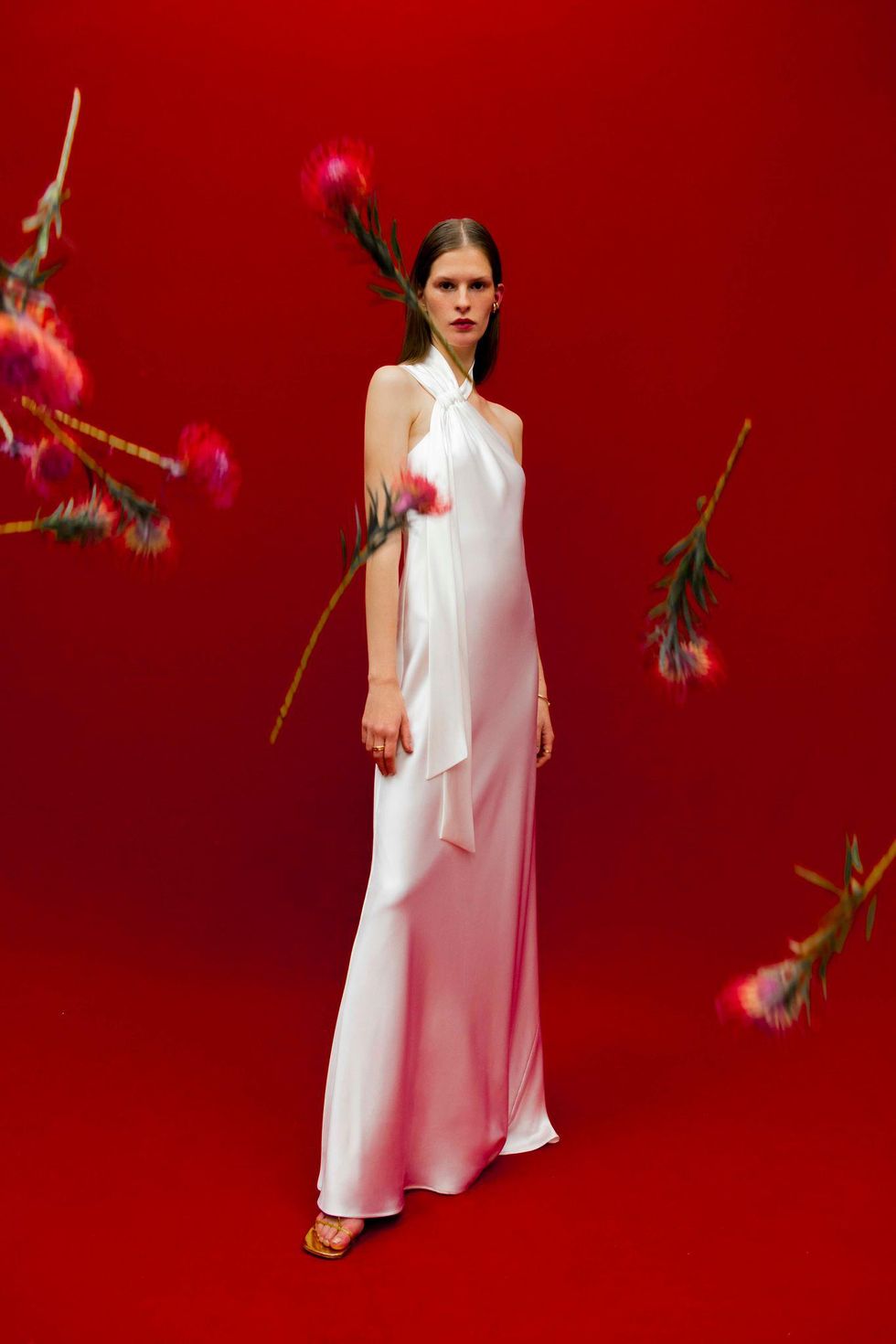 Photo: Courtesy of Galvan
Pinterest has seen searches for minimalist wedding dresses increase 29x from 2020 to 2021, while searches for courthouse wedding outfits have more than doubled. According to Brown, "Pinners are searching for versatile pieces that adapt to any time of year and different types of venues, likely due to the many shifting wedding plans from the last year."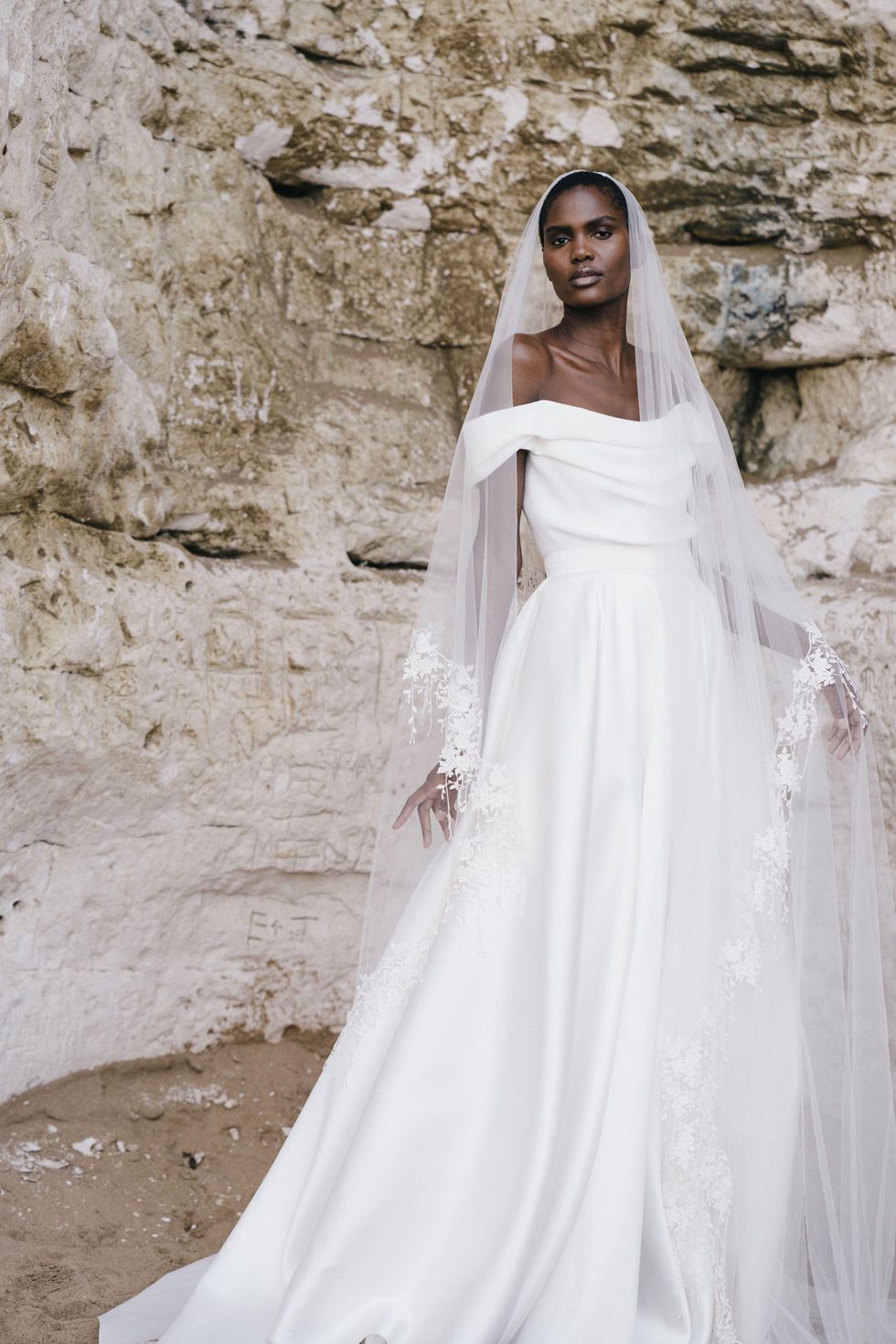 Photo: Courtesy of Halfpenny London
In a similar to the aforementioned theme of minimalism, traditional A-line silhouettes are a "pinner favorite," up more than 200 percent since September of 2019. The classic style flatters a variety of body types and often sports a complementary plunging neckline.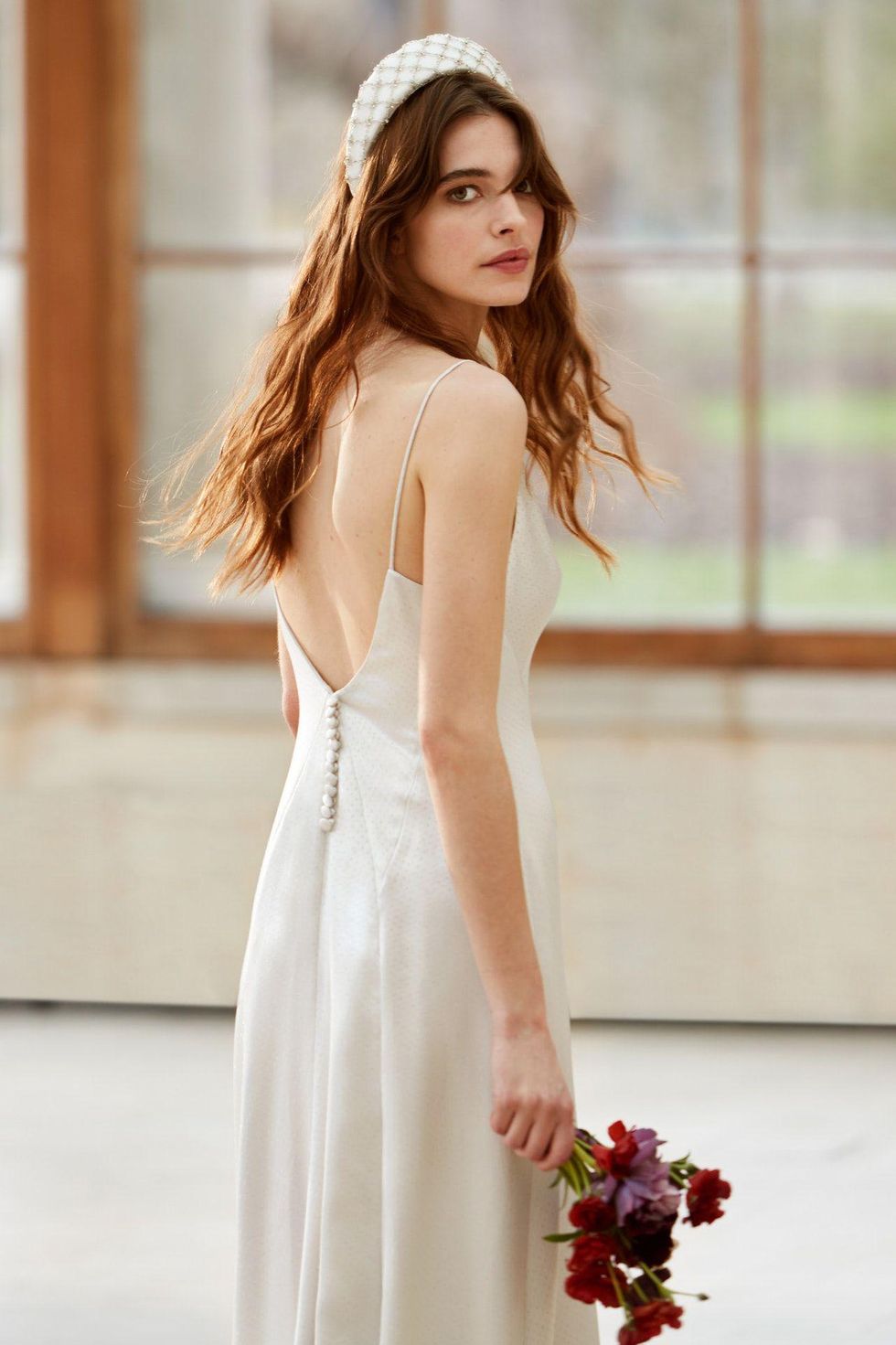 Photo: Courtesy of Temperley London
According to Pinterest, simple backless wedding dresses are up 500 percent since September of 2019. Brown emphasizes that this cut adapts to all types of styles as it can pair with a variety of sleeves or hemlines. Your back is an easy section to show off as most people are comfortable doing so, and it's not too overtly sensual.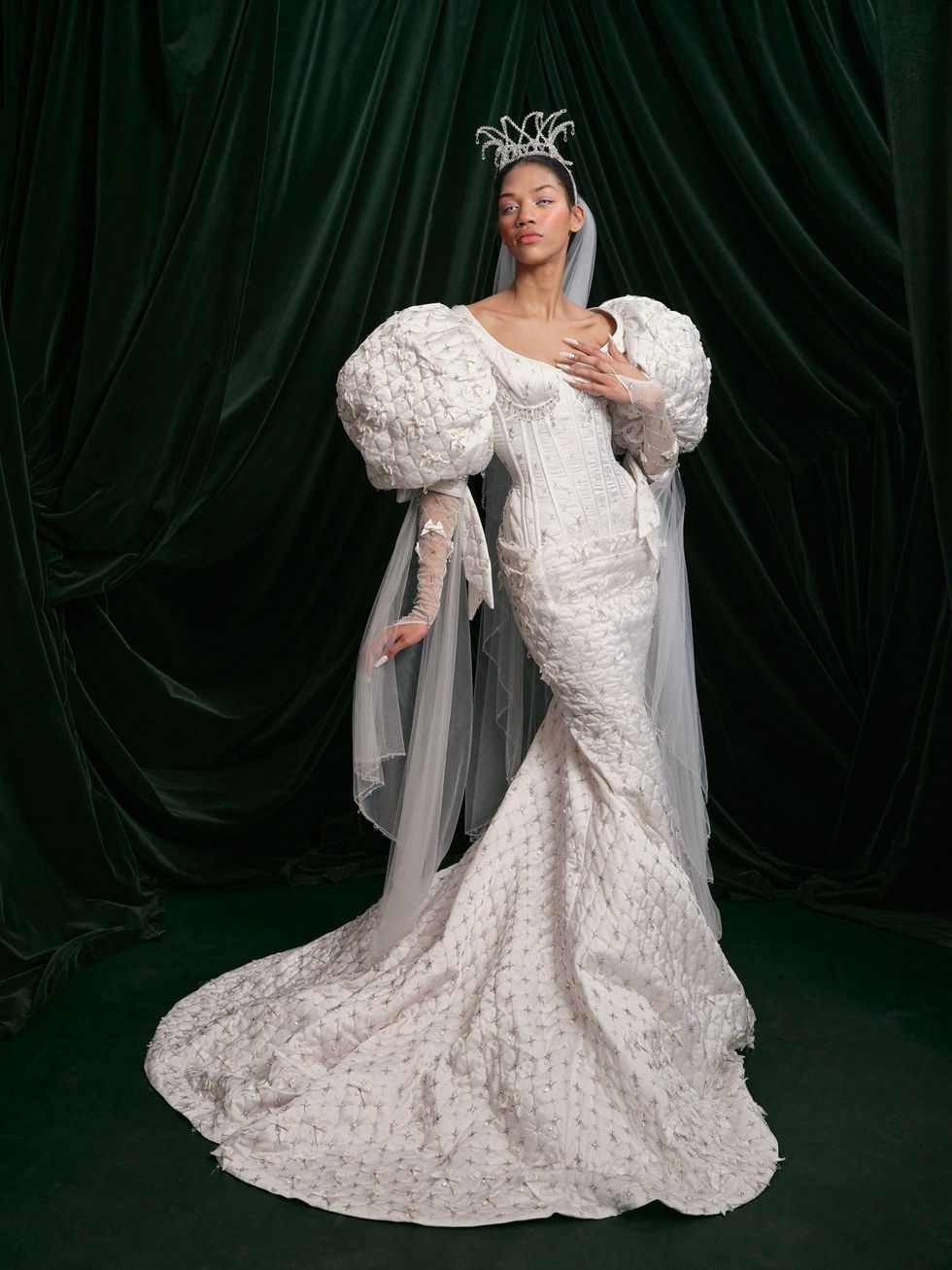 Photo: Courtesy of Wiederhoeft
No coincidence that this trend trails the popularity of Netflix's hit show Bridgerton. "The empire-waisted dresses with their square necklines and puff princess sleeves, the delicate jewelry, and the set design were definitely top of mind after bingeing the show," explains Macon.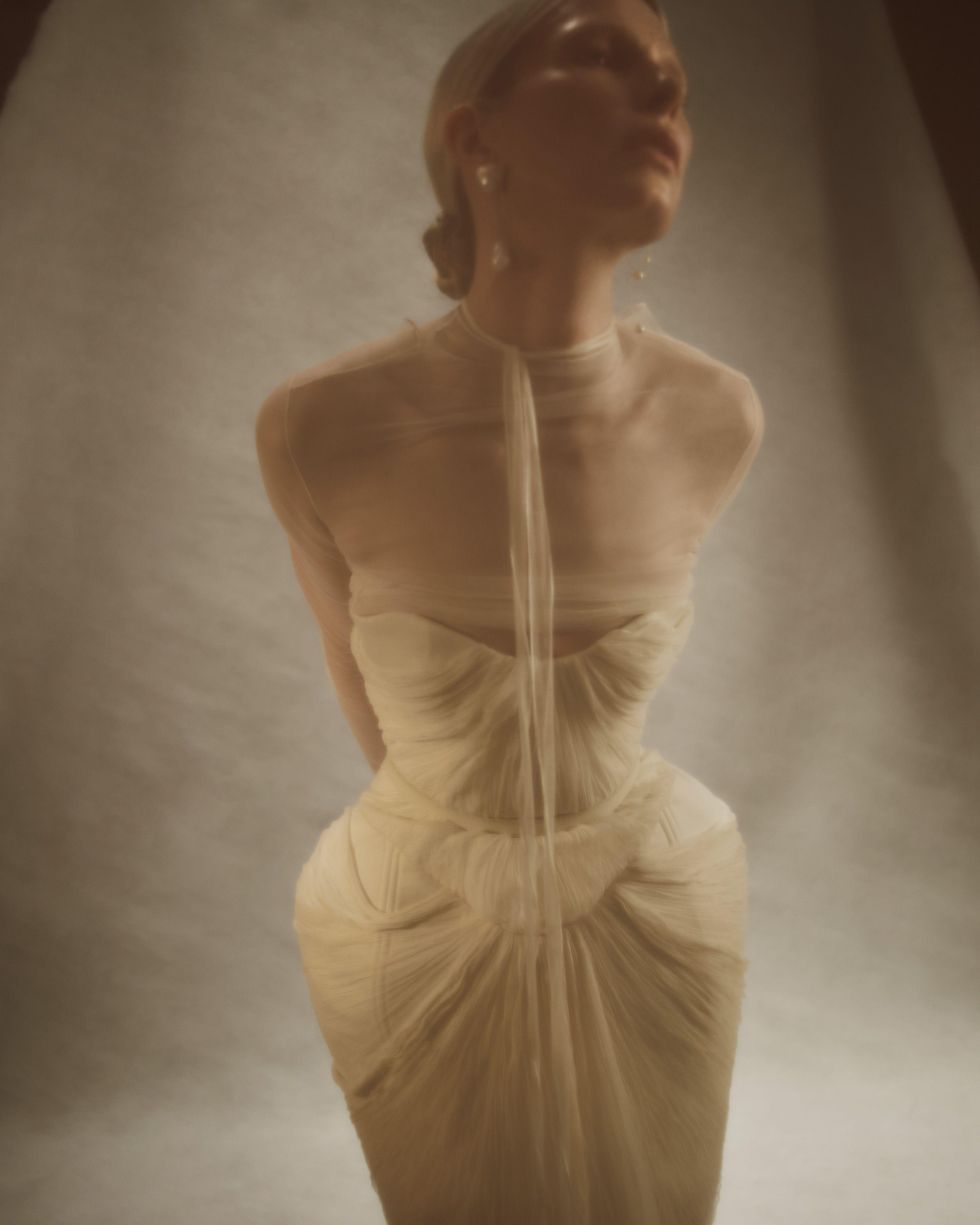 Photo: Courtesy of Danielle Frankel
Paralleling a major runway trend, bridal designers are also embracing sheer fabrics layered over simple slips or dresses. Minimalists can opt for classic sheer overlays, but there are all sorts of embroidered renditions for those looking to experiment more.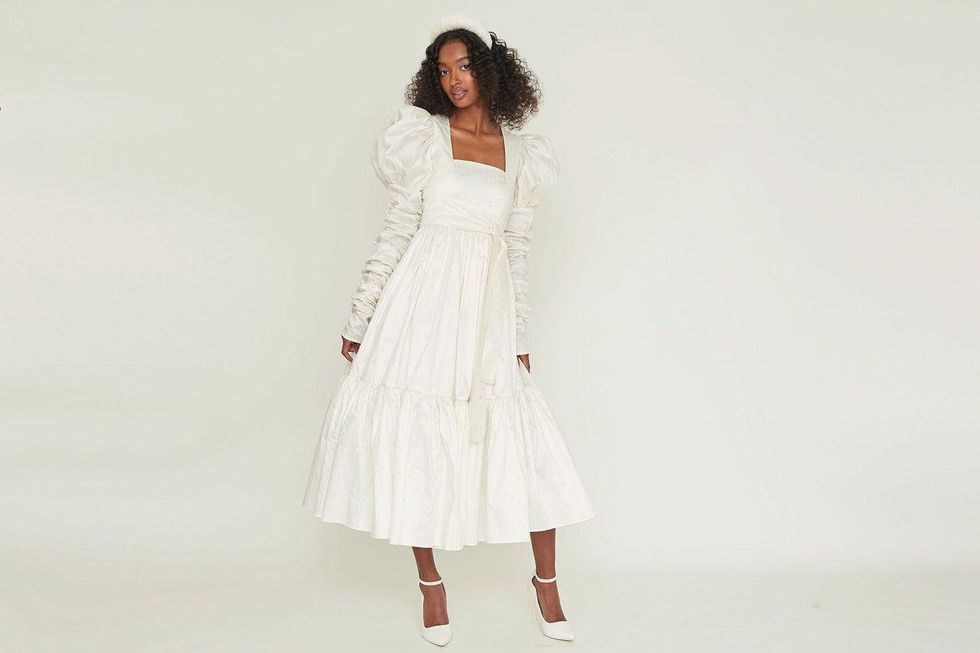 Photo: Courtesy of Odylyne the Ceremony
Another riff on RTW, those breezy, tiered summer dresses have translated into features of bridal skirts. The style has the essence of a ruffle without the added volume—perfect for those looking for subtle experimentation in silhouette.
Courtesy of Markarian
"Hemlines went up during the pandemic as couples pivoted to having micro weddings, elopements, and backyard ceremonies. I think we'll continue to see this trend even as there's a return to larger events, which is nice."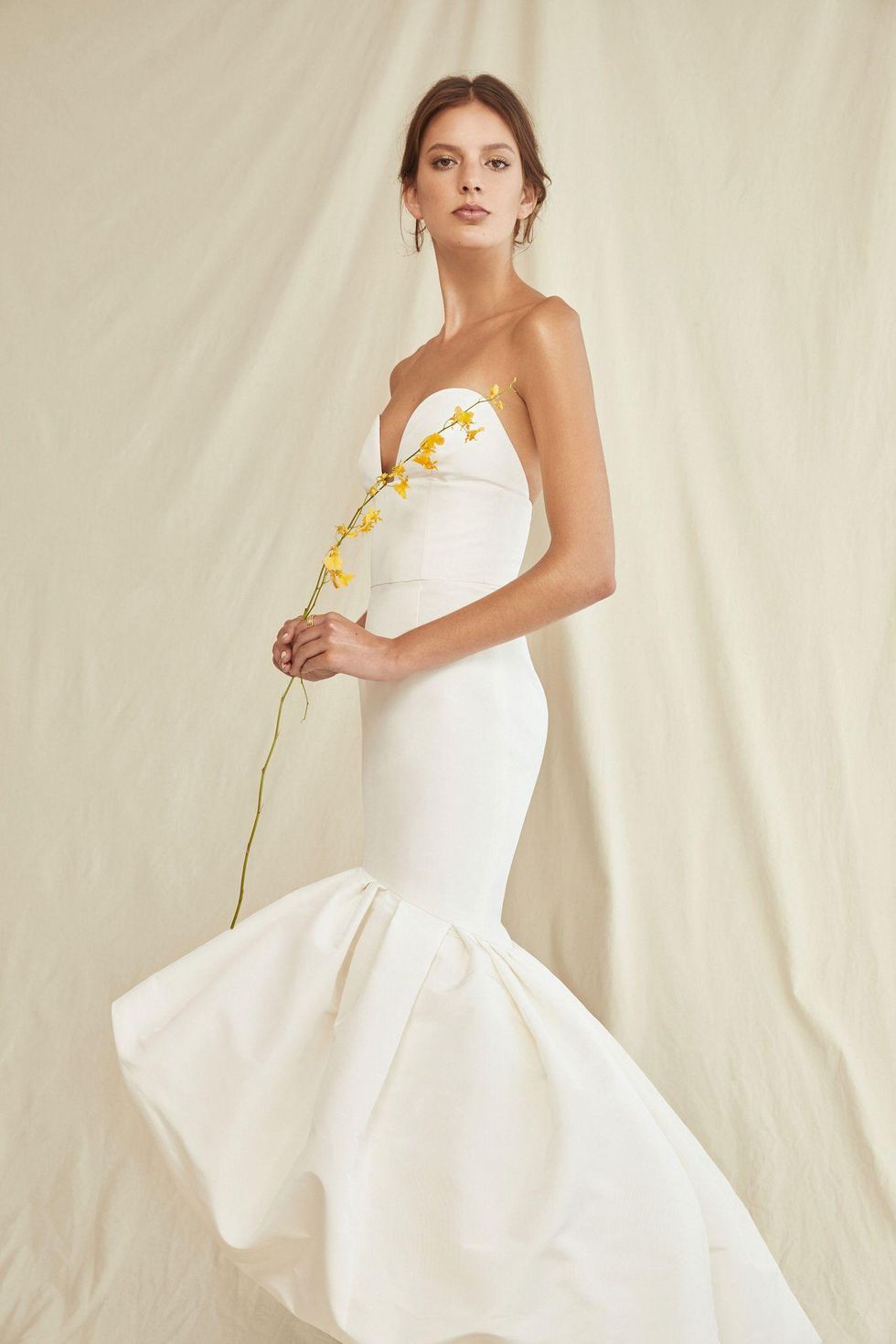 Photo: Courtesy of Oscar de la Renta
As for silhouettes, Macon emphasizes that "fit and flare dresses with flouncy accents that look like they were made to be out on the dance floor" will be a major trend this year. The style is perfect for those looking for a figure-flattering silhouette without sacrificing statement-making volume.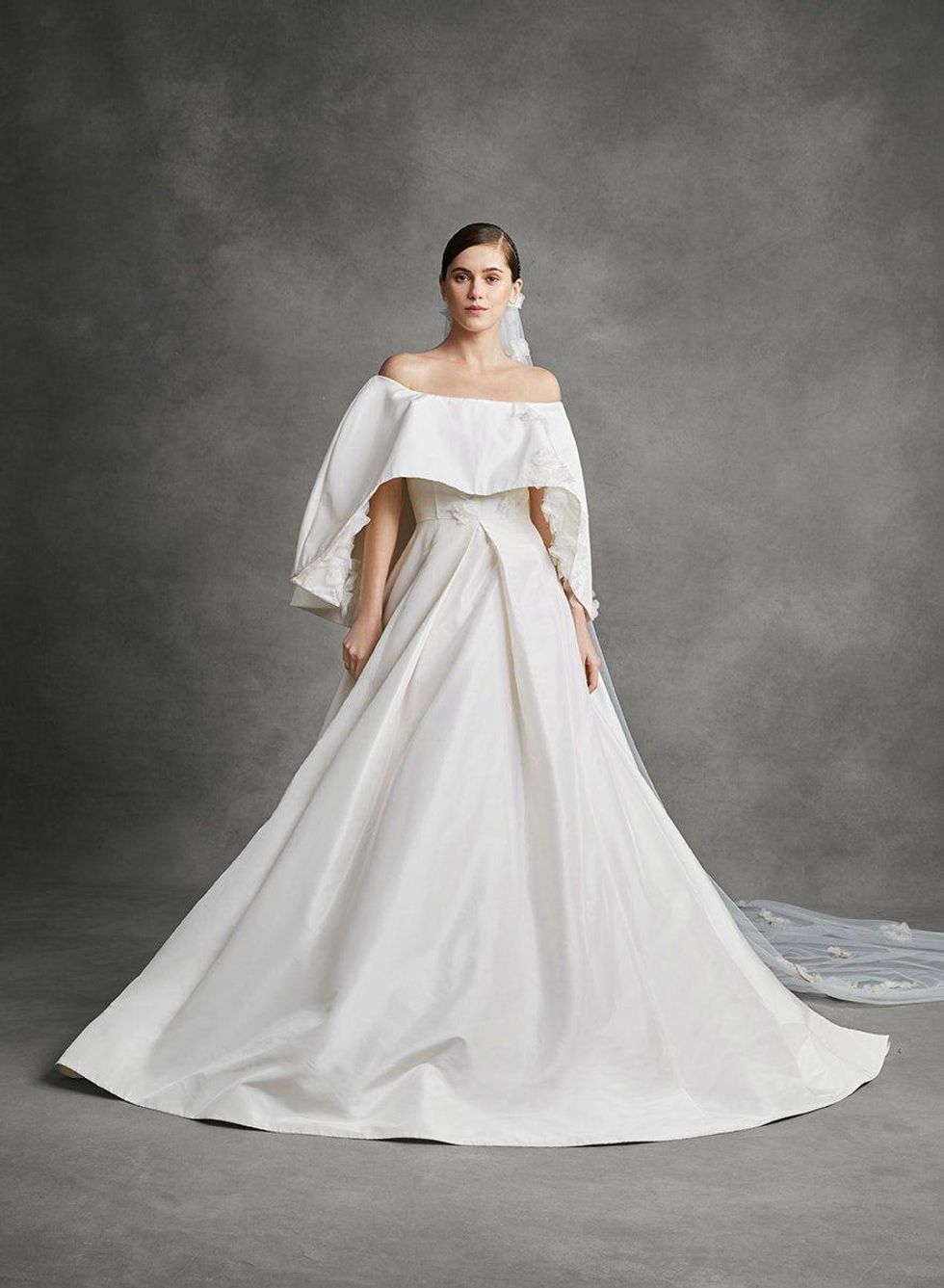 Photo: Courtesy of Andrew Kwon
Capes are a wedding-dress trend with some staying power—how many other times do you get to wear a cape? In some cases, like Andrew Kwon's most recent collection, capes are a part of the dress silhouette, but in others it serves as an add-on to completely transform the look.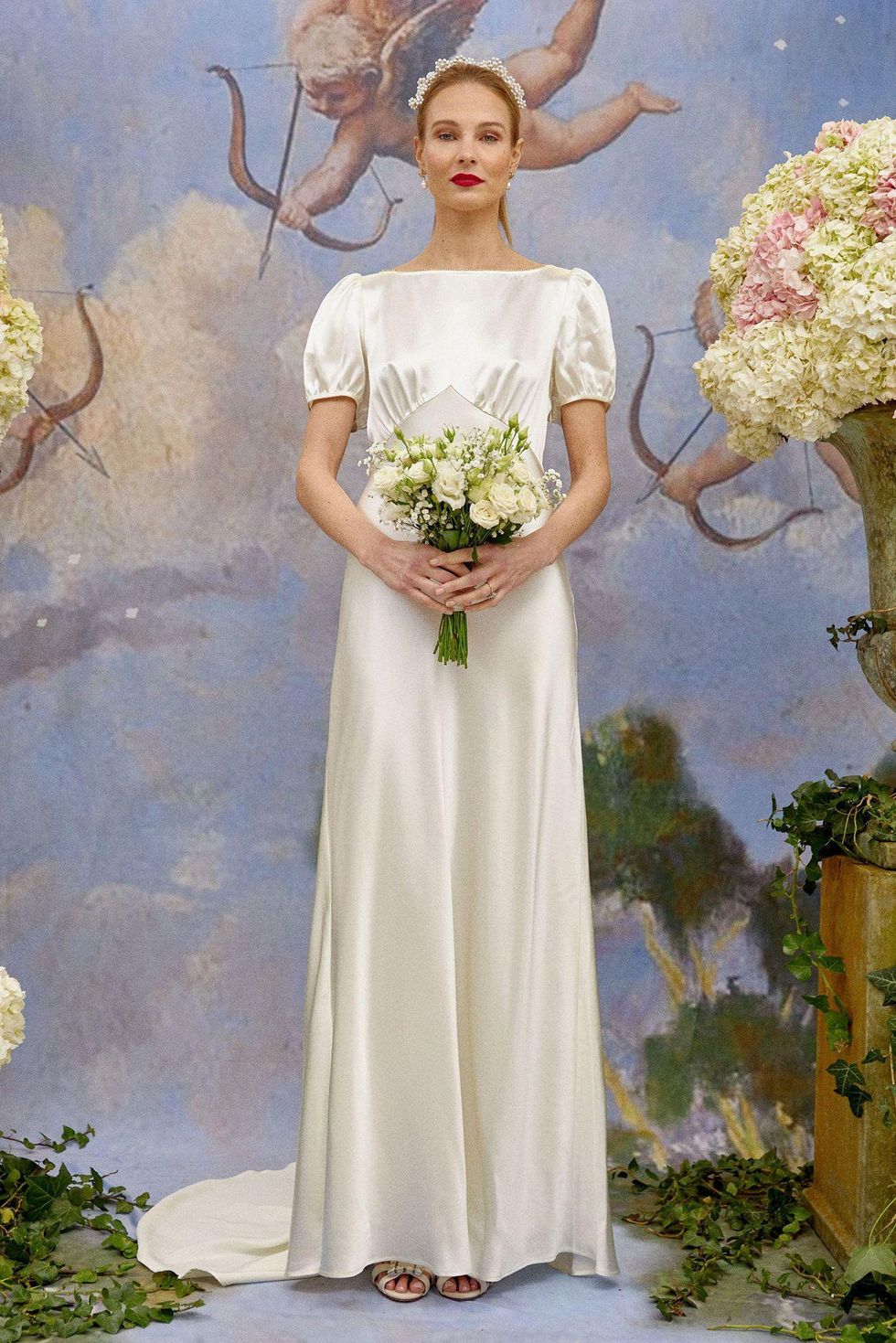 Photo: Courtesy of Rixo
Many of the more casual silhouettes popularized amidst the pandemic allude to past eras. Whether it's draped silk, covered buttons, or ivory hues, retro details were peppered throughout many collections this year.
Photo: Courtesy of Gigi Burris
Veils are an area that typically adhere to more traditional standards, so we love to see new styles emerge. "The Detachable Blusher Veil by Daphne Newman was a piece that we sold a lot of over the past year, and I believe it's here to stay," explains Macon. "I think brides really like the '60s mood it evokes."