This Year's Top Nail Art Trend Is the Successor to Crackle Polish
With blooming gel, your mani can match your aura.
Nails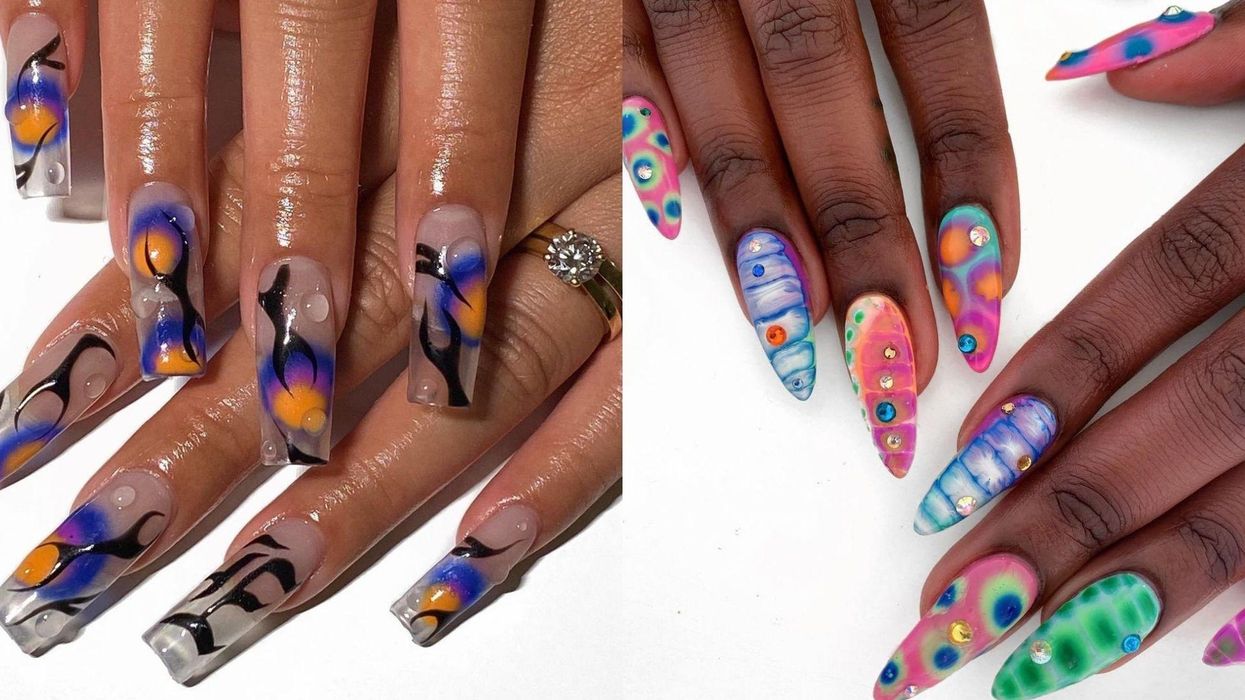 The common thread that tied together the nail art that we couldn't stop double tapping and DMing our nail techs this year was blooming gel. When I got my first blooming gel mani this year, my mouth was agape underneath my mask. With just a swipe of the clear gel on top of your regular base coat, your polish can 'bloom' in a way where dots expand, but don't bleed. The process is quite a sight to see.
The last nail art method I remember being akin to an optical illusion was crackle polish, although I try to forget it (and I'm sure you try, too). Blooming gel has the opposite effect of crackle polish, though; where crackle contracts, blooming gel expands. The results can range from heat map manis to psychedelic, auric orbs and reptilian scales, which have been sported by celebs like Rosalia, FKA Twigs, and Dua Lipa. "I love using blooming gel with designs that also incorporate precise line work," London-based nail artist Angel Nguyen aka Angel's Nailz tells Coveteur. "I think the contrast in the soft blooming gel designs with the harsh lines work well together. The more color the better, too."
​But how does it all work? After you apply and cure a gel base color, Nguyen says, "you apply a layer of blooming gel and without curing it you paint the gel color using a brush, straight onto the blooming gel in the desired shape." That's when the magic happens. "The blooming gel then proceeds to 'bloom' the gel colours out, which gives it a fading effect. You then cure it under the light and repeat the blooming gel step with other gel colours until you're happy with the outcome."
This gives each mani a one-of-one finish. "Blooming gel has a mind of its own," Nguyen explains, "sometimes you want it to look a certain way and it decides to look completely different. Either way, the outcome is always amazing and you have to expect to not be able to do the exact same blooming gel design twice."
Nguyen doesn't see blooming gel fading away next year, but instead taking a textural twist. "3D nail art is currently a big trend at the moment and I think the next big thing will be incorporating blooming gel into those designs too," she adds. Below, we've rounded up all of the blooming gel manis that left us awestruck this year.
For this heat map-inspired French mani, Nguyen layered two-tone orbs in two separate colorways with clear, textured droplets.
This mani's bold palette takes a colorful cue from James Turrell's light installations.
The asymmetrical orbs in this mani look similar to the center of a geode rock and were inspired by Canadian artist Kiki M.
More is more (is more). This maximalist mani dials up the drama with abstract, asymmetrical reptile scales. Life's too short for boring nails.
This Slinky, Snake Skin Mani
Evidently, the most ethical way to wear snake skin is on your nails. This mani pairs black with an earthy shade of green, the de facto mani color of the year.
Yes, croc nails can be understated. The faded effect to these reptilian tips gives them a frosty edge, with extra room for inconspicuous grow out.
Glitterbels by Annabel