Photo: Courtesy of Maraya Fisher
Beauty
I'm officially saying goodbye to full-coverage foundation.
I'm sure there are ways to gracefully wear a full face of foundation in the New York City heat and humidity, but this is a feat I have yet to master. My spring/summer go-to makeup look (when I'm not doing my best Euphoria cosplay) is a tinted moisturizer, a hint of blush, a swipe of brown mascara, and a full gallon of sunscreen. Until recently, though, I had yet to find my holy grail tinted moisturizer (a.k.a. a sheer, hydrating foundation alternative). I wanted it to have a dewy finish, last at least the length of a workday (and preferably drinks after), and have that subtle-but-effective pigmentation that evens out my skin tone while allowing my feeble little freckles to show through as they emerge from their winter hibernation.
To prepare for the season of afternoon Aperol Spritzes, sweaty subway rides, and impulsively ordered mozzarella sticks, I embarked on a quest to find my perfect lightweight, warm-weather base. In my pursuit, I tried four cult-favorite skin tints—Kosas Tinted Face Oil, Glossier Perfecting Skin Tint, Nars Pure Radiant Tinted Moisturizer, and Ilia Super Serum Skin Tint—and judged them based on skin benefits, coverage, finish, and durability. I wore each for a few days and prepped my skin with Hada Labo hyaluronic acid serum, The Ordinary's Niacinamide serum, and Kinfield's Daily Dew SPF 35, and paired the skin tints with my spring staples: Westman Atelier Baby Cheeks Blush, Heroine waterproof brown mascara, and a dab of Aquaphor on my lips and cheekbones. Read on for my skin tint power ranking, below.
Pre-Tinted Moisturizer
This is me post-skincare routine but pre-makeup. I would love for my tinted moisturizer to conceal the inconsistent texture and the slight redness under my nose from seasonal allergies; Photo: Courtesy of Maraya Fisher
Photos: Courtesy of Maraya Fisher
The Good: I am obsessed with the Kosas Wet Lip Oil Gloss. I saw someone rave about the brand's face oil on TikTok, so I was really excited to try out this product. It's extremely pigmented, so a little goes a very long way, and it definitely blurs away redness. I was very surprised the first time I wore this—for a face oil, it had an extremely matte finish, which is good for humid days. As I wore it throughout the day, the product reacted with the humidity in the air and settled in a flattering way.
The Bad: While I really liked how this face oil looked, about an hour into wearing it, it was a bit too matte for me. Though I was thoroughly slathered in moisturizing SPF, the product caught on and highlighted any dry patches on my cheeks and forehead, as you can see in the close-up image. While it is very lightweight, it was fairly visible on my skin until it melted in.
The Final Verdict: This would be a great option for people who fall on the oily side of the skin spectrum. If you need a mattifying skin tint with decent coverage, this is the product for you.
Photos: Courtesy of Maraya Fisher
The Good: As a Millennial/Gen Z cusper who worked around the corner from the New York Glossier flagship for two years, it's astonishing that I have never tried this iconic skin tint. The sheer number of downtown it-girls dabbing this onto their glowing, peachy cheeks in 2017 should have hooked me, but somehow it never landed in my makeup bag. Everything that I've heard about it turned out to be true: It blends beautifully and leaves the skin with a gorgeous glow. It made me feel like I should put on my Reformation dress, grab a Jane Birkin-style basket, and hit a farmers market.
The Bad: It blended so well into my skin that not too long into wearing it, it simply disappeared. My skin still looked moisturized and felt soft, but the coverage—sheer as it is meant to be—was gone. It did fade nicely without leaving patches of product, but I would definitely need to reapply it if I were to wear this to the office.
Final Verdict: Paired with a good concealer, this skin tint is a dream. I love the finish, and I would definitely wear it on good skin days.
Photos: Courtesy of Maraya Fisher
​The Good: While the rest of the tints I tried had a more runny, serum-y consistency, the Nars tinted moisturizer is closer to a gel cream. This made application very easy, and the product blended very quickly into my skin. It had a dewy finish and was very pigmented, so it covered the redness from allergies around my nose. It lasted the whole workday, though I would probably touch it up a little if I was going out after. Bonus points for the SPF!
The Bad: While it did blend really nicely, I found that it caught on some of my dryness, though not as noticeably as the Kosas face oil.
Final Verdict: This was a close second place for me. I wish that it blended as well as the Glossier skin tint, but the extra lasting coverage, as well as the SPF, made it worth it.
Photos: Courtesy of Maraya Fisher
The Good: I am crowning this as my holy grail skin tint until further notice. It combines the positive aspects of the other three tints and also contains hyaluronic acid, plant-based squalane, and niacinamide—three of my favorite skincare ingredients. It gives me a lovely hydrated finish, and just enough coverage.
The Bad: This tint did catch some of the dryness on my forehead, but with a little further blending that went away.
Final Verdict: While this skin tint is pricey, it's worth it for the gorgeous finish, high amount of SPF, and skin benefits. All of the skin tints I tried would suit other skin types if not my own, but the Ilia serum takes the cake for me.
Shop the Story: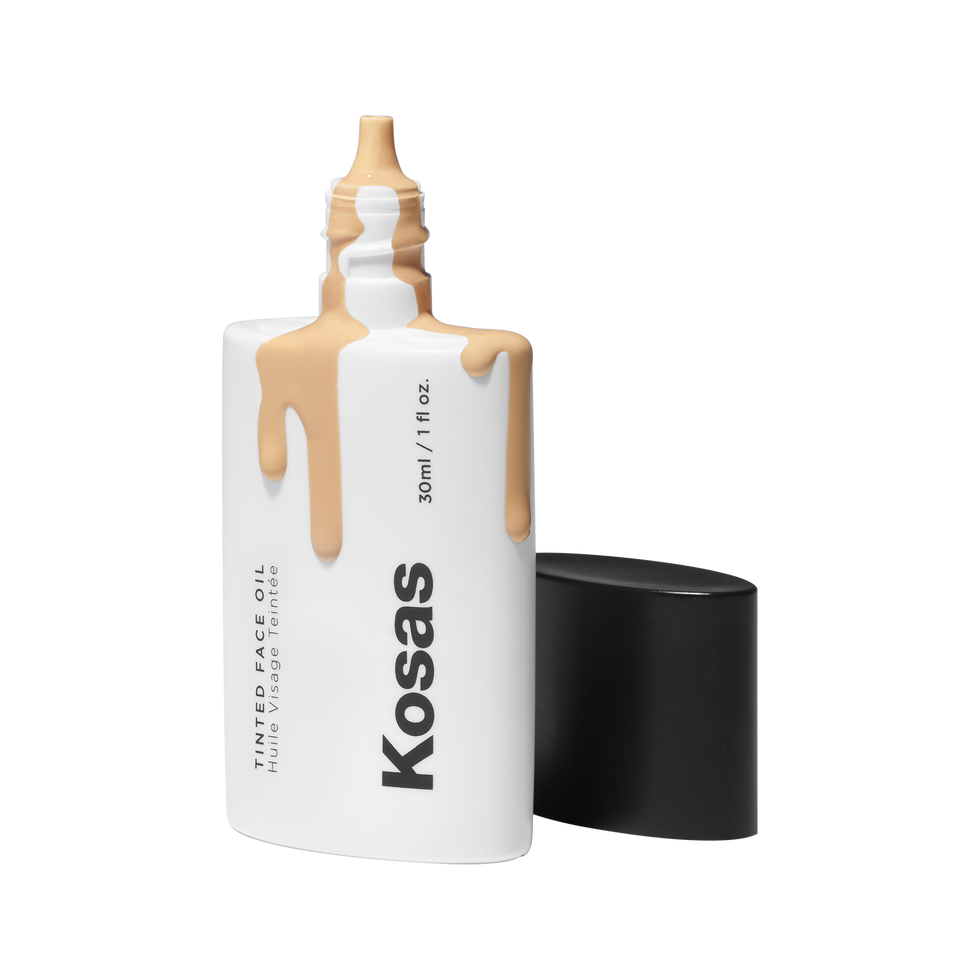 Kosas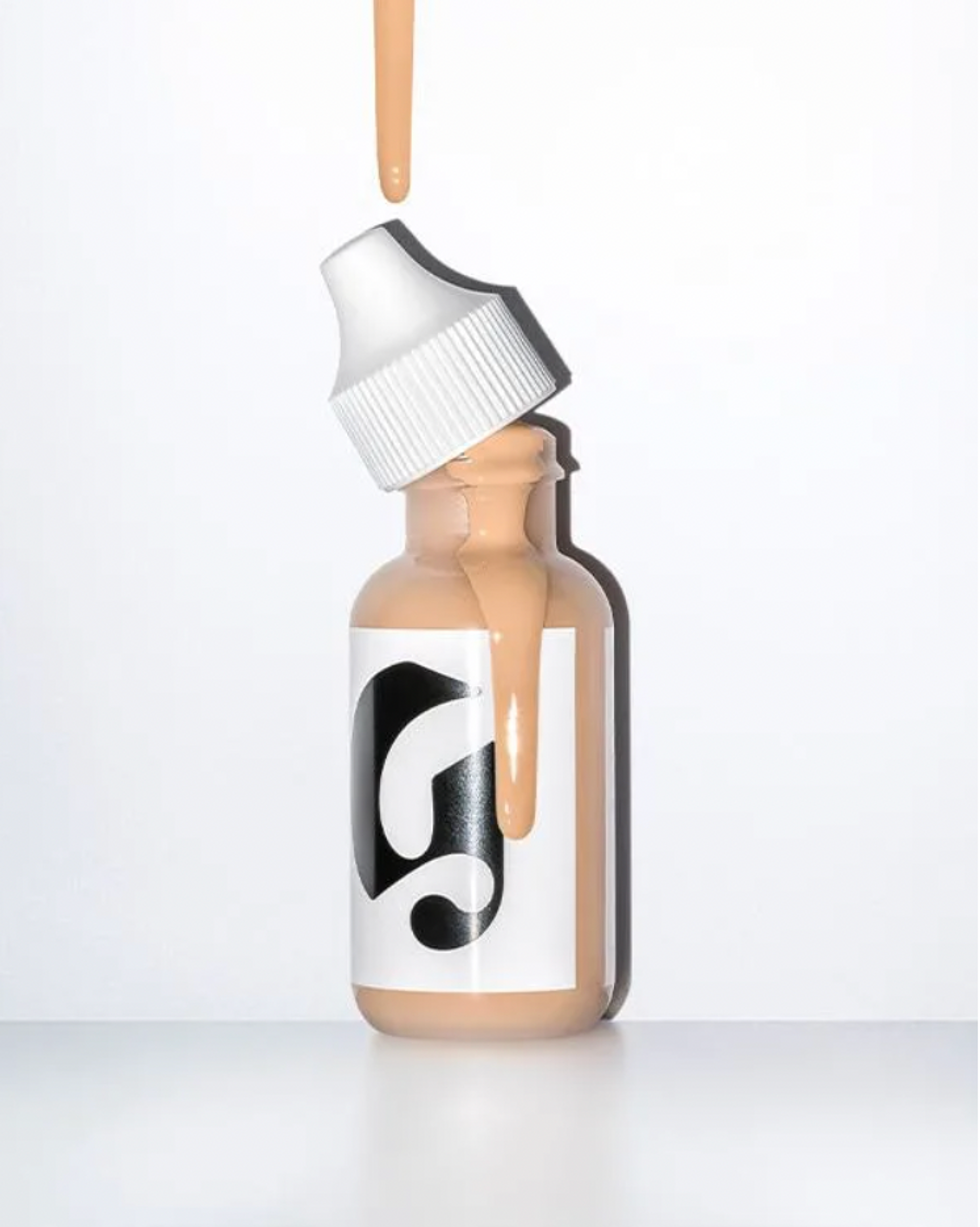 Glossier
Ilia