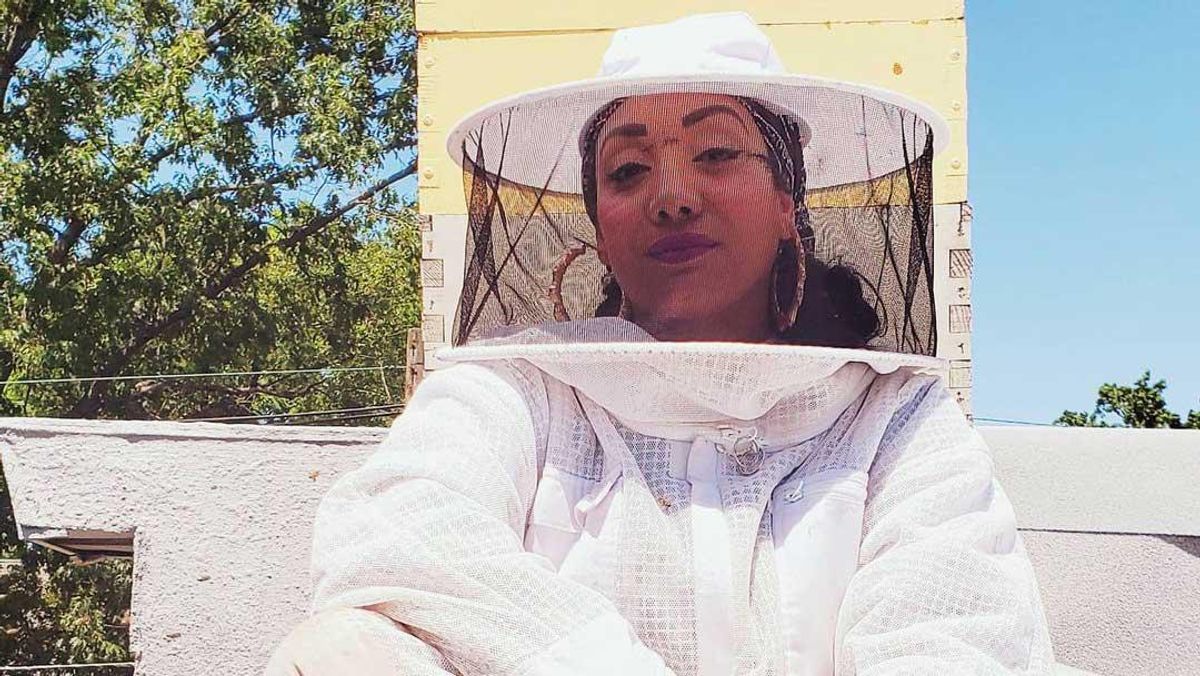 Living
From banking to beekeeping—why Nicole Rivera Hartery changed careers to save the bees.
A few years ago, Nicole Rivera Hartery switched from wearing a suit at her corporate banking job to a beekeeper suit and never looked back. The New Jersey–based founder of Bees on Main St educates urban and suburban communities about the everyday life and importance of bees—she also maintains her own hives and sells (very delicious) honey. This upcoming summer she will partner with Half Mad Honey to give in-depth hive tours, during which people can see the beauty and hard work of bees up close.
A fashion-school graduate, Rivera Hartery infuses her fashion sense into beekeeping with deep-rooted personal style and self-expression. We spoke to her about why everyone should be interested in keeping the bees alive and, of course, all her stylish beekeeping looks.
What was the specific moment that brought you to beekeeping?
"I would describe it as a divine intervention. I was in banking and mortgages and really wanted to get out of that industry. I was passionate about bees, but I didn't know anything about beekeeping. Then I decided to give it a go and got so passionate about the industry. I enrolled in the Rutgers apiculture program, and here we are today."
What does your week look like as a beekeeper?
"The beekeeping season is just starting now. I have hives on my roof and hives at a local animal hospital. On a typical day, I go inspect the hives at both and see if they're doing OK. I go check two to three times per week to see how the colony has grown and make sure there's no swarming. Swarming is when a bee colony decides that their space is too small for them. They create new queens, and their foragers look for a new place to live. They democratically choose a new place, and then the old queen and half of the colony go to the new home. It can be intimidating to someone who doesn't know anything about bees because it's thousands of bees in a cluster trying to make a move."
What are the most rewarding and most challenging parts of beekeeping?
"Swarming is definitely the most challenging, especially if they're trying to enter someone's house, which happens sometimes. For me, the most rewarding part is just being able to work with bees in general; being able to observe them is extremely therapeutic. They work together so beautifully—all of the worker bees are female, and I love to see their sisterhood. There's so much humankind can learn from nature. I absolutely love getting to do educational presentations and going to classrooms. I love teaching people about bees!"
What do you wear as a beekeeper, and how do you add your own touch to your look?
"I'm in full makeup, with a cat eye, brows, and I always wear my hoop earrings. That's just my look. I really suit up, so the only thing you can see personality-wise in how I'm dressed are my checkered Vans. My suit is vented, but it gets really hot in there, so I wear shorts and a tank top in the summer. The headpiece is called a veil, and I like mine round like a hat with a veil. I prefer that because I had a fencing-style one, but it pressed against my face and I've gotten stung on my face before."
I've seen you wear a variety of hairstyles; what are some of you favorite recent styles?
"Half of the year I wear cornrows. I go on Pinterest and pick something new. Then I do different hair colors; last time I did a platinum blond. And I always keep it parted on the right, that's just my side."
How do you create your signature red lip?
"I love KVD in Swoon because it has a bit of a shimmer to it. I love it because their lipsticks are cruelty-free."
How do you want to make beekeeping more inclusive?
"My mission is to get the word out there about beekeeping—when I was young, beekeeping was never brought up. Fortunately, because pollinators are dying off, schools are incorporating them into their educational programs to create awareness."
How is beekeeping essential to sustainability and the health of our planet?
"It's definitely needed. In the state of NJ, there are no feral honey bees anymore, and as beekeepers, we help keep them alive and protect them from parasites and viruses that work against them. As a kid I'm sure you can remember walking around and seeing honey bees. That's not common anymore. You might see bumblebees, but never honey bees. We need them as pollinators for food on our planet."
What are some ways people can get involved in beekeeping?
"Every state has a beekeeper's association, and that's a great way to get involved. I recommend going through a program and beekeeping classes. Once you go through them, you'll know if it's something you want to pursue more seriously."
What are some of your favorite ways to use honey?
"I use honey in my coffee every day to sweeten it. My daughter has allergies, so I make sure she has a spoonful of honey to counteract those. I also use honey on my bee stings; another beekeeper just recommended that to me. It helps take the swelling away. Also, lots of my friends buy my honey and use it for face and hair masks, mixed with avocado."