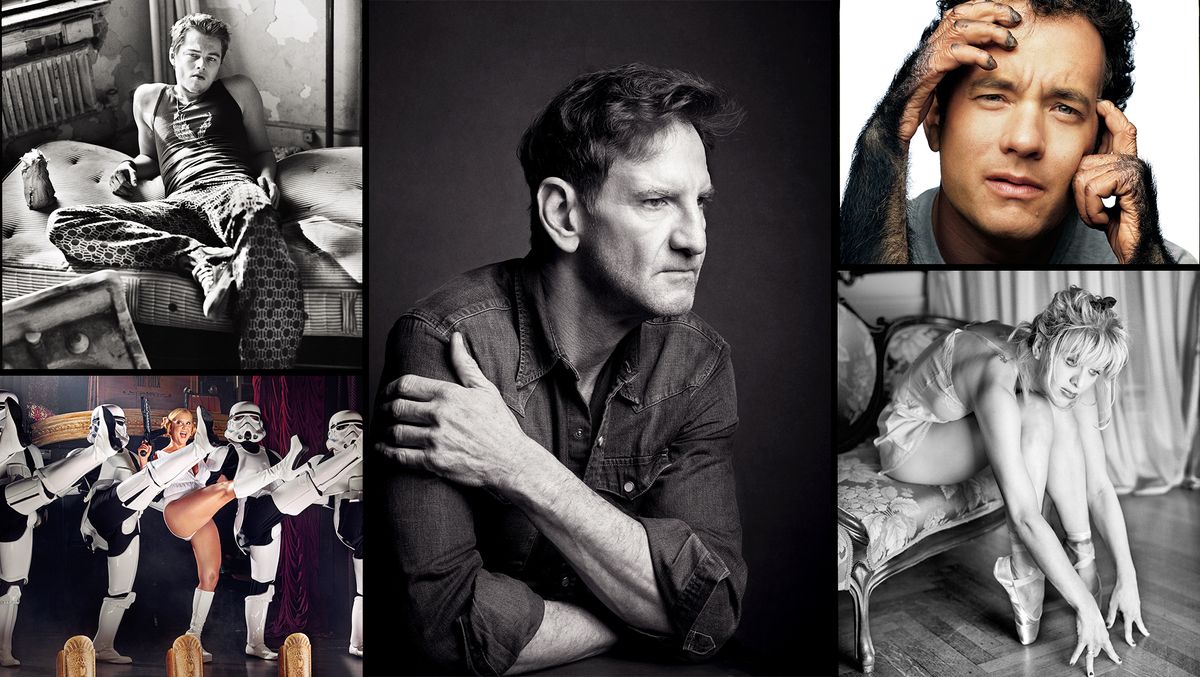 Fashion
Mark Seliger on the Role of Fashion in His Photography
Plus, a few details on his upcoming charity auction.
Graphic
Rachel Pickus
At first glance, Mark Seliger's body of work is a lesson in versatility. His portfolio ranges from Kurt Cobain's head peering eerily at you amidst a bouquet of doll heads to ballerinas clad in tulle and sequins pirouetting around an austerely lit studio. As you dig deeper, a thread of commonality weaves through each and every image
—
a respect for light, and a subtle wink of humor.
Seliger's esteemed r
é
sum
é
includes a decade-long stint at
Rolling Stone
as the chief photographer in the '90s ahead of an immense body of work for Conde Nast's
Vanity Fair
and
GQ
. While shooting for these major publications, he built up a reputation as a portrait photographer, capturing legendary names like Tom Hanks, Bruce Springsteen, and Jennifer Aniston. Seliger will tell you firsthand that the best images in his repertoire were built by a distinguished team alongside him: a creative hair and makeup artist, a dedicated producer, and a meticulous stylist.
None of these publications are solely dedicated to fashion, however almost every published photo possesses at least a cognizant respect for clothing. Seliger began shooting fashion specifically around 2006. His fashion career began with Italian
Vogue
, known for their controversial imagery, and has evolved into work with the pillars of the fashion magazine industry such as
Harper's Bazaar
,
Elle
, and
Vogue
.
"It's really enjoyable because it takes the onus off of photographing just portraiture and actually building a story," Seliger explains, "having the fashion be the hero rather than just your subject."
When Seliger gets assigned an editorial spread for a fashion magazine, the pressure lightens in terms of finding that one perfect shot as one must in portraiture. There's more "real estate" to work with, as he puts it, with more pages and greater possibilities in terms of cropping and concepts. "You can utilize both your directing ability and then also your sensibility to portraiture to lengthen the story and add onto it."
Seliger is also adamant that fashion photos are difficult in a very different way. "Probably the biggest gripe you hear from a lot of fashion photographers is that things become dated so quickly, not only because of just style, but because the world changes," he describes. Battling with rapid seasonality and fickle trends, how do you capture an image that transcends one point in time? Portraits, in Seliger's opinion, have a different life span, and because of that, Seliger believes that within the realm of fashion photography, "I've probably fallen on my face more than actually been successful."
When he initially started taking pictures, he focused on the theater of it all: elaborate sets and intricate concepts. His portraits became more reductive as he grew into his own style, as his photography "became an extension of who I am," he says. Seliger can now freely oscillate between these different styles, an ability that often comes in handy during a fashion shoot. "There are many different ways to attack and approach an assignment," he says of the process. Both a stark portrait and an excessive, fantastical story can be relevant in this industry.
---
One memory that stands out to him was shooting Demi Moore for the cover of
Harper's Bazaar
in 2009. In the image, Moore perches atop a floating spiral staircase and feeds a giraffe out of the palm of her hand. Glenda Bailey, Editor-in-Chief at the time, had come up with the concept of
"
more and less,
"
practically an open invitation which she bequeathed to Seliger. "I remember being on a plane and writing down about 300 ideas, and then sharing those ideas with her," he says. Of all 300, Bailey selected the giraffe and the spiral staircase.
Fashion photographers are not always given this type of free rein. It's common practice for editors to pull reference images to help plan for shoots. This is a delicate balance as, while it helps get the process going, it can also encroach on a photographer's vision and therefore hinder the final outcome. "It's one thing to take a hint from an idea, but it's always about bringing your own point of view into it," says Seliger.
"I feel like certain magazines won't take the chances that they used to take," says Seliger of the changing nature of the industry. "There's almost this fear, I think, going into it, that someone's not going to get what they want and it's not exactly the way that they perceived it." The editors he most admires are the ones that trust him to do what he wants, and in turn, those are often the images he is most proud of.
Seliger's own regard for fashion was admittedly learned. "I was really surprised at how elevated a shoot could be, particularly in fashion, when given the freedom and the right people involved," describes Seliger. He told us of a shoot with Arianne Phillips for Italian
Vogue
where she would stop everything in the middle of a sequence to swap out a shoe. "Just watching Arianne work," he explains, "that was the first time I'd ever seen a fashion editor work at that capacity which was so specific and so detailed."
After trying practically every type of photography, Seliger acknowledges that instead of having a favorite, he enjoys having a well-rounded set of opportunities. He compares his feelings about photography to looking at, of all things, a deli menu. "Sometimes I feel like an enchilada. Sometimes I feel like a big Hungry Jack breakfast. Sometimes I just feel like a bowl of matzo ball soup," he says. "It just depends. I kind of like it all." If he is given the freedom to explore, he feels comfortable drifting in any direction the assignment allows.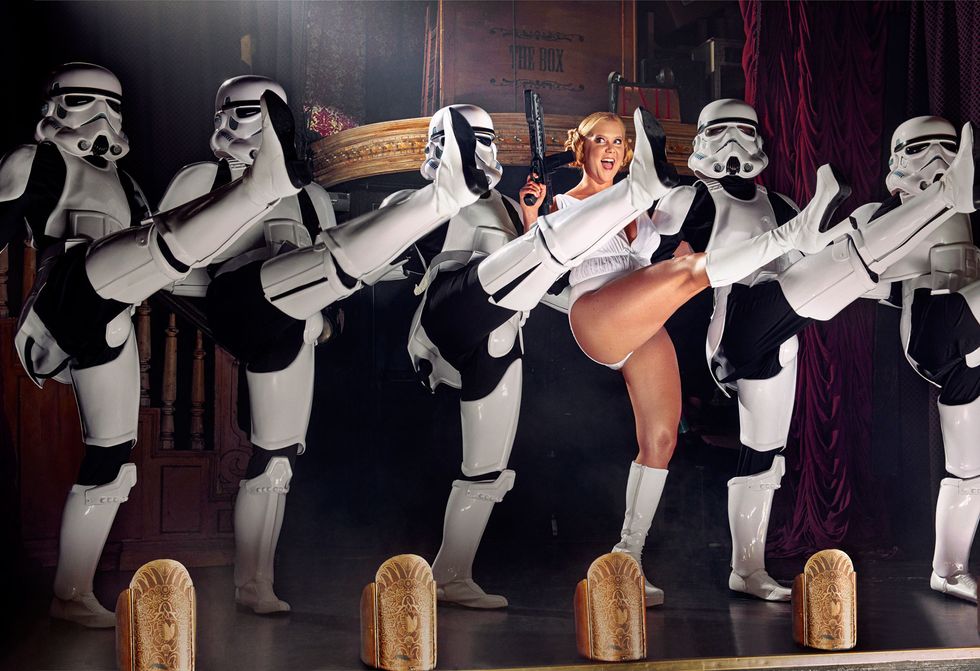 Photo: Mark Seliger
With the current social distancing rules in place, Seliger lacks many of the things that have made his images so successful: a fantastic team and, most important, a human subject. To take his own stand against COVID-19, he has recently decided to partner with Christie's and RAD (Red Carpet Advocacy) to auction off 25 iconic celebrity portraits in an auction that will run from May 28 through June 12. One hundred percent of the proceeds will go to charities of the celebrity subjects' choice.
These iconic images range from stories with fashion at the forefront to nude pictures where the lack of fashion is the story. Regardless of the subject or the outfit, Seliger's style reigns true.
"I find that if all else fails, then give it a little bit of a wink."
Photos: Mark Seliger
Want more stories like this?
The Luxury Space Has Never Been More Digital
Is Fashion Photography via FaceTime the New Normal?
Carla Sozzani Has No Shortage of Exceptional Jewelry or Statement Handbags in Her Closet