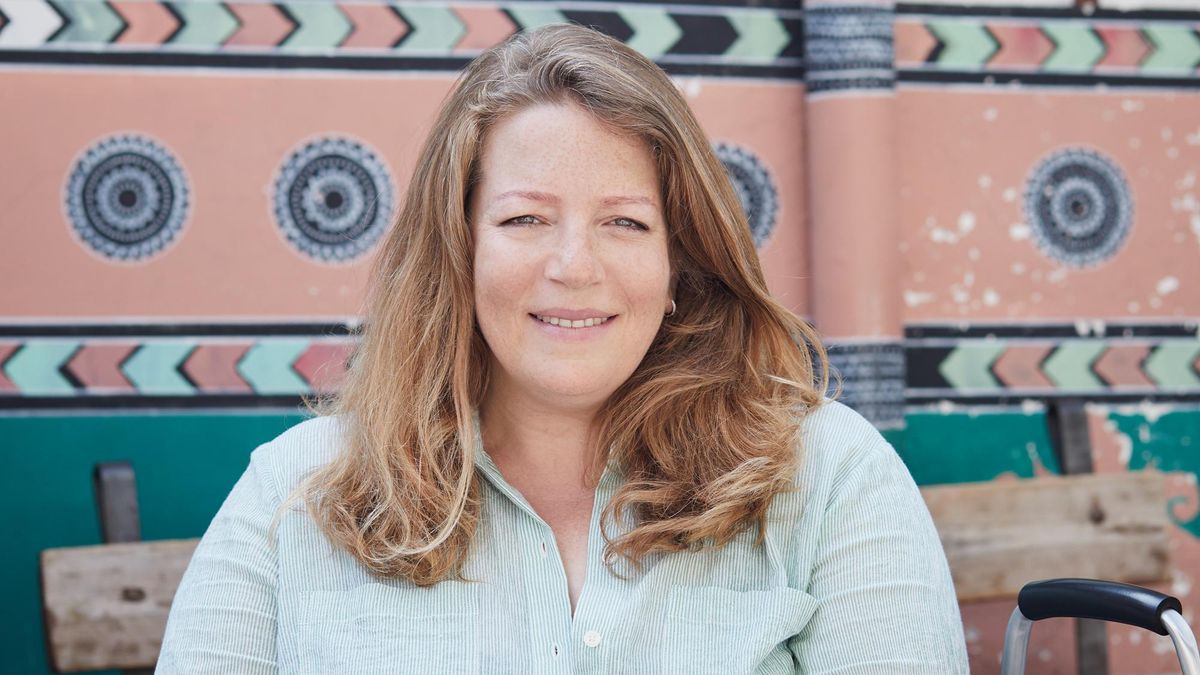 Food
Plus a few of her favorite spring recipes.
Meet Adeena Sussman, an American cookbook writer and co-author who relocated to bustling Tel Aviv a few years ago. Sussman has an eclectic culinary background, having studied at New York's Institute for Culinary Education, worked at Gourmet magazine as a copywriter, judged recipe contests for Epicurious, and so much more. Nonetheless, Sussman's true passion is writing cookbooks, where she invites her readers on an immersive journey of her culinary mind through the recipes' stories and imagery.
Sussman is the author of Sababa: Fresh, Sunny Flavors from My Israeli Kitchen, which was named a Best Fall 2019 cookbook by The New York Times, Bon Appétit, and Food & Wine. She is also the co-author of 13 cookbooks, including the New York Times best sellers Cravings and Cravings: Hungry for More with Chrissy Teigen, andThe Sprinkles Baking Book with Candace Nelson.
We chatted with the culinary expert to hear about how she keeps things fresh in the kitchen, her cooking must-haves, and a few of her favorite spring recipes.
You're constantly dreaming up new recipes. How do you find inspiration to keep your creative juices flowing?
"I love the technical challenge of studying a particular ingredient and experimenting with how to add creativity and variations to it. The journey of constantly testing to ultimately discover something new is very gratifying to me.
"Also, as cooking is all about sharing, entertaining, and experiencing, I'm always thinking about what type of food will make people happy. When it comes to visual creativity, I love eating out and observing how chefs assemble dishes and plate their presentations."
What are your top hosting tips for a successful dinner party?
"Don't sweat it—entertaining can be spontaneous and informal, yet delicious and memorable. This is why I always make sure that my kitchen is stocked with good wine, cheeses, bread, and butter—I let the goodies speak for themselves.
"Also, everything doesn't have to be ready when the guests arrive. I love bringing in my guests to take part in making the dishes and experiencing them together."
What are your favorite cookbooks?
"I personally gravitate towards 'older' cookbooks written by female cooks, but not limited to. A few of my favorites include:
"The Essentials of Italian Cooking by Marcella Hazan; Zahav by Michael Solomonov; The Zuni Cafe Cookbook by Judi Rodgers; On Food and Cooking by Harold McGee; and Jubilee by Toni Tipton Martin."
What are some kitchen tools you can't live without?
"Heavy-duty juicer—I use Zakensberg (which is what all the restaurants in Tel Aviv have) all day, every day for recipes, juices, and cocktails. Also, a cast iron from Lodge. However, Chrissy's oversize cast iron from Everyday Pan is the best I've come across. Lastly, a microplane grater for zesting lemons—my kitchen is always stocked with millions of lemons; I buy fresh produce from the Carmel Market in Tel Aviv under my house daily."
What are your must-have condiments that are always stocked in your kitchen?
"I live by the cooking philosophy of what grows together lives together (i.e., use Israeli olive oil when cooking Israeli vegetables).
"Food staples that I can't live without include: Arab tahini, garlic confit, Israeli goat cheese, Ptora olive oil, fresh herbs (cilantro, mint, basil, parsley), lemons, eggs, and peanut butter."
You have written three cookbooks with Chrissy Teigen. How did you end up working together? And what is the best part about working together?
"We were set up on a blind date, which turned out to be the best professional date I've been on, by Chrissy's agent who suggested me for the job when she was looking for a co-author for her first cooking book.
"Every time we embark on a new cookbook, I move in with Chrissy and her family for a few months, and we ideate and test recipes all day—it's loads of fun. We make a great team, as we come from different culinary backgrounds and yet have the same food brain.
"The best part about working together is that our relationship is very fulfilling, creative, and productive. I also learn so much from cooking with her—Chrissy is laser-focused on the end user and providing them with easy recipes; this way of thinking has helped me while I was working on my cookbook Shabbat."
What are your favorite restaurants around the world?
"I loved Bar Pinoxto in the Boqueria in Barcelona; Chez L'Ami Jean in Paris; Hide Chan Ramen in NYC; the late, great Baroo in Los Angeles; and La Mar in Lima, Peru."
Can you tell us more about your new cookbook, Shabbat, that you're currently working on?
"Shabbat, which means Saturday and the day of rest in Hebrew, is an extension of my first cookbook Sababa and traditional Israeli cooking. The cookbook offers 100 recipes that are perfect for weekend meals and range from delicious brunch and lunch ideas to special dinner dishes.
"The book is multicultural, as Israel is incredibly rich in different ethnicities and nationalities, and includes everything from how to make challah bread to Ethiopian stews. It's scheduled to be released in October 2022."
Below are a few of Adeena's favorite spring recipes:

Thyme-Roasted Apricots with Whipped Goat Cheese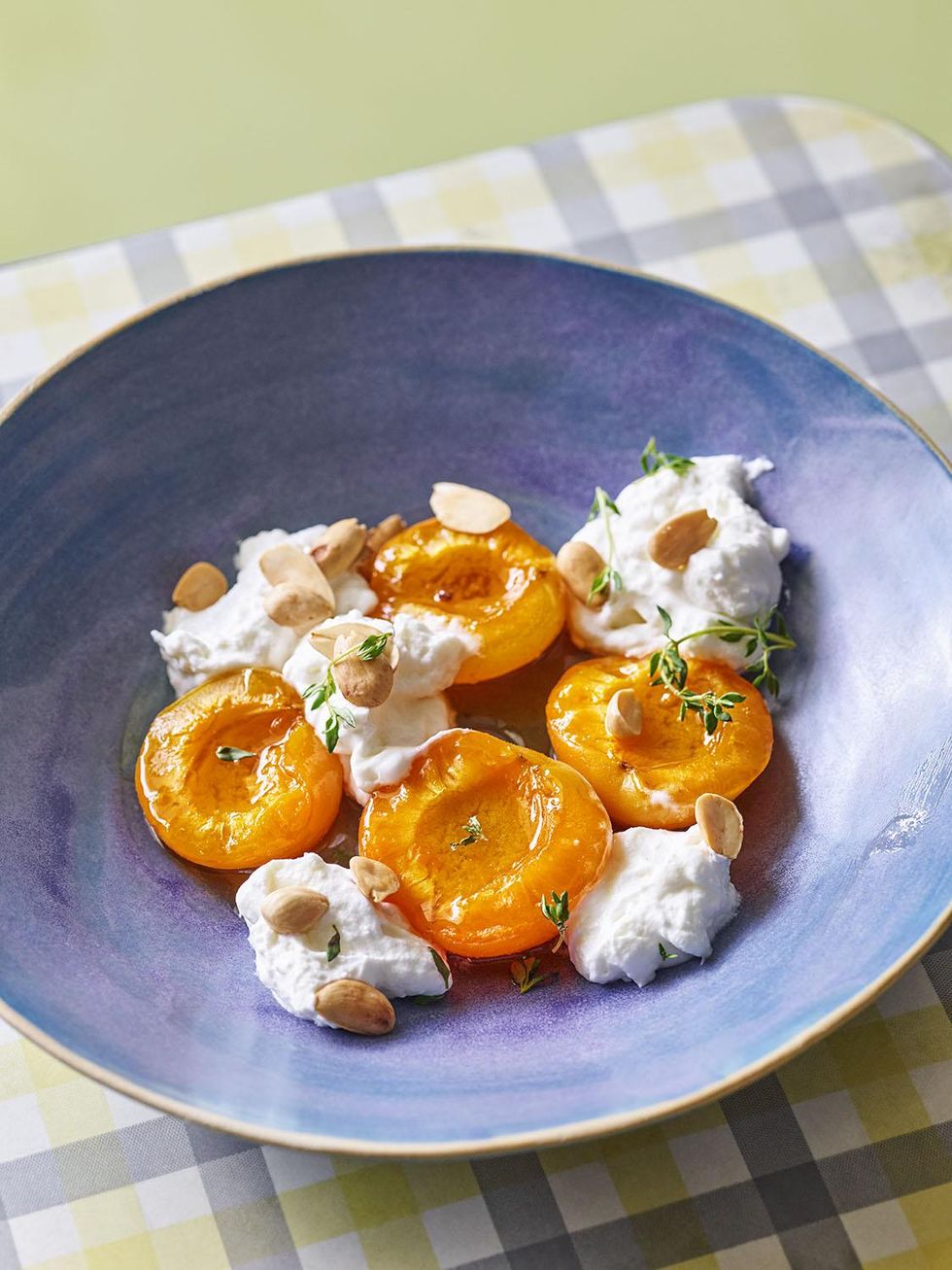 Photo: Courtesy of Dan Perez
Ingredients:
vegetable oil
8 medium apricots, pitted and halved
3 tbsp honey
1 sprig thyme, roughly chopped, plus more for garnish
4 oz goat cheese, at room temperature
½ cup heavy cream
2 tbsp roasted apricot pits (available at some health food stores and online; see Shopping Guide) or toasted almonds
Directions:
1. Preheat the oven to 350°F.
2. Slick a 10-inch round ovenproof dish with vegetable oil, then place the apricots, some cut-side down and some not, in the dish.
3. Drizzle with the honey, sprinkle with the thyme, and roast in the oven until the apricots begin to wilt and brown slightly around the edges, 20 to 25 minutes.
4. In a stand mixer fitted with the whisk attachment (or use an electric hand mixer), combine the goat cheese and cream and whip at medium-high speed until the two ingredients form a fluffy, creamy cloud, two to three minutes.
5. Serve the fruit with the cream, topped with the apricot pits, and garnished with thyme.
Arugula Salad with Dates, Feta, and Pistachios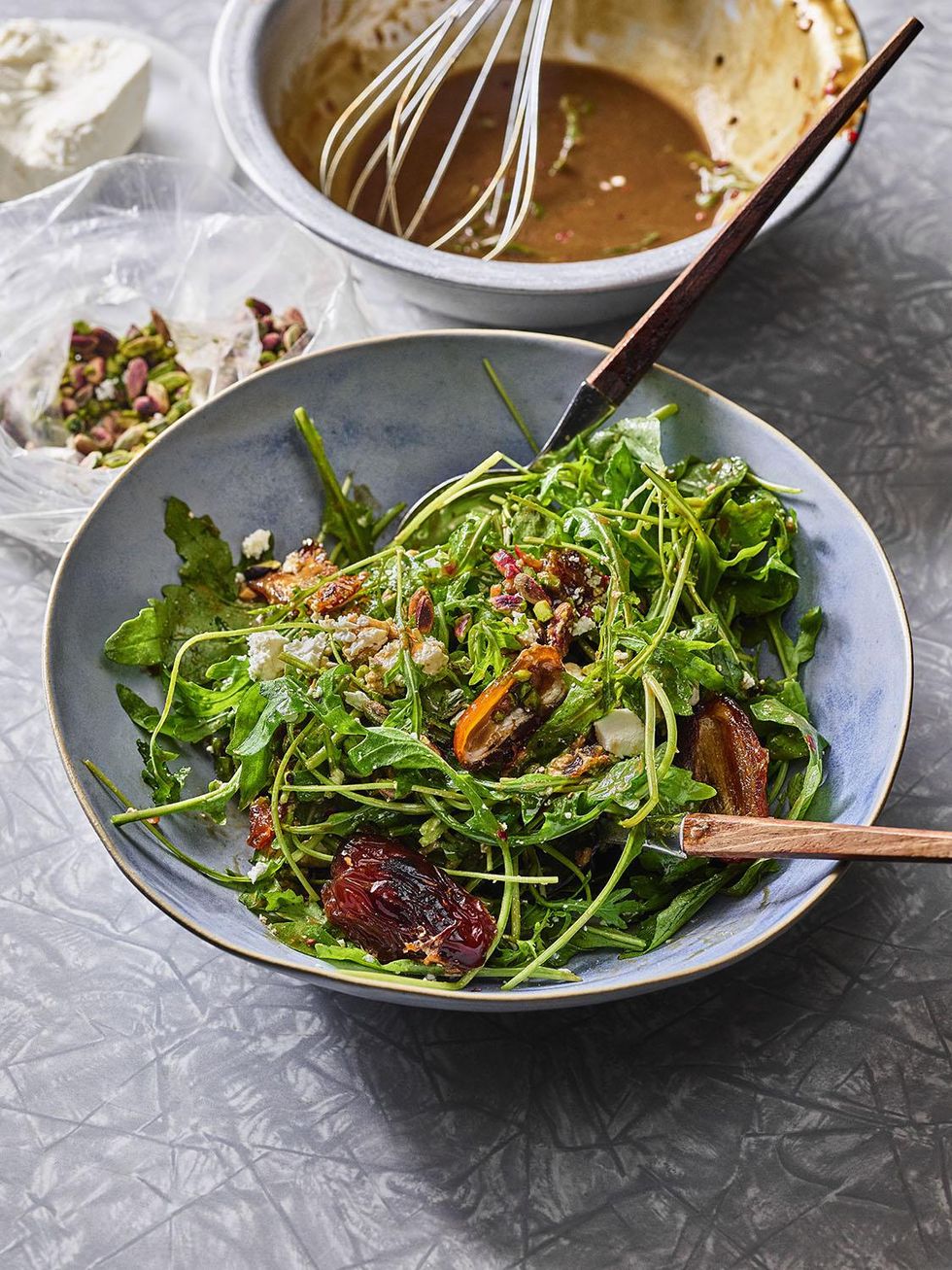 Photo: Courtesy of Dan Perez
Ingredients:
Dressing
(Makes ⅔ cup)
4 tbsp extra-virgin olive oil
2 tbsp Pomegranate Molasses (page 48 or store-bought)
1 tbsp silan (date syrup)
1 tbsp Dijon mustard
1 tbsp finely minced shallots
⅛ tsp kosher sea salt
⅛ tsp freshly ground black pepper
Salad
8 cups (4 oz) baby arugula leaves
1 cup (4 oz) creamy, crumbled feta cheese
4 large or 6 medium Medjool dates, pitted and halved if small, quartered if jumbo
⅓ cup chopped toasted pistachios
Directions:
1. Make the dressing: In a jar with a tight-fitting lid, combine the olive oil, pomegranate molasses, silan, mustard, shallots, salt, and pepper, and shake until creamy.
2. Make the salad: Preheat the broiler.
3. Arrange the arugula on a serving platter.
4. Using your hands, separate the cheese into bite-sized chunks and scatter it over the arugula.
5. Arrange the dates on a small foil-lined baking sheet and broil until slightly caramelized with charred edges, two to three minutes.
6. Scatter the dates over the salad and top with the pistachios. Drizzle with some of the dressing.
Freekeh and Roasted Grape Salad
Photo: Courtesy of Dan Perez
Ingredients:
1½ cups freekeh, preferably whole (cracked is also fine!)
2½ cups (1 lb) seedless red grapes*
½ cup extra-virgin olive oil
1½ tsp kosher salt, plus more to taste
½ tsp freshly ground black pepper, plus more to taste
⅓ cup plus 2 tbsp freshly squeezed lemon juice, plus more for seasoning
¼ tsp dried hot pepper flakes, such as Aleppo
finely grated zest of 1 lemon
½ cup finely minced fresh chives or chopped parsley
½ cup chopped toasted walnuts
Directions:
1. Preheat the oven to 400°F.
2. Place the freekeh in a medium bowl, cover with water, and soak, 15 minutes for cracked and 30 minutes for whole.
3. Drain and rinse the freekeh.
4. Place the grapes on a large rimmed baking sheet, drizzle with two tablespoons olive oil, season with ½ teaspoon of the salt and ¼ teaspoon of the black pepper, and roast in the oven, shaking every five minutes or so, until the grapes shrivel and some are very caramelized and even a little burned on the edges, 20 to 25 minutes.
5. Place the drained freekeh in a medium saucepan with 2 ½ cups water and ½ teaspoon of the salt, bring it to a boil over medium-high heat, reduce the heat to medium-low, and simmer, skimming off any scum and stirring occasionally once the water is partially absorbed, until the freekeh is cooked, 15 minutes for cracked and 25 to 30 minutes for whole (if water is absorbed but whole freekeh is not fully cooked through after 20 minutes, add ¼ to ⅓ cup water). Transfer to a large rimmed baking sheet and spread out to cool.
6. In a medium bowl, whisk ⅓ cup lemon juice with the remaining ⅓ cup olive oil, ½ teaspoon salt, ¼ teaspoon pepper, and the dried pepper flakes. Add the cooled freekeh and grapes along with the lemon zest and chives; gently toss and let sit for five minutes.
7. Toss in the remaining two tablespoons lemon juice with walnuts. Season with salt, pepper, and lemon juice to taste.